Discussion Starter
·
#1
·
Hey folks, I'm upgrading the wing I have on my RS and want some opinions,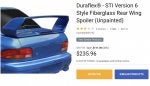 I am also wondering what the "STI Style rear wing" actually looks like because it seems to look smaller than the v6 wing in some photos but in others it looks similar. If anyone could pm me a pic of either wing on an RS i would appreciate that!
But back to the poll, what do you people think?