*updated July 30th 2008*
Welcome to my Journal. This is going to be here so I can show my pride and Joy off, get some tips, maybe help some people with idea's, and to also keep a log as to what I do, when I do it, and what the outcome is.
The end result will with hope and money (lots of money) be to convert my 98L wagon into a JDM Version V STi wagon replica (excluding the right hand drive)
I have enjoyed her very much since i got her in the winter of 2002 with only 27K miles on her (no my parents didnt buy it for me i paid 8K for it why my great aunt died someone needed to buy the car so i did... even though i didnt know what a subaru was and thought it had something to do with that austrailian comercial guy... crocidile dunde) (please note i was 15 and very stupid). She has seem many better days which I will post. as of this post I am now 22 and LOVE my car and do plan one staying with subaru for a while.
To start with so the evolution can be shown I will be showing beginning to current images. Please critique as you see fit. (both good and bad).
*Summer 2003* - First official pictures
Mods - Window Stickers and CD Player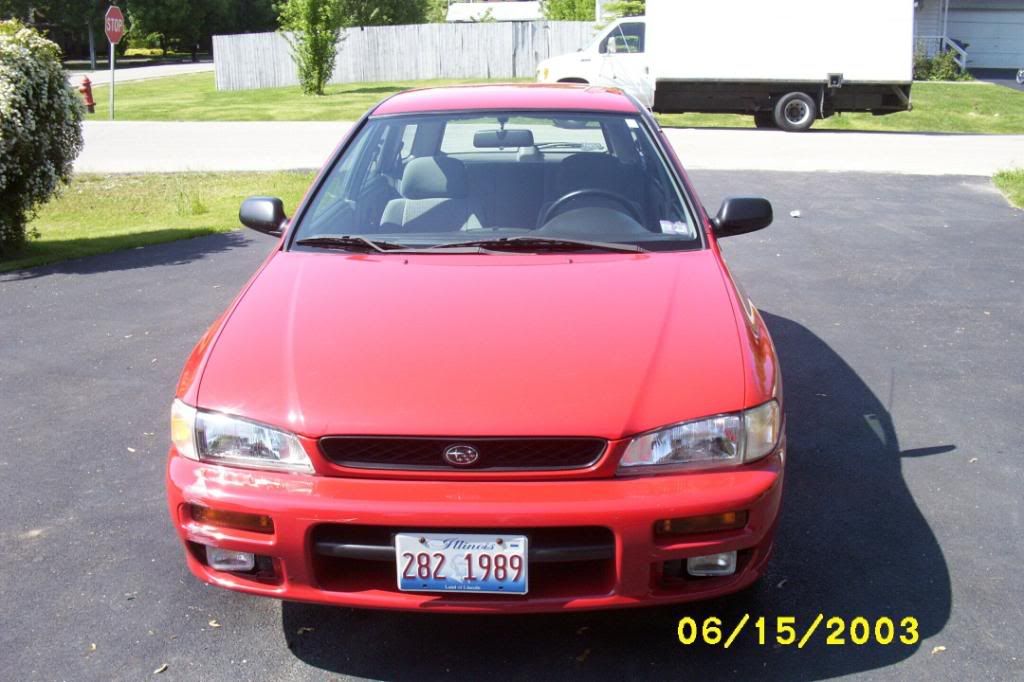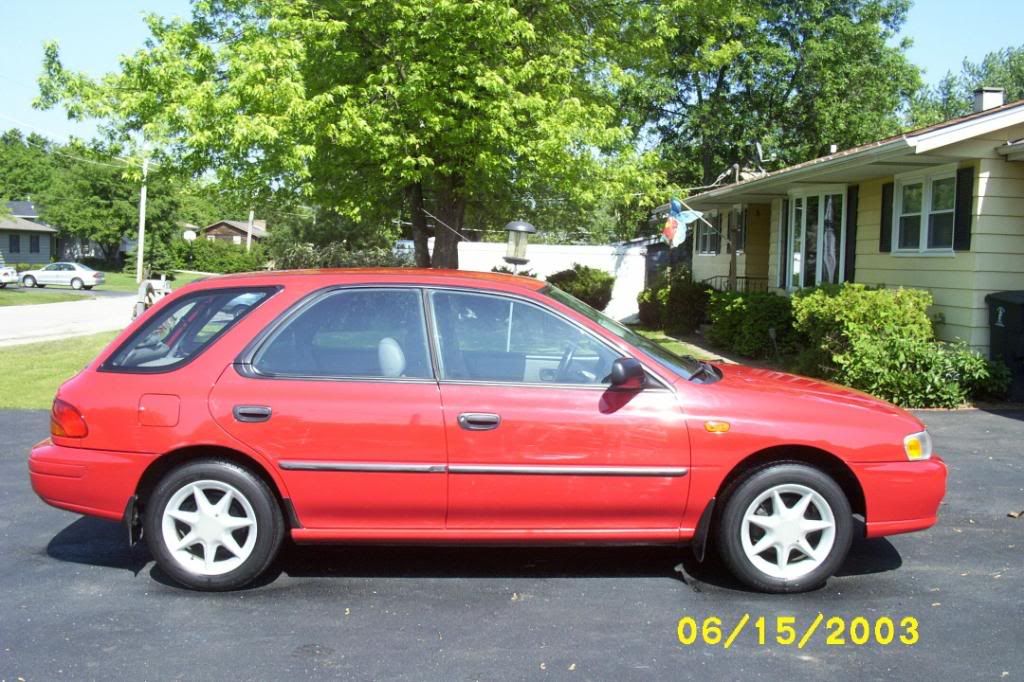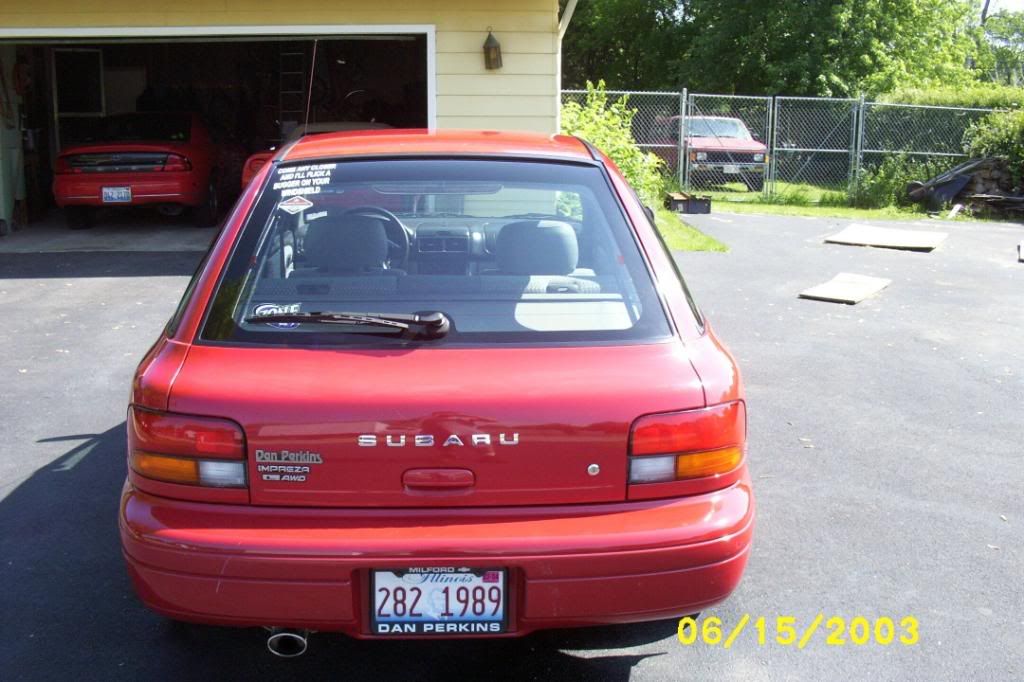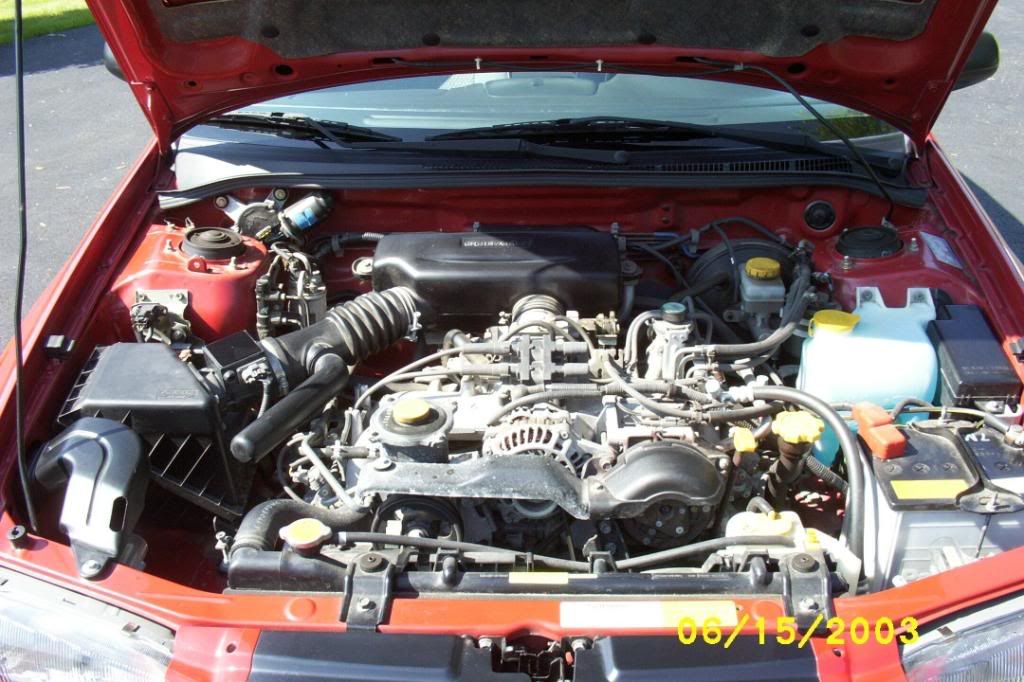 *12-1-2003* I told you I was 16. CAR vs Ditch. Ditch stays car limps home defeated
im not going to sugar coat it. i screwed up my dorifto no good o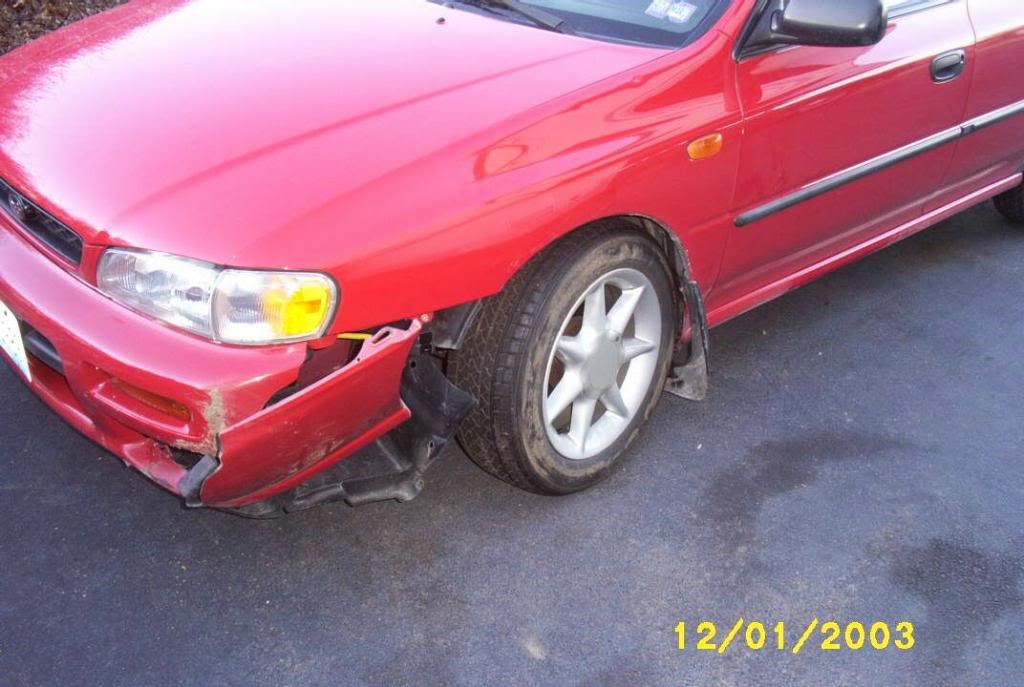 one note about this... it was not trailered home. i drove it home 2.5miles like this... i was very impressed... that included backing out of the ditch.
damge cost $500
she did get fixed. same standard front bumper
*4-18-2004* New Intake installed - Cost $55 on ebay
This was my first power mod i went with... since i was on a budget i bought this from ebay. It was the BOMZ Racing CAI... i was happ and overjoyed that i was going to gain some power... well the first install went bad since apeaently there was a nipple not on the tube... no problem i took it to my high school fabricated a nipple for it welded it on and then put it on.
- PRO's - made my car sound agressive and the butt dyno said a gain
- CON's - at a dead stop and pushing the peddle all the way down the car bogged and hesitated
- Proven Gain - Unknowen but on Nasioc a member bought the same one and modded it the same way... dyno proven 10HP and 11TQ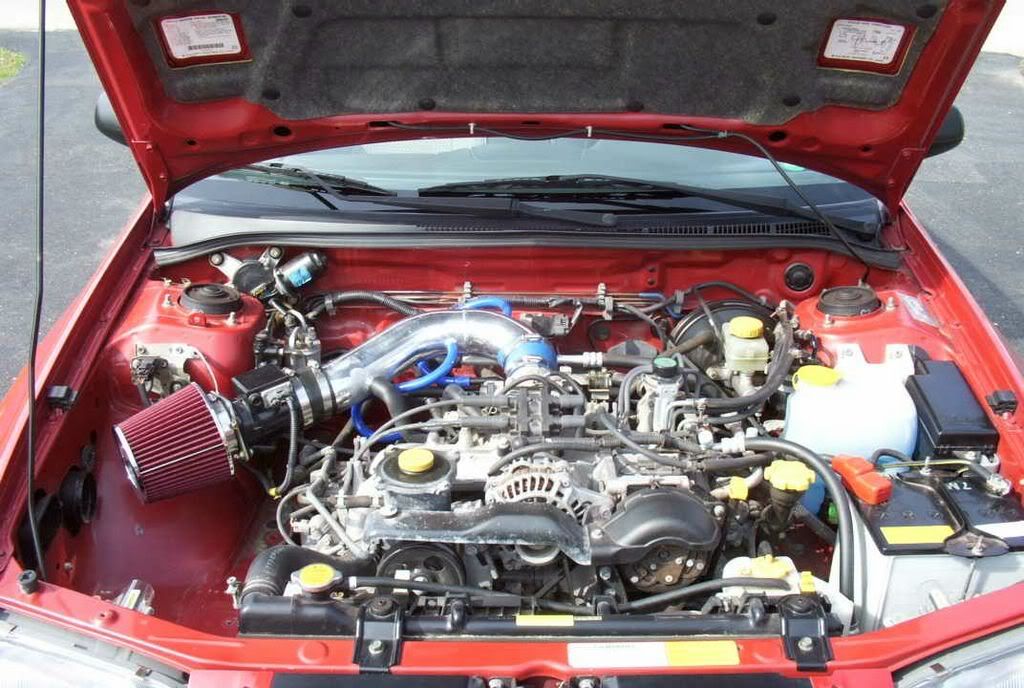 *June 2004* Second Performance Mod. Borla Hush Cat back Exhuast - $490 installed from SpeedQuest Performance
Alright another performance mod. sweet
- Pro's - sounded ok no tin can rattle like a honda
- Con's - SpeedQuest installed it wrong the exhuast nearly came off on the ride home.. took it back they said "they dont fix exhuasts" so i fixed it myself with two washers a drill and two codder pins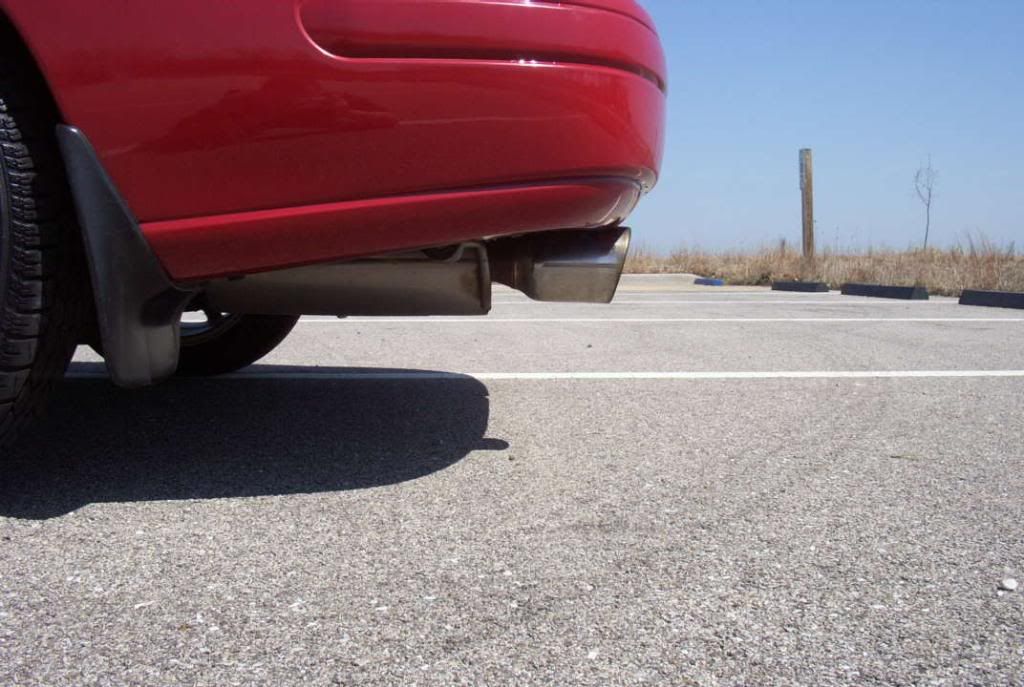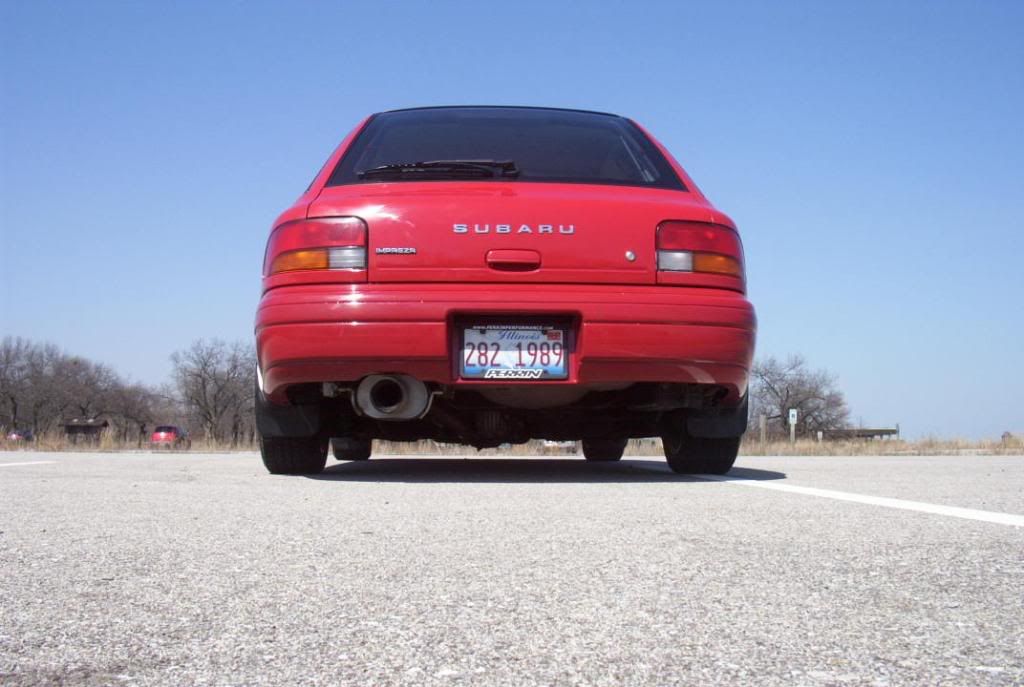 *7-09-2004* First Suspension Mod front Strut Bar - Cost $35 on ebay
Hurray another mod... this one more simple 6 screw 10 mins and bam new mod on
*Feb 2005* Car vs Tree... have i mentioned i was 17 and an idiot. Winner tree... car limps home 1.7 miles no tow truck
Repair Cost - $4800
*5-13-2005* She is out of the shop and looking better - First body mod Vis racing Carbon Fiber Hood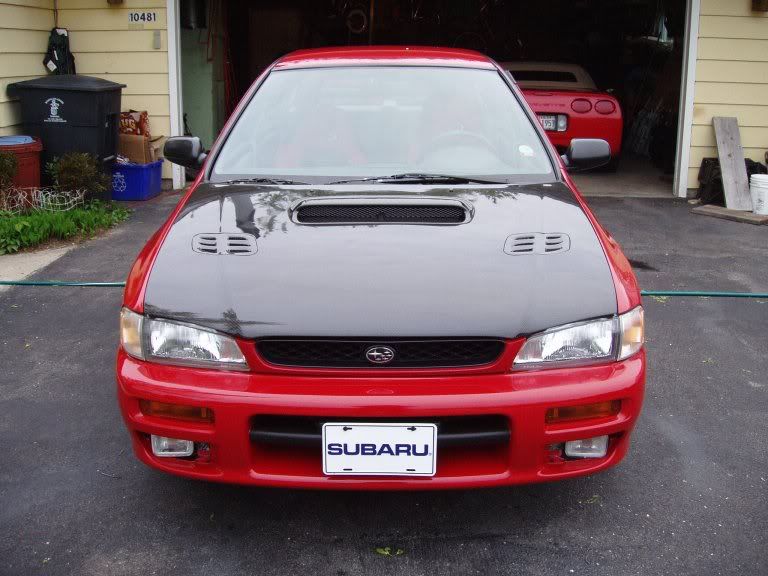 *10-29-2005* Time for a Dyno Run done at P&L Motorsports
Mods - Borla Cat back, Bomz racing CAI. No tuning. 89 Octain
Motor had about 45000 miles on it
103HP 110TQ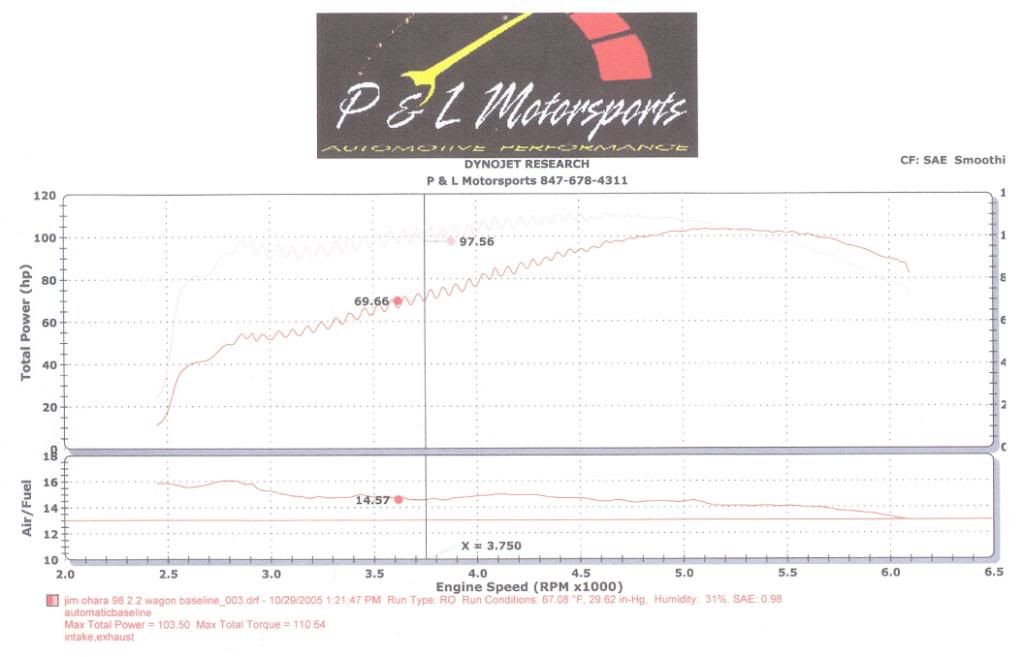 *3-7-2006* Suspension upgrade KYB GR-2 Struts Perrin Tunner Sport lowering Springs
*5-29-2006* 3rd Performance mod - Perrin Lightweight crank Pulley ( Non underdriven)
Honestly i dont notice any difference
*11-12-2006* - new rims - WRX 16" Rims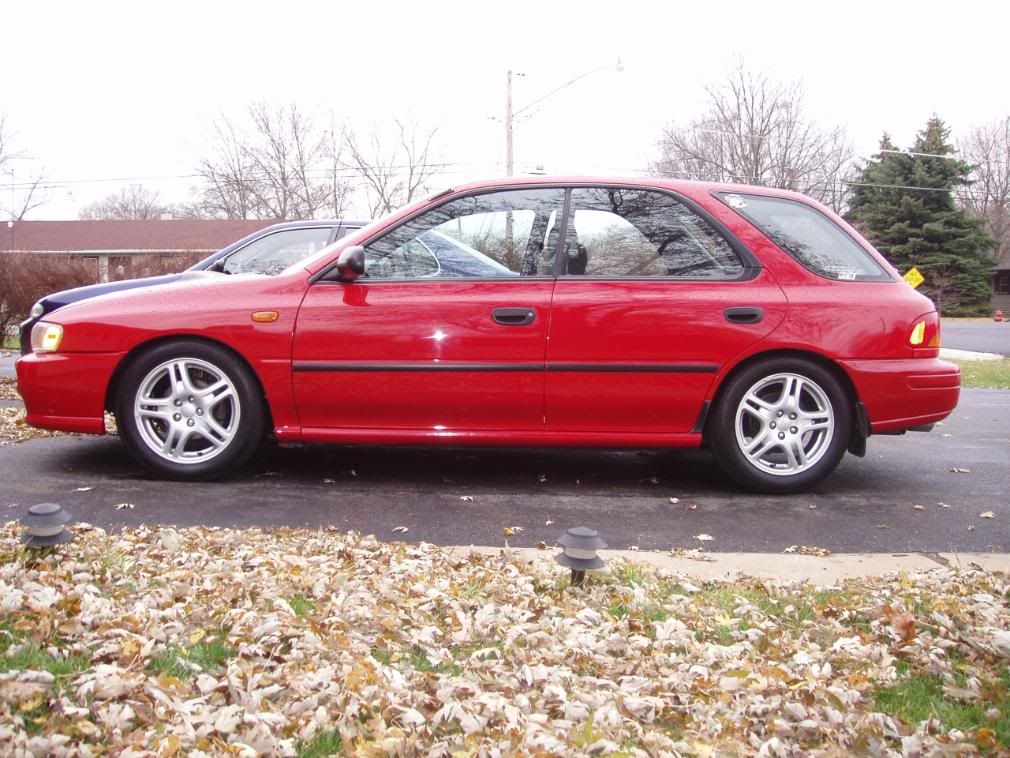 *1-6-2007* - Engine Dress up time - Get-Primitive.com Alluminum radiator cover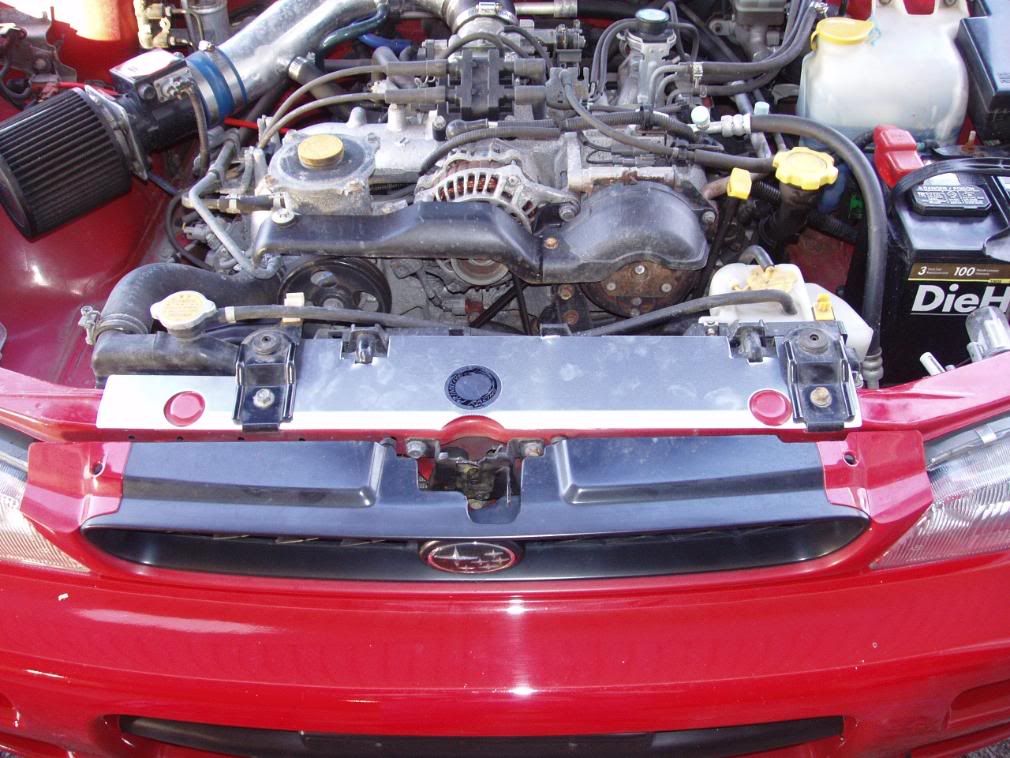 *1-25-2007* - 4th performance upgrade Injen Cold Air Intake
Pro - looks cool sound great a drop in my 1/4 mile from 17.2 - 16.9
con - possiblility of sucking up water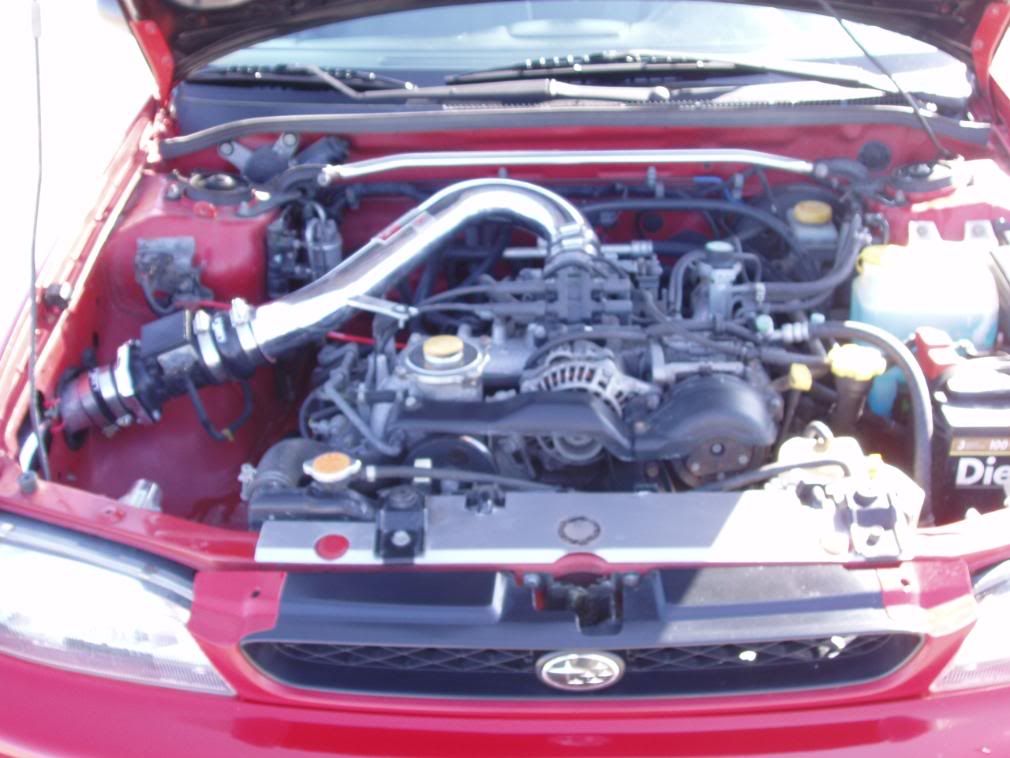 *3-28-2007* - Time for a face lift - Version V Front bumper, Version V rear Bumper, STi Lightweight Front bumper beam, Fog Light Covers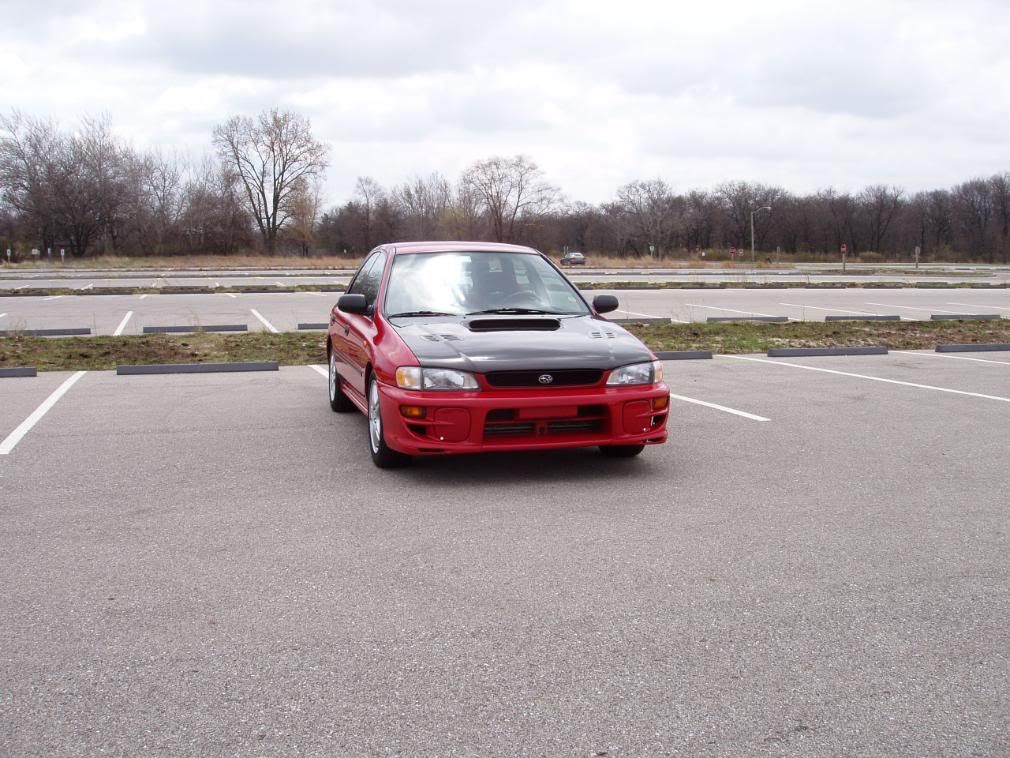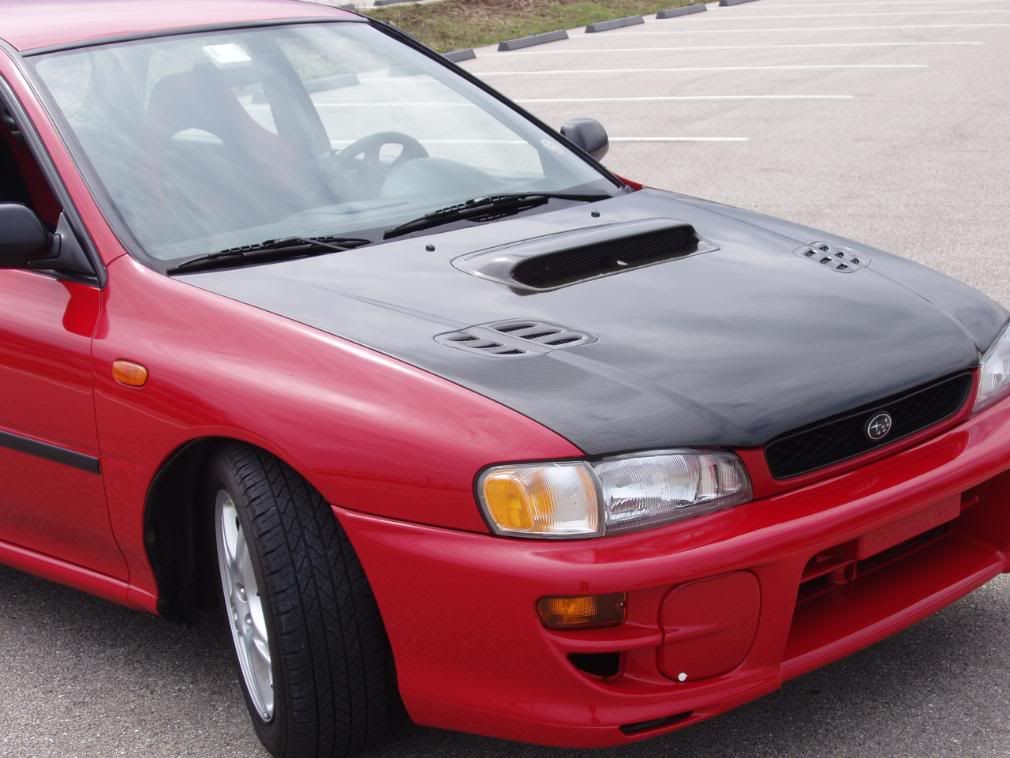 *4-11-2007* - Driver needs some loving too - STI Version V Front Seats
Pro - GOD I LOVE THESE fit me great
Con - passenger gets all the nobs and adjusting... i get crap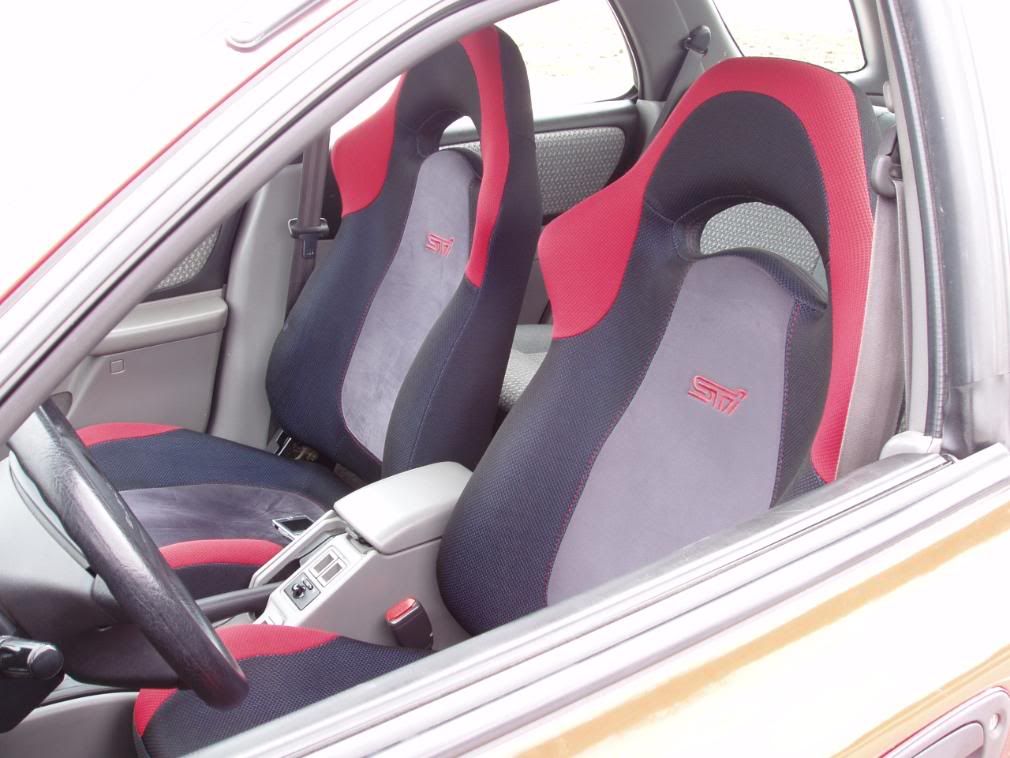 *present day* not many mods have been dont since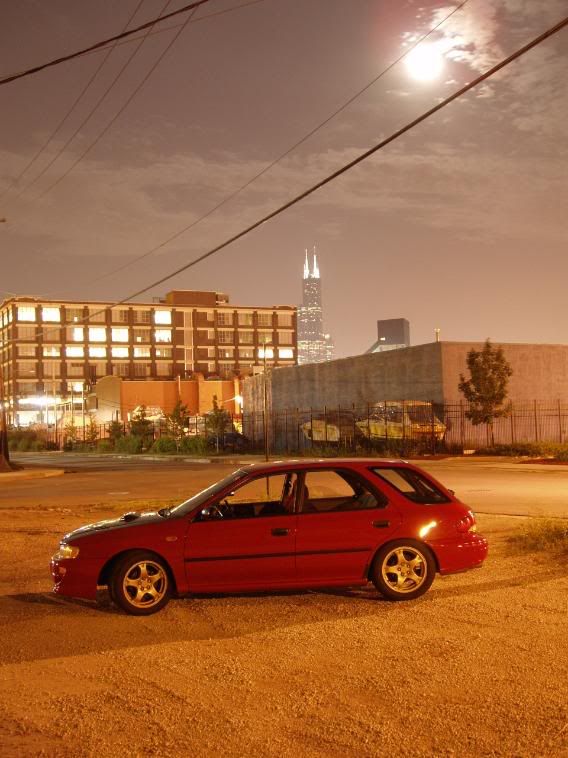 I have since the last photo's taken had to replace my head gaskets with custom made ones from Cometic, I have also replaced my Borla Exhuast with a local Shop custom... which was replace quickly by a Blitz Nur Spec R 3" why 3" cus i was going to go turbo but that fell through... oh well i love the sound. but its LOUD. I have also added some Version V STi Gold Rims.
Also i have a version V replica rear roof spoiler that i bought on ebay... it came with no brackets and i dont know how to install it... talked to subaru but they dont have a bracket for it... and the vendor wont return my calls or e-mail.
Also i have a rear waist spoiler off a version V stil i got from japan... need to get it painted and put on
Ill be updateing as time goes on and as i get time to do it. if you have any questions, opinions, or even crtisizem let me know