Hello everyone, and welcome to my Subaru's build thread!
Back story: I've always been a fan of Subarus, in part due to the stigma the STi received in Initial D, in part due to how badass they look, and in part how the Subaru community is very friendly and eager to help. After driving 4 other cars since my license, I ended up selling my most recent car, and finally picked up a 2001 RS from a local here in San Antonio. The mechanical aspects were my biggest concerns, because I didn't want to buy a car that will run down soon after buying it. The engine is an EJ251 swap (not sure what happened to the stock EJ251) with 80,000 miles on it. Not much was modded on it and it is a relatively unmolested vehicle. The previous owner stripped the back door panels, carpet, and the deck trim to shed some weight, along with rattle canning the hood and trunk. I have plans to make this GC a very clean build all around, mechanically and cosmetically. This will probably take a while since I'm in college, but who's in any rush?
TL;DR - I got a GC and now I'm going to build it.
When I bought it: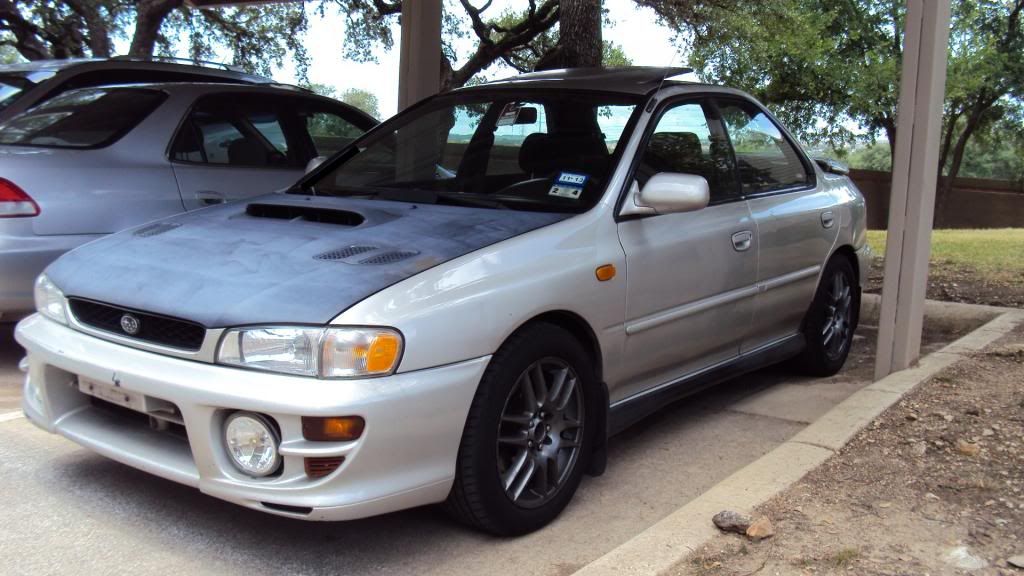 How it sits currently:
Mod list:
Engine:
Borla replica headers
Stromung Single Tip exhaust
Stromung Intermediate pipe
Perrin Crankshaft Pulley
Grimmspeed battery tie down
Kartboy pitch stop mount
Group N motor mounts
Exterior:
Depo black headlights
Gorilla mud flaps
Grimmspeed Antenna Delete Plate
Amber corners
Gunmetal Grey plasti dip
Rally Tech adjustable front license plate bracket
Bakemono S201 hood scoop [carbon fiber]
Bakemono Version VI front lip [fiberglass]
Replica Version VI STi wing [fiberglass]
Vent induction scoop [carbon fiber]
JDM Tail lights
Hella Horns
Drivetrain:
Group N transmission mount
Exedy "Stage 1" Organic Clutch
Subaru OEM flywheel
Turn In Concepts crossmember bushings
Kartboy front shifter stay bushing
Kartboy rear shifter stay bushing
Turn In Concepts 5mt linkage update
Kartboy short throw shifter
Brembo blank rotors
Akebono Pro ACT brake pads
Version 7 STi wheels in Gold (5x100, 17x7.5", +53, 17.5 lbs)
Bridgestone Potenza RE-11A (235/45R17 113W BLT)
Enkei RPF1 in Silver (5x100, 17x7", +45, 15 lbs, autox set)
Hankook RS3V2 (245/40R17)
Suspension:
ISC N1 coilovers
Fuji Heavy front strut tower bar [Carbon Fiber]
Cusco rear strut tower bar [aluminum?]
Whiteline 22mm adjustable rear sway bar
Interior:
LED cluster lights [cool white]
2007 STI shift knob
Version V STi front seats
Version IV WRX rear door cards
2015 WRX all-weather floor mats
DAMD D shaped steering wheel with red stitching
2006 WRX airbag
Extras:
Arai RX-Q helmet in Oriental Matte Blue [Carbon Kevlar, DOT and SA2015 approved]
Purchased and Waiting to be Installed:
None
Maintenance:
Replaced center dash cubby/vents on 11/30/2013
Replaced both rear bearings on 6.02.2014
Replaced factory brakes with Brembo/Akebono brake setup on 6.02.2014
Replaced factory suspension with ISC N1 coilovers on 1.24.2015
Replaced clutch, flywheel, and drivetrain extras on 1.30.2016