The following is a lightly edited and abridged thread i made on another site, I tried to modify it to better suit this forum.
-Thad-
Late last year I started thinking it might be cool to have a cheap AWD car to thrash on the dirt roads instead of tearing up my tarmac suited civic, so i started hitting craigslist daily and setting some money aside. Having torn apart an Impreza and a couple Legacies i knew they weren't as hard to work on as most people say, and longitudinally mounted boxers are just the bee's knees. The choice was obvious
Before i ever even found a donor car, a good friend found a crack head deal not too far away for a treasure trove of Subaru upgrade parts that were perfect for the car i would now be completely committed to buying.
Here's the run down of what I've got and what's going into the car.
One Fellow cleaning out his garage for $1500
EJ20G swap from late Version 2

STI

(may be from Colin McRae 555 limited edition edition)
w/ harness, 6K ecu, TD05H, intercooler, all accessories and a few spares, Non DCCD STI 5 speed tranny from the same ver.2 w/ Pull type clutch slave and master cylinder , Viscous LSD rear to match
rear diff T frame (needed for AWD conversion)
Manual transmission Gas Brake and Clutch pedals (for manual conversion)
Shift linkage and shifter
front axles from the ver 2
turbo intake and MAF/ air box pieces
RS side skirts
Fiberglass front body kit and rear spats
2002 WRX exhaust
a pair of racing seats with rail adapters and one 4 pt. Harness
some other stuff i can't remember right now
Things I've procured myself:
AWD Gas tank (for awd conversion)
AWD rear subframe
AWD front tranny brace
Rear Disc conversion from Legacy (big) w/ AWD spindles
Rear lateral links and suspension arms
Manual cable clutch Pedal box assembly (I'll get into that later
Drive shaft ( for making a pretty cake)
4 legacy wheels with decent 205 60 15s (for $50 it beats the crap out of replacing the one 175 70 13 i blew out.)
EJ22 long block (for just in case)
With a Garage full of Subaru Parts waiting for me I was getting pretty anxious to find the car.
Less than Two weeks later I found the perfect chassis for my project.
It was OBD 1 so it would not need to be converted for my swap. It was just dinged up enough that i wouldn't feel too bad about rubbing against some of natures pylons, but not so badly damaged that i would have to repair anything. It was the right color; ie. Not teal burgundy or purple. It was 2300 lbs big WOOT, and it was FWD and Automatic so i could use all those conversion parts that Mr. KickAss McAwsome sold me (
or so i thought
).
So i got my new car; this 1994 bare bones Subaru Impreza L
(I guess technically it's a Brighton model)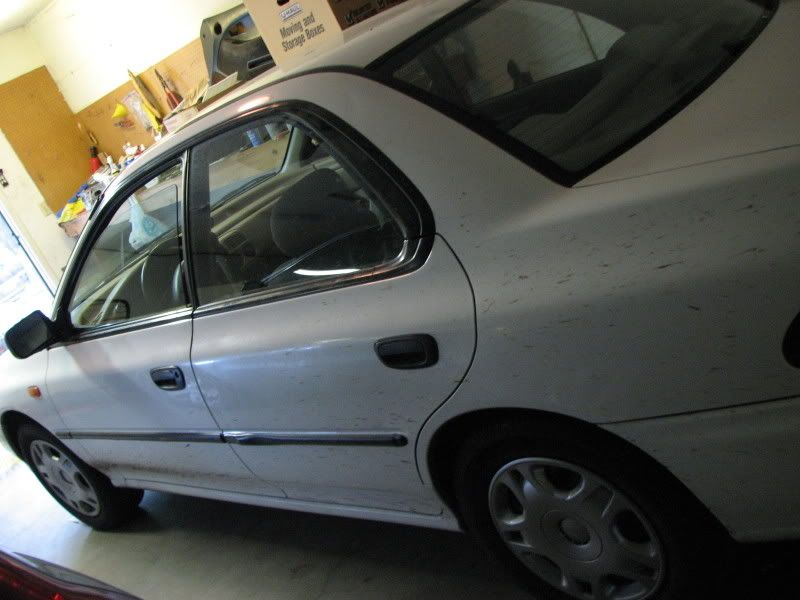 Even better still the guy was very eager to sell it as is, since in his preparations for smog he had an unscrupulous shop change the timing belt. He told me they couldn't get the timing marks to line up so they put it on as best they could and it skipped a tooth, they tried again and this time it seized.
So for
$500
dollars he sold me what he believed to be a heap of unusable shite with a blown motor.
If the shop had known how to use alldata or a service manual they would have known that the sohc 1.8 up to 96 was a non interference motor and maybe would have checked to see if it wasn't just a broken starter housing wedged against the torque converter. El Oh El!
With some fresh head gaskets and a $23 starter from the junk yard I was ready to drive my beater around while i got the rest of the swap together.
Or so i thought
.
Upon turning the key to the ignition position i noticed the car had this pesky tendency to ground search and pulse voltage to all the accessories and relays. That's fine if you like a car that goes
clickity clickity click
and constantly primes the fuel pump and kicks the radiator fans on then offm, then on again, not so good if you want to start the engine.
So after chasing back feeding ignition through 2 months of the most aggravating electrical diagnosis of my life, i replaced a short sub harness healed the grounds on the engine harness and replaced all the battery grounds. Bingo Car starts.
A very VERY big thanks To David and Ray, my former co-workers and 12 volt diagmentors, for coaching me through that ordeal and pointing out when i was being a tard.
I decided to get a head start on the Manual conversion. Thought it would be mighty cool and confusing for people to see an Automatic with a clutch pedal. So i get down under the dash with the pedal assembly in hand and start unbolting stuff. I get the old one out and toss the fat A/T brake pedal across the drive way. But I'm having trouble fitting the new clutch pedal in place, I can't see where it needs to bolt in, so I cut away some of the sound deadener to access the firewall. Wrong spot, I move an inch or two over, wrong again, after carving out about 6 inches of rubber liner I decide to go poke a screwdriver through from the other side. Guess what i saw on the engine bay side fire wall where the clutch MC should sit. DID YOU GUESS THE GREEN BAY PACKERS? If you did you would have been just as surprised as i was to find a shock tower. For a moment journeied behind the eyes of the biggest fattest white trash American muscle racist i know as i cursed those little rice eating tricksters sitting in their offices laughing at me for thinking a clutch master cylinder goes behind a clutch pedal.
To make a long story moderately shorter, the master cylinder is on the other side of the brake booster on left hand drive subarus, RHD subies on the other hand , have the pedal and the MC in the right place.
this is the RHD pedal
So this means the pedal assembly i have is useless to me unless i developed a taste for
Rally's
other drive through lane, or postal delivery, and want to dump several thousand dollars more into this project.
More bad news, North America didn't get any hydraulic actuated transmissions until 1998. That , for the most part, eliminates the junk yard as an option. There is actually quite a demand for hydro pedal box assemblies for GCs on the Subaru message boards, but i don't nee dot tell you that. So it wasn't long before i saw some used ones for sale, unfortunately for that same reason, they are bought up very fast and at fairly high prices in my opinion.
I gave my self the ultimatum for this goal, that i may continue to be cheap, but must for the time being set aside the lazy part. The method i chose was not the easiest thing in the world, but Using the Cable clutch assembly as a base and pictures of the 98+ RS pedal box as a model,
I fabbed a reasonable facsimile
of the hydro pedal box assembly and installed my clutch pedal and master cylinder. It was actually much more gratifying than buying one, I do so miss working with mild bar stock steel. I put some care into this one and actually got the clearances pretty tight so there is no binding or free play.
Here's the finished product, and a link to the how to thread.
http://www.rs25.com/forums/showthread.php?t=80575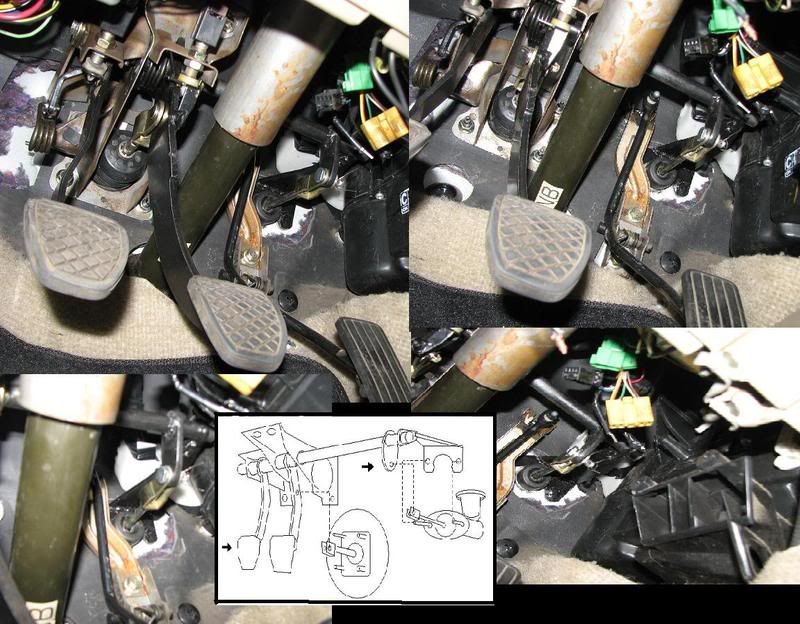 it's really difficult to get clear pictures under the dash.
The other Pain in the Ass i started to tackle was the wiring. That's going to be an ongoing battle for some time it seems. I'm attempting to do this in a much simpler manner than the common harness merges used in Subaru swaps. This should allow me interchangeability with the oem ej18 harness for smog purposes, but it does mean I'm on my own as far as forum support goes.
First thing i did was take a few days to make a table comparing the pin outs of 4 different ECUs that pertain to this swap, so that i can quickly reference what wire goes to what pin location on which plug without having to open multiple documents. All of the ECU side wiring has been fairly straightforward since there is a lot of information available online. Unfortunately the same cannot be said for the cannon plugs on the engine harness side, so I'm left to ID each wire by testing and memorizing each sensor.
The original idea was to use all the stock 94 Impreza L wiring all the way up to the ECU, then use this little dingus i made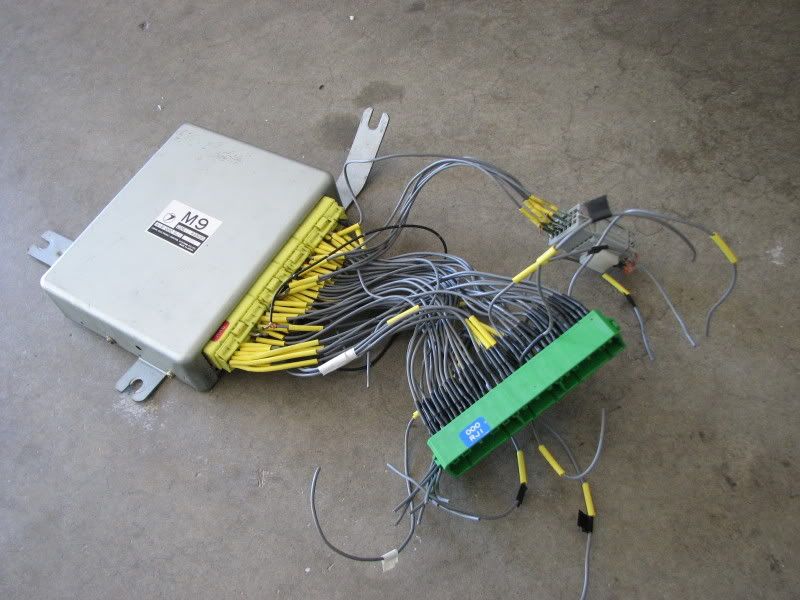 however with that setup I'd still have to modify the cannon plugs to adapt them to the EJ20 engine harness, and that would severely limit the possibility of reusing that harness with the 1.8 motor.
Since i happened to have a second ECU harness, i decided to simplify it even further and make a removable Engine to ECU to Chassis conversion harness. If it turns out like I've planned, it should essentially be an over sized plug and play ecu conversion harness that appears as the factory wiring would.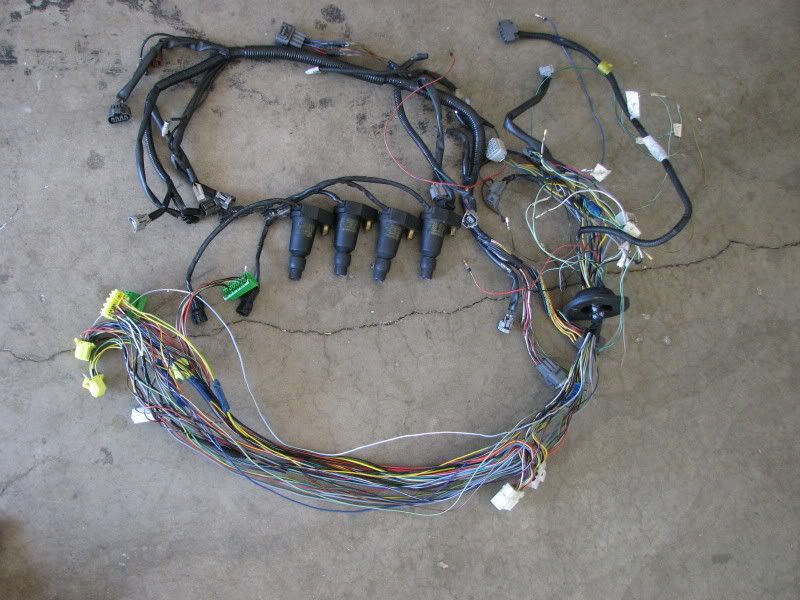 Anyone who knows me knows that I barely even need an excuse to split a motor and start stripping it down. I didn't have any time to work on it when I first got it, but upon joining the ever growing ranks of the unemployed it was only a matter of hours before I noticed some coolant sludge in the oil pan. Older Subarus are notorious for head gasket failure due to the graphite composite material that most other Japanese manufacturers ditched in the late 80s. So the manifolds came off the heads were split from the block and I'm currently scrubbing everything down like a meth addict. I actually found a shop locally that regularly orders Multi layer Steel gaskets for EJ20Gs.
So that pretty much Brings you up to speed, the car has yet to be smogged, so that's the next priority. After that I need to get a hold of an AWD fuel sending unit and rear struts from an AWD vehicle, then I'll put the gas tank and sub frame in swap on the rear disc bleed the brakes and re align it. It won't be AWD all the way yet, I'll still have the FWD A/T drive train up front, but it will give me the opportunity to see how good the rear wheel bearings are, if the rotors need to be turned, and whether or not I'll be needing a new booster master cylinder upgrade right away or a proportioning valve. Hope fully in the mean while I'm figuring all that out, I'll be able to find a set of rear axles for the VLSD and i can finish the AWD setup and throw in the EJ22 for the time being.
here's a few miscellaneous pics of some goodies
tranny, rear diff, and rear exhaust section

cylinder heads after some cleaning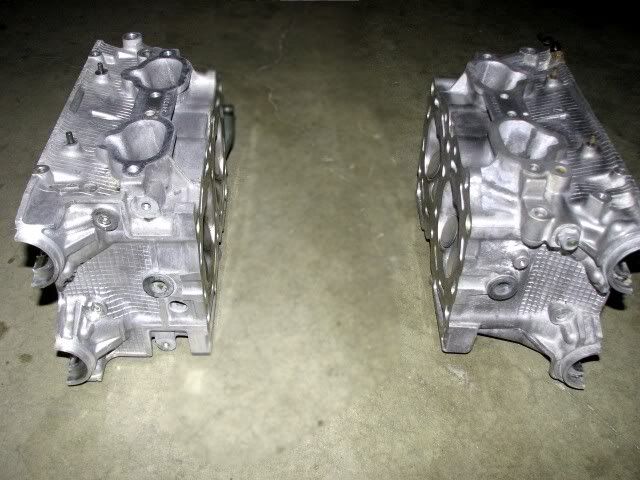 block before cleaning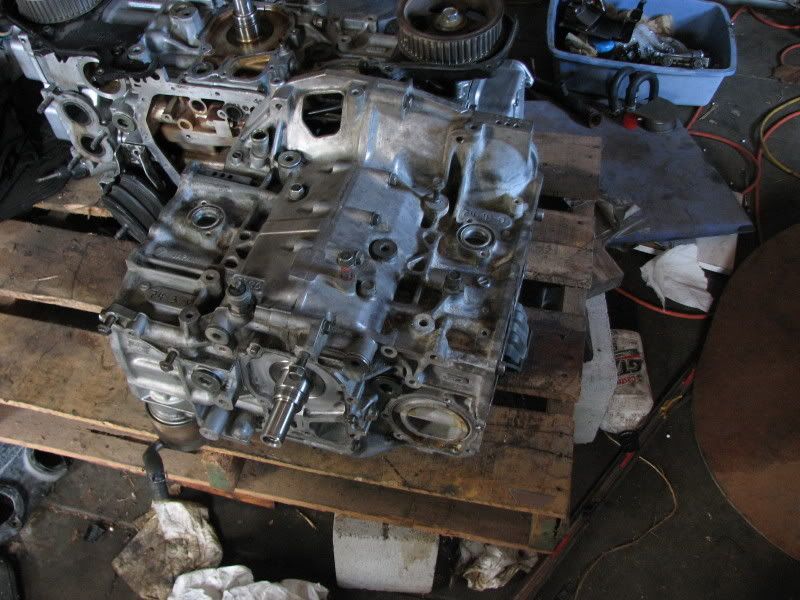 the TURBO!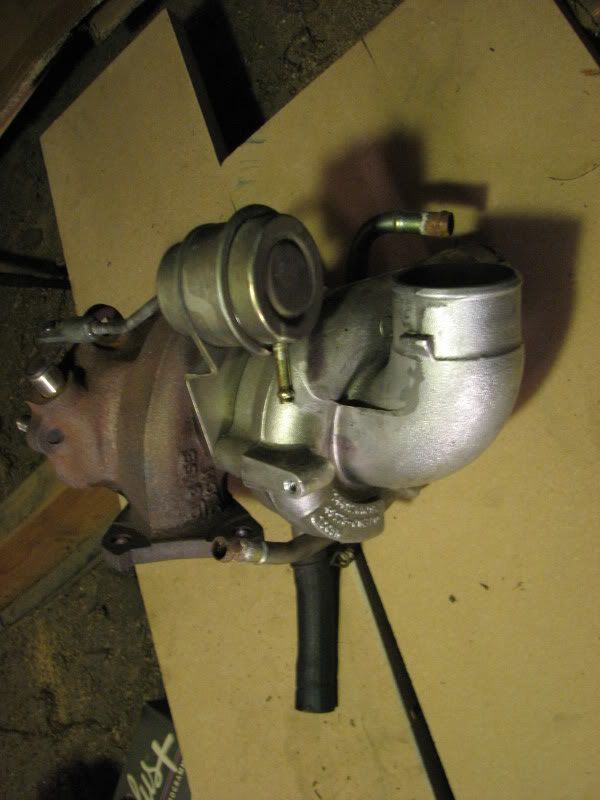 the BEFORE engine bay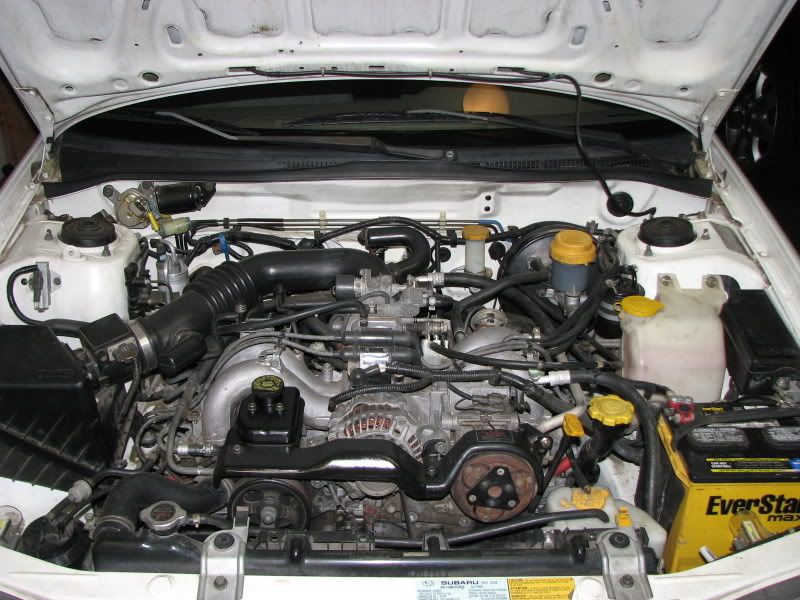 what i bought the car for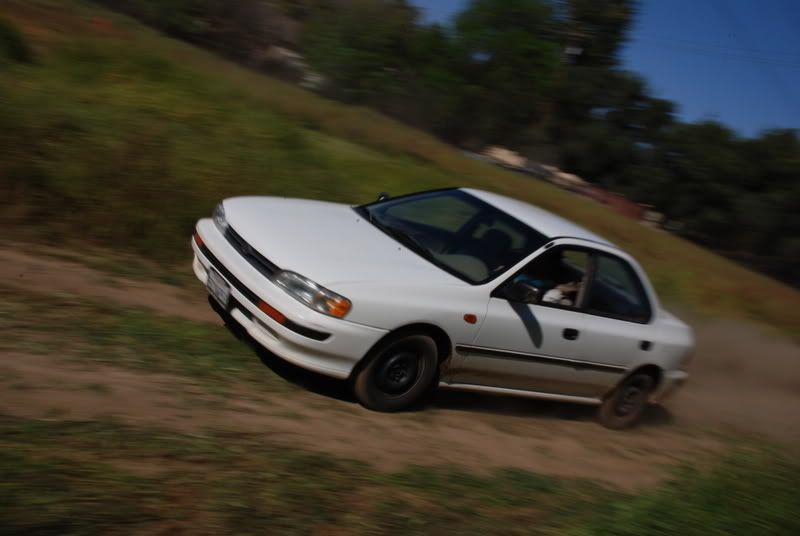 My clique