The time has finally come for me to organize a members journal! Ive been a member here since I purchased my 98 2.5RS in late December of 2005. My car, not unlike myself, has been through a lot since then and made many changes. And now, upon organizing parts and information for my swap, I though I should get the cars history laid out so I can properly journal its future
Current Photos:

Current Mod List 8/05/2021

Engine / Exhaust / Fuel System
Imported EJ207 Engine
Injector Dynamics 1050X Injectors
IAG Competition series oil pan / baffle / pickup
IAG polyurethane engine mounts
KSTech DBW throttle adapter
2007 2.5i DBW Throttle Body
Roger Clark Motorsports Downpipe
Roger Clark Motorsports Group N turbo-inlet
IAG V3 competition AOS
HKS Kevlar timing belt
Roger Clark Motorsports timing belt guide
Radium Surge Tank w/Walbro 255
Radium In-line fuel filter
PTP Turbo Blanket
Grimmspeed Turbo Heat Shield
ETS Top Mount Intercooler
Samco intercooler elbow
Tial Q BOV w/Torque Solutions Adapter
Forge BOV
Aluminati Expansion Tank
CSF Aluminum Radiator
Spal 12" fan
Samco radiator hoses
iWire radiator shroud
Cobb overflow bottle w/iWire bracket
K&N Filter w/ 3" Vibrant velocity stack & custom inlet adapter
Chasebays power steering reservoir
Mooresport power steering pump adapter
IAG -6an PS high pressure line, custom -6an return line, custom -8an suction line
Drivetrain
V9 Sti 6MT transmission
V9 R180 rear diff
ACT StreetLite flywheel
OEM Exedy Clutch
Goodrich Stainless Braided Clutch Line
Torque solutions transmissions mount (poly)
Torque solutions solid carrier bearing bushings (Aluminum)
Kartboy transmission crossmember bushings
Whiteline front and rear shifter bushings
Torque solutions solid shifter u-joint
Whiteline rear diff bushings (rear crossmember)
Whiteline T-frame bushings
IAG Competition pitch stop
Suspension / Steering
V9 STI 5x114 hubs
V9 STi subframes (front/rear)
V9 STi sway bars (front / rear)
Feal 441+ Coilovers w/Swift springs (9k/8k)
JDM GC8 STi Aluminum control arms
Whiteline ALK
Whiteline roll center kit
Whiteline control arm bushings
Whiteline lateral link bushings
Whiteline trailing arm bushings
2015 STi Steering Rack
L&E Rack steering shaft adapter
Whiteline steering rack bushings
Brakes
C6 Z06 Corvette 6 piston front calipers w/12.8" STI Rotors
STi Brembo rear calipers
Stoptech Stainless Braided Brake Lines
G-LOC R12 / R10 Brake pads
Centric blank front rotors
Brembo blank rear rotors
CompBrake brake servo
Nameless performance 18" Hydro Handbrake
Wheels/Tires
Enkei PF05 17x8.5 +48
ARP Extended wheel studs
Falken Azenis RT660 Tires 245/40/17
Interior / Safety
Sparco Sprint seat on custom fabricated mounts
Sparco steering wheel
Snap-off R1000 quick release
Custom roll cage built to SCCA GCR specs (1.5"x0.120" DOM)
Schroth Profi 3x2 FIA Harnesses
Renscott Harness Collars
6OC lightweight door panels
181stleader Carbon fuel tank access covers
Custom central switch panel
6OC Drivers floor plate
iWire DBW pedal adaptor
Flocked Dash
Exterior
Aerosim Research carbon fiber race roof
V6 / RS front bumper w/Fog light covers
JDM Smooth rear bumper
JDM Lightweight bumper beams
JDM Rear spats
JDM Taillights
JDM Clear Corner Lights
Clear side markers
L'aunsport WRC Rear wing
Bakemono 22B Hood Vents
Bakemono Carbon S201 Mirrors
Shaved side moldings
Shaved trunk
Custom Pearl Blue paint
30% Ceramic window tint (rear/quarters)
RPG Carbon WRC Mirrors
Electronics
Haltech Nexus R5 VCU
Haltech PD16 Power Distribution Module
Haltech 15 Button CAN Keypad
Haltech 8 Button CAN Keypad
Haltech TCA-8 CAN Thermocouple Module w/Prospeed connector brace
Haltech CAN Hub
Plex SDM700 Digital Dash Logger
Custom motorsport wire harness
MAPDCCD Center Diff controller
MSEL Solid state battery isolator
Odyssey PC680 Battery
2006+ WRX DBW Pedal / Throttle Body
KA NTC2 Fast motorsports IAT sensor (Intake Manifold)
RIFE IAT charge cooler temp sensor (Intercooler)
Lowdoller Motorsports oil pressure sensor
Lowdoller Motorsport oil temp sensor
Delphi Flex Fuel Sensor w/Raceart Mount
MAC 3port EBCS w/Raceart Mount
Introduction
My name is Steven and this is my long-standing journal documenting the path of my 1998 2.5RS from purchase, daily driving, to now many years later restoration and transition into a dedicated track car. The most recent phase of this project has taken me roughly 6 years.
5 years, but I'm getting close to having a complete car, with the goal for a running driving car later this summer (2021)
. I'm at the point now where the car is so nearly road-worthy. I'm making a big push, and the goal now is to have it track ready by July 2022.
Original Intro from 2005
Heres my Introduction and story for how I got my car:
My name is Steven Stewart and I'm from lower West Michigan. When I was a freshman in college I was in the market for a new car after crashing my first car, a 95 Nissan Altima, into a telephone pole in the snow. Im not exactly sure what sparked my interest in Subarus but It was pretty quickly that I decided I wanted an impreza.
I browsed Ebay, autotrader, craigs list, news papers and such for a couple weeks looking for a new car. One session on ebay, I clicked on a link for this wrecked blue 98 coupe but just glanced at it and moved on. Later, I returned to that link and realized it was about 40min from my house! So the next day I went and looked at it, drove it around the parking lot (it was salvaged title, thats all I could do
) and immediately fell in love. They wanted $5500 for it off the lot and that was way too much so I decided to bid on it on Ebay. I Lost the auction to a sniper and it went for $3600
I was pretty sad I didnt get it. Anyways, two days later i found it listed again on Ebay! I called them right away, offered $3600 cash and picked it up the next day!
12-21-2005 Purchase!
Heres two pictures the dealer used on the ebay auction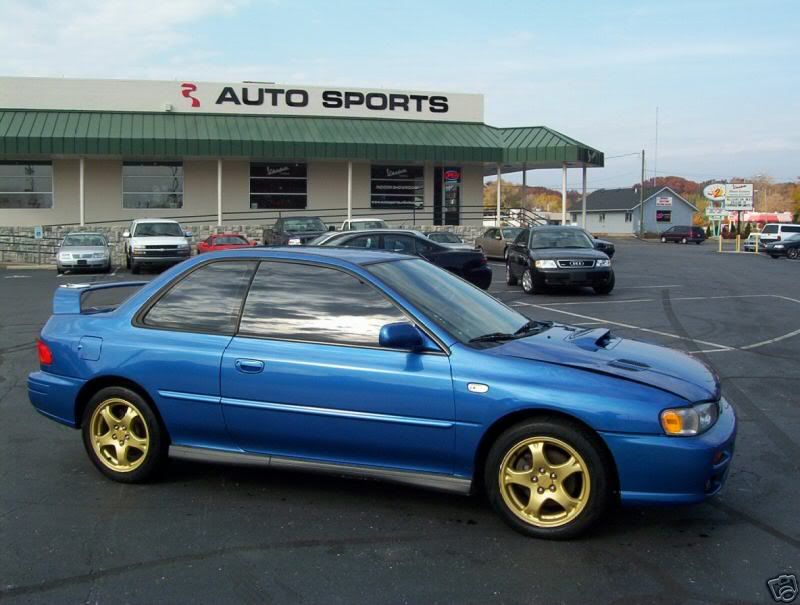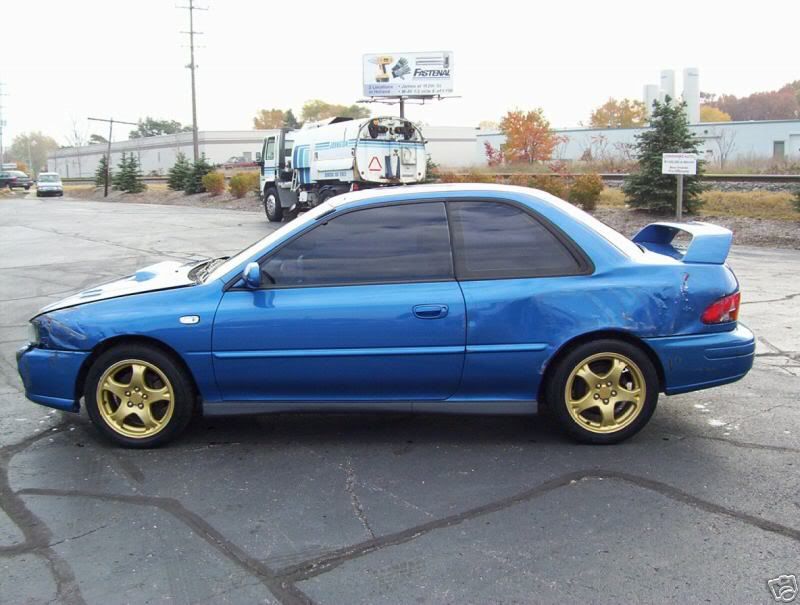 And here she is at the body shop I worked at the day I brought it home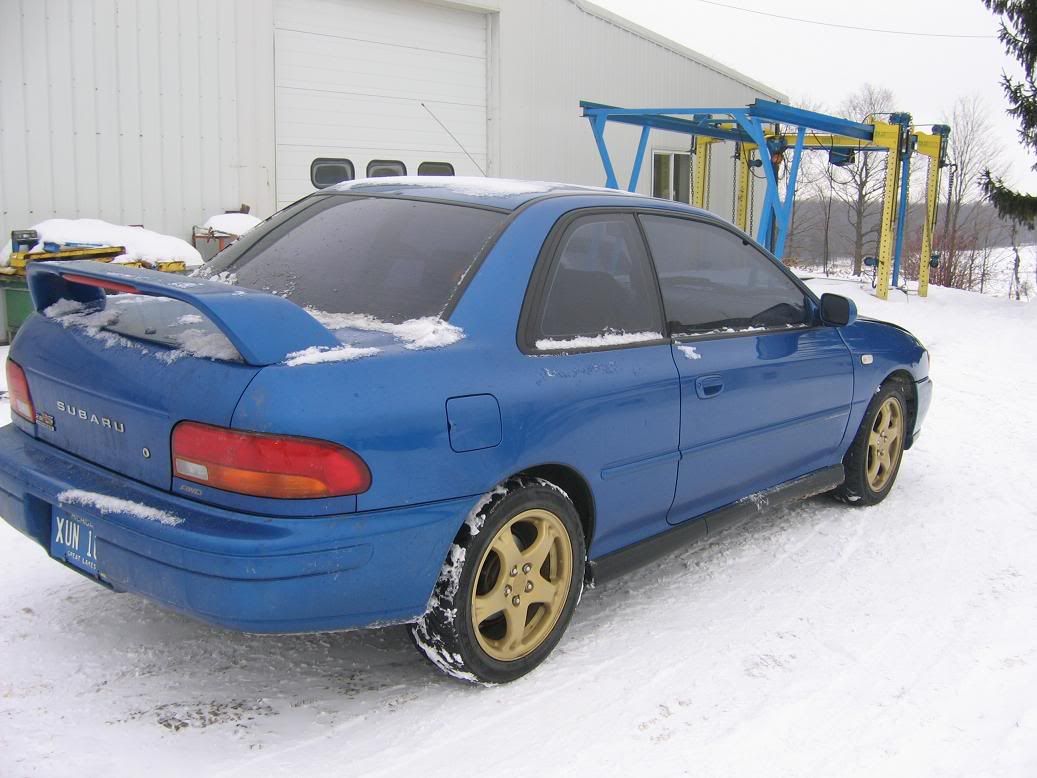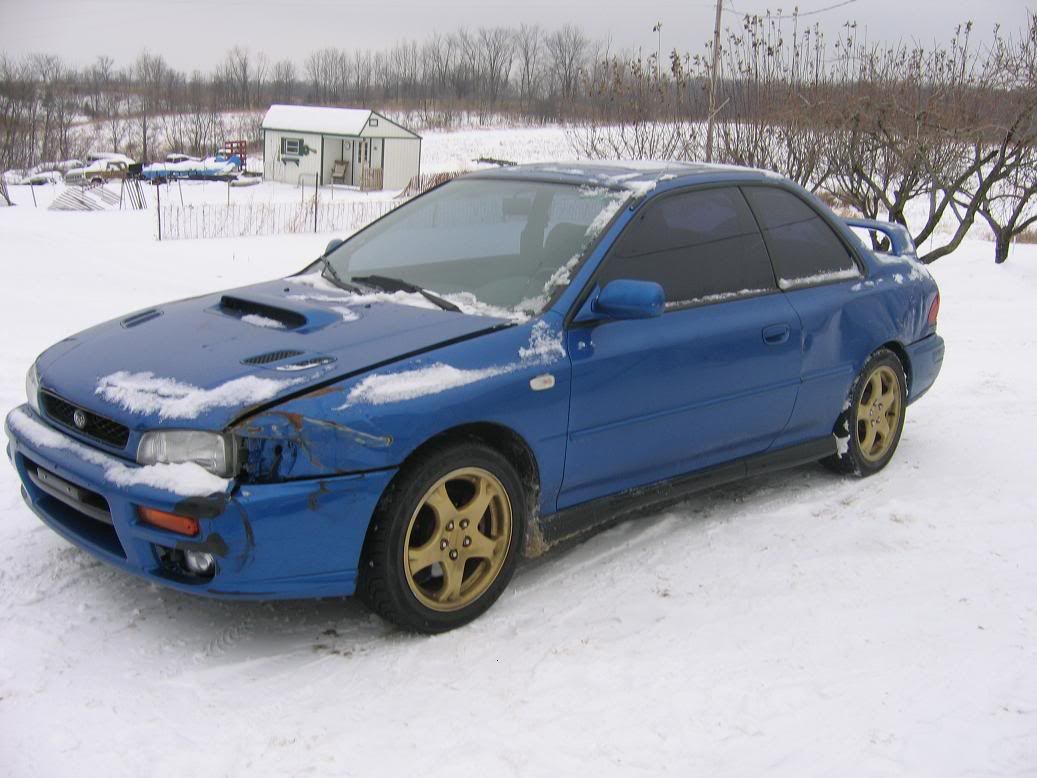 After this, I began the process of rebuilding my new purchase.