The time has finally come for me to organize a members journal! Ive been a member here since I purchased my 98 2.5RS in late December of 2005. My car, not unlike myself, has been through a lot since then and made many changes. And now, upon organizing parts and information for my swap, I though I should get the cars history laid out so I can properly journal its future
Current Photos:
Mod List: Room to Grow!
Engine:
1996 JDM EJ20G from a GF8
02 WRX coil swap
Samco sport IC hose set
Apexi Power Intake
Coolant header tank delete
Invidia Up pipe
AMK Down pipe
Blitz Nur Spec R cat back
Silicone turbo inlet elbow
Turbosmart knock off Bov
Vent to atm pcv system
Grimmspeed MBC
Vipec Standalone ECU
Brakes/Suspension:
20mm RSB
GD Sti FSB
Trans/Drivetrain:
Stock RS 5spd
Kartboy short shifter/bushings
ACT HD Street clutch
Fidanza Aluminum flywheel
Interior:
Momo/Subaru 5mt shift knob
Leather shift boot
Subaru OEM gauge pod w/custom carbon bezel
52mm Greddy Boost/Oil pressure gauges
Exterior:
Painted side skirts
Debadged
Hella 500's
Heres my Introduction and story for how I got my car:
My name is Steven Stewart and I'm from lower West Michigan. When I was a freshman in college I was in the market for a new car after crashing my first car, a 95 Nissan Altima, into a telephone pole in the snow. Im not exactly sure what sparked my interest in Subarus but It was pretty quickly that I decided I wanted an impreza.
I browsed Ebay, autotrader, craigs list, news papers and such for a couple weeks looking for a new car. One session on ebay, I clicked on a link for this wrecked blue 98 coupe but just glanced at it and moved on. Later, I returned to that link and realized it was about 40min from my house! So the next day I went and looked at it, drove it around the parking lot (it was salvaged title, thats all I could do
) and immediately fell in love. They wanted $5500 for it off the lot and that was way too much so I decided to bid on it on Ebay. I Lost the auction to a sniper and it went for $3600
I was pretty sad I didnt get it. Anyways, two days later i found it listed again on Ebay! I called them right away, offered $3600 cash and picked it up the next day!
12-21-2005 Purchase!
Heres two pictures the dealer used on the ebay auction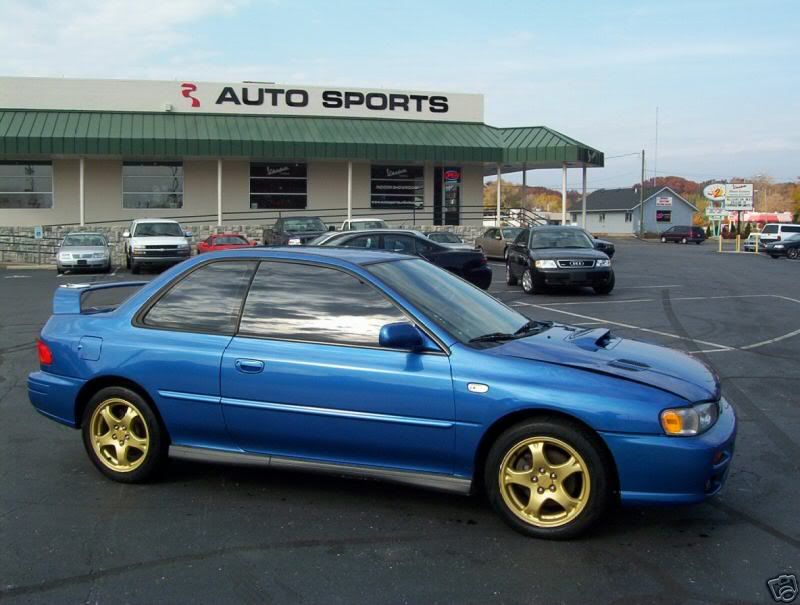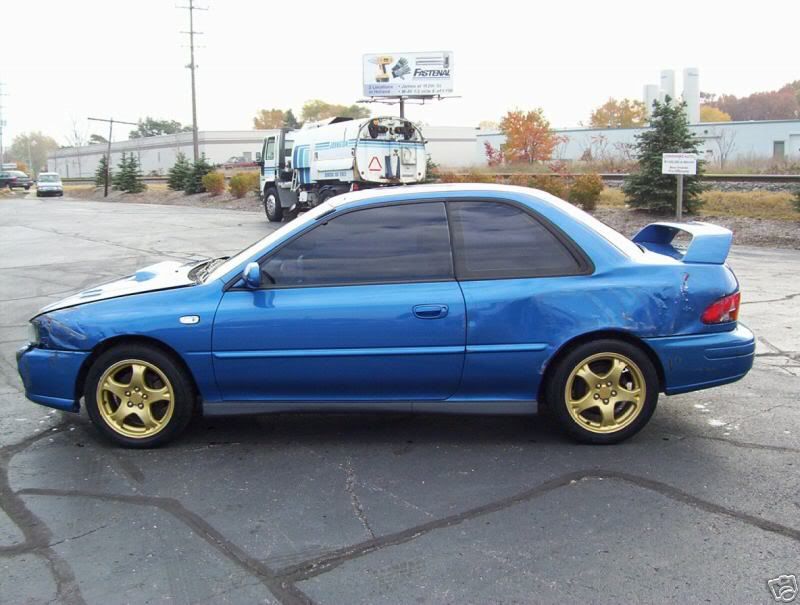 And here she is at the body shop I worked at the day I brought it home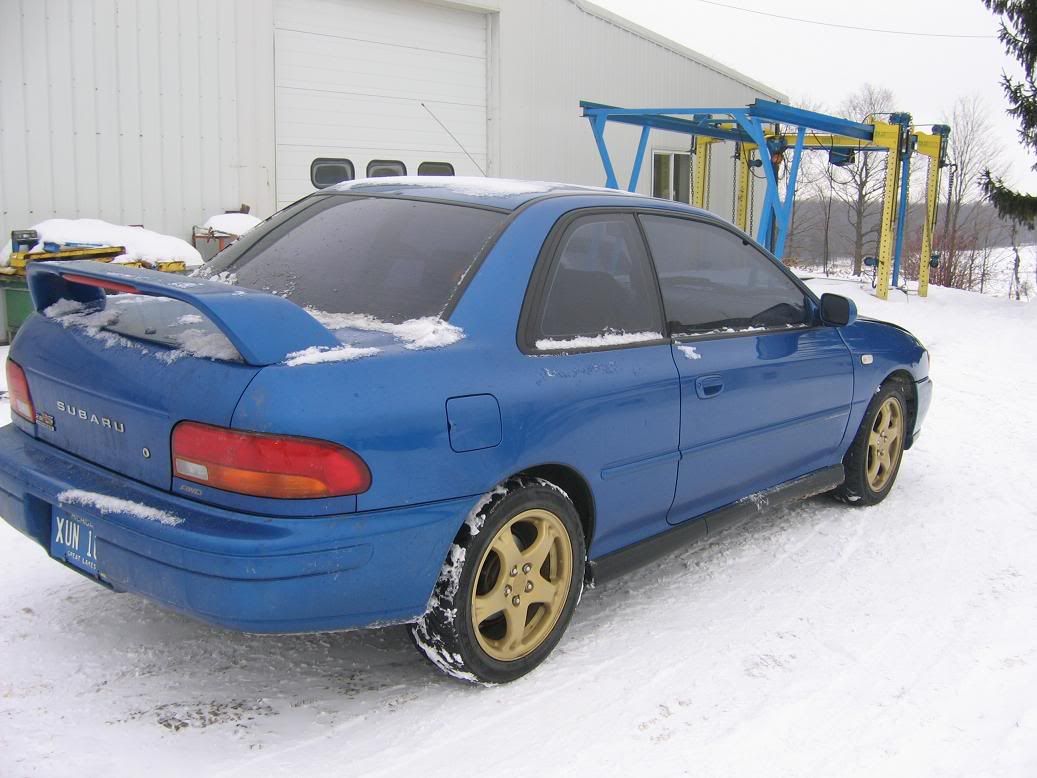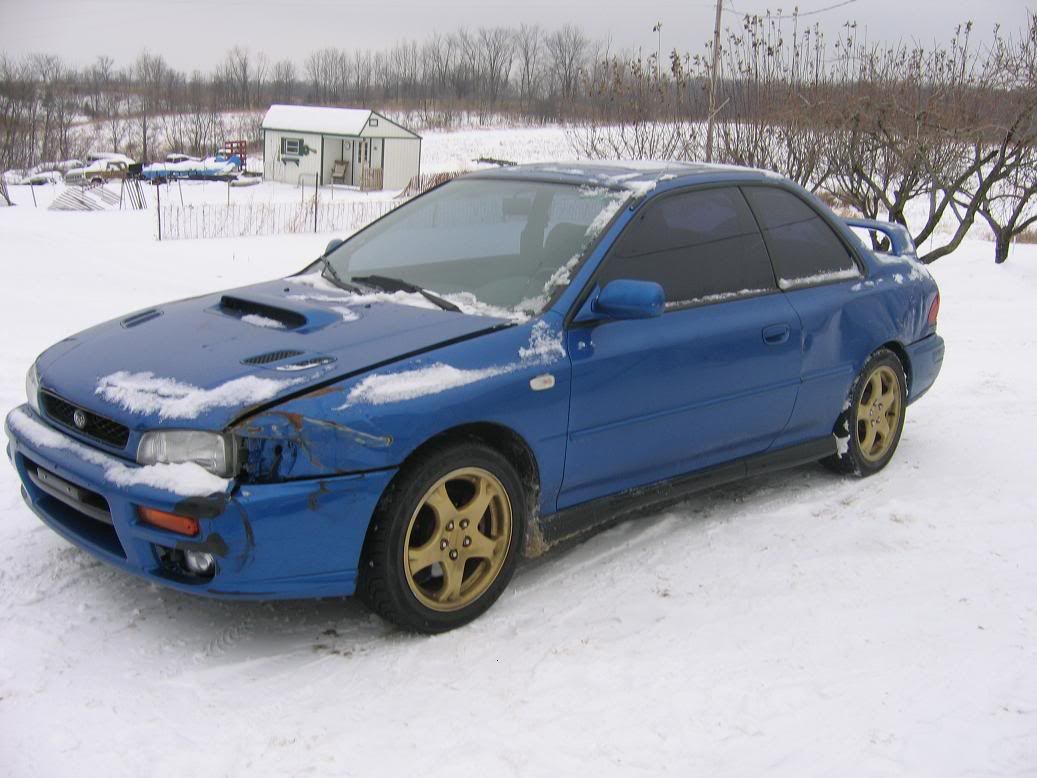 After this, I began the process of rebuilding my new purchase.