Hey guys, since its sort have reached a level of completion (if we could ever call it that), I thought I'd put together a journal for my RS. Here is a short history of the cars I've owned.
My first car in one of its many stages. i had this car for 5 years (the longest stretch I've had a car). This car eventually got a Greddy 18G turbo, shown here.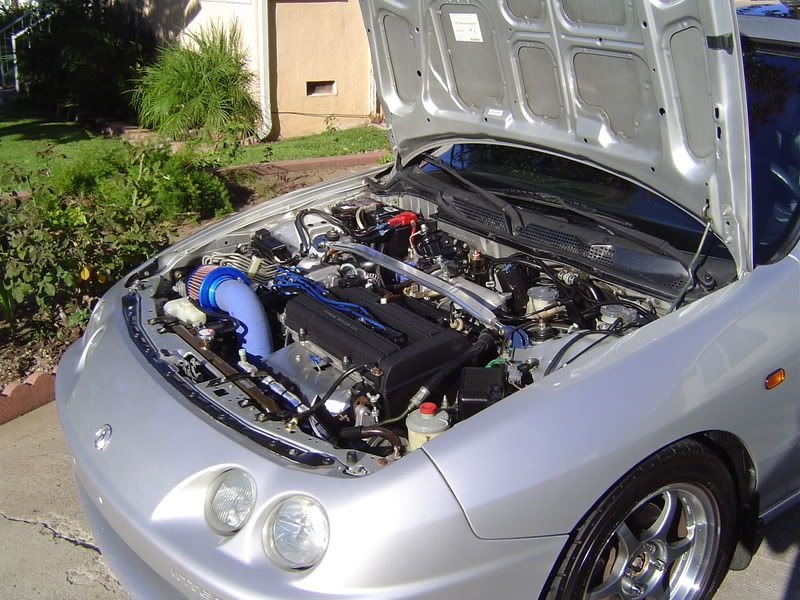 taken a month before I sold it
My 2nd car, I bought from my sister who was going to donate it. It needed some love, and I enjoyed having my first daily driver. I got used to having two cars because of this car. Since then, I haven't had one car by itself.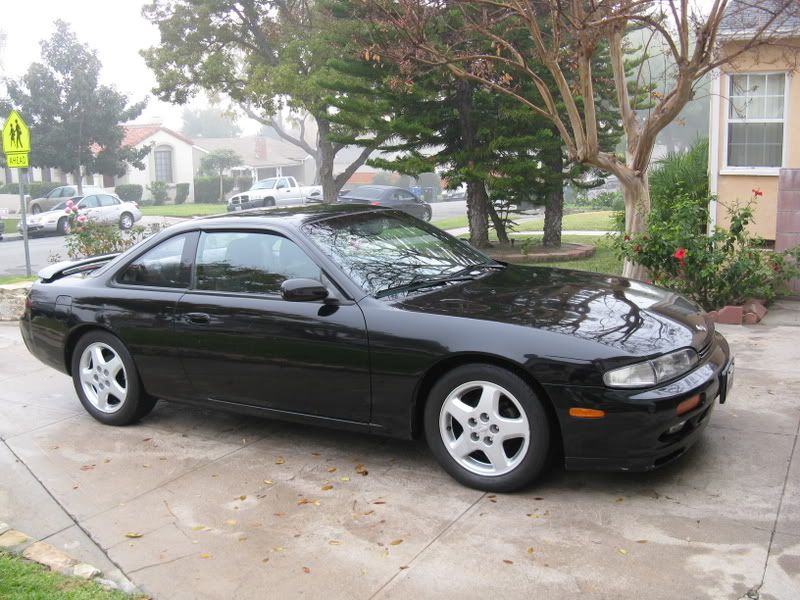 taken 2 months before I sold it.
The teg and 240sx together - see the black FMIC on the integra?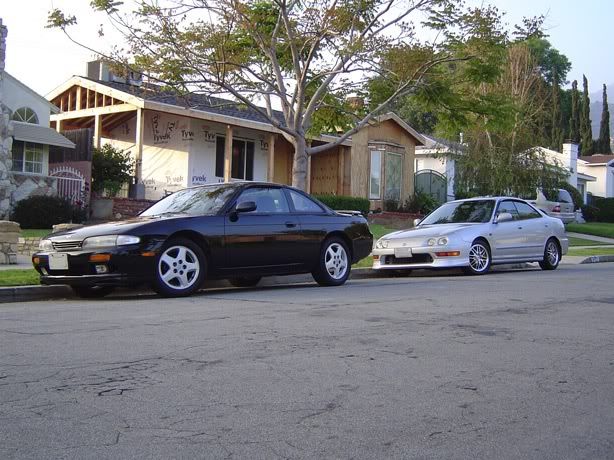 It was always a dream of mine to own an Evo. Luckily my friend was selling his, and after I quick test drive, I immediately started making for sale threads for my silver integra. Eventually the teg was sold and the evo was in my possession. I modded it, tracked it, and then got sick of it. Awesome godly performance, but I was never able to fully take advantage of it, except on the track. Going to the track gets expensive, and I just wasnt will to drop the cash on it anymore. With no intentions of street racing, I sold it.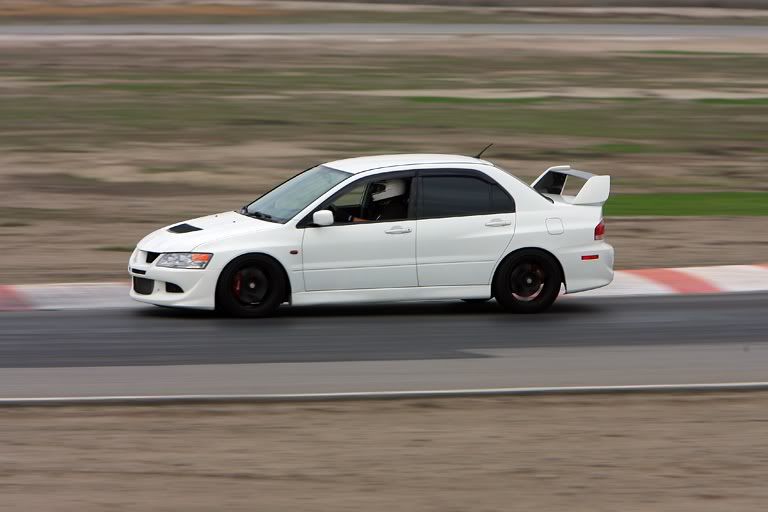 Taken 2 months before sale.
Driving only the 240sx for a couple of months, I sorely wanted to have 2 cars again. A close family friend to my GF was selling his 97 teg. I spent a little over a year and half restoring it. No big plans like the first integra, just an OEM restore, and a car to drive around in to get good mileage. driving an integra feels uber natural to me.
2nd teg and 240sx together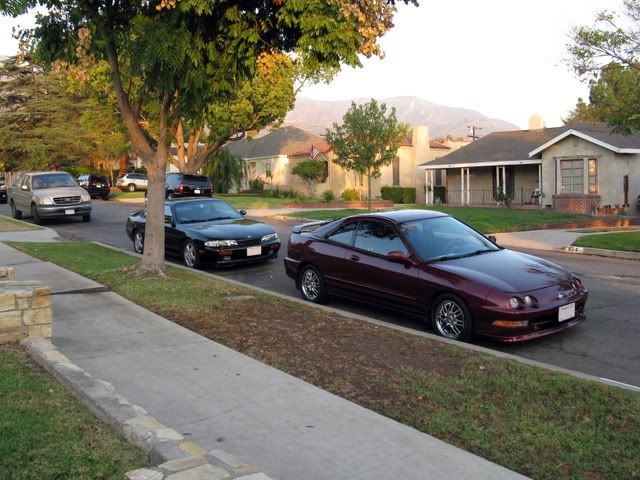 Having two 12-14 year old theft magnets/boy racer/compacts was kind of difficult. I tend to do a lot of driving, and more often than not, I have passengers. One at a time was fine, but two or one by themselves I couldnt do anymore. So I went looking for a more practical car. The requirements were OEM HID's, RWD, and sedan. I was looking at IS350's and BMWs. I overlooked the G35 thinking it would be too expensive. I eventually stumbled upon this car. I got exactly all the options/packages I wanted, plus a killer deal.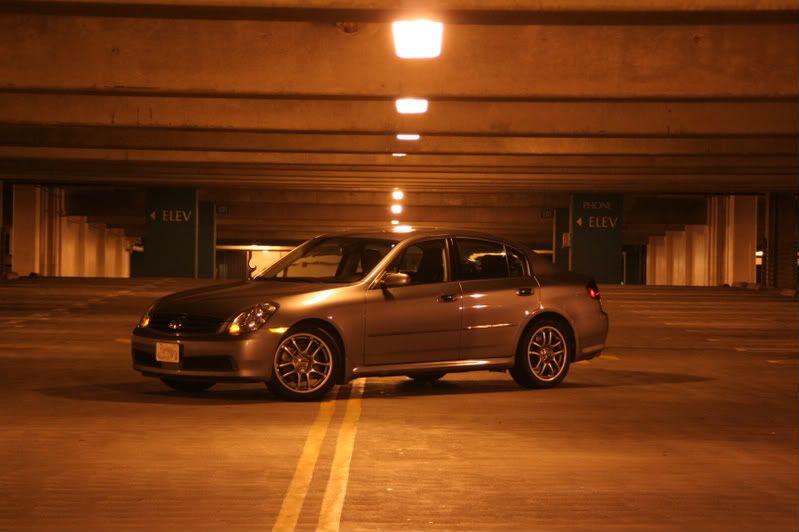 Here's all three together.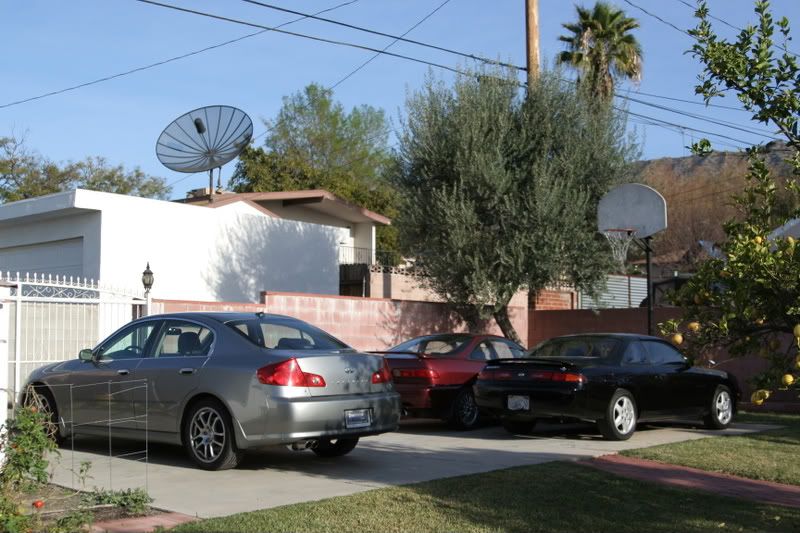 The 240sx was up for sale before I got the G35, but I wasnt able to sell it until after.
I had the maroon teg and the g35 for a little over a year when I found out the previous owner of the 99 RS was replacing his car for a more practical one due to the start of a new family (wife was pregnant at the time). So the Teg was up for sale.
Here they are together.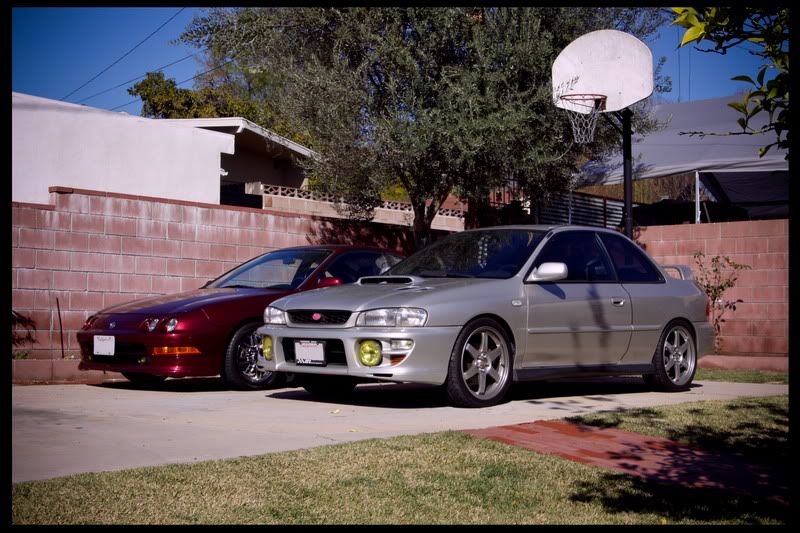 I bought this RS from my girlfriend's brother in January 2010, and here is a picture of it during the wiring harness install and the thread I made documenting it.
Spec R's wiring harness and build thread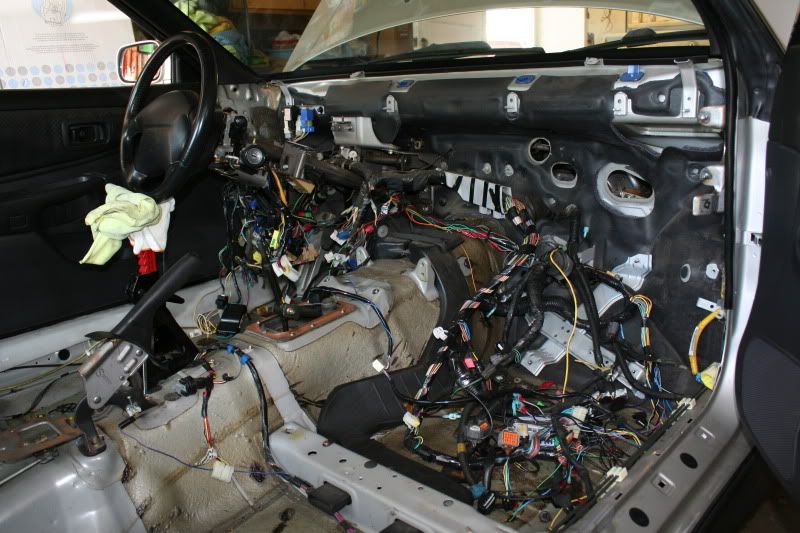 Special thanks to RS25.com contributors/vendors - Zealous Interiors, I-Wire, JDM Gary aka Gary's Garage, 7L Autosport
Special thanks to the Subaru friends 181stleader, HighRevImpreza, OUScooby and everyone else that I might have forgotten
Current Mod List
- items in Italic are items inherited with the purchase of the car
Engine:
-2002 USDM EJ205 Longblock - stock internals, stock heads, TGVs still functional
-CA BAR legal - at the time of inspection, the swap had all cats and associated hardware in place - 100% stock dyno'd at Yimi at 205whp/205wtq in stock form
-I-Wire Harness merge (I-Wire #43 - thanks Brian)
-Blouch TD04-19T Turbo
-Cobb Accessport v2 - Protuned by Steve @ 7L Autosport 8/12/14
-Cobb catted downpipe
-Mishimoto TMIC
-Mishimoto turbo inlet pipe
-AEM Cold Air Intake
-Injector Dynamics ID1000 injectors
-Deatschwerks DW301 fuel pump
-Sun Auto grounding kit
-Interstate Megatron Size 51R Battery (Honda Civic size)
-Grimmspeed BCS
-Grimmspeed AOS
-NGK Iridium Spark plugs
-Autometer Phantom Oil Pressure Gauge (Electrical)
-Innovate Wideband O2 sensor/Gauge
-Motul 5w40 / Mazda Rx-8 Tokyo Roki oil filter
-Greddy Magnetic drain plug
-Kartboy rear exhaust hangers
-JDM in-fender coolant overflow tank (Thanks JDMGary)
-Autometer Phantom Boost Gauge (Mechanical)
-Unknown brand Catless Up-pipe
-stock WRX B-pipe / Prodrive Oval axle back
-Apex-i Intake
sold to def09
-Go Fast Bits adjustable BOV -
sold to Flyboynextdoor
Drivetrain:
-stock 99 RS 5-speed
, Motul Gear 300 75w90
-Exedy stage 1 clutch/pressure plate
-Kartboy short shifter
-TIC shift linkage update
-Kartboy rear and front linkage bushings
Exterior:
-JDM v5/6 Grill
-JDM v5/6 Replica Front lip (GSMotortrends)
-UKDM smooth rear bumper with spats
-JDM taillights
-JDM corner signals (thanks JDMgary)
-Kakumei OEM clear bumper signals
-Ebay OEM clear sidemarkers
-Scoobyparts UK foglight covers/brackets
-Scoobyparts UK blue Subaru emblem
-PIAA Night Tech headlight bulbs
-LaminX yellow foglight film - Mtec ion yellow H3 bulbs
-Full exterior repaint in Silverthorn Metallic with PPG paint
-JDM GC8 RA engine and transmission undertrays
-06-07 STi rear lower diffuser with Cusco tie bar/mount
Suspension/Brakes:
-Feal Suspension 441 Coilovers 7k/4k Swift springs - installed/corner weighted by Odi Bakchis
-Tanabe front and rear upper strut bars
-WRX 20mm rear sway bar
-Goodridge SS brakelines
-Stoptech ST40 Big Brake Kit front (328mm)
-Stoptech slotted rear H6 rotors
-Stoptech StreetPerformance pads f/r
-H6 rear caliper brackets
-Rebuilt rear calipers (OEM seals 06/14)
-Motul RBF600 brake fluid
-2004 STi Brake Master Cylinder and Brake Booster
-Grimmspeed master cylinder brace
-Whiteline Steering rack bushings (30mm)
-Whiteline Roll Center Adjustment kit
-Kartboy Botox subframe bolts
-Paranoid Fabrications fender braces
-Cusco GC8 4 point TYPE2 front lower tie bar
Wheels/Tires:
-Volk LE37 18x7.5 +48 (re-finished and machined)
-Michelin Pilot Super Sport 225/40/18
-Muteki Lugnuts
-3mm 5x100 PE-Motorworks front wheel spacers (for BBK clearance)
Interior:
-JDM Ver1/2 STi Front seats
-JDM rear seat fabric (professionally installed on USDM rear seats) (thanks Longitude)
-JDM Ver7 Steering Wheel (thanks Longitude)
-JDM Ver7 Shift knob (thanks Longitude)
-uninstalled extended armrest for regular height armrest (thanks skyline4me)
-Impreza floormats
-CG-Lock seatbelt anchor
-Zealous Interiors JDM Gray door inserts (thanks Andrew)
-Zealous Interiors Shift boot (thanks Andrew)
-Zealous Interiors EBrake boot (thanks Andrew)
-Zealous Interiors trunk carpet (thanks Andrew)
-Bakemono Triple gauge pod (thanks Trey)
-relocated compass pack
-Euro 7k redline 160mph gauge cluster (thanks JDMgary)
-Rallisport Direct accessport holder
-custom A/C lines (Lucas AC, Van Nuys, CA)
-Subaru OEM cabin filter option (3/13)
-Subaru OEM trunk light (3/13)
-Subaru OEM floormats (3/13)
Audio:
-Kenwood Excelon X998 w Bluetooth
-stock 2008 6.5" STi speakers front and rear
-Streetwires RCA/4GA wires
-Dynamat in doors, rear shelf
Items in storage but could be for sale/loan if anyone specifically needs them:
-Samco Intercooler hoses/couplers
-OEM P1 springs/strut/tophats
-HKS Super Sequential blow-off
-stock TD04 turbo with blown seals
-Kartboy shiftknob
-stock RS steering wheel
-stock RS gauge cluster
-stock WRX intercooler (2x)
-stock WRX up-pipe with cat (with 181stLeader)
-stock WRX downpipes with cats
-stock WRX dual tip axle back
-stock WRX 04 BCS
-stock WRX 02 BCS
-stock WRX BPV
-stock RS windshield washer pump
-Kenwood Excelon Head unit X790
-NRG EPAC3 voltage conditioner
Sorry for the long list, but its nice to actually see an inventory of all the stuff I've acquired over the years.
Items sold on RS25/Nasioc from when I purchased the car
-stock 2.5 RS front seats (dohtem8)
-stock 99 SOHC 2.5 RS longblock (lardass)
-5zigen fighters
-stock 2.5 RS MAF
Future Plans - in order of priority and likelihood of happening in 2013
-some sort of brake upgrade (DONE, 6/2014)
-bigger injectors, fuel pump, re-tune (DONE, 8/2014)
-STi 6-speed of some sort
-full re-spray (DONE 09/2017)
-aluminum hood
-re-built EJ205 longblock