SIMER's GREEN MT SCOOB(s)
This is my original journal when I had my 96 Brilliant Red L. Here the link to my STi swapped RS
http://www.rs25.com/forums/f145/t157332-simers-super-ultra-mega-jdm-v5-rsti-type-ra-ltd.html
a preview of the old girl :boxer: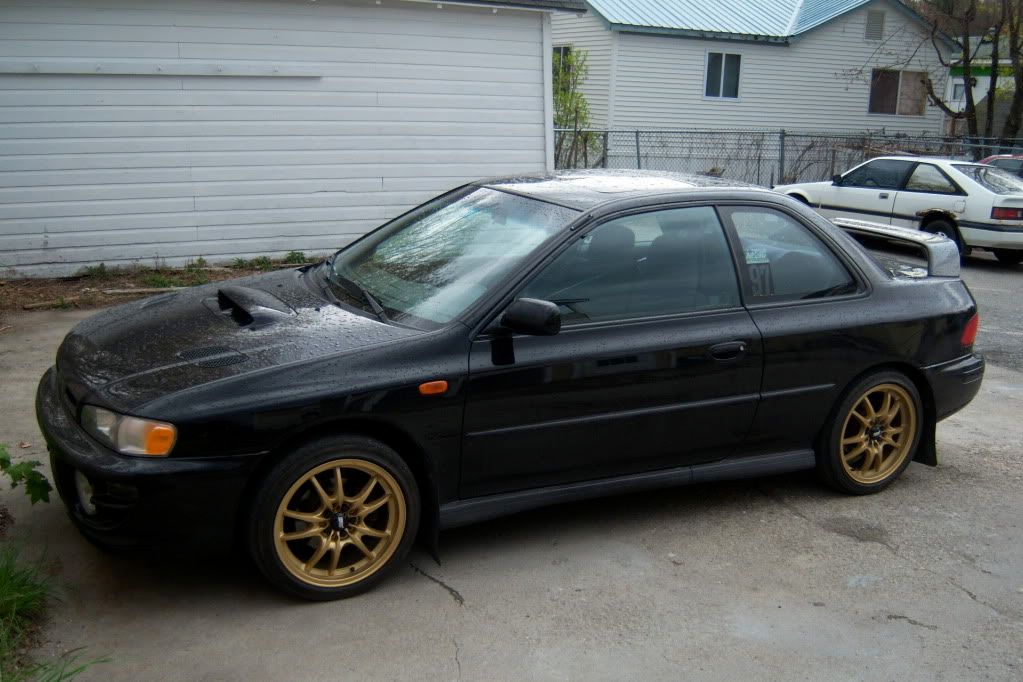 Hey guys, to those of you who don't know me, I'm Simon. I was born and raised in Vermont and I absolutely love it here. 802 represent!
So long before I had a drivers license, my gear-headed mind was tinkering on all kinds of toys, mostly my Ski-doo. When I got my permit, I still held a strong passion for the snow and winter. That's when I fell in love with Subaru and AWD! Ever since then I've been hooked and owned nothing but Subarus.
rojectsti.com:
Post # 1 - Intro/Background Info
Post # 2 -
Mod List
Post # 3 -
Pre-Drop Pictures on 96 L
Post # 4 -
Post-Drop Pictures on 96 L
Post # 8 -
Winter Photoshoot @ Fish Hill
Post # 9 -
First Boxer Engine Pull/Clutch Install [98 Impreza]
Post #12 -
Arrival/Installed Tanabe CB
Post #19 -
Interesting/Random Personal Facts
Post #21 -
FREE Kosei Wheels
Post #23 -
Snow Attack Setup
Post #24 -
SOLD THE 96 L, BOUGHT A 99 RS
Post #29 -
DIY Black Housing Headlights
Post #36 -
Rallitek Skid Plate
Post #35 -
Replica Borla Headers
Post #41 -
Highland Universal Black Mudflaps
Post #42 -
JDM Lightweight Bumper Beams
Post #47 -
ADR Flite 5's before and after pic
Post #51******
EJ253 Dies, v6 STi RA Limited reborn
*****
Post #53 -
Pre-swap preparation, yankin' out that tired EJ253
Post #54 -
N/A exhaust removal/RSR TBE comparison and install
Post #55 -
screw engine cranes, I got a forklift!
Post #58 -
Pre-shipment pictures of the RA limited
Post #63 -
Dropping the N/A Crossmember
Post #64 -
Walbro 255lph + install kit
Post #65 -
Digging out the ECU and searching for the very well hidden SMJ
After driving my mom's GMC Jimmy for a year or so, I finally bought my first car:
1998 Impreza L 4DR 5MT in Black w/ 151K mi. $2500 R.I.P.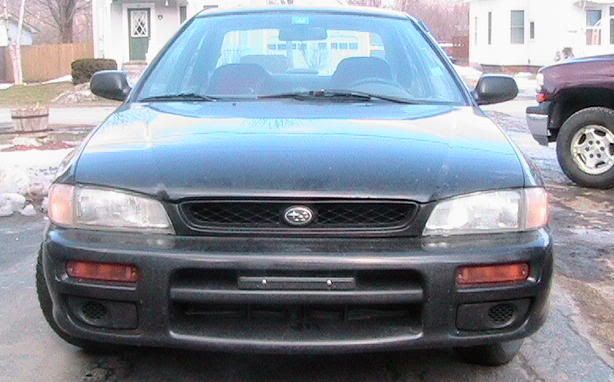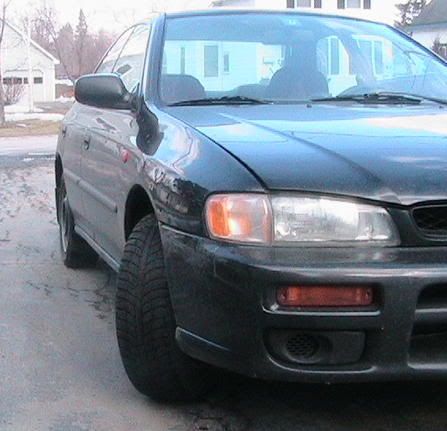 When I first got her, I completely detailed her and got her all nice and shiny.
As time passed on, I did some minor things. When I bought the car, the drivers seat was torn on the outside bolster...probably from some fatty getting in and out lazily. Couldn't have that so I hit up autozone and bought some cheap seat covers....yes, seat covers :lol:
After listening to plenty Subaru's with that classic boxer rumble, I decided that I had to have that same rumble. I finally saved up enough money to buy a Tanable Hyper Medallion CB exhaust system. At the time, I was going to an automotive technical school for my sr. year in highschool so I brought the whip in and installed it myself...with most of the guys oooo-ing and ahhh-ing at its beauty. Even my instructor thought it was pretty cool.
Thennnnn my clutch went. So I bought a Stage III SPEC Clutch Kit (planning for a swap). Again I brought my car to the tech center where I experienced my first boxer engine pull
. Everything went smooth, course it took a little while to figure things out.
So some time passed, and things were awesome :burnout:. But there was something missing. Soon I realized it was music lol. My factory HU wasn't cuttin it so I picked up a Panasonic HU with a motorized faceplate.
Now, this is where things started going a little down hill
...(typical first car experience). Long story short, I totalled my car. I was driving along casually, on my way to work with a friend chit-chattin...just another normal day. WELL...the weather that wintery day wasn't...ideal... pretty much rained/snowed slush (MIX). I came to a paved, left-hand bend. Hit the apex and proceeded to plow, instead of turn, straight into a parked Chevy Blazer. BAM! T-BONED!:uKk: Called the cops, filed a report and limped my car home a few miles. To say the least, it put quite the dent in my wallet.
So after finishing up my senior year riding my mt. bike to school, I started working and saving up my money. I searched and searched and searched and then in Portland, Maine I finally found her.
1996 4DR 5MT Impreza L in Brilliant Red w/131k for a whopping $1100
SOLD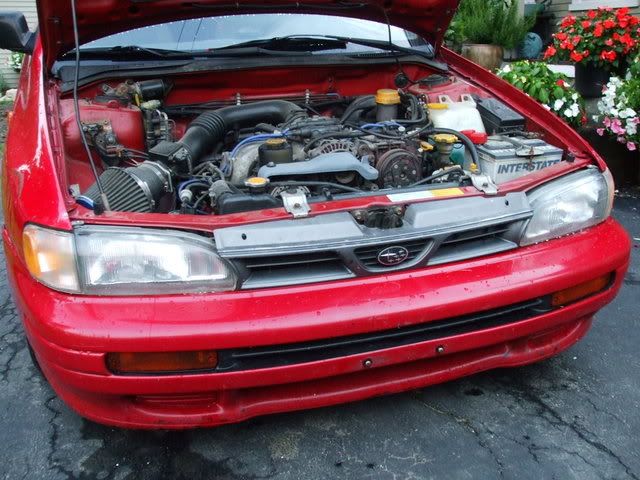 She had been driven off the road into a ditch. Front bumper was scratched and scuffed, passenger-side tow hook slightly bent back, and the header was kinked which melted the power steering boot. Other than the front bumper, the exterior was pristine. NO RUST what-so-ever. And the interior was just as nice, no rips, stains or scratches.
As we were driving over, I thought to myself, I wonder if I still remember how to drive stick. haha it's been a looong time. But I managed...even in the bumper-to-bumper traffic outside of Portland. Couple hundred miles, few wrong turns and four lobsters later, she was all mine sitting in my driveway.
Course I kept my 98 L as a parts car. I started by swapping the entire exhaust system over. Unfortunately, I ruined the best portion of my parts car, the front end so I was/am stuck with my scuffed up L bumper.
(TO BE CONTINUED)