Turbo, LS swapped Impreza RS
I bought my first car on July 18, 2011 after looking for an RS for about a year. My mom actually found it and as soon as i found it and saw that it was blue i had to have it. It was 2 hours away from where I lived and i didn't have my license so my Dad and I had to trailer it home. Here is what it looked like when i got it: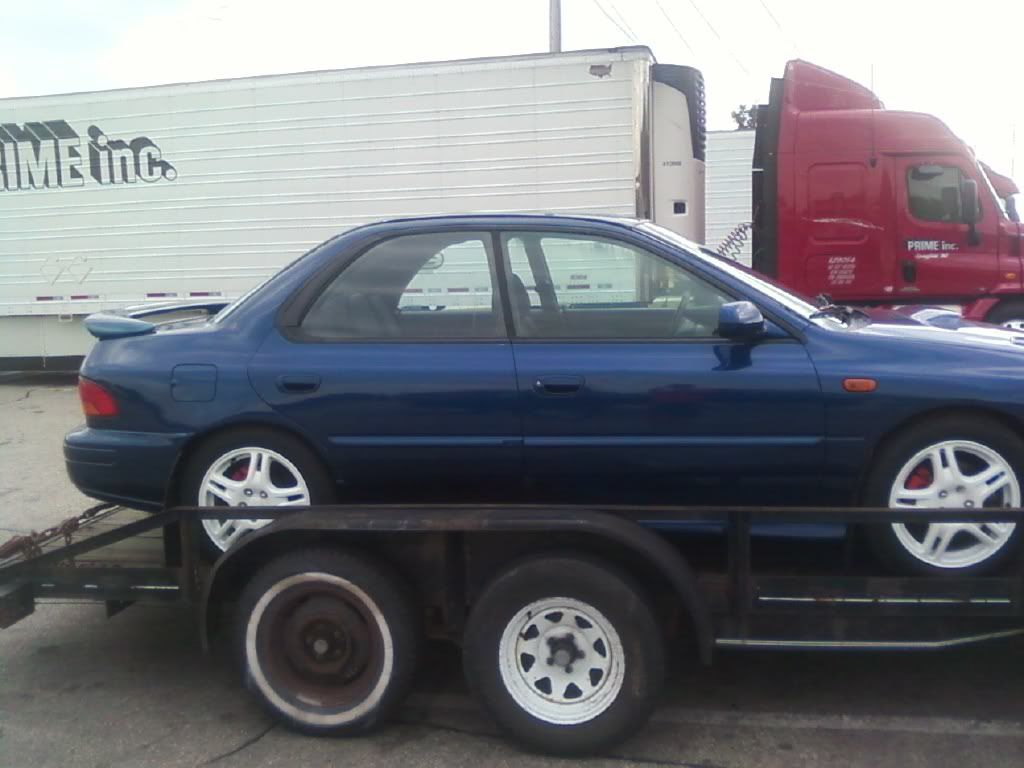 (sorry for the bad pic it was raining out) For right now it's staying the way i got it but eventually it will change.
Current pictures of it:
Plans:
Want
Have
Engine / Performance:
5.3 Iron block LM7
Callies Crank
6.125" Diamond Rods
Wiesco Pistons
Ported 243/ls6 heads or afr 225s
Hi Ram style intake
Custom turbo manifolds
Borgwarner s496
Custom A/W cooler
Fuel:

Custom 20 gallon split tank fuel cell
Custom aluminum surge tank
Walbro 255 surge feed
Dual Bosch 044's for main feed
-10/12 AN feed
-8/10 AN return

Management:

Megasquirt V3
Custom Mil spec twisted harness with bulkhead connectors

Exterior / Aesthetics

Fiberglass front fenders
Rear overs
Custom sideskirts
M3 Evo adjustable carbon wing
V2 STI bugeye lip
Custom diffuser
Door molding/antenna delete
Scoop delete/hood vent
Interior Comfort/ Engine Monitoring
Gutted interior


Tube floor


Custom Tunnel
Fiberglass dash


Bride Vios III's


Dash mounted tablet for gauge monitoring
Bluetooth accessories
Floor mounted pedal box
Suspension / Driveline
ISC N1 coils
ISC coil covers
06 STI Spec C hubs/knuckles
Brembos or big brake equivalent
2015 STI "quick" rack
IRS 8.8 rear diff
BW t56
DSS Axles
DSS driveshaft
DSS STI 05+ rear hubs


Custom trailing arms and lateral links



Front subframe
Motor mounts
Transmission mount
Rear Subframe
Bumpsteer corrected front knuckles
Heim converted outer tie rods
Miscellaneous
Full cage


Tube front
Shaved bay
Smokey burnouts
Pissed off Purists
Table of contents:
OBD2 Repin:http://www.rs25.com/forums/f145/3123925-post593.html[/url[/list] [list]Silicone turbo inlet: [url]http://www.rs25.com/forums/f145/3172335-post692.html