Hello my name is Randy and I am from San Jose California. I drive a 2000 Subaru Impreza 2.5rs and have been modding it since. This is my very first car and I've had it since: November 27th, 2010 and She has went a long way from then.
Current Modlist:
Engine/Drivetrain Modifications:
2004 STi mid pipe
Prodrive round tip exhaust
Supers exhaust adapter kit
NGK Iridium IX Spark Plugs
Exedy Stage 1 Organic Clutch kit
Exedy OEM Flywheel
Suspension Modifications:
ISC N1 Coilovers; Trust Bearings, Rear Camber Plates, Rear Damper Extenders
Cusco Rear sway bar
Beatrush rear tower bar
Cusco Type ST front tower brace
Wheels/Tires Modifications:
Volk TE37 17x7.5 +48
Falken Ziex 912 225/45/ZR17
Mysterious Volks 17x9 +36 (not on the car yet)
Michelin pilot super sport 245/40r17
NRG Valve Stem caps
Stoptech Brake Pads
Centric Premium Rotors
Interior/Exterior Modifications:
Mature WRC front bumper
Authentic 22b hood vents
STAGE 21 front fenders (20mm wider on each side)
S201 Rep adjustable mirrors
Authentic Ver. 5 STi Rear Spoiler
Retrofit Clear Headlights
Acura TSX Projectors
Subaru OEM JDM rear spats
Orange bumper signal lights
Painted side skirts
OEM JDM tailights
Orange bumper signal lights
JDM Clear Corner Headlights
Rear STi License plate frame
Front Speed Element License plate frame
JDM Carbon Fiber STi Bunny Badge
2x Recaro SRD Lemans Limited "Confetti" Edition
Unknown Brand Sliders
Pioneer dxt-2769 speaker and deck combo
STI Spec-C Duracon 5 speed shift knob
OEM Option Extended Armrest
Subaru All weather floor Mats
JDM emergency light switch
Hella KDM/JDM squash Airfreshener
Monster cassette to Aux converter
Subaru optional trunk light
Subaru optional trunk net
This is how she looked with the previous previous owner: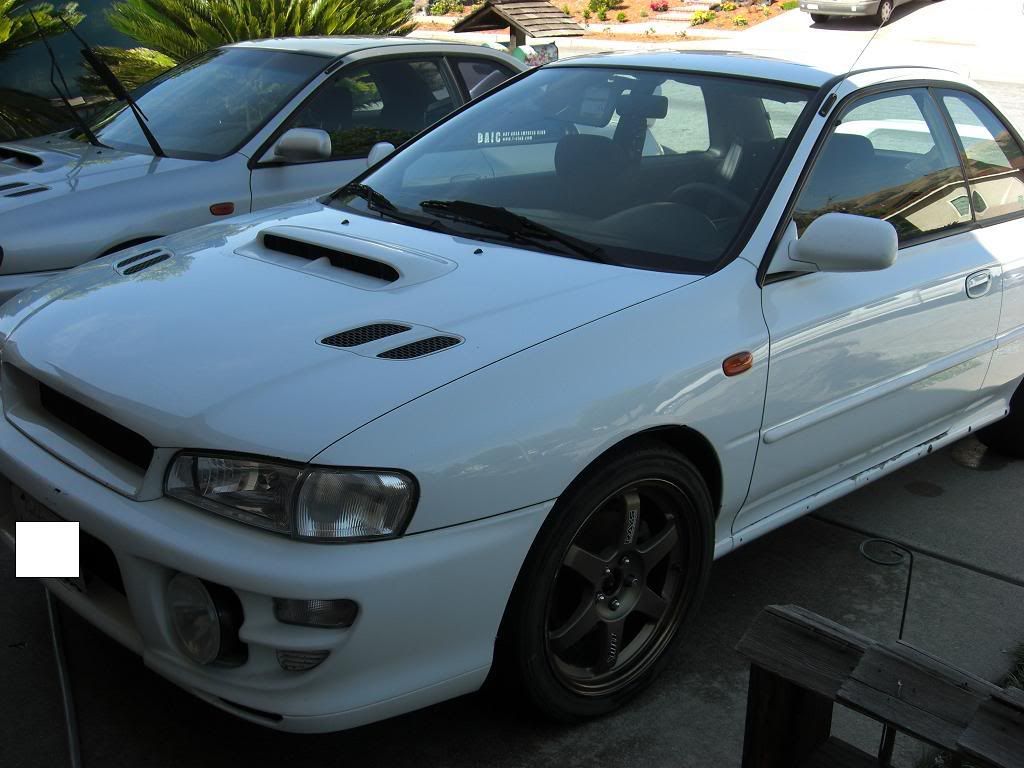 This is how she looked with the previous owner:
This is how she looked when I took her home:
When we got her we spared no time but to start cleaning her up, I admit that I was blinded by love when we inspected the car, I straight up did not notice the huge chunks of dirt slabbed into the jams and trunk dam. There was a lot of things that I did not notice either such as dents and paint chips, but who cares, I'm a new proud owner of a 2.5RS. :lol:
The first thing I did was changing the rims. I went out and bought my all time favorite rims in the best color possible, VOLK TE37 in Royal Bronze.
Little did I know that those exact rims had previously been on this same car during the first purchase from the dealership in 2000. These rims are as old as the car!! "reunited and it feels so right." right? lolol.
After that I've scored on a set of stock side skirts from RS25 member: Kaimino (who rolled his car) and installed them the same day.
The car looked 10x better with the installation of the original stock side skirts. I rode around with this look for a long while actually, I've always liked stock look and how subtle it is.
Then a year into owning this car my headgasket blew, as you look closer you'll notice the coolant on the front bumper. So I opted for a motor rebuild with machined heads and everything which was performed by my brother.