That's right; I finally got the JDM STi EJ20K.
I got it from Acutech Imports on ebay. comes with full tranny, driveshaft, axles (the whole drivetrain!), with apexi powerFC standalone ECU.
I also ordered a new pedal set that includes the clutch cylinders, as well as a Version 4 STi gauge cluster. However, I am certain this will not bolt in.
That's what i've heard.
I would like to thank people on rs25.com, NASIOC for the knowledge, as well as the local subie people for willing to help out.
The car as of now:
9/24/09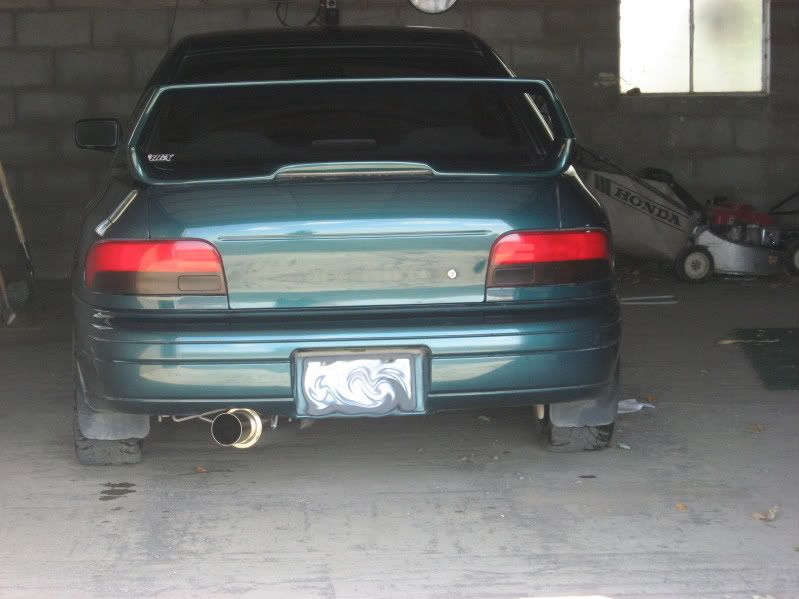 This will be my swap thread!
This was my old thread that didn't make it very far:
http://www.rs25.com/forums/f145/t102452-my-95-l-awd.html
9/24/09:
My mom kind of found out and got pissed, and I'm afraid to tell me dad too. I realize they help pay for my expenses such as college, and it was wrong to go behind their back. However, they don't seem to trust me enough, where I can't take big risks to learn from them. So my plan is to swap the engine myself with a few friends, and have ECS or someone merge the harness.
I hope to get this car to be reliable for daily use. My question is how will this effect my insurance?
Engine how it is:
Version 4 STi swap with DCCD
Plans:
-Engine swap
-Auto to Manual Conversion
-Drivetrain swap
Mod list as of July 2010:
Exterior:
-Version 5 STi wing replica
-Painted moldings and mirrors
-Authentic JDM Version 5/6 STi grill
-JDM GC8 headlights
-Depo clear corners
-Blacked out taillights
-Enkei RS-V wheels with Federal SS595 tires
-Hella Supertones
Interior:
-Blacked out painted interior
-Blue suede door inserts
-Blue suede airbag cover
-Recaro Speed seat
-Modified Sparco bracket and slider
-Blue footwell illumination kit
-STi badge
Suspension:
-Tanabe GF210 springs
-KYB AGX adjustable shocks
-Whiteline 3 way adjustable rear sway bar
-Kartboy Endlinks
-Primitive Racing front strut bar
Power (pre-swap):
-Apexi N1 exhaust to 2.25" piping
-Vibrant Performance resonator
-Authentic Borla headers
Overall plans for this car:
-Overall reliability and daily drivability. I want this to be one of the most reliable ej20k's out there. This means using Apexi PowerFC for tuning for Washington's 92 octane gas, and using good oil. (10w 40?)
-Bolt-on power. Not shooting for super power. I'm doing straightly suspension and bolt-ons with this. This means exhaust, port and polishing, and maybe a slightly bigger turbo.
-Fun. If I do this I will be the first person with a JDM STi swap in my of the state.
Parts list:
-ACL Race bearings
-OEM EJ257 Rods (check)
-Cometic head gaskets (check)
-ARP Head studs
-ARP Rod bolts
-Walbro fuel pump
-CX Racing radiator
-OEM DCCD switch or just get aftermarket