Alright, I've been tossing around the idea of starting a member journal for a while now, so here goes.
Car
2000 BRP RS sedan
Purchased summer of 2007 from a Ford dealership with 94,7xx miles on the clock.
I should start by saying that I've loved Subarus since I can remember. I was cruising around the local Ford dealer with my dad looking for a cheap car for me to drive back and forth to college. When we pulled around the back of the dealership to turn around, I noticed a dirty RS tucked between beaten Tempos and Escorts. I jumped out and, noticing that it wasn't wearing plates, got super excited. My dad had worked at the dealership in the past so they agreed to let us take it home for the weekend. Needless to say, I was in love. We went back on Monday morning, dickered with the salesmen for a while, then drove it home for good. I'm super anal with my stuff, so I spent the rest of the week (jobless that summer
) cleaning my new baby.
Somewhat current pic.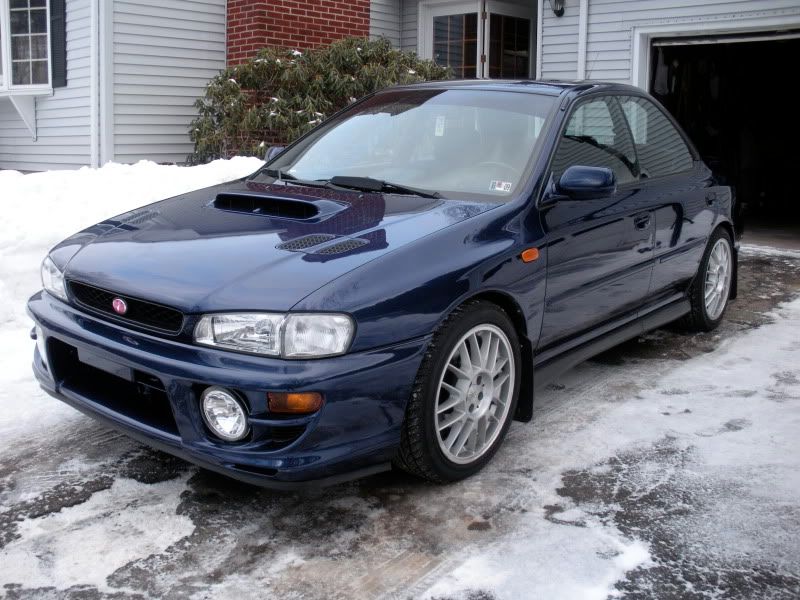 Mods
(so far)
Exterior
Bakemono V6 Lip
I badge
JDM corners
JDM tails
Rally Armor Classics
STI Rear diffuser
Coupe Wing
Engine and exhaust
Injen intake (one of two mods that came on the car)
Ebay header
Unresonated midpipe to Stromung Single Tip
Wheels, Tires, Suspension, Brakes
17" OZ Novas (other mod that came on the car)
El Cheapo Falken Ziex 215/45/17
Prodrive P1s over stock struts (for now)
OEM WRX rear sway bar (painted pink for extra swagger):naughty:
Whiteline solid rear endlinks
01?-up Legacy rear brake upgrade
WRX front brake upgrade, DBA rotors
Hawk HPS pads all around
Interior
WRX pedal covers
OEM dash pod with autometers
Momo knob
Plans
Struts of some variety
V6 four pots
V6 momo steering wheel
Table of Contents
Post 2-early pics
Post 3-early mods
Post 4-other little stuff
Post 8-I love my car/random pics
Post 9-paint