Discussion Starter
•
#1
•
Hello,
I have a stock 2000 Volvo V70R that I am looking to sell or trade and possibly a 1999 Impreza L for sale or trade.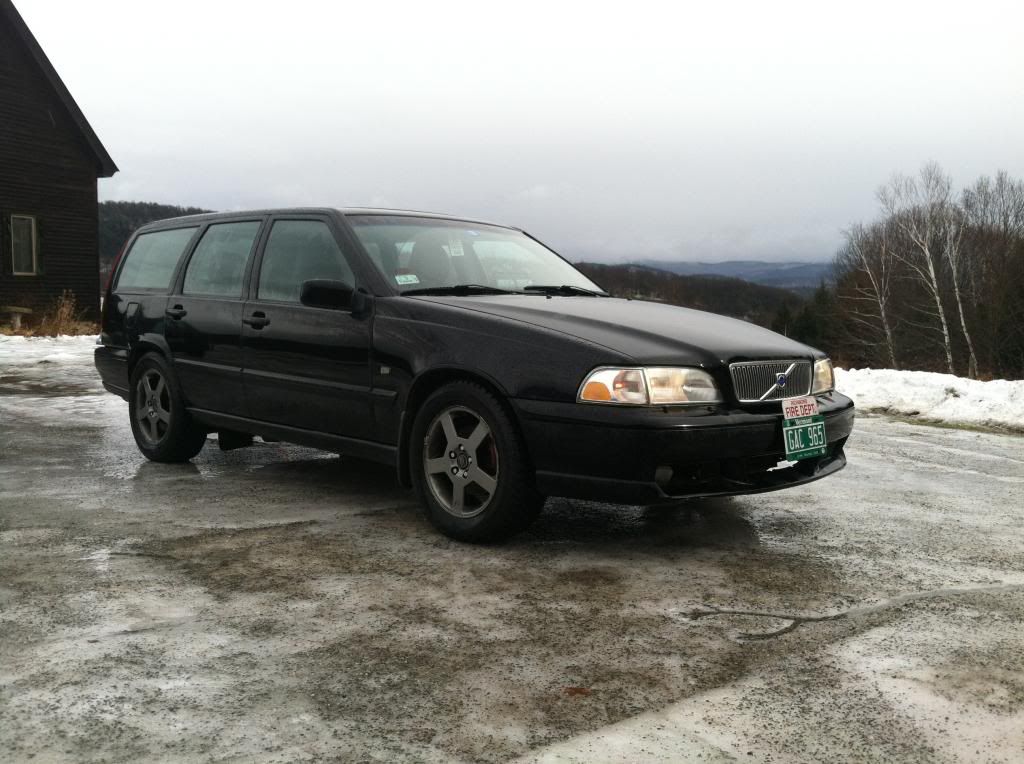 About the Volvo:
In case you are unfamiliar with these cars, this is a first generation V70R. They are pretty rare with only around 500 being brought to the US in the 2000 model year. In 2000 the engine made the most power out of all the first generations (265hp/300lbft). All of the 2000 Rs were unfortunately equipped with a 5 speed auto and an AWD system that pretty much was just grafted on to the FWD system using stuff they had laying around at the factory. As such it was pretty much garbage and most R's (including mine) are converted to FWD. This is good for a couple reasons though; firstly, there is much less drivetrain loss which means more power to the ground and secondly, fuel economy is greatly improved (I got 27 mpg on my way from Vermont to Maine and 28.3 on the way back). My car still has the angle gear (reportedly working) and the rear diff (also reportedly working) in place so if you really wanted the garbage AWD system back in place it would be as simple as putting a driveshaft in it. I take it up the ski mountain all the time and it does fine without it so I see no need.
Reason for Selling:
I go through what I call a "car cycle" between one and two times a year. A car cycle is where I decide I am bored with whatever Subaru I currently own, sell said car, and then buy a car of a different make. After having owned the other car for a while, I decide I want a Subaru again so I sell the car, buy another Subaru, and the cycle repeats. This Volvo is the byproduct of this vicious cycle (I have owned 5 Subarus and 5 "others" thus far). I am also a poor engineering student and downsized to my current Impreza L.
Flaws:
Well to start it off this is a 14 year old car and the paint has its fair share of scratches, dents and dings. On the hood there are some odd looking round chips (I can send you pictures of these). The roof has some scratches from an ill-fated canoe carrying experience. The check engine light randomly comes on for a few minutes every so often (every ten hours of operation or so) for an o2 sensor. This has been happening since I owned the car. It doesn't throw the car into limp mode or anything, just annoying to look at. There is a fog light grill thingy missing in the front bumper. I also had my tires changed over recently to snows and they cracked my side skirt. The tire place replaced it with another one (factory Volvo part and paint) however there are some metal door jam logos that say "Volvo" on them that still need to be glued back on. It's freezing cold here so I won't be doing that anything soon. That's about all I can think of off the top of my head.
Maintenance:
I do not have records on the car. The PO told me it was serviced at the dealership up until their ownership (they attended UTI and removed the Driveshaft so the car could be used on a 2wd dynamometer). All of this is hearsay but I haven't had a problem with the car since I have owned it. I just change the oil and filter every 5k and wash it. It does have a sticker from a Volvo dealer indicating the timing belt and water pump were replaced at 138k (now has 178K going up daily) which is also what the PO told me. I haven't carfaxed it so maybe more of its history would be available there. The R seems to me to be in great shape and has NO RUST which is pretty good for a NE car.
Why own this over a WRX wagon?
I owned a WRX wagon previous to this car and the Volvo is far more comfortable. It has heated leather seats, a moon roof, Dolby speakers and just feels ergonomically better to take on long trips (part of my reason for buying this car was my frequent VT to ME trips). It is quicker than a stock (2.0) wrx from a roll (no launches ever, really, it's fwd so what's the point) and will hang with my mom's (yes my mom's) 2011 WRX pretty well from a roll. More power is a tune away with ipd. The R is also a rare bird. If you are a self-loathing car hipster such as myself and are feeling claustrophobic because you see a bugeye with some heinous trailer-park mods around every corner then the Volvo is your car. I have seen 2 of them since owning the car. Here in VT I see at least 4 wrxs every day in my commute. But without a doubt the most awesome feature of this vehicle is the colossal amount of space it has in the rear. You can fit just about everything you own in this car with room left over to sleep in it (handy for college students, no room and board!).
So anyway that's all I can think of for now. I will add more later if I think of stuff. It is dirty in the pictures (a couple weeks old) but it is way too cold to wash right now. I will get more pictures when I can. As far as price I would like $3500obo. I also like to hear trade offers if you have something interesting. I have a 1999 Impreza L (can be seen in one of the Volvo photos, completely stock, one owner (before me), full service records, 122k, 5 speed, great swap candidate, that I will soon be using to daily but I could also trade both of them for something.
Thanks for looking!