Discussion Starter
•
#1
•
FINALLY finished my brakes after like two months of dealing with getting the right parts together for my non-ABS '95 L...
To make a long story short, I originally thought my car already had RS front calipers and WRX rear calipers (according to the previous owner), so I figured i'd go ahead and do the WRX front rotor/bracket upgrade and the 2000 Legacy GT/H6 rear rotor/bracket upgrade along with a Stoptech Stage 1 brake kit (Stoptech brake lines, Axxis Ultimate pads, Motul brake fluid) and an SVX non-ABS master cylinder for that "extra" feel (thanks to Pakin for help on ressearching the master cylinders).
Pic for reference: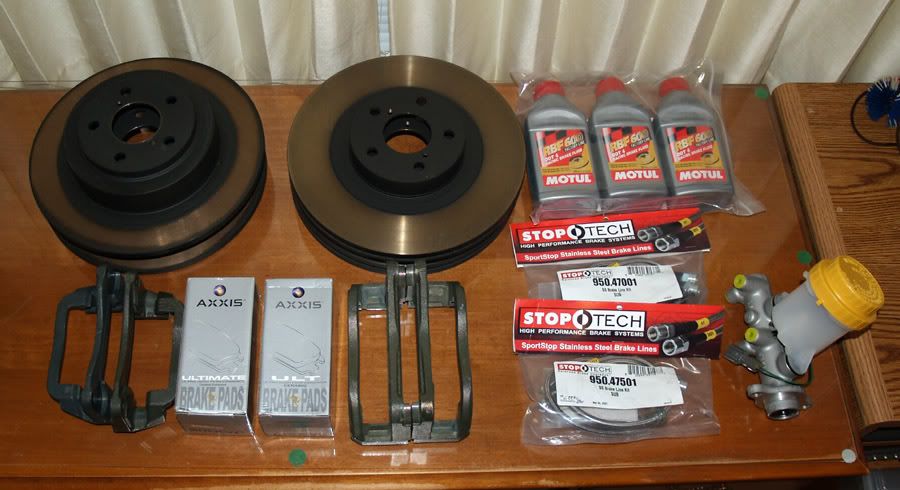 Well, it turns out I had old L rear brakes and RS sized rotors in the front but calipers circa a 96 or so Outback... I didnt find this out until everything was uninstalled, which totally sucked. What this meant was that the calipers were NOT compatible with the new brackets
There are two styles of rotors, the old style rotors with one bolt and one swivel arm, and the new style with two bolts...
So, I had to get calipers now too
LUCKILY 2.5RSMatt had his old RS calipers laying around (thanks again Matt!) so that solved the fronts, but I had to go to the local Subaru recycler for the rear calipers... I lucked out there too, managed to pick up a practically brand new pair of 2006 Forester XT calipers/brackets/pads!
So this weekend I finally had the time to get everything together. I installed the SVX non-ABS master cylinder back when I uninstalled all the brakes the first time around, so I've been driving with just that for awhile. Good upgrade by the way if you have a non-ABS car (stock non-ABS L master cylinder is 15/16", the SVX one is 1 1/16"... big improvement in shorter pedal stroke!)
Took some pics before and after to compare the rotor size: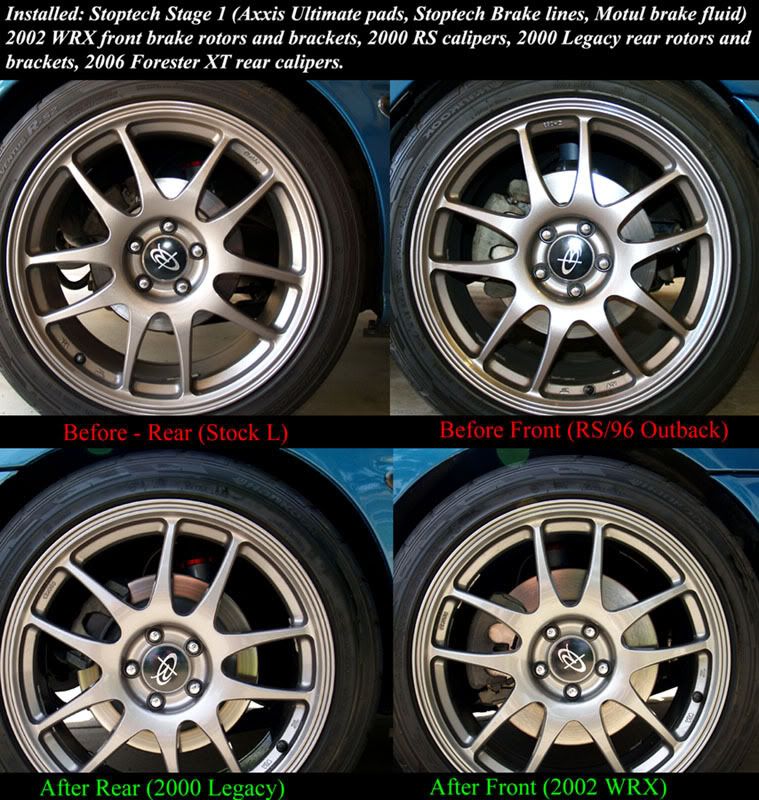 First impressions?
Much improved pedal response, much more confidence when braking.
Havent gotten to drive them hot yet other than the initial break in, so I'll post more comments/reviews later when I get to use them a big more...
The pads seem to bite good, and the brake force improvement does seem to be there from the larger rotors, and the Stoptech brake lines have made the brakes less spongy (the master cylinder just changed the pedal stroke, not so much the pedal sponginess).
Questions/comments? Feel free to post...