gm2 coupe / gf4/ cb7 saloon
https://www.rs25.com/forums/f145/t170995-mystic-quest.html
Project Name : Imprezive Misty
::History::
Welcome to my Members' Journal. from the purchase 2011 to the present. I have built a couple gen 4 accords ( 90-93, one i still have to this day) over the course of the past 15 years but never a Subaru. that was the roots of this build, some of the mods have been integrated over to this build.
I remember drooling over the 1st gen imprezas from when colin mcrae, richard burns, carlos sainz drove in WRC. i would build this car as a nod to them since this car means more to me than most people to their newer ones, these hold so much rally heritage. seems things were so much simpler back then in WRC and seemed soo much faster than todays cars. when they hit the showrooms when I was in high school. After searching the entire midwest area for a clean car. pulled the trigger on a impreza 3 hrs away 1 year later.
i've had my 97 brighton since the 18th of dec and i decided to make a journal. what better way to track my progress than with one from the humble beginnings.
saw an ad on c-list 3 hours away from where i live since i couldn't find any locally.:bonk: i found a few up in the area but for way more than i could afford. i was about to give up hope that i would ever find one. and sure enough i found one not far from where i was looking originally. and for about the price range i wanted.
the seller and his friend were very cocky and a total douche about the car. i should have known this by the way he was slow to respond with detailed pics. knew nothing on history of the car. i took the chance and the drive one Sunday with my friend from work and a buddy of mine who wanted to tag along.
on the ride there i was starting to get butterflies in my stomach and was very nervous since i didn't wanna make the drive and end up with no impreza on the way back. but low and behold i got to the place the car was already pulled out the garage ready for showing. my friend brought along his obd scanner and we scanned it for any faults and it came back squeaky clean. how ever the engine bay was another story.
looked at this thing thoroughly inside and out and only found a few things wrong with the interior very minor but wasn't a deal breaker the engine bay the pass front axle inner boot was busted to hell slinging grease everywhere and was bone dry. no clicking yet.
the valve covers had alot of seeping going on. not a good sign....
before making the move on the brighton i had come across the
Used Subaru Buyers Guide
and learned alot. head gasket was one of the biggest worries i had. he says he got it from a friend who owns a car lot. and had only owned it for 4 months since he was looking for a good commuter car that was good on gas instead of his suv.
i didn't believe him saying the subie wasn't way better on gas than his big silverado. the impreza i could tell had been sitting for a while unloved
.. after taking it for a spin i fell in love with the car and was in awe how pristine the body was. tried my luck at haggling but the guy was a total d bag and wouldn't work with me at all even though i had drove 3 hours to get there. he told me for the price i was offering him he could just let the car sit in his garage for longer and not worry about it.:_sure:
thinking long and hard about it but ready to cop the car. i reluctantly said "i'll take it" and signed the papers over to me and it was finally mine.
after changing hands of the car me and my friends thought about lunch ideas and i mentioned my fave dim sum spot and we hit it up. not even 30 min into owning the car i about sideswiped a parked car parallel parking. the car started to roll back on a hill and almost rolled into a car behind me. i hate driving around in kansas city. -_-' the food was marvelous and the bubble tea was even better. after lunch we filled up my retrieval car and the subie and trekked back home. the car ran flawlessly except for the fact the car has 14s and made the speedo way off ...steel wheels :/ . my friend driving my other car was doing about 65 while i was 80mph on my speedo. but in reality we were doing 50mph and we were getting passed up. :lol:
trek seemed longer than it really was but i got both cars home and went to a Christmas party later that night excited as hell.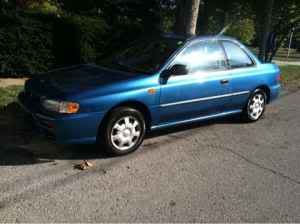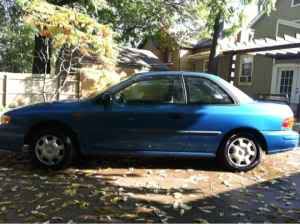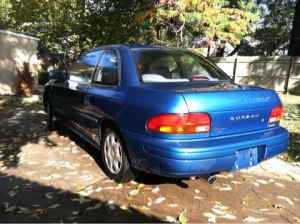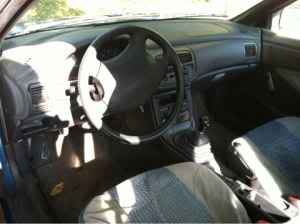 c-list ad pics, i thought the color looked a lot like wrb but it wasn't :/ oh well.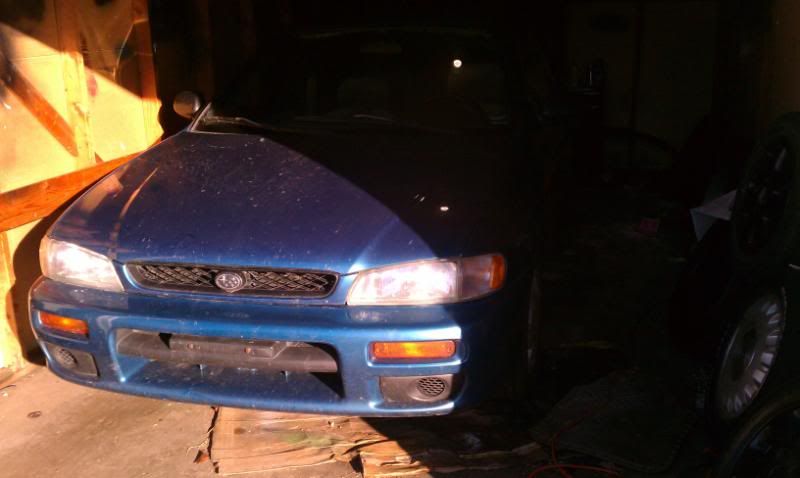 How i got the car neglected and dirty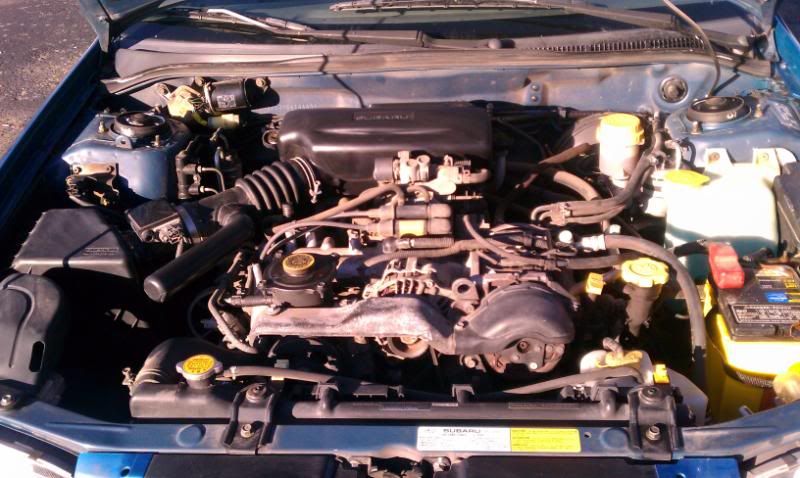 Before cleaned bay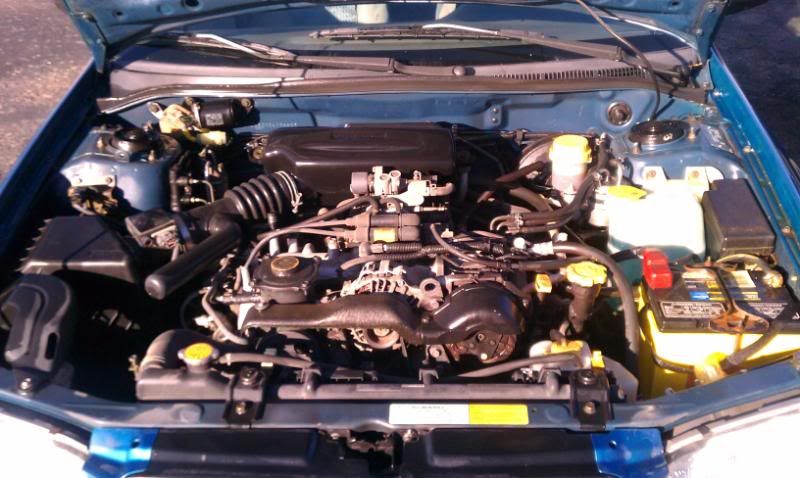 here's after i cleaned the engine bay all nice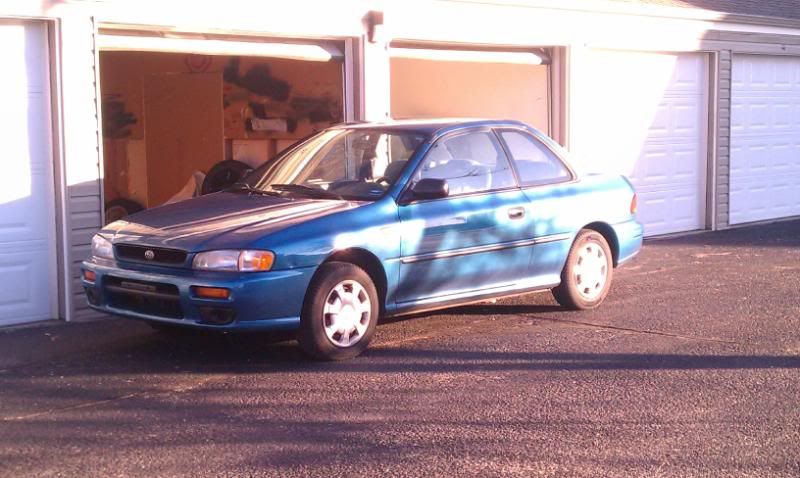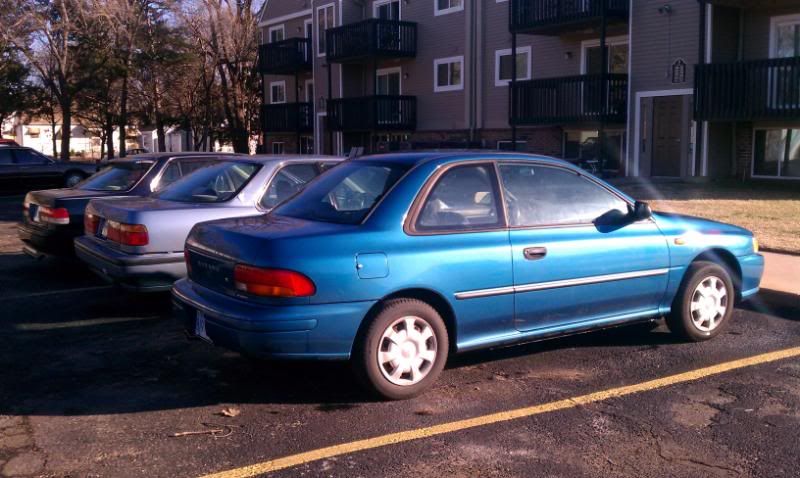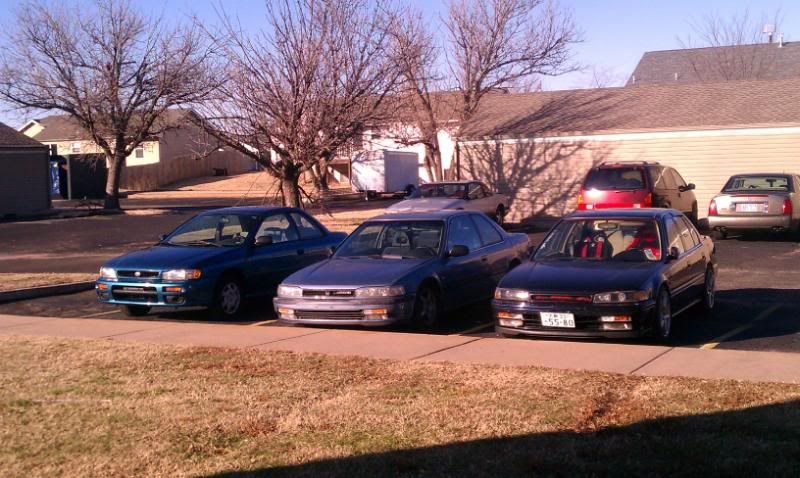 YES those are all my cars.
--------------------------
THE MOD LIST-
------------------------
::EXTERIOR::
Mystic Blue Pearl(66C)
LEDs in tail lamps 1156R red
LED 194 360 degree White bulbs in sidemarkers
6000k hid kit 1/14/12
LED strip where license plate is
RS DIY frosty bumper lights
DEPO 99-01 foglights with brackets
custom foglight harness with oem gc foglight switch fitted.
JDM red clear tailights
nokya h3 bulbs in foglamps
Authentic JDM V4 frosty clear corners
Sti Faux Carbon License Plate Frame
DEPO v4+ blk housed headlights
anti static grounding strap
osram 194 led 5000k in corners
Mystic blue flat fuel door. 6/3/12
OEM subaru headlight covers 9/15/12
dipped hash stripes
# 313 JDM V-limited RA spoiler
rally armor UR mudflaps
trunklid resprayed and sti wing color matched as well as flat fuel door 2/15/13
Torque Solutions Exhaust Hangers
Jdm ver4 Type R bonnet
Jdm front bumper support and paint matched v5 front bumper conversion
99-01 DEPO foglights
99-01 V5/6 Bakemono MESH foglight covers
P1 front splitter
Rear wipered glass from JDM V4 Type R Edition car 9/13/14
prodrive style induction scoop
paint matched EDM Ver 5-6 Grill
94-95 CD5 rear spats
ETS Racing 2.5" hood scoop
Hella Supertones behind Ver5-6 grille w/ custom made bracket
RS Sideskirts
WRC/S201 mirrors w/ wide angle convex mirrors attached
E mark Blackhoused corners

::INTERIOR::
Stock Grey :/
JVC Headunit
oem tachometer added 2/23/12
Impreza Emblem in the space below ashtray
GC specific foglight switch
GC specific cruise switch just to fill blank -_-
power mirror switch just to fill blank -_-
RS front/rear seats
Acura headrests
flat fuel door retrofit w/ cable from a 95 L 5/28/12
02 wrx pedal covers
gd wagon cargo light integrated inside trunk retro-ed with SMD LED
LED SMD dome light
rs oh sh*t handles conversion
3rd brake light delete panel
diy snap on shift knob w/ shift boot adapter collar
OE 2.5RS floormats
illuminated CB7 cig lighter mod
JDM V4 rear wiper motor in place 9/18/14
jdm v4 wipershaft cover
90-94 legacy wagon wiper stalk
94 SVX wiper relay and pigtail controlling wiper motor
93-97 grey armrest

::GFB::

light weight battery with custom made battery blanket
replacement gates belts
New NGK Spark Plugs
NGK Plug Wires
GD wagon dual pump washer reservoir with angry rally pig on the tank
TC Sportline Magnetic Drain Plug
Blue Windshield Washer Cap
new coilpack
Perrin lightened crank pulley

::HEAT DISSIPATION::
Buddy Club Radiator Cap
DNA Motoring U.E.L Header DEI Ti wrapped, and DEI silicone sprayed
Trackpipe extended to accept GDC STi catback system 4/11/12
07 STi catback system painted black 4/11/12
22B Vents / Backing Plates
98 JDM TypeR V4 in fender coolant reservoir

::STANCE::
Stock :/
Leggo Strut Dust Caps
jdm ver4 lat links
20mm rear swaybar

::RIGIDITY::
STi Carbon Strutbrace
do luck style floorbar
DIY Subframe lockdown bolts
:: DRIVETRAIN::

Stock AWD
New reman axles
Diffs Serviced with new gear oil 75w90
Torque solutions rear shift bushing stay
kartboy front shift bushings
Custom solid middle shift joint bushings

::FOOTWORK::

SSR Type C plastidipped Blaze orange205/55/16 16x7.5 + Summers [Unequipped]
99-01 RS 5 spoke "goldies" dipped blk 205/55/16 16x7 +53 AS[Equipped]
blk muteki splined lugnuts
SSR taper conversion washers

::RESISTANCE::
stock

::STICK ON KW::
Subaru OK Sticker
Monster Energy Drink Sticker on inside Gas Door
Gates timing belt service decal on belt cover.
Jeremy clarkson face on rear glass
colin mcrae signature decal on STi wing
Custom 3M clear bra on front bumper

::MAINTENANCE::
1/7/12 Drive Belts Replaced
3/7/12 NGK Plugs, New Plug Wires
3/17/12 VC gaskets
3/20/12 Fuel Filter
5/14/12 Drop In Air Filter Replaced
7/19/12 EFI Service
3/13/12 NGK Plugs / NGK Plug Wires
9/27/12 Rear Diff Serviced
10/16/12 Front CV Axles Replaced
3/9/13 o2 Sensors Removed and Cleaned
3/11/13 Waterpump Hose Replaced
3/11/13 Lower Radiator Hose Replaced
3/11/13 Front Diff Serviced
3/11/13 Coolant Flush
3/31/13 Redipped SSR Wheels
5/16/13 cleaned and adjusted rear brake drums and tapered the shoes regreased pad joints
5/29/13 coil pack replaced
7/20/13 90 degree o2 spacer with new down stream o2 sensor
8/3/13 dr side cam seal service and o ring and rear timing cover replacement
8/5/13 pass side cam seal service and o ring
8/7/13 rear timing cover replaced
8/7/13 Gates timing belt service with idlers and pulleys replaced
8/7/13 Perrin CP
8/8/13 replaced broken vac solenoid valve
8/10/13 swapped ignitors to see if i still have a misfire
9/7/13 new oem vss replacement
12/10/13 Shifter Lever Bushings Replaced
12/12/13 Torque Solutions Exhaust Hangers
12/14/13 OEM neutral safety switch
12/17/13 Seafoamed
1/19/14 deteriorated intake gaskets replaced
1/20/14 pcv hoses installed
2/1/14 jdm v4 STi hood
2/16/14 dipped STi hood fitted 22b vents
2/17/14 replaced ps return line
2/18/14 nokya 2500k arctic yellow h3 in fogs
5/31/14 replaced cyl 3 fuel injector. That killed all misfire issue. Due to clogged screen
7/1/14 DR Seat Belt Warrenty
7/22/14 knock sensor replaced
8/30/14 fixed sticky latch on dr door
9/5/14 replaced pcv
9/5/14 diy a/c switch bulb replacement (TYVM northursalia.com)
10/11/14 dipped rs wheels
10/18/14 upgraded shifter bushings
11/1/14 lat links and rsb
11/4/14 4 wheel alignment after sway and lat link install
11/23/14 6k hid bulbs replacing mismatched 6k/8k
4/11/15 Por15'd wheel arches and pinch weld area
10/2/2016 replaced bank one sensor one o2

::Future plans::
currently sourcing parts from friends. [: big ups to Djdoc36 for the help on my build along the way
V5 STi wagon springs*acquired*
wrx decal *acquired*
door panel recover, v4+?
rear disc brake conversion *acquired*
rs dash conv?
willans 3pt harness *acquired*
corbeau seats *acquired*
possible swap (ej20k/ej205/ej255/ ej257/ej207) hm.....
JDM ver 1-3 / 22B STI nardi steering wheel
replace accordian style shift boot
headlight retrofit of some sort
upgrade speakers
EDM headlight washers
EDM LHD OE rear foglight
22B sport bumper *acquired*
STi Fender Badges
JDM Rear Bumper Cover
STi or US WRX 4/2 Pot Brake 4pots *acquired* need 2 pots
WRC vintage 97 FIA ornament *acquired*
a short shifter of some sort
clear uk spec bumper lights for sport bumper *acquired*
Type RA under radio pocket?

:
ending..::

KYB AGX, V5 STi springs, Grp N shock mounts
Nardi STi v1-3 steering wheel