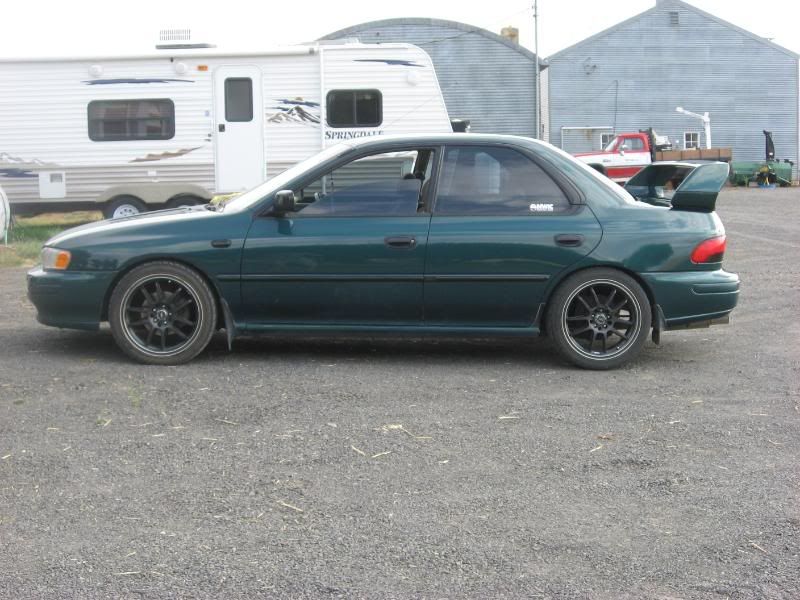 As of right now sort of (3/18/2010)
This is my 1995 L so far as of today of February 2009.
My little project will progress very slowly as it is my daily driver.
Here's my background:
I actually never knew I would get into cars, because I was nerd that couldn't keep friends very long and was into what other people didn't like. Video games, Final Fantasy, etc. This isn't about my life though, it's about the car! :lol:
At 15 my parents took me shopping for cars, I was unenthusiastic about it, but soon I got a 2001 2.5RS silver with a 5 speed. It was a little difficult to drive and it stalled easy. I never really drove a stick before except driving trucks.
I never really got to enjoy it because I wasn't into cars at the time!
My parents thought i wasn't ready so they helped me choose out this 1995 L with 2.2 engine, AWD, but auto!
It was OK, it was like a granny car, slow, not pretty, but it was a car and reliable, that's what matters right? I wish it was a 5 speed though.
I started out in the car community BADLY. I didn't pay much attention to my wheel choice, so I got 18 inch wheels with stretched tires.
I then got altezza taillights and a Flo-Pro muffler.
Yep I was flamed badly at NASIOC.
It all changed though, I bought a header and magnaflow cat and attempted to go full exhaust but ended horribly. To a tenzo muffler it sounded bad.
Raspy as hell, louder than a semi, and threw a P0420 code.
I got it fixed though.
What are my plans? I really don't know. I was thinking of doing a WRX swap and building that, an STI swap (US or JDM, not sure yet) and call it good, or try an H6 swap.:bot:
I realize I have a good car and I tend to keep it that way.
I'm thanking NASIOC and rs25.com for guiding me in the right direction and enriching me with knowledge.
Future plans:
Front end swap
Black depos (got JDM headlights and grill in March 2010)
2.5RS hood
Bumper
JDM tails
5 speed swap
New interior, probably 2.5RS like? (painted interior is better!)
EDM white gauge cluster with MPH?
Corbeau A4 or STI seats. (planning on Recaro Speeds!)
Takata 5 point harnesses
Imminent:
Megan N1 or Apexi N1 exhaust
tokico d-specs
tanabe gf210 springs
WRX RSB
Kartboy long exhaust hangers, because the muffler guy told me it has to slightly point down because it will touch the bumper
Rally Armor mudflaps perhaps?
February 2009:
I have a tenzo muffler to 2.25" catback
Authentic borla headers
nokia motorsports shift knob
OBX pedals
500watt alpine MRP500 amp
2x10 300w rockford fosgate subs
Oh yeah: Cuzco or Primitive racing front strut bar.
Replica STI wing from Vis racing sports
I have some 17x7 gunmetal Enkei RS-Vs in my garage I bought used from my brother.
They are chipped up, but they are better than what I had before!
MODIFICATIONS:
As of March of 2010
Engine:
Apexi N1 exhaust with 2.25" piping
Vibrant Performance Resonator
Borla Headers, authentic (ooo!!
)
Drivetrain:
Auto
Exterior and Lighting:
Version 5 STi wing from VIS Racing Sports
35% window tint with 10% windshield strip
Painted taillights
Painted sidemarkers and corners
JDM headlights (painted)
JDM Version 6 grill
Nazicock stickers
Tyler Slak Memorial sticker
LED license plate light
Debadged
Hella Supertones
Rolled rear fenders
Interior:
Painted interior (plastidip cards, plasti-dip dash, painted headliner, dyed rear deck, etc.)
Reupholstered door cards
OBX pedals
Nokya Motorsports/some Autozone shift knob
Blue LED footwell illumination kit
LED dome light
Panasonic head unit
Brakes, Wheels, Tires:
Enkei RS-V wheels (17x7)
Federal SS595 tires
Suspension:
Tanabe GF210 springs
KYB AGX adjustable shocks
Whiteline 3 way adjustable rear sway bar with bushings
Kartboy rear end links
Primitive Racing front strut bar