Updated as of 11/28/11
11-12-11 Car goes to Andrewtech for idle issue. Bossman fixed issue in 30min. IAC sensor had flipped.
11-06-11 Car is back
10-18-11 Car goes back to body shop for molding that is loose and to have side skirts painted.
10-17-11 Car is delivered.
08-22-11 Car goes to body shop
08-20-11 Car vandalized
06-25-11 SECOND DSS Driveshaft.
05-30-11 Vinvlyed Roof, hood, trunk, and front bumper.
05-23-11 RSTI received AC! Blows colder then anything Ive ever ridden in.
05-22-11 RSTI gets new Aluminum DSS Driveshaft.
04-11-11 Installed JIC coils. New alignement.
02-20-11 Removed STRI gauges and installed Defi Geo gauges.
12-10-11 Got new used rotors. Installed new pads on front. Checked DCCD and relocated. Replaced TPS sensor. Installed Greddy Evo2 exhaust.
10-07-10 Crawford Exhaust uninstalled. Blitz Reinstalled.
10-06-10 Crawford Exhaust installed. Very Loud!
09-19-2010 Ordered New Crawford Exhaust... For giggles.
07-06-2010 DCCD fixed. Went for tune at TurboXS. (
Vids Post #176
)
06-22-2010 DCCD failed. Had to reschedule tune.
06-07-2010 Had to port Turbo to fix overboosting
05-22-2010 Got a new UTEC also fixed my OBD2 wiring.
05-18-2010 Dropped car off at ATECH again.
01-10-2010 Subie meet at Five guys and then DPS Tuning (Photos Post #149)
01-03-2010 Alginement at ATECH and Camber fix. (Photos Post #133)
06-06-2009 Got v8 STI seats, and a new wing, and BBS wheels.
03-25-2009 Added some new photos (Post #123 & 125)
01-13-2009 Broke my driveshaft. ATECH replaced and fixed me up. (Post #114)
12-07-2008 STI hoodscoop and crazy boost issues. (Post #109)
08-12-2008 JDM v6 grill. Gauge install. (Post #104)
07-31-2008 Facelift! (Post #99)
07-21-2008
First Checkup. No issues. Installed DCCD Pro, installed ABS sensors. Full fluid change.
04-20-2008 Throwing CEL's. Speedo not working
04-19-2008 Detailed car (Post #85)
04-16-2008 Car runs (Post #77)
03-30-2008 2nd Radiator
03-20-2008 Replacement Radiator
01-05-2008 Sourced some more parts
10-30-2007 Dropped off at ATECH
Build Specs

PERFORMANCE
STI Version 8 Sti EJ207
------Ported VF37 for boost correction
STI Version 8 6-speed
ClutchMaster Stg3 Segmented Carbon Kevlar
STI Version 7 Brembo F&R
TurboXS 4" Downpipe
Blitz NurSpec Cat-back
Prodrive Cold Air Intake
PERRIN Turbo Inlet
TurboXS DELTA UTEC
JDM v8 ECU
Samco Hose Kit

Suspension:
JDM Sti Carbon Fiber Front Strut
Kartboy Endlinks
Megan Street Coils
225/40/17 Potenza GIII

INTERIOR:
JDM version6 STI Seats
2007 STI Carpet
STI floor mats
Prodrive Shift knob
JDM WRX Wheel

AUDIO
•Alpine CDA-9857
•Infinity Kappa 60.7CS (Front)
•Infinity Kappa 63.7i (Rear)
•Subaru Underseat Sub

EXTERIOR
Depot Amber Corners
Depot Blackout Headlamps
JDM Red/White Tails
v6 2.5RS front bumper
v7 STI wheels
McGuard Spline Lugs
In September 06 I had to install an exhaust on my friends new WRX. I caught the bug and started searching that night for an impreza. Many different insurance quotes later of $5000 a year, I decided that was a bad idea with my current $3600 on my Rubicon. So I found this site... looked around, and fell in love.
Few days later I found it- forum member selling a 98RS for $7000 with 100k on the clock. Recent new cooling system and head gaskets.
After a week of ownership, I wasnt digging the non tinted windows so I had to get something done about that.
Few subaru meets later, sometime in December, I ended up with an STI exhaust and a borla header.
About a week later, my coilovers came in (that was the first car part purchase I ever made costing more than $800.
Then something bit me and I had to install new JDM tails (bought from my local Annapolis Subaru) in temps somewhere in the teens. I also purchased 02-03 WRX seats and a new Alpine Headunit. Along with a Prodrive Shift Knob and a Kartboy short shifter. Also got a steal of a price on a momo sti wheel that came off a car with 15km.
Sti carpet came in January.
I wanted boost, and the turbo'd rumble. So in February, I made a drive to ohio for my new drivetrain.
V8 JDM STI motor, trans, rear diff, wiring, ecu, and TMIC.
Weather called for partly cloudy and slight chance of drizzle. We were prepared for a long trip with somewhere around 20 cans of energy drinks and more vitamin water. ALong with a GPC, Radar, and Ipod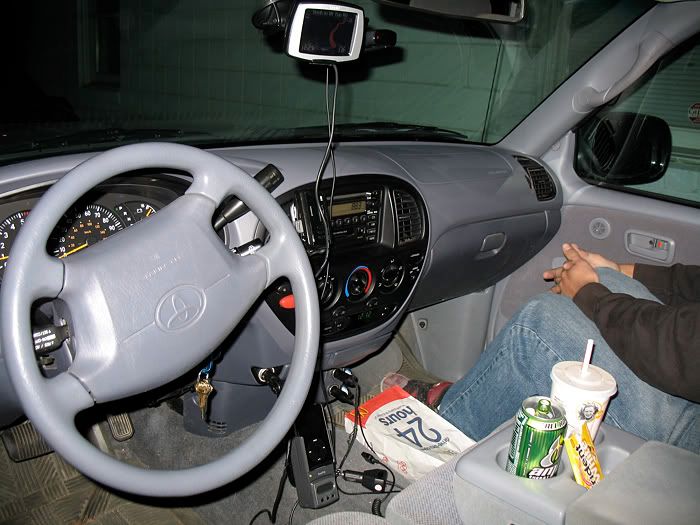 We left at 2am- hoping to drive te 400 miles with ease, no traffic, and get there way before noon. At around 6am the dreaded happened.
It began snowing...
Some places had up to 4" in snow. This slowed us down to around 45 with 4wd on.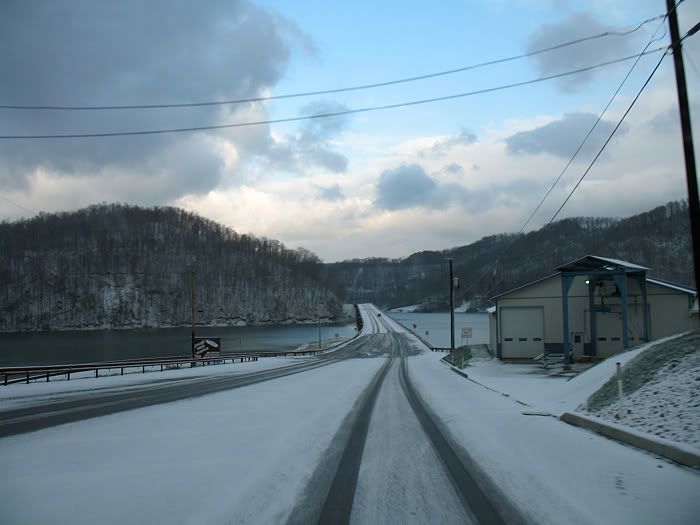 After overcoming the snow, which my rents said the weather channel said was nonexistant... and almost turning back, we got lost. Good old GPS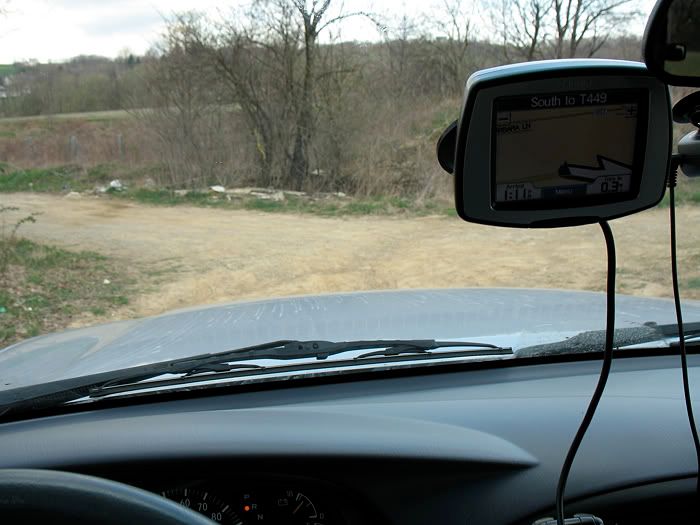 rly:
So we made it to Batavia OH later tha expected, still around noon though... And loaded up. Here's at our first stop for food.
People gave us alot of funny looks :screwy:
Now being around 3pm, we bang our journey home. Once AGAIN it snowed and snowed worse. Some areas having a complete whiteout. We ended up stopping short, at our property in WV 120 west from our house to call i a night... at 3am.
Once home, this sat in my garage for a month.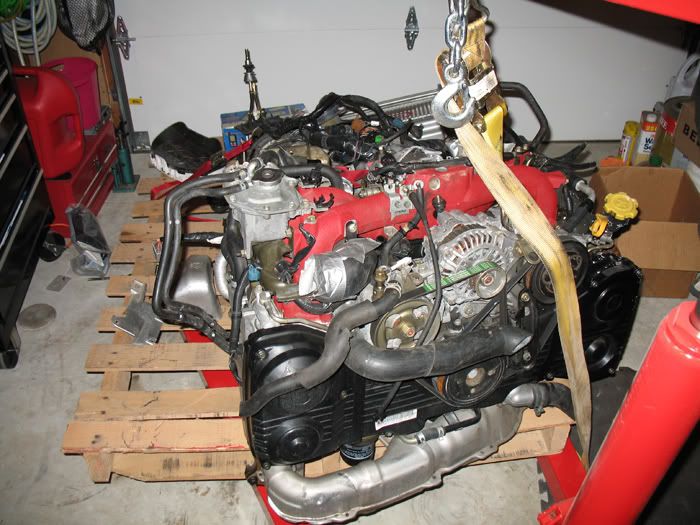 I will continue the 2nd part of my story later this evening.