This is an overview of my experience while dealing with a user named Jake.
*update*
How it all started.
Looking around for more power I discovered the EG33 swap, started asking questions and realized this is just what I was after.
Posted a [wanted] add and whala, Jake answered with everything I needed for a swap, as it happened he wanted to pursue other interests for his subi so this worked out well.
What I ordered
1x Eg33 longblock
1x Eg33 ecu
1x Eg33 wire harness.



That's it nothing else was ordered, anything else listed was 'extra goodies' thrown in by choice by Jake.



What I received so far 12/27/11 *updated
1x ecu
1x Engine
1x Engine cover
1x High CR gasket kit [cometic]
1x Air filter box + new filter
1x Vacuum lines
2x Grimmspeed bling for my car
1x Radiator adapter thing
with radiator cap.
1x Fluid temp gauge :banana:
1x Love note:rolleyes4
Lots of packaging P-nuts all over my living room:bonk:

What I believe to be intake hardware
Communication
Excellent, answered just about every question I threw his way almost immediately (assuming he was online at the time). Helped me out and gave me a few links for when it came time to go wire happy with my dash.
That's the only gripe I have is lack of communication after the money was sent, but he's going to school and working which I can understand but at the same time how long does it take to write an email? I'm still getting stuff but it would be nice to know what's going on, I almost bought a set of 90$ coils as I didn't realize he was sending them.
Recommended [] Avoid [
x
]
*update 1/9/12
--------------------------------------------------------------
Engine arrived today on a busted ass pallet, Jake probably foresaw this and placed 2 tires under the pallet and a ratchet strap to hold everything down. I doubt without both things the pallet would have arrived in less than 5 pieces as it was in 3 when it got here.
Thanks for everything Jake! I now have an EG33, I haven't opened the box the engine is in yet but I'm certain I will find the wiring harness and other things in there as well.
*Update 1/20/12
Got a correspondence back, coils and other misc parts are on the way.
Angry UPDATE
Are you fucking kidding me Jake?
The coils came today, and the wiring.
2 out of the 4 coils in the box had broken wiring, I didn't even bother to look at the other 2 out of disgust.
So I'll make a deal, you can either send coils that will work or I'll go to paypal and request a refund of 200$ to pay for new coils through one of the vendors here.
Pics of a coil, will get others up tonight.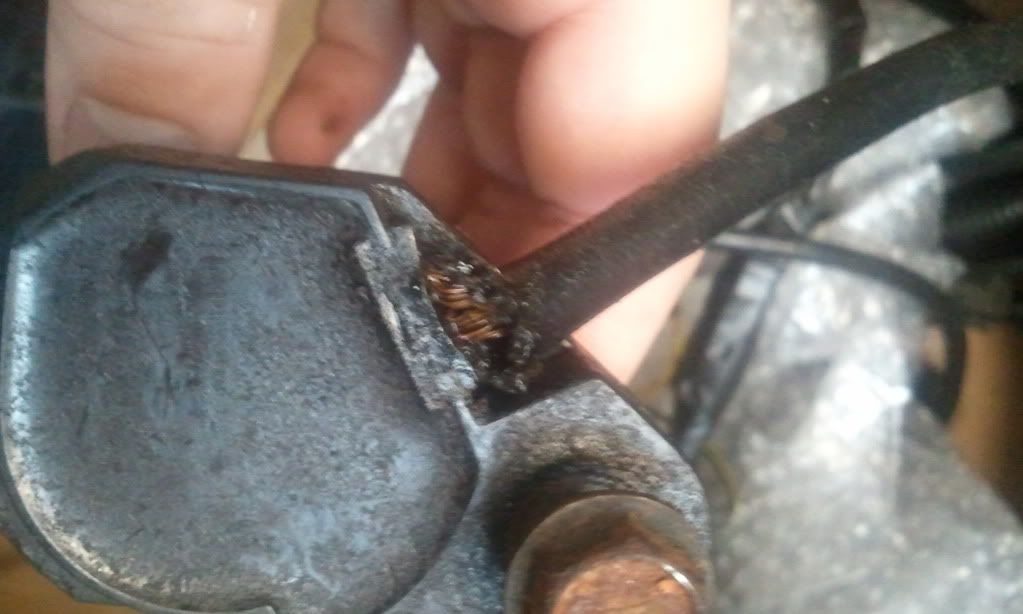 Oh and don't tell people you're going to send stuff if you aren't actually going to send it.
Said he'd send (your word is your honor imho)
M90 supercharger
Hood scoop
Other intake pieces
Exhaust