Hey y'alls, so I've been on here for a while, I own a 98 2.5RS coupe and we've had a very difficult owner/car relationship, so I've decided that it's time to move on from owning a coupe. I've come to realize that owning a house and driving a coupe do not work out well, especially when I am LIVING at Home Depot and Lowes. Yes I do own a truck, but thanks to guys like Carbotron, Hejjafish, Imprezya and 1055.....I've really been inspired by the wagon builds. So after much debate I finally pulled the trigger, I drove to RI last night and picked up a 97 Outback Sport Wagon. She's in halfway decent shape, she's an automagic (that's making a disapperance soon), 142k on the chassis, needs new struts, and the 2.2L engine is tired (low compression on one cylinder). This makes her the perfect candidate for a 2.5RS conversion. Basically over the next few months, I'll be stripping out the OBS, putting in many of the parts from my 98 RS and a massive part-out will follow along with the sale of my RS shell.
So without further adue.....I present to you, Lzzy.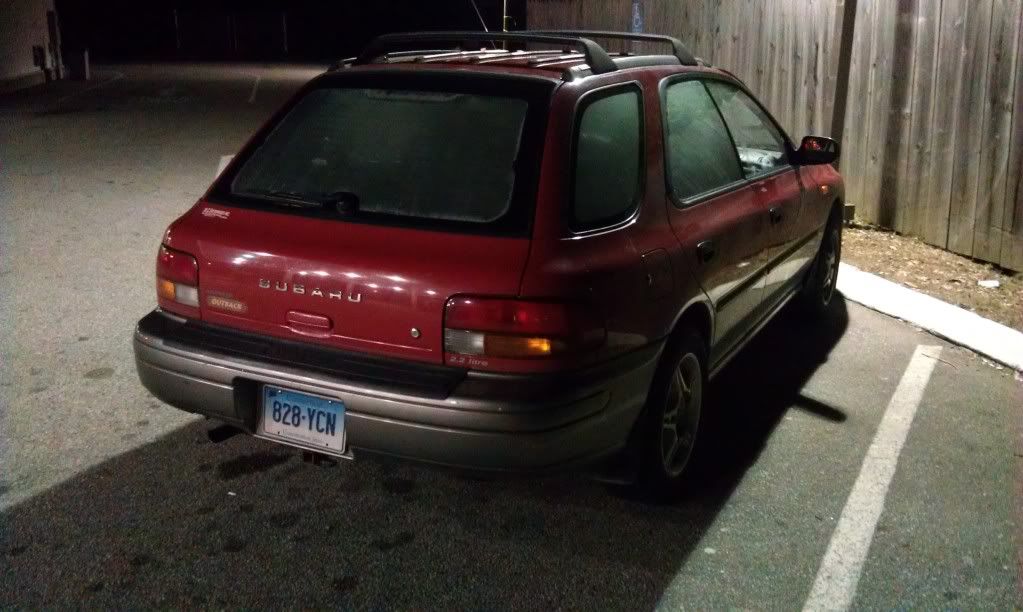 So the gameplan for this car is basically to make a grocery getter than handles like a sonofb****, gets decent mpg and makes a respectable bit of power for an N/A car. I hope that some 2k grind cams and some tuning using a PP6 will wake up my EJ25D motor. I've also got some tricks up my sleeve for chassis stiffening ideas, I want this car to ride on rails!!
My thoughts are that if I'm driving a wagon, it's gotta be a kick @$$ wagon. She may have a "girlie" exterior according to my non-subie owning friends (they just don't understand), but she's going to be a rockstar.....hence the name Lzzy.