Not a new member to the Subaru scene...But only now do I have the material to write a thread about my car...
This is my 2001 RS coupe. I bought it new in August 2000 from the Roseville Automall in Sacto., CA. It's been a project 10 years in the making! I had it swapped by Garage Tuning in May 2007 and it's continuing to evolve.
A Brief History:
I was in the market for a car back in 2000 after a year going to college in the Bay area without a car (which sucks in the rain). Almost bought a 240sx used but the prices then for a 98 were so much that it was better for me to just get something new. At that point I didnt know too much about what Subaru had to offer in the states. I already was familiar with the impreza (ver3) and Evo (5) because of the popularity of Rally in Europe where I went to High school for 2 yrs. In fact had it not been for all the money I sank into Sega Rally at the Arcade I probably would not have even noticed the 555 Subaru and Castrol Toyota team trucks parked near my house during the 95 Rally Acropolis!!! So of course when I read online that an impreza could be had in the states and for around 20k I jumped at the opportunity not knowing the differences in the trims offered here vs EU and JPN. All I saw was a car with 15 more HP than the KA24 powered 240 and it had AWD. Even better was the fact that there was a Subaru dealership at the Roseville Automall of which my father was chief developer and property manager since '87. Needless to say I was able to get a good deal from Scott Vanderbeek. So in August 2000 after a long day at the dealership I drove my new baby home. Soon thereafter I started modding with all the resources I had at the time. The first mod I remember doing is coming home and removing the panels blocking the hoodscoop/vents. Followed by the simple cosmetic things that didnt require any money. DIY clear corners/ shaving emblems/ Painting trim pieces/ mesh grilles were still popular. My first performance mod was a weapon R intake which gave me C/E light issues, then added a custom catback fart can. Around 2001 I got onto some forums (NASIOC/I-club) and started to learn more about Subarus around the world, that they are better than ours and i realized what I was missing....TURBO!!! Wasnt until maybe 2002 when I got in touch with Pam of ISR (autocaresubaru.com) and a whole world opened up to me. I got a trouble free intake from them and slowly started to acquire the goods that I could afford (JDM clears/ Brake cylinder bracket/ Unorthodox U/D pulley/ STI STICKERS!!!)
2002 brought us the first WRX turbo Impreza. I didnt really know what to think of the styling at the time but I knew I was no longer at the top of the food chain! So the plan begins in my head. I start saving and slowly the peripheral parts start going on in preparation for a turbo swap (STI pinks/springs Cusco STB and FHI rear swaybar/ DBA rotors/ Axxis pads/ SS lines). By 2003 a neighbor of mine had already swapped an 02 ej20 into his 4 door and I was green w envy!!! Still in college, I could not afford that kind of work, nor travel down south to I speed and ISR who were the only ones I knew at the time doing swaps. So it remained a distant dream of mine. The years passed and only few performance mods and safety equipment added. Was bouncing back and forth between Palm Desert and Oakland working and in 05 I finally could afford some new shoes and America's tire Co were selling the Prodrive P1s amazingly so I copped a set wrapped with Pirelli P Zero Nero rubber (would not recommend 40 series). By now the car was ready for a motor upgrade. After a near death experience in June 2006 I moved back down south away form Oakland and was saving for a swap though I wasnt sure if to go with WRX and stock trans and save some $$$ or to go all out and build an STI powered RS. With almost 80k on the ODO in 2006 I got a new Exedy clutch and decided to stick with the ej20swap+stock trans. In the end though, after many times researching and drooling at Garage Tuning's site I finally gave them a call. April 2007 the car went in, got it back one month later. I still get a smile when Im behind the wheel as well as from the nice comments of others (the most common one being: "I always liked older the body style").
Just some of the troubles I've seen
Because no project is without its share of headache. Just thought Id share some of that bad luck Ive had that has lead to the good Karma I have now. I have only crashed my car once! All other damage has been the fault of others.
2000:
The first month I had the car some elderly lady in a rental backed into me and crumpled my Driver side door panel. Luckily a witness was kind enough to get her info and left me a note. That kindness will be the last I experience!!!
2001:
I believe within the next year I gave my car to my younger brother to drive to Laney college and he brought it back with a cracked bumper and headlamp claiming he found it that way in the parking lot. That damage went unfixed for a few months.
2002:
One night in a fresh rain I decided it would be a good idea to get some drift action going on bald re92s. BAD IDEA Next thing I know Ive got opposite lock on an onramp (51st st Oakland getting onto hwy24) and im heading into the wall at around 35 mph. CRUNCH! Well at least the bumper and headlamp will get fixed now.
2003:
So no less than a year after that I am drivng to the Berkeley Courthouse to pay a ticket. I exit 80E onto university and see that traffic is stopped except for the left lane which was moving. I was in the lane and this dumb A$$$ B!%@# merges right into me!!! Sooo pissed at what happened I pulled over cursing and punched my windshield and cracked it (just add $400 to that bill please)!!!! Yea I need anger management but who wants to pick flowers after getting hit while going to give the city $350. Not to mention her telling me its my fault she merged into my door and rear 1/4. My insurance fixed it and then cancelled my coverage
[email protected]
#$rs
2004-5:
went without a hitch
2006:
Was not a good year for me nor my car. In March Im coming home from a job in Berkeley. I make a right down onto University as I have the green light and BANG, I see a this chick fold onto my car with her bicycle. I get out thinking I may have just hurt someone she starts yelling at me and rides off leaving me with a crumpled lower 1/4 again!!! Luckily i had a friend fix it and respray the side.
Oh it gets even better!!!!!1 Month later I leave my brother's studio just off of West Grand to find my window smashed and stuff in my car tossed around but nothing missing as I dont keep so much as a piece of Kleenex in there. I see this guy near my car walking away and stop him to ask if he saw anything and he said "no he went thattaway!!!" yea I knew this was the guy. He gets on a bicycle and starts ridiing away I chase him with my car until he ditches the bike and runs into a Winnebago of some sort. Apparently he lives there and likes to smash and grab the cars parked at the studio I found out later. He got his though I heard he broke into another person's car at the same place and that person caught him and beat the
[email protected]
#$ out of him and ran over his bike
Same area, 3 weeks later after fixing my passenger window. I am drivng down W. Grand when I hear BANG! and i look back to see my rear 1/4 window cracked. I immediatly stop and pull a handbrake u turn and see 3 little hyphy ass runts running away. They either had a wrist rocket or just threw a rock at my car I gave chase and almost pinned one against a wall. so long as I scared there asses I guess.
Few weeks later. Parked outside of my house just off of Park near Lake Merrit I get a knock on my door and its our neighbor. The whole block was spraypainted with weak ass cholo graffiti. I used to do graffiti and this wasnt graff, but some gangland MS13
[email protected]
# or something. My car and others got black lines sprayed down the sides. I claybarred mine and the neighbors' cars and all was fixed. Apparently the neighbors had a party and some gangbangers got butthurt at something and there was a fight. They probably came back and tried to represent.YEEAA!!!Idiots.
On the night of June 12, 2006 I parked outside of my house around 10:30pm. I got out of my car and was met by 2 young punks one with a 6 shooter pointed at my chest. He asked me for my keys and wallet and I told him we wasnt goin to get s#!% from me. I grabbed his gun to disarm him and it fired. The bullet passed through and through both my thighs. So now I feel the blood gushing out thinking that I will die but no pain yet. We struggled all the while Im screaming for help and his partner is hitting me and yet no one is coming out to help. Still struggling with the shooter to get the gun, the kid was biting holes in my fingers and finally i see a neighbor come out with a wrench in hand. That scared off the shooter's partner but I was still struggling with the other kid for the gun. Then I finally took the shooter's gun and fired it at him as he ran off but none of the rounds made their target (unfortunately) as I was laying on my back trying to aim and you know how fast young hyphy kids on thizzle, who are about to take a bullet in the ass run!! I spent one night in the hospital and a couple weeks on crutches I was lucky as it was a .357 and had it hit any bone or nerves I would have been left crippled. As for the punks who tried to rob me, they both got away. I believe they got theirs coming, not from OPD though, since theyre too busy busting street racers!!!! Yea!!! Way to spend the Tax payers $$$ dip*****s. Anyway that concludes my colorful history of ownership. WHO CAN SAY THEY LOVE THEIR SUBARU MORE THAN ME?!?!
2007:
Moved to SoCal and begin collecting parts for the swap. By April the car is in Kevin @ GT's hands. I get it back in just under 4 weeks.
2008:
I dabble in some AutoX. I get married in Oct. I buy a 135i in Nov. I have the block and heads rebuilt by Frank @ GT after dealing with more than average oil consumption and white puffs out the tailpipe. The car gets a Cobb DP and is reflashed to St.2. Coilovers and STI linkage are added.
2009:
Having spent the better half of the year Acquiring JDM parts from locals, Yahoo Auctions and Japanparts. The car goes in for roof skin swap and respray in Oct. and is down for a few weeks. I continue on the search for more JDM parts even after it's done.
2010:
New Clutch. Retuned and putting down 300AWHP/325lb/ft on a Dynapack. Enjoying some AutoX events. The car takes 3rd best Subaru at Xtreme Autofest (my 1st car show trophy
). I win an RS25 COTM Photo Contest. I get to be on set with the car at the filming of "Born to Race." I acquire a
GF4 OBS
.
2011:
Spending more time getting JDM GF8 stuff lately (there's not much else I can do to the RS). Maintenance for the RS has been priority rather than bigger power. The Rear diff got a new cover and gasket. Trans gets a new ACT flywheel, clutch fork, shift linkage then the Input shaft seal goes after 60 mi. Trans is rebuilt.
Thanks for taking the time to read my story.
Mods:
Engine:
2004 STI motor swap
Garage Tuned by Kevin 300AWHP/325lb/ft on CA91
Mahle Forged Pistons
ACL rod bearings
JDM STI oil pump
JDM Spec-C power steering oil cooler
JDM S202 Oil Cooler
3-angle valve-train machining
Cobb 3in TB
Koyo Radiator
NGK Iridium Plugs
Dual 12in Spal fans
STI Grp N motor mounts
Interior:
Autopower Race Roll bar
IOport Racing camera mount
UKDM Ver.6 DCCD gauge cluster
AI performance MPH converter
JDM Legacy STI gauge pack
JDM Ver.4 seats
JDM Type R door cards/rear panels
JDM STI Graphite Radio and shifter trim
JDM Red Hazard button
JDM RA Vinyl headliner
JDM RA sunvisors (no Airbag warnings/vanity mirror)
JDM STI Pedal set
JDM STI Spec-C Duracon shift knob
JDM 22B door sills
Sparco 323 Steering wheel
Factory compass gauge pack
Variable Intermittent Wiper stalk
Exterior:
JDM STI Sport bumper
JDM STI 22B wing
L roof panel (AKA Sunroof Delete)
JDM RA roof vent
JDM STI Rally roof scoop
JDM Ver.5/6 grille
JDM Ver.6 rear bumper/spats
JDM Aero Mud guards
JDM lightweight bumper beams F/R
JDM rear glass w/ wiper blade
JDM Type RA aluminum hood
JDM Type RA flat fuel door
JDM Rain Guards
JDM WRX-STI Type-R decals
JDM 22B Titanium Fender emblems
JDM 22B hood vents
STI Rear Diffuser
STI Grp N Rear Diff guard
AUDM Headlight Rock deflectors
Wheels/Brakes/Tires:
17x8in Enkei RC-T4 Gold(+48 5x100)
Dunlop Dirrezza Z1 Star Spec (235/45)
JDM STI 4 pot front calipers
JDM 2 pot rear calipers
DBA 5000 2-piece slotted rotors (4k rear)
Axxis ULT pads
Goodridge SS lines
ISR Brake master cylinder bracket
NO ABS!!!
Suspension:
Cusco STB F/R
Bilstein PSS9 Coilovers
Cusco front camber plates
STI Grp N rear tophats
Whiteline rear camber bolts
STI Grp N A-arm bushing (ALK)
STI lateral+transverse links
20mm JDM STI swaybar
Whiteline endlinks F/R
Whiteline HD swaybar mounts
Whiteline Drop links/tie Rods
JDM ALuminum A-arms
Transmission:
JDM ver.IV type-R 5 speed tranny w DCCD
R-180 Rear differential (4.44)
STI Trans. mount
Powerflex diff mount bushings
Whiteline outrigger bushings
Kartboy shifter bushing (f/r)
Exedy Flywheel
ACT organic cluch w/ HD pressure plate
Misc:
JDM STI Spec-C I/C Water tank
ZeroSports I/C splitter
ZeroSports Radiator shroud
JDM under-trays
JDM brake-ducts
STI 1.3bar Rad Cap
JDM Anti-Static pads
JDM GC8 Type-R Knee bolsters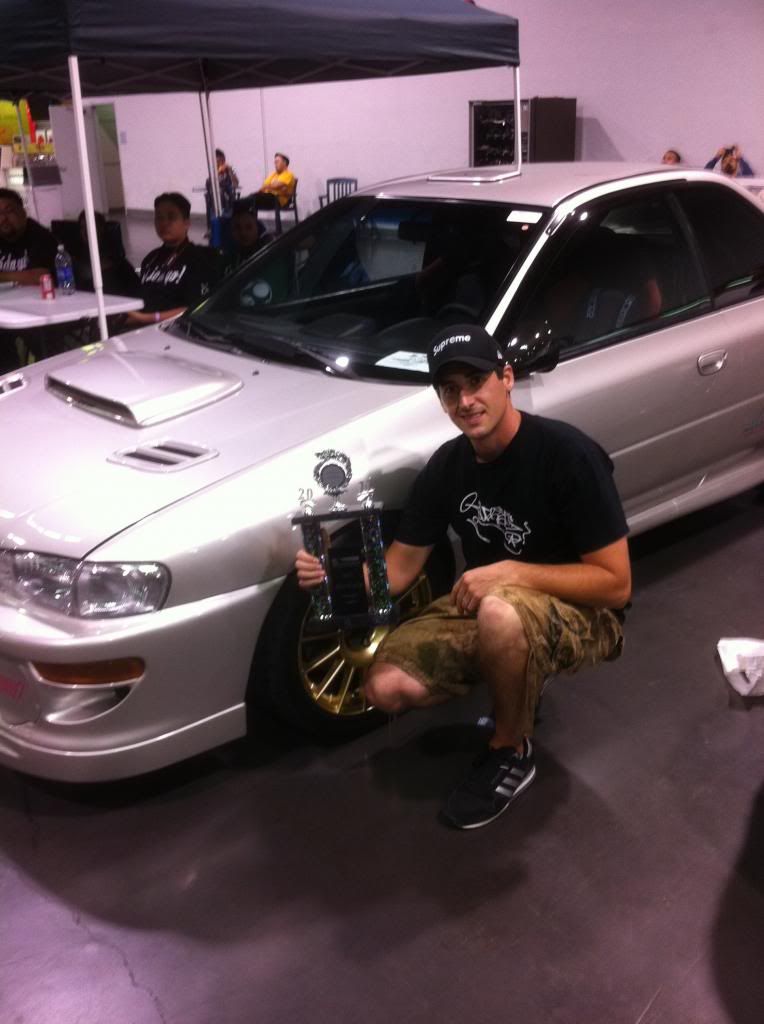 Video Clips