Hi guys and gals. Figured it was time to stop peeking in your windows and come on it. I guess this is as much of an intro as it is about my new RS.
I have been lurking here for years. Made a profile after I bought my RS just to PM folks for parts, and have finally decided to get the ball rolling here as I'll have some questions and need some opinions.
Here's a long winded story of my Subaru love.
I have been a Subaru guy for years, but they have always been my winter beaters. I work in the motorsports industry and have a summer street/strip car, so something fun to slog around in through the Ohio winters was what I was looking for. Years ago in college I landed a clean low miles 96 5-speed 1.8 liter Brighton. I drove the piss out of it for years. Changed the oil, rolled the windows down and cranked my door only speakers until they were popping and cracking and enjoyed every minute of it.
Then, my buddy, a Sergeant and Motor Transport Operator in the United States Marine Corps at the time, did this.
It was all good. He was fine, no one else hurt, so I was cool. Here's a quick excerpt from the time. Mind you, he was 3 days out of a deployment:
"The issue is that Stan was on his way home from a shooting range when he ass-fucked my Subaru. As soon as he slid across the oncoming lanes, puckered over a 6 inch concrete curb and bounced into a cement light pole base, he went into Iraq mode. His marine buddy screeched up next to him and flung the door open. Stan grabbed his rifle out of my back seat (yes he did actually have enough inertia to bounce off a concrete pole, and yes the door still opens and closes fine) and dove head first into his buddies back seat. I'm lucky as shit he didn't have a grenade on him, protocol is to disable the vehicle so the enemy can't use it. I understand, he bashed the fuck out of his head on the window. It looked like someone took a mark mcguire roids infested swing for the fences, and stans head got in the way.
Anyway, explain that one to the impound lot. "I swear sir, the guy jumping out of the car with a rifle and screeching away in another car isn't fleeing the scene, he's just going to get medical attention."
A great insurance policy and a great body guy got me rolling again. I loved the car too much to give it up.
Fast forward 4 or 5 years and the Brighton is still my winter beater and hillbilly offroad buggy.
I'm living in an apartment/shop/garage when the city opens the reservoir North of town and floods me out.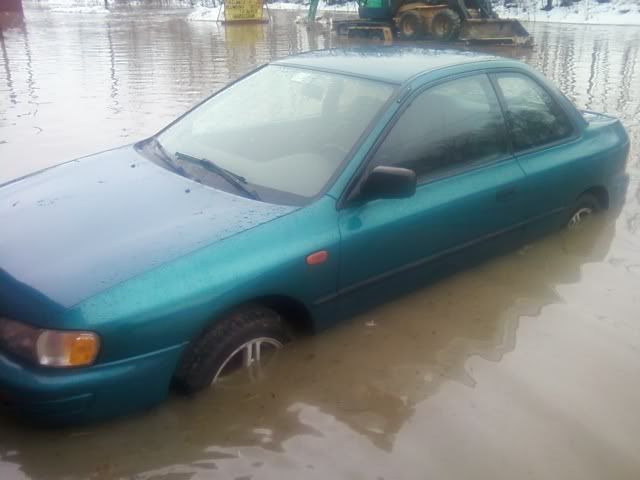 I had my project car, tools, and apartment belongings to worry about saving…. So the Brighton sat out front, under water, while I strolled around in waders packing shit up.
A few days later a couple buddies I work with dragged it to our shop at work, stripped the interior, sprayed out the computer with electrical contact cleaner a few times and fired her up.
Believe it or not… besides some rusty exhaust and brake rot, and some squeaks and rattles and cracking seat covers, she's still running.
She's rough around the edges now. She moans like an old girl, but she still gets me where I need to go. Talk about a survivor.
She's undergone all of her regular maintenance by me, and received a rear disk swap thanks to her new surrogate father in law, Buurma.
Fast forward about a year and my life is settling back in and it's time to find the RS I have been dreaming about for years. I was having trouble finding a clean RS and broke down and started looking for bugeyes. One I really liked fell through, as the woman who was selling it had a last minute change of plans. But… her boyfriend just happened to be selling an 01 rs 5-speed. The car I couldn't find in acceptable shape for years was a few blocks from my apartment
So, I bought this beast:
http://www.rs25.com/forums/f171/t166891-wtt-2001-rs-coupe-no-rust-tastefully-modded.html
Here's the first pic I took of her: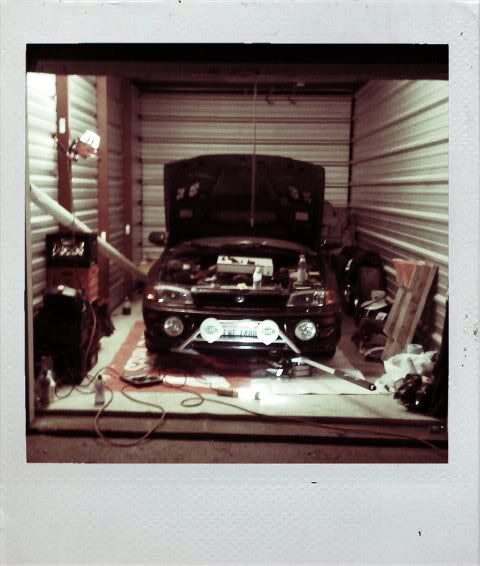 A big thanks goes out to Buurma for letting me peek all over it night after night and answering a slew of questions about it. I was more purchasing Buurma, his knowledge and his willingness to be on-call for those "what the fuck is this green wire" phone calls. It came with a stack of receipts and maintenance logs and all showed that the car was well cared for. In talking to Buurma, I felt confident.
Drove it for less than one oil change over a few months and decided to take a 7 hour road trip to see some friends and a bitchin rockabilly band.
And of course. She stopped on the highway. In Maryland. Not sputtered. Not choked. Stopped.
I pulled her over, checked the obvious, then called for a flatbed. I got it to a buddies house in Gaithersburg Maryland (I live in Norwalk Ohio) and tried to figure out what the fuck to do next.
My girlfriend is a teacher and needed to be home the next morning, and the lopsided cranking of the motor led me to believe it was timing related. So, I borrowed my buddies truck (the same buddy that wrecked the Brighton) and drove home, turned around the next morning and put his truck on a flatbed behind my work rig and towed it back down south, and turned around with my RS on the trailer. And yes, the Rockabilly Band was a great show.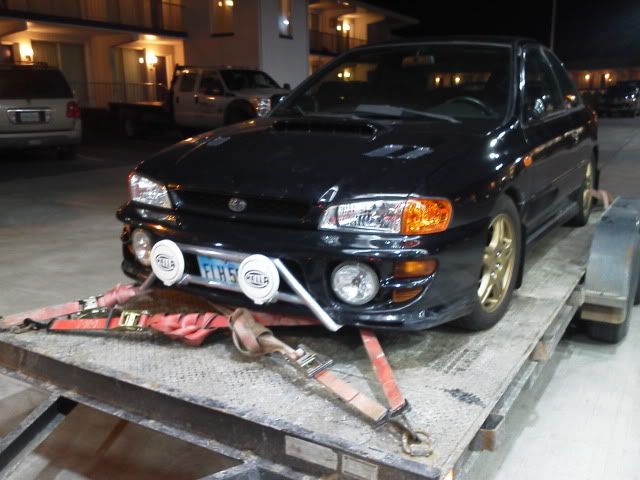 Once I popped the inspection cover and peeked inside, I saw this:
Look close. There's something there that shouldn't be there.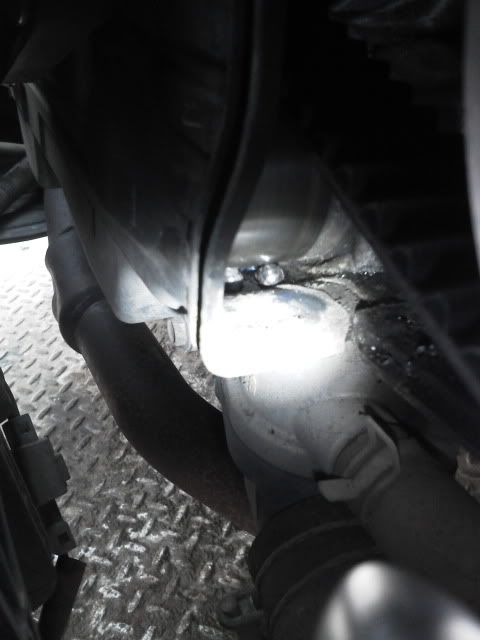 And then, of course, the inevitable: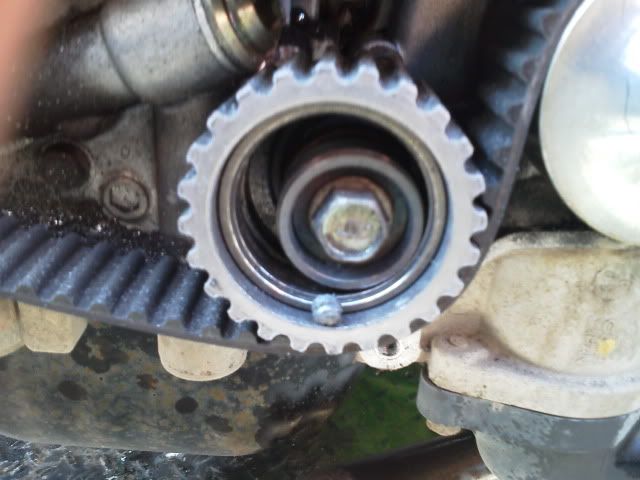 I had receipts for belts, water pumps, tensioners.... but no idlers. The one that popped was from the factory. 170k+
So... let this be your lesson, from your good buddy Jonny-O. Change all the idlers at least once in 200k.
There were ball bearings everywhere. A couple actually made it North to the Crank sensor which I thought was pretty artistic: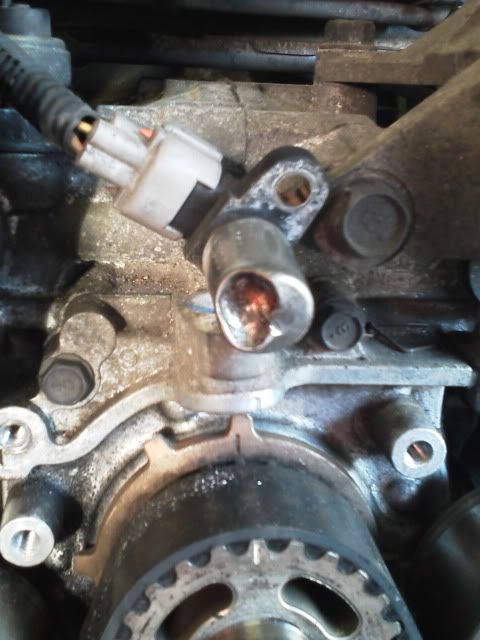 So, On to the next chapter.... I found a great deal from a guy who buys junk cars for $500 running or not.
By the way. Here's a picture of me showing off a knuckle buster.
I like hotrods, loud music and long walks on the beach.