Some of you may recognize my old 99 rbp rs that I use to have. I unfortunately sold it to upgrade to an 01 porsche 996 c2. I love the new car, but have missed having a subaru. I was searching for the perfect car for me for about 6 months now. I finally found something that I thought would be a good project for me. The car is a 1996 L GF8 that has a full 03 wrx swap and when I say full I mean full. This was a project that another local subaru enthusiat began to mod and had to seel due to having 2 other project cars. Here is the mod list the day U purchased the car.
So here is the mod list for what I am gonna call
"WAY-GONE".
Engine/drivetrain:
2003 wrx motor, transmission, wiring harness (from headlight to taillight), ecu, drive axles, rear diff, subframe, gas tank, fuel lines, front crossmember, controll arms, hubs, etc etc
Cold air intake
Cobb catless downpipe
Cobb mid pipe
Gram Light 57 Dragon Axle Back Muffler
08' STI TMIC
Up-pipe
Tuned by KitoAutoSport in seattle
(havn't had a retune since adding the exhaust/downpipe, w/ just the up-pipe it put out 200hp/194 ft. lbs of tq. at the wheels on Kito's dyno) w/ the exhaust and a re-tune I should see another 10% gain or so.
04' Sti steering rack w/ whiteline steering rack bushings.
(this was by far my favorite mod, shortens the steering ratio)
Kartboy Short shifter
Kartboy exhaust hangers
Front and rear shifter mount bushings
whiteline transmission crossmember bushings
whiteline subframe outrigger bushings
turn in concepts rear diff bushings
Whiteline subframe lockdown bolts
GroupN Engine Mounts
GroupN Tranny mount
Streetlight flywheel
Exedy OEM replacement clutch only 3k miles ago!
Redline oil used in the tranny/rear diff.
Paranoid Fabrications grounding kit
(all bushings, tranny/diff fluids were done at the time of the swap)
Engine/drivetrain Plans:
VF39 turbo
FMIC
bigger injectors
Walbro fuel pump
tune
Suspension:
Camber bolts front and rear (set at -1.8 front, -1.2 rear)
Whiteline adjustable lateral links
wrx sedan front control arms
wrx sedan front and rear swaybars
Front endlinks
Kartboy rear endlinks
WRX wheels powdercoated black w/ summer tires
BC Racing coilovers BR series
jdm STi carbon fiber strut tower bar
Interior:
04' WRX black front seats
Full 03' wrx dash/center console conversion
WRX steering wheel
WRX ebrake
06' Black wrx carpet
00' RS sedan door cards
All windows switched to power windows (originally manual)
A/C Blows ice cold
OBDII port works fine and is in stock wrx location
Decent CD player w/ Ipod hookup
Brakes:
Full ABS swap from the 03' wrx hubs, ABS pump, ALL hard lines for the brakes, (wiring is original to the 03' so no splicing), sensors,
Stainless steel brake lines
06 wrx 4/2 pots
Racing Brake slotted front/rear rotors
??? brake pads
Motul brake fluid
Exterior:
JDM aluminum v6 hood (Saves a solid 20 lbs over stock)
98-01 headlights
98-01 grill
jdm lightweight bumper beam in the front
JDM taillights
JDM clear corners
RS front bumper
Clear blinkers
Clear side markers
STi fog light covers
jdm metal flat fuel door
RS side skirts
jdm sti wagon upper wing
jdm sti wagon mid wing
jdm sti ver 6 grill
jdm green twisted "i" badge
HT Autos P1 style front lip
jdm ver 6 rear bumper w/ spats
Bakemono WRC style mirrors
Exterior Parts needed:
99+ crystal headlights
22b hood vents
STi RA roof vent
jdm rain gaurds
Currently: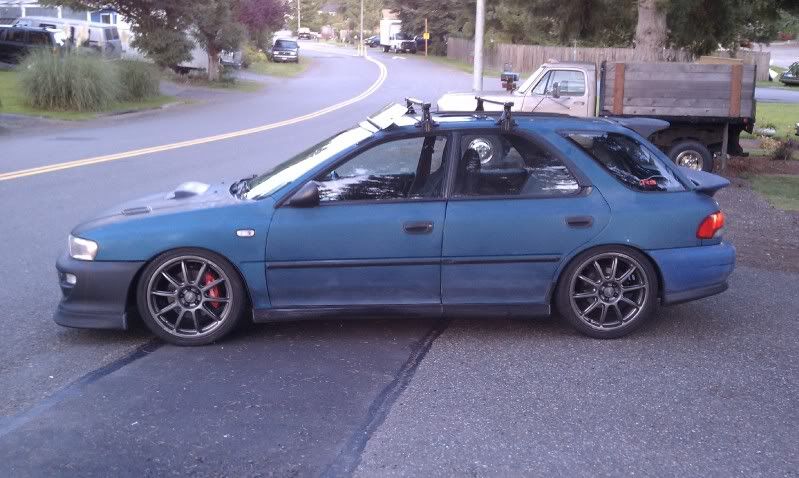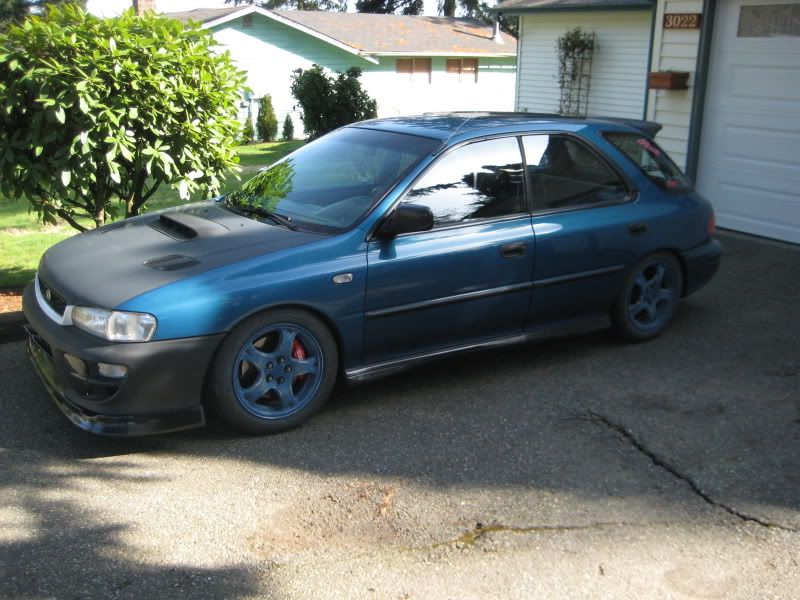 When purchased: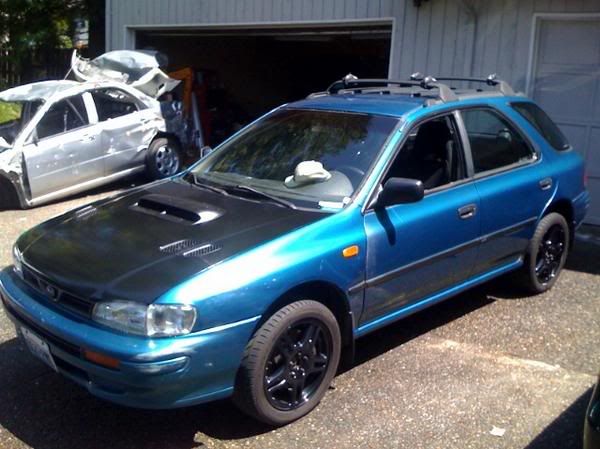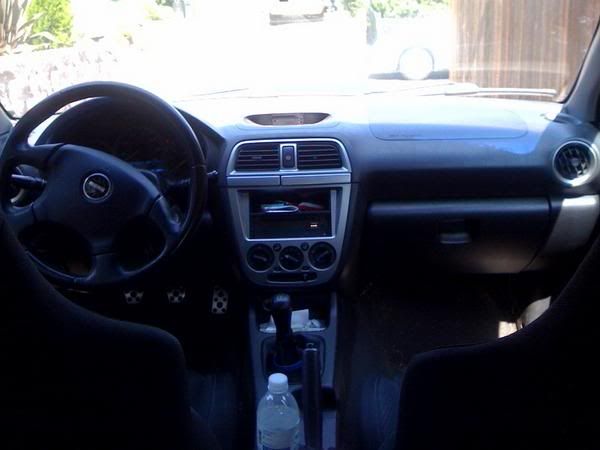 This is my old RS in its glory days.