So I was just fixing some leaks on my 1994 WRX Wagon EJ20G. Found some interesting facts about some interchangeable parts and gaskets.
-My Oil pan was dented so I wanted to change it out with my 1.8 oil pan. It turns out they both have the same oil pan shape, even the same aftermarket gasket (the factory uses some kind of RTV Gasket Maker), but there is a difference between the two on the inside, my EJ20G oil pan has a second baffle (plate/2nd level) closer to the bottem, I guess to keep the oil closer to the oil pickup during high speed turns, that's why i kept my old pan. And since I know how much of a pain it is getting the oil pan in while the engine is still in the car I suggest getting a gasket from autozone and not use the RTV because it will get everywhere while trying to muscle it in. The oil pan gasket (cork material) seams to also work with 1.8 1993-96, 2.2 1990-95 and the 2.2 turbo 1990-95. This is according to the label on my Fel-Pro Gaskets box. Only cost $6.99. So my guess is that all these pans will fit and only these pans, I suggest the 2.2 turbo oil pan, if you going to buy a new one.
-I also worked on my IAC or IACV (Idle Air Control Valve) and I don't think it helped to much with my cold starting hesitation or maybe it took a whole month to finally work or work itself out. But found out the gasket is the same as a gasket found on a 1994-1998 2.2 or 2.5 part #22659AA060. So maybe if you also wanted a new IAC, instead of buying a new one go to a junk yard and look for a 1994-1998 2.2 or 2.5 (not sure what model).
-And for the bread and butter. I had to replace my valve cover gasket. Please don't trust people on here stating that any 2.5 gaskets will work, WRONG! Not all 2.5 are created equal, The gasket between the cover and head will work but the gasket that seals the spark plug holes are different. So what worked? A gasket set for a 1996 2.5 Legacy (GT??) will work. At Autozone or who ever sells Fel-Pro, they cost $50-$56 for the set. At the dealership, they sell bit by bit and will eventually cost $100+!
-Also those black boxes that sit on top of the valve covers that has a hose attach, if you want to change those gaskets, called Oil Separator Covers part number 11832AA022. (On the Left of the valve covers in the picture above)
Finally, there are these little half moon?half circle plastic bits that are needed too. These bits are located on the back side of each head where the head meets the cover and to do the job right get new ones and reseal it with RTV Gasket Maker. Unfortunately they only sell them with a headgasket kit or at the dealership and will cost $50 for 4 of them. Part number 11051AA070 or tell the dealership you have a 96 Legacy 2.5 and ask for those. So what I gathered is that the EJ20G heads share the same valve cover gasket "set" as the 96 Legacy 2.5 heads and the EJ20K heads share the same valve cover gasket "set" as the RS 2.5.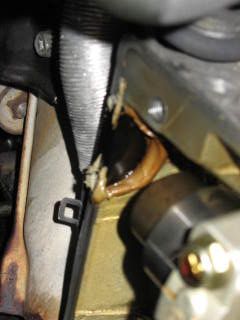 Hope this clears things up.