Discussion Starter
·
#1
·
What's up guys.
I'm new to RS25.com and just wanted to drop a line saying hello and congratulations/thanks on having one of the best websites/forums around. It was registered for and bookmarked immediately after I discovered it. Imprezas have been all I've ever owned/driven since I got my license at 17 (24 now). Previous ones were a 1999 2.2L and a 2007 2.5i.
It's been about a week or two since I signed up for the forums because I was working on completing a purchase of my latest Impreza...
2005 Subaru Impreza 2.5RS w/ Sports Package: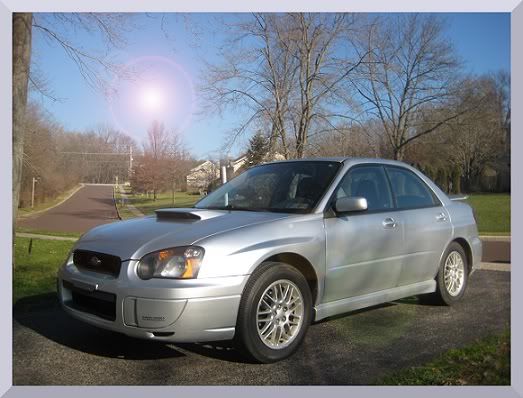 I love her. Had a fantastic buying experience from a member on here/NASIOC and can't get enough of this car!! I miss my 2007 2.5i but I'm almost positive I'm going to (if not already do) like this car better.
Car is relatively stock at this point. The modifications/upgrades include:
-Aluminum hood w/ WRX Scoop
-Stromung twin-tip catback exhaust
-
eBay
UEL Header
-Hella Supertones
This was perfect for me because I have never modified any of my cars before except for the audio system. However, this doesn't mean I havn't wanted to. The first time I started the car up and heard this exhaust compared to my previous cars...all I could do was drool.
So yeah. I'm home. Thanks providing such a great community here.
Any advice on next modifications to make and/or what's the best bang for my buck? Seems like a 20mm RSB and some new tires are pretty highly recommended. The only modifications I really WANT to do are exterior/appearance mods and overhauling the audio system (components for that are already ordered and on the way).
Let me know!