How To: Creating classified ads​
***If you are new, you need to be a premium member or be a member for 90 days to post an ad, see this thread for more info
CLICK HERE***
Step One: Before you post
Please aquaint yourself with our rules, as well as general forum rules there is a specific section just for classified posting
Step Two: Selection Section
Select the proper section to post your item.
Note the descriptions below each section with some examples.
In this instance we will be selecting
FS: General Subaru
Step Three: Creating Thread
Note the announcements at the top of every section, these as well as stickies will provide you with valuable information.
Select the New Thread button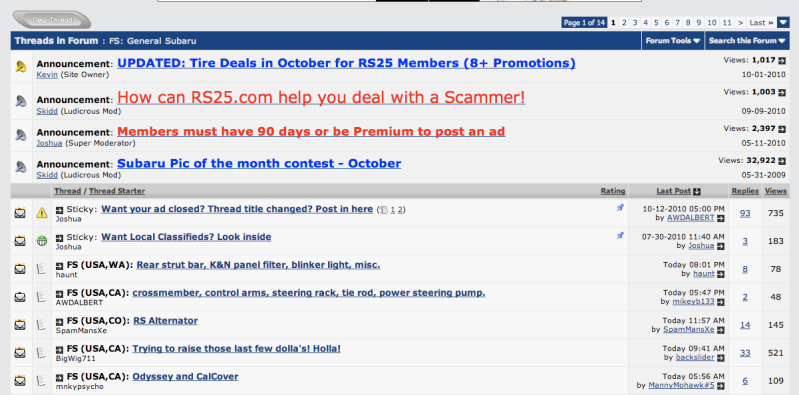 Step Four: Selection State Prefix
Now you will see the Post New Thread template, note the added drop down box for selecting your state. Select the state you are in (this is required to post an ad)
Step Five: Item Description
Next fill in a descriptive title for what you are selling. After that fill out the box below with a description of what you are selling along with pictures. Please provide the most accurate information you have, do not lie!! Scammers will be removed from the site.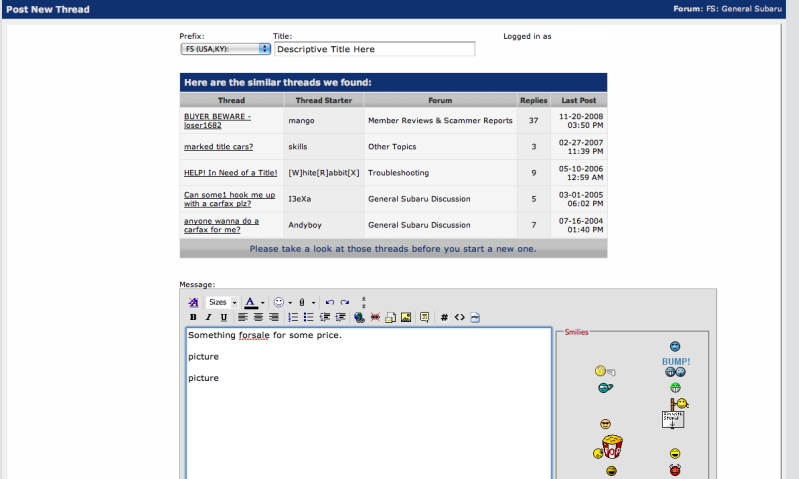 Step Six: Adding images & ad thumbnail
Adding images is
very
important to selling your item. First it serves as proof that you actually have what you are selling, some members will add a hand written piece of paper with their username on it as additional proof. Images also allow perspective buyers to see the condition of your item. If you dont have an image in your post I can guarantee that it will be the first thing asked for.
Your first option and easiest is to upload an image via the Attachment Manager. This option will also allow you to add a thread thumbnail like you see some members using when searching through the main classified forums.
Scroll down to
Additional Options
and select
Manage Attachments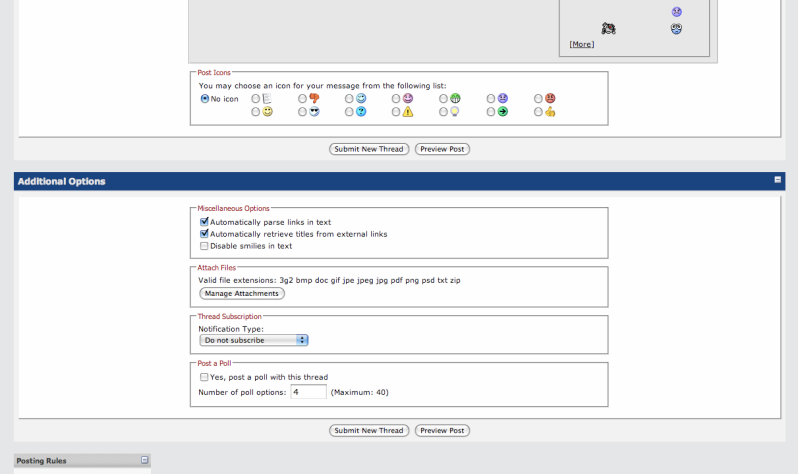 You will then get a pop up screen. Add your images, note the file size limits below.
Your first image will be the thumbnail that others see in the main forum section.
After you have selected all the images you want (max of 4) click upload.
you can also attach images that have been uploaded to image sharing sites such as photobucket or imageshack. Use the
icon to attach an image
Step Seven: Post Icon & Submitting/Previewing post
Next you can select a post icon for your ad. Lastly you can either preview the post or submit your thread.
If you have any problems, need an ad closed, or thread title changed please post in here