Discussion Starter
·
#1
·
Hello,
I will include some backstory just for fun
My past subies
94L 1.8L 4eat fwd 4dr
96LX 2.2L 5mt awd 2dr
00RS 2.5L 5mt awd 4dr
Current, as purchased:
96L 2.2L 4eat awd 2dr
Current, as it sits
96L 2.0L 6mt awd 2dr
The other L chassis were unfortunately the product of a broke kid fresh out of the military with no money and having to commute 100 miles each way in some of the worst traffic in the PNW. Those 100 miles would take 3 hours easy one way. The 94L was my first car, the 96LX was the second. I had no time to execute anything more than brief non-disruptive work on the weekend since it had to be good for work on Monday.
With that being said, after life had taken over and taught me some great lessons, and after focusing very much on the career development and social rehabilitation... even though it took 11 years... I made it to where I am now.
Please understand I come from a very small town that is super focused on Nascar and domestic drags in the farmlands on Friday night. That's all fine and dandy... but my mantra was -- Have you seen WRC? How can you be interested in this versus that? Got me in trouble, but got me some influence. This was happening back in the late 90s early 00s. In a small town in Rural America, WRC was brand new and never seen before. And I was just a kid who was super into Rallysport Challenge, and drooling at all the super crazy and intense foreign racers
Back in the day, back in 05/06... I had some social issues. I didn't get along with people. Plus, I had a super slow LX that could barely get out of it's own way. I had a few dramatic incidents, nothing physical... but shit went farther than it should have.
So.... on to current events.
After 11 years, 6 months of focused online hunting (and a wonderful GC finder called AutoTempest), I found it. It was time to rebuild the dream.... this time not as a confused and broke teenager.... and not having to commute meant I can spend the time needed to make it come true! I was there with the downfall of Nasioc and I really didn't get along with the hellaflush vapelyfebro group that talked mad shit with their stock slammed WRX with Ebay coils and exhaust. I left the community. I had a bad taste in my mouth (after putting a few years into OT and NWIC).
Allright... On to the good things. I built this L to do a few things. First, it was mine. Second, to fulfill the dream of my youth and finally free myself. Third... to lay waste to new age Subies. Don't get me wrong... I test drove a slew of vehicles new and used. I wanted a high horsepower AWD coupe. Not a lot of offerings in the new market. Test drove a Honda, VW, STI, few others... All of them felt slow and wrong.
First order of business. Accentuate the funnest aspects - traction and acceleration. Only one problem. I live in a city apartment with a shared garage. Considering the work I did to the previous subies, I was OK with having a shop do the majority of the initial mechanical work.
I don't give a hoot about views or likes or anything. I keep YT for friends and family, and this is my first public venture!
This video is the photo build log. Me and my dad (after working on the other cars) had a lot of fun. This has some pics of bringing the new subie home in over 800 miles of Snowpocalypse 2019 - what a great way to introduce it to the family!
GM4Classic Photo Build Log
I have since taken over all maintenance and upgrade work on it since the shop delivered it. It's been a great time. I finally have the time and space to focus on the fun stuff!
Being fresh build and my first turbo car, it was an absolute honor watching them get it dialed in. They allowed us to be present and it was amazing! After this video they flipped me the keys... I didn't kill it pulling it out of the shop, but I wasn't confident and super cautious. The first time I went WOT on an onramp ... I was sold.
GM4Classic Dyno
The mod list, as delivered:
Mechanical:
STI Steering Rack w/ Outer 1 GC to GD Steering Column Link 1 BALL JOINT 2 GD MT PEDAL BOX 1 AXLE SEAL 2 FAN ASSEMBLY 2 HEATER CORE OUTPUT SHAFT SEAL 4 DRIVE BELT 1 SPARK PLUGS 4 LINK AY 2 FLANGE NUT 2 NUT 2 ROD AY 1 BLEEDER CAP 8 HOSE 4 CLUTCH MASTER CYLINDER 1 SNAP PIN 1 CLEVIS PI 1 PIPE CLUT 1 BRAKE HOSE 1 BRACKET 1 HOSE CLUTCH 1 UNION BOLT 1 GASKET 2 BOLT 2 CLAMP HOSE 4 RADIATOR HOSE 2 HOSE Q 1 HOSE P 1 CLIP 1 CLIP HOSE 2 HOSE VACUUM 3 DUCT AY 1 HOSE ACCY 1 HOSE CP 1 BRACKET T 1 RESERVOIR 1 HOSE SUCTION 1 HOSE CLAMP 2 HOSE AY P 1 HOSE RETURN 1 CLAMP HOSE 2 FLANGE BOLT 4 STOPPER R 4 HOSE HEAT 2 PLUG EVAP 1 TURN SIGNAL/HAZARD ASS CABLE ASSEMBLY-HAND BRAKE,LEFT 1 CABLE ASSEMBLY-HAND BRAKE,RIGHT 1 WATER PUMP 1 WATER PUMP GASKET 1 THERMOSTAT 1 THERMOSTAT GASKET 1 TIMING BELT IDLER 1 BELT IDLER 2 TIMING BELT TENSIONER 1 TIMING BELT 1 TIMING BELT IDLER (GEARED) 1 GROMMET HEATER 2 IAG NITRILE LOWER INTAKE MANIFOLD GASKET FOR 04-18 STI 2 SPEEDOMETER CABLE 1 AIR FUEL RATIO SENSOR 1 AIR FLOW METER ASSEMBLY SENSOR 1 RADIATOR CUSHION 2 SPLINE STYLE LUG NUT SET 1
Performance:
tqsTS-SU-006C - Torque Solution Shifter & Rear Bushings Combo: Subaru Sti 2004-2014 tqsTS-SU-703 - Torque Solution Shifter Pivot Bushings: 04-14 Subaru STi tqsTS-SU-158 - Torque Solution Rear Subframe Lockdown Bolts: Subaru tqsTS-SU-474 - Torque Solution Solid Shifter Linkage U-Joint: Subaru STI 2006-2019 gr24215 - Goodridge 02-07 WRX/STi Brake Lines hawkHB453F.585 - Hawk HPS 04-09 STi hawkHB180F.560 - 04-09 STi Brembo HPS AK20739 - Front Brake Rotor Akebono Grey Coated High Carbon YH20736 - Rear Brake Rotor WBR Grey Coated High Carbon - HP IAG Street Air Oil Seperator upgraded full electrical speed sensor 04-07 Subaru
Drivetrain:
Tomei twinscroll downpipe P&L Street 3" exhaust Mishimoto race intake Mishimoto STi radiator 04-07 JDM STi ej207 complete with vf37 twinscroll turbo and v9 tmic 04-07 JDM 6mt complete with dccd L to STi iWire harness merge complete with avcs
Interior:
Jegs aluminum dash - custom fit RacePak IQ3S gauge pack mapDCCD controller hvac, rear defrost, hazards relocated Sparco seats, planted brackets, 3/4 point harness
Exterior:
Black housed 99-01 USDM 2.5RS style headlights Black housed 99-01 USDM 2.5RS style corner lights Black housed 99-01 USDM 2.5RS style turn signals Black housed 99-01 USDM 2.5RS style side markers 99-01 USDM 2.5RS wing 01 JDM STi v6 front bumper 01 JDM STi v6 Prodrive P1 replica lip 99-01 USDM 2.5RS side skirts 99-01 JDM STi rear valances 99-01 JDM STi lightweight aluminum hood AeroCatch Hood Latch Set, Locking 1 99-01 USDM hood scoop and vents 99-01 JDM grill 99-01 JDM lightweight aluminum f/r bumper beam 99-01 JDM Type-R badge 'upgraded' L badge Prodrive fender badges 99-01 JDM STi tail lights 04-07 JDM STi wheels 04-07 JDM STi struts and 'pinks' lowering springs
Since this, I have had it for about 18 months in my garage. Since then I have done a good amount of stuff. Kaizen lights, rewired ignition, quick column, Bilstein B16 coils, Enkei RPF1, custom dash panel, and some fancy STI GC body parts... but most importantly and the biggest improvement? My first HPDE and first foray into the track world!
We all know what these guys look like. Here is a stock picture of a 4dr 96. This is basically what it looked like when I got it (except 100% more front end damage from jumping in a field, some busted glass, and what few things that worked... didn't work great).
It's great to see the stark contrast of then and now...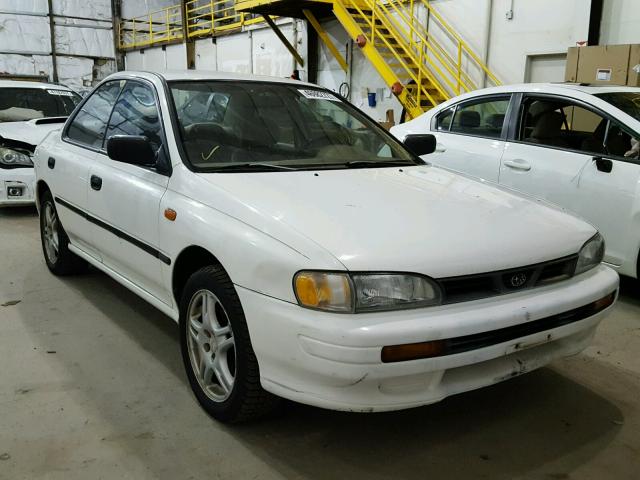 Into:
Before you go judging it, know that I fully embrace the character! Blemishes,misaligned body panels, all that will be fixed at some point... just not now. This is an ongoing build, and I am posting here at the finishing of Phase IV, about to start on Phase V and within 2 years, head to Phase VI.
It doesn't matter what it looks like, as long as is does what it's supposed to do!
GM4Classic HPDE -- The first of many track events!
Until I fix my server, I am limited to phone pics for now. We are skipping a lot of the other stuff (found in the build log). I would like to show off the dash panel and switch panel. I will get something uploaded soon!
Until then -- Thank you very much for stopping in, I look forward to joining the ranks of GM/GC track cars. I was greatly inspired by here, Nasioc, and the Prodrive P1 Prototype (white).
Here are some final pics to wrap up initial post