Discussion Starter
•
#1
•
I'm a sucka(s***** is censored??) for peer pressure.. Only took a small twist of the arm to make me start a thread here for my next big goal. Coast to Coast on a two wheeler!! Most of this below is copy/pasted from my
OG thread on the Volusia forums
.
7/25/16
The time has come to make a project thread/journal for my bike and my journey. Come next May(2017) I'll be saddling up and attempting to ride coast to coast and then home again. With life it's easy to say you're too busy or the budget is too tight to go visit all those friends and family that are out of arms reach. For the past few years I've been working towards making good on all those promises to come visit. I'm still about half a year out from departure, but since the bike has been acquired I wanted to document the changes and my planning. I've named my trek #FriendsOfTheRoad2017
It's been a goal I've set to attempt this cross country trek before I turn 30. I've invited all my friends that ride, but even for myself it's tough to dedicate this much time and resources. So I'll be mainly riding solo with a few stints that friends will join in on.
With my history of bikes it was tough to boil down what I wanted to ride. Coming from a sport bike world I was originally leaning towards an adventure touring style. With a heavy mileage count and remembering back to my drz days(that 2x4 seat was a joke!) I quickly changed my towards a cruiser. My Dad lent me his vtx1300 to test out which helped me decide I'd need around that weight/size. I've always done Suzuki's when I get into the bigger bikes so it was a no brainer to seek out a c90. Had to be 05 or newer as I wanted FI on this bike to help cope with the elevation shifts she'd be seeing. The Touring edition would also be a plus as it had most of the bells n whistles I wanted.
Plan was to purchase my bike this summer, get it setup, shake down all the cobwebs and have it ready before this winter. Had my eyes on a gold/white 2008 c90t, but it was on a local dealer's lot and just too pricey. I was waiting it out to get it more into my budget. Started to work up a trade deal with a GS500 I had in the collection. Unfortunately that bike was purchased before we could drop the hammer. Nearly decided to wait until winter to pick the bike up so I could get it well within the budget. Then almost too good to be true - a very nice '06 C90T popped up locally. Had been purchased new by a fella in WV who had hurt his back in the mines. So she's seen very little seat time and has plenty of life left. Only 3200 miles on the clock and this one was half the 2008's price and 10,000 less miles on it!
With the bike stabled I dug deeper into my route/itinerary. Below is my roughed out route. I have gone through state by state to highlight the main interstate routes, and rough stopping points. Then I'll go though again and plot some alternate routes with a little more scenery and pick my camping/hotel spots. Total I'll only have around 10-11 nights of camping/hotels between friends and family stops.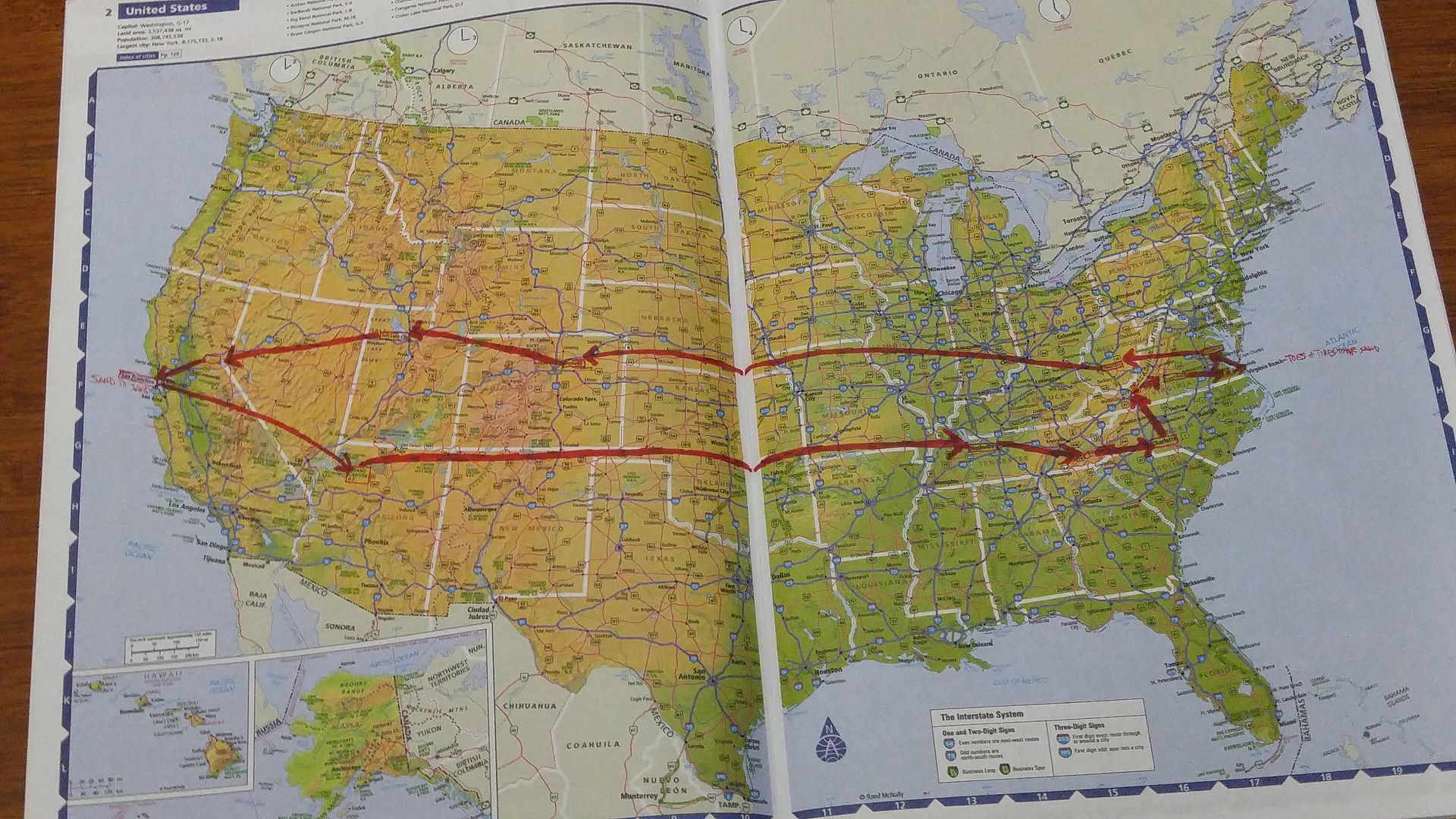 Most people that attempt this ride would scold me for having so much highway(funeral procession traffic as some would call it). Although it's a huge plus for me, but seeing the country isn't my goal on this mission. I'm doing this to enjoy seeing everyone in their home spot and get to enjoy any time I can get with them. So I will likely be seeing a lot of mile markers in attempt to maximize my down time. I definitely have some things on the list to do for my own personal enjoyment.
My last bigger research to do and decision to make is what I'll be riding for. Visiting friends clearly, but also I am planning to ride for a greater cause. After watching Long Way 'Round years ago - I've had the desire to ride for something more than just myself and my own journey. Haven't figured out exactly what it is I want to ride for, but I'm praying on it! If it was just to raise money - I would like to raise money for something tangible so my Church family came to mind. More than money though I'd really like is to just show up to put a smile on someone's face seeing this grungy guy roll into their town, even if it was just for a second while I'm passing through.
My current ToDo list:
-Replace the stock ignition system with a quality part (keep the stock unit as my back up)
-Decide if the Gman fuel tank expansion is justified(tank + having to change stock pipe)
-Finish route/itinerary
-Keep working on gear/accessories/bike setup/
tent and bedroll
7/26/16
Bike has been off the road since 2010 with it's last inspection in 2007. So first on the list was to get it inspected so I can test/tune. Passed with flying colors!
Next was fresh oils and her first little test ride around town. Changed over trans oil/filter and rear drive oil. Ride feels great, definitely needs new tar. I have a faint valve or valvetrain tick. Sounds much better after oil was changed, but still present. Going to pull up the break in maintenance and double check everything.
Adjusted my highway pegs to a spot my short legs can reach(I'm only 5'-6" on a good day) and took it for its first longer haul! Friend that's moving to CO this month was riding from our hometown in Southwest VA to his home in Lewisburg WV. So my Dad(vtx1300) and his Dad(older 1200 sportster) rode him(yamaha bolt) halfway home, split ways and we turned south while he kept north in WV. Was an amazing ride, definitely adding a throttle lock to the Need list haha. Only time I was off the bike to snap a photo, clocked about 150 miles and the C90 did a perfect job.
Found a deal good enough to make me jump on a new Mustang seat. I was really hoping to go away from the studded seats/bags as it just not my style currently. Price was right at $275 shipped for a brand new showroom model(no box). I have to slump a bit to reach the bars so I'll add some smaller bar risers soon.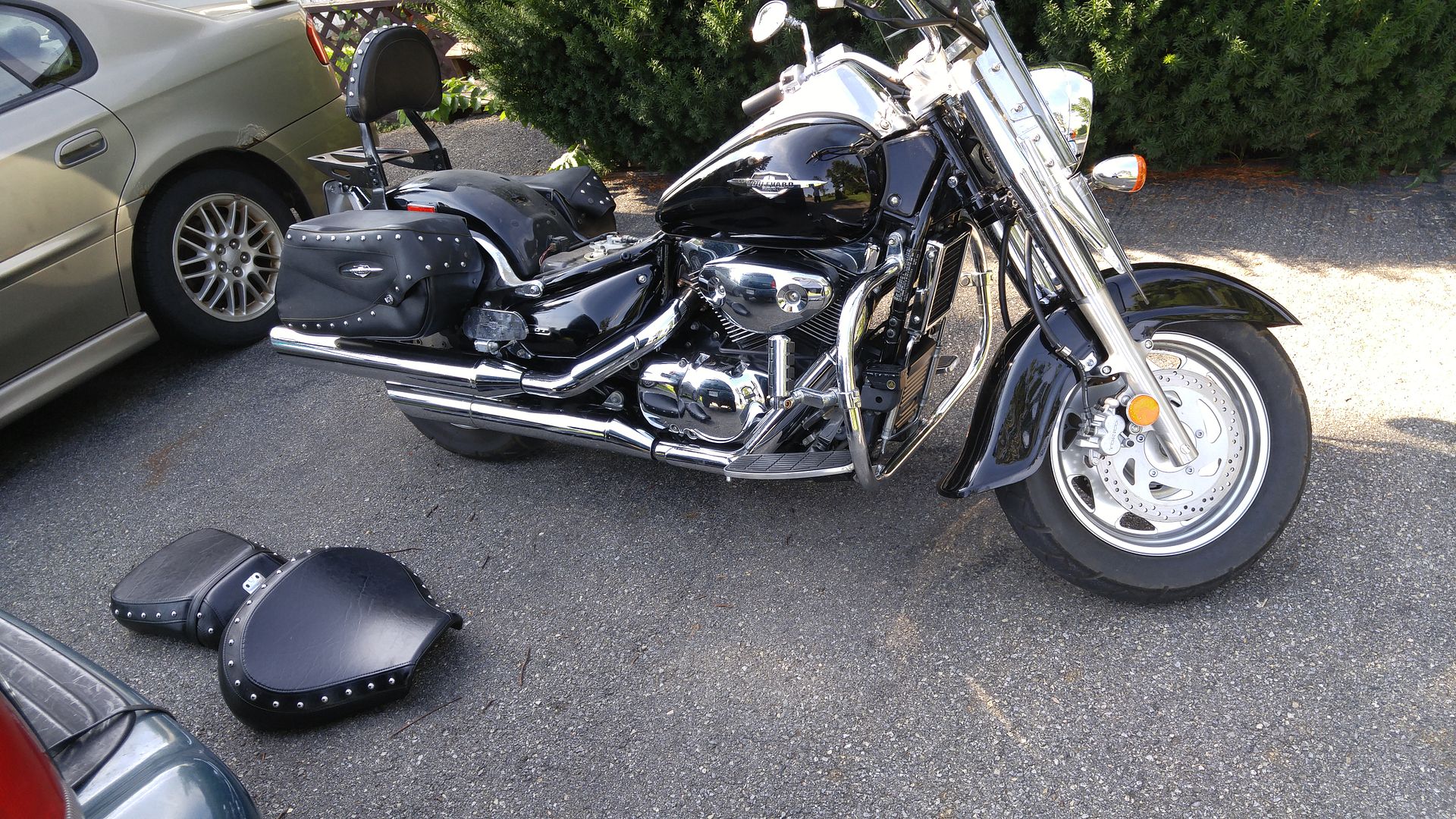 Very pleased with the seat, but still thinking of spraying the studs black. The previous owner has painted the back rack black since the chrome finish was bubbling. It looks great black so I'm hoping the seat studs turns out just as well. Going to use plastic dip more than likely so if I change my mind I can just peel it off.
8/23/16
Stock bags sold! Need to make a decision on the new setup. Will definitely be hard/lockable bags, thinking of going with Viking bags as they seem the best in fit/form/function. Bike looks funny without the cargo hanging on the sides.
This has been a fun read so far. Even though it's geared more towards adventure tour style bikes, still lots of good info to be had!
My bar risers are in and should get installed here soon. Went with 4.5" and 1.5" drop back, hoping it'll be just right. I did go with a bit cheaper set since I'm not certain what position I'm after.
Placed an order for new tires and they should be getting installed next week hopefully. I normally do as much of the work myself, but I'll letting some techs do it this time. We had a Suzuki dealer move in town last year and I've had some great experiences with them. This will be my first time letting them work on one of my bikes though.. Definitely still nervous!
Ready to get these couple things sorted and then start logging some miles. Need to start this summer taking some serious hauls so I can be 100% on my daily riding range.
9/2/16
I hadn't heard of the mod 3, but have added that to my list! I got a set bridgestone exedra max, but man those commander 2 reviews sound promising. I'll make a note of them for next time. Plan is to have a new set just scrubbed in as a near my departure date. I will be changing the oil again soon to double check everything, will go with your suggestion on type/quantity. After getting more familiar with the bike - I believe the noise I notice may actually be just the injectors firing. Not use to that on 2 wheels!!
New tires were installed this week and the bike is riding like it should. Before I could tell the aged tires were holding it back. Good enough to get rolling, but not safe for much riding. Since this is my first cruiser - I went in blind and asked my guy at the Suzuki dealer to give me his best in his opinion. He ordered me a set of Exedra max. Read some reviews and felt it was a solid choice with reports of good mileage and consistent wet/dry handling. I'll be testing these with the thought in the back of my mind on making final decision for my cross country tire. For now the handling is much friendlier, found myself scrubbing the floorboards with minimal effort. Must remember I'm not on one of the sport bikes!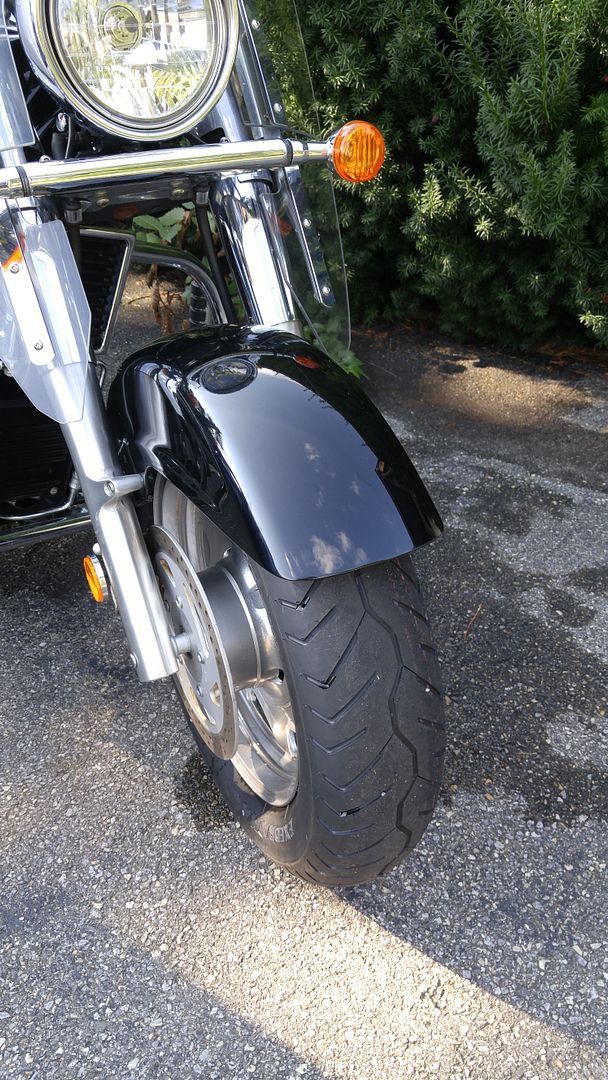 The deeper I get into my route planning the more nervous/excited I get about it all haha. I have one friend that is thinking about trying to ride with. I welcome anyone that's willing to put it all out there with me. My dad has said he's going to try and take a week and ride with. That would mean he would get to ride to the east coast, up to his dad's and then a couple days towards CO before having to turn back. Friend in CO wants to ride out and maybe crash one night with me, ride to his place where I'll be resting a weekend, then ride me out to the co/ut border. A riding partner would be a blessing, but I've made the mistake of relying on a fellow rider before.
In May of 2014 A friend and I took our first longer moto rides. Him on his cbr600 with his gf and me on my gs500. On the ride home my chain blew off five hours into a seven hour interstate ride home. All I could do was watch his girls butt ride off as I flashed my lights to catch his attention. For those that know the area - I was half way up Fancy Gap Mountain on i77 north. Cell phone? Dead, I was just leading for the first 4 hours and tunes drained it.. Daytime? Negative, sun just setting(good view though). Warm weather? Nope, a freak cold spout dropped the temps to just above freezing. Being I was on a beach trip no good under layers were packed. I had two spare clip style master link, but no spare chain. Also that was last clip style chain I have ever bought. Dark at this point and with the closest exit miles in either direction I sat stranded for 2 hours. Well, not sat. With my headlights throwing high beams on me, I did the "Broke down, please help" dance for what seemed like an eternity. At the point I was losing my mind and all faith in humanity. I hear a voice ask if I was OK. Startled, I turned a 180* and there was a young man peering back at me. I must have looked insane, but he repeated himself, "Are you OK?" I slowly responded with immediate appreciation for stopping. Asked if I could use his cell phone and he replied it was in his truck. So we walked up the shoulder to where his girlfriend had pulled off past the end of a guardrail. On the way I spilled my guts and probably thanked him a hundred times. He said he was asleep in the passenger seat, but his g/f spotted me, stopped immediately, and woke him up. He said he rides and they never leave any rider behind, even if they're a stranger. Genuine good people. Still regret not getting their name to send my thanks. Called my dad to get my trailer and come scoop me up. They offered what snacks/water they had on hand, but that was the only other thing I was prepared with. Two bottles of water and a few protein/granola bars. While I waited for my dad to make the 2 hour haul. I had a few more amazing people stop to help. People like that just restore your faith in these fleshy creatures roaming the earth. One fella that saw me, went five miles to the next exit, doubled back ten miles, and then five more to get back to where I was stopped. I had already called for help, but at this point had gone through my snack bars and was a chilled nearly to the core after 3 hours in the cold. Was literally sitting with all my gear including helmet to keep warm. He invited me to sit in his car to warm up and gave me a couple more snack bars. Wolfed them down without much hesitation. Time was nearing midnight and I didn't want to be more a burden that I already was. He insisted I warm up a bit more before going on his way. By that time a safety service vehicle had found us and stopped. I thanked the gent again and he drove on north. Safety serviceman popped some flairs and we sat and talked in his heated truck. He was getting off work, but stayed as late as he could. Handed me a couple more spare flares and told me he would get the next guy on shift to come check in. I thanked him and on north he went. A little more waiting and I spot a familiar set of headlights slowing down to stop. Around 1:30am, my grinning Dad pulls over and first thing he said? "Almost eh?" Haha we chuckled and starting to get ready to load the bike. Up hill run to the trailer and dad forgot to grab my ramp. Luckily it was only my GS500(~400lbs), but still no easy task to hoist up and onto the trailer. Just as we were getting ready to heave.. The other safety serviceman showed up and gave us one more set of hands! Again we thanked him profusely and I told me to mention to his management my gratitude for this safety service. Through that experience I learned a hard lesson that I better be prepared. As prepared as I possibly can. So I strive to learn something new every day to cover every base I can think. I will always be open to any suggestions from someone willing to share their knowledge!
9/13/16
I have done a little thinking about extra lighting if I end up riding after sunset, but haven't made it that far in bike gear to make any moves on it. I'll likely go with some small LED running lights as opposed to a full light bar. Wanting to keep the electrical loads low on this one. As of now I plan to ride days and rest nights, but we all know how that goes! So I'll likely do some sort of extra light setup. Thinking about it now, I don't think I've ridden the new bike in the dark at all. Need to get out there and see how the stock lighting looks asap.
Yesterday I finally got the correct hardware for my cheapo bar risers. After looking closer the threads in the risers were garbage.. I dropped them on to test position and will be getting a solid set asap. I think the 4.5" riser with 1" pull back is just about right though. I would like a little more but that size is already pushing the limits of the stock cables/hydraulic lines. Don't really want to get into extended cables and what not so I will likely stick with the same riser dimensions. Reminder to myself- measure up dad's risers on his vtx.
Quick tool session after work;
Every single plastic dress up button broke off in the clamp bolts haha..
A little pb blaster and they loosened right up
Risers on and feel good, seem to clear the tank nicely at both sides of the steering locks. No test riding as unfortunately the threads were so garbage they wouldn't even hold torque. Opened a return with the seller and hopefully will get my new(and quality) set ordered by the end of this week. Have the stocks still to fall back on, but leaving cheap ones on to motivate me into buying my new set.
Once the final risers are bought and installed I'll be looking at picking up a set of lockable saddle bags.
9/21/16
I picked up another set of cheaper risers to finally get a feel of riding with 4" rise / 1.5" pull back. This set went on much better with better looking threads. Unfortunately I bought bolts that are a hair too long.. Hahah just can't win with this one. Need to sort through some of the loose end projects I have going on so I can focus in on this bike.
Slapped a couple washers in to space it out and got the risers installed. I'll definitely hack off a bit of the bolts or get some shorter ones to finalize the install. First impression were good on my short commute into work. The reach is much better for my size(5'-6" on a good day), but the throttle cables end up being a bit tight. I'll get some slight revs if I turn the forks to right side steering lock. I'll look into reroute/adjusting them to relieve the pressure. Brake lines and other wiring seem to play ok with the new bar height. Glad to get squeak by with stock cables/hoses! Looking forward to getting some longer rides and see how my back holds up with the new setup.
My hard bags should be in tomorrow and will likely get mounted this weekend. Went with Viking Lamellar Slanted Leather hard bags. I am excited to get my hands on them once the UPS mang drops them off
9/26/16
Saddle bags showed up last week, unfortunately I didn't have time to get them mounted yet.
A quick size up with one sitting on the exhaust and I'm really liking the flavor of them!
10/10/16
Things are moving along little by little! Trying to spend as little as I can to keep my travel expense savings building up. New gear isn't cheap so I've been doing some bargain shopping.
First bit of gear to come in was my 60l dry duffle bag. I was hunting for a roll top bag, but the reviews and price of this one were spot on. Made by The Friendly Swede and so far I'm impressed with the construction especially considering it's price point.
Next a cheapo pick, tire plug kit. I'm still hunting for a hand pump that fits the rear wheel. My regular bike and hand pumps don't fit with the rear drive in the way. There's just not enough room to flip the pump's lock up once its seated on the valve stem. I'm still looking around for a good/small pump to carry with for emergencies.
Got a break in the rain that hurricane Matthew threw at us. So I pulled my Viking bags out and mounted them up. Went smoothly and I'm very pleased with them. Only complaint so far is they don't fit quite as tight to the bike as I'd hoped. From the side they are spot on, but looking at the bike from the rear they duck out a hair from top to bottom. Not much but enough to catch an eye, I'll nab a photo later.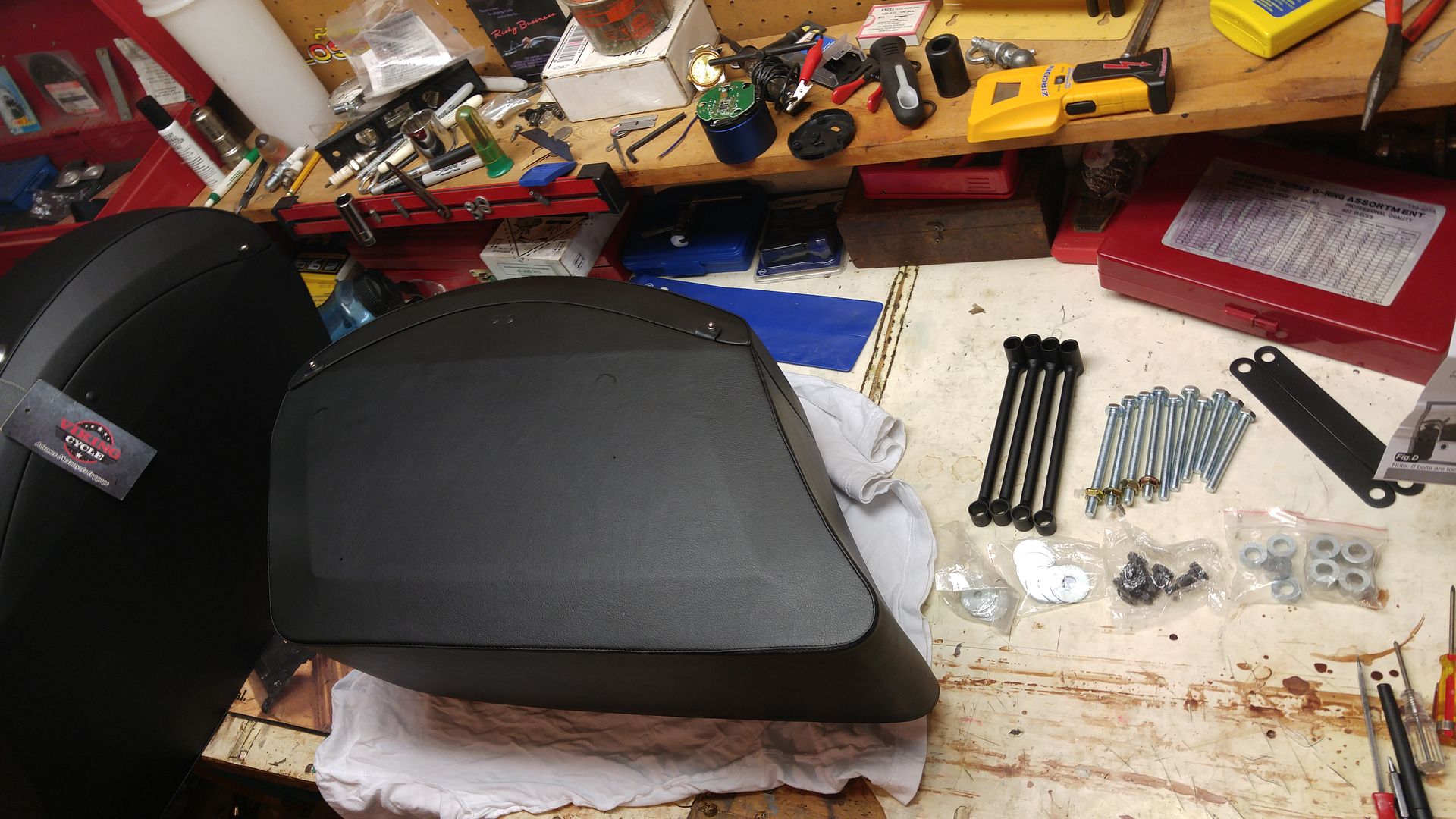 Measure 10 times, hold breath and drill once
Mounted and looking fiiiine
Test fitted with 60l duffle. I'm liking this more and more! Final idea is tent on top of duffle, modify passenger seat to be fix(no pivot) and mount Rotopax to back of pass seat. I'm thinking I'll carry a 2 gal fuel and 2 gal water packs. Going to strap a mock up fuel canister to the rear rack before purchasing to test the weight and slosh effect of 4 gals hanging on the rear
Big booty on her now.. I was barely able to get my old cover back on
Got a couple other things knocked off my ToDo list - bought shorter bolts for my bar risers, will get them swapped over soon. Also went to the DMV and had them make another ID for me. I'll be stashing a back up wallet deep inside my gear for emergency.
And got my first commute home in the rain week before last. Bike didn't miss a beat, but me in my work shwags weren't quite as prepared for the downpour haha..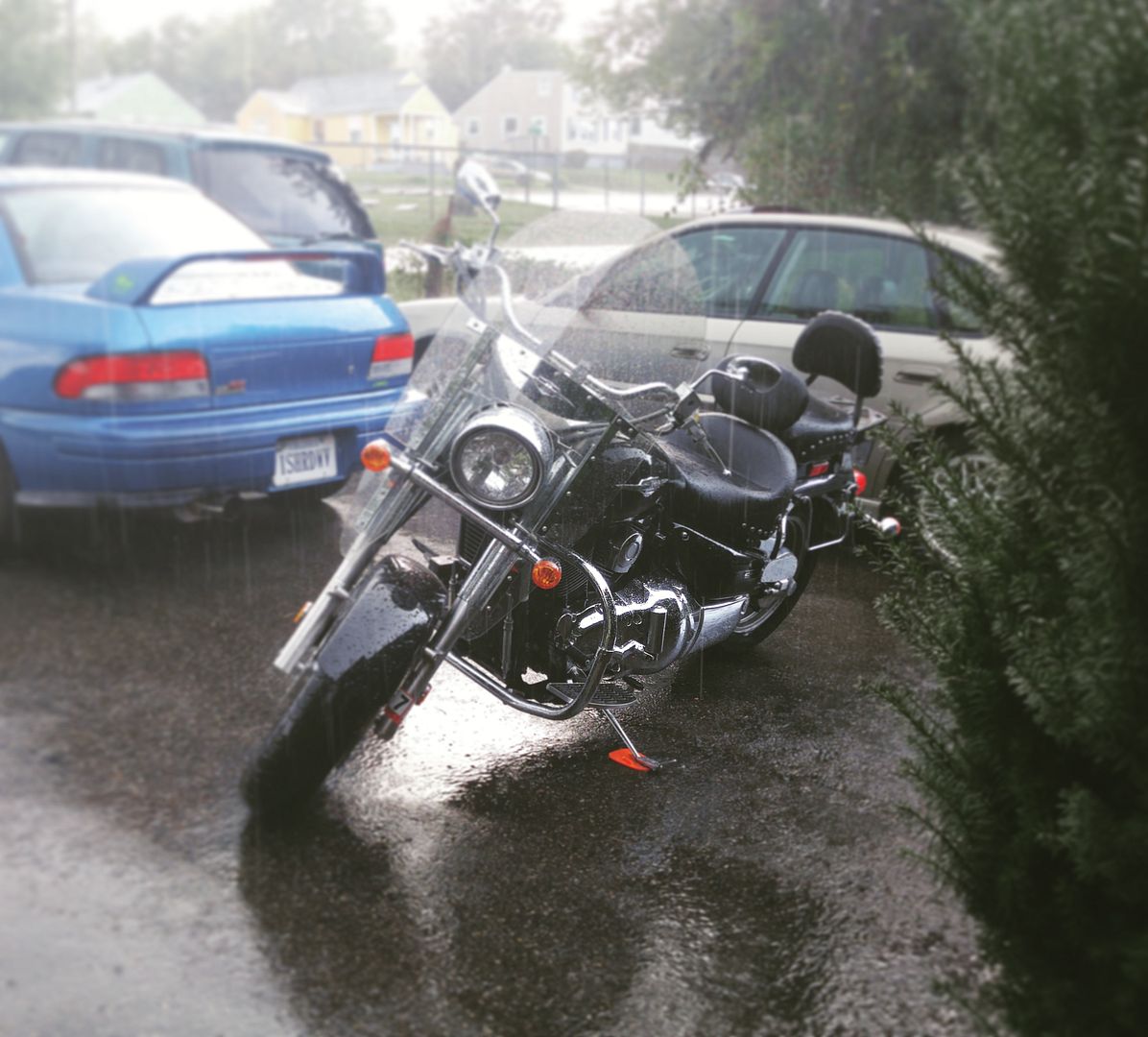 10/18/16
I'm done with cheapo $35 dollar bar risers.... Did perfect for sizing up what I needed, but I'm 0 for 2 on a good set with solid threads. My bars were still sagging a bit so I went to do a final torque on the clamp bolts. Damned if one of them didn't strip out. I may have put a bit of grunt into it but shouldn't have been so much to strip the thing. Was miffed and didn't even pull the bolt to inspect.. Just left it and I'll open a return on the product today. Going to look into the Phatrisers and others around the $100 mark. Hopefully I'll have more luck with them.
Next thing I've been looking into is a bar/windshield bag, but finding something water resistant is a bit tougher.
10/24/16
Working hard to get my savings for the trip up. Aaaaand then I go and buy 95% of my needed gear.. Poof savings(plus some) gone! It will all be well worth it though, excited to get it all in and maybe a test ride/camp before the cold sets in. Wanted to do some more research/testing on camping gear(tent, pag, pillow, and bedroll) so that's pretty much the only remaining gear to purchase. For now I'll use my current tent/pad/bag for any test trips.
Also cut up my small map and made a play by play flip book to finish planning on. Pages have been trimmed/copied/organized, but I still need to transfer my route and backup routes from my main map.
Got a second to tinker on the bike as well. Confirmed the bar riser's thread stripped, out of return window so seller isn't taking them back. Please don't be like me and get cheapo's made my Krator and distributed by Kapsco Moto. You'll likely be disappointed in the quality/construction of the part and left with hot head due to Kapsco's customer service.
Decided I'd had enough of the chrome studs.. Not worth the effort to recover the seat or to pull/replace each stud with black one. So I grabbed a brush, some random paint and gave them all a quick couple coats. It'll likely fade and peel but that's half the fun. Will show our history with every flake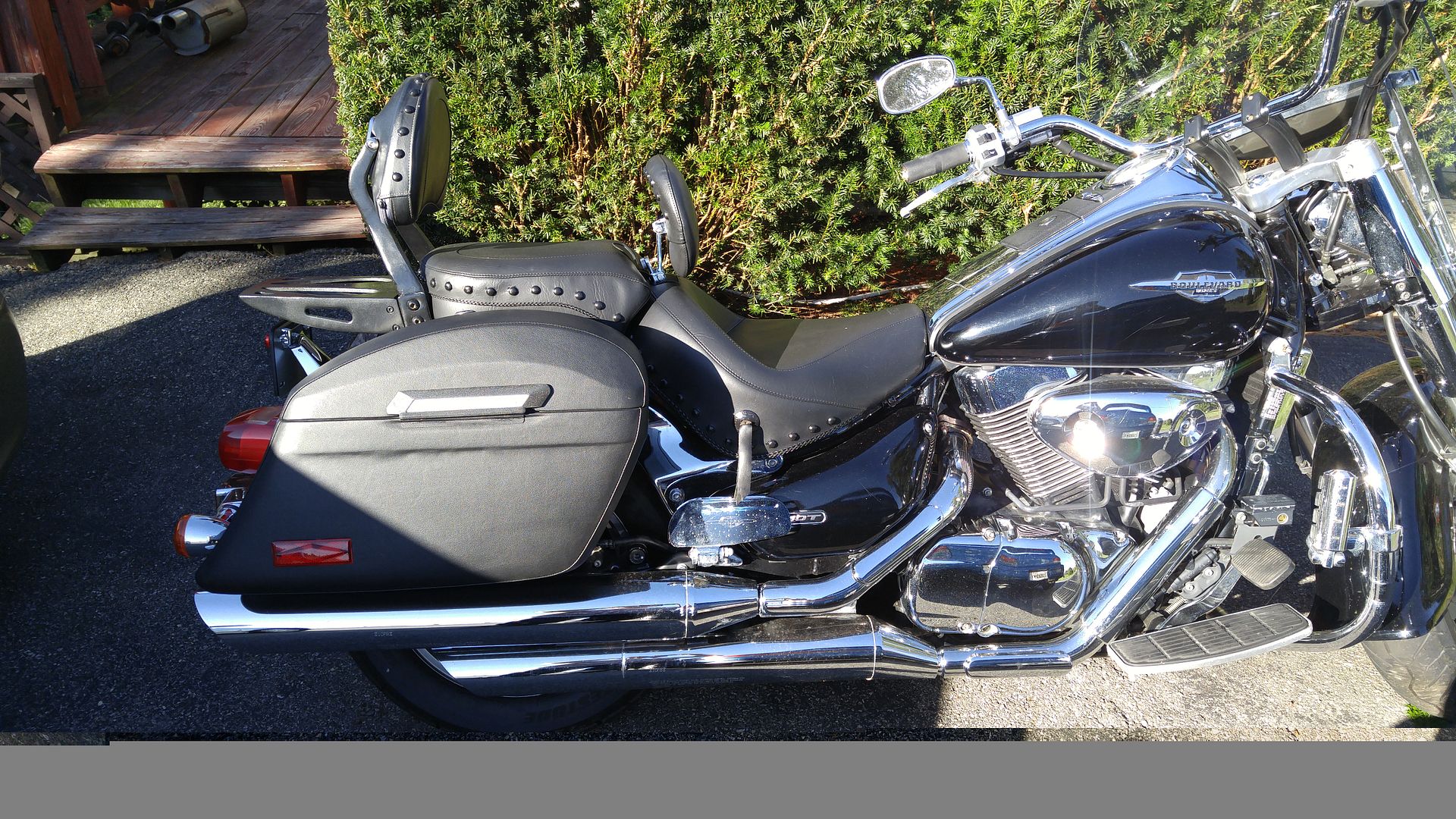 Came out decent in my opinion! Up close you can still see the studs, but once you're back 15ft it meshes together and studs are barely noticeable.
I'll hold off on listing all my new gear, but will definitely have some photos of the stash here soon
10/26/16
I got a random single shipment yesterday, rest of the gear should start showing up over the next few days.
Plan was to get a compact battery jumper and 1 more battery backup pack(for electronics). After researching I settled on a Gooloo 15000mAn unit to cover both. Should do the trick for me! Not sure if it'll live up to the manufacturer's product claims, but I've heard some decent reviews on it. I'll be giving it a good test myself to see how it fairs.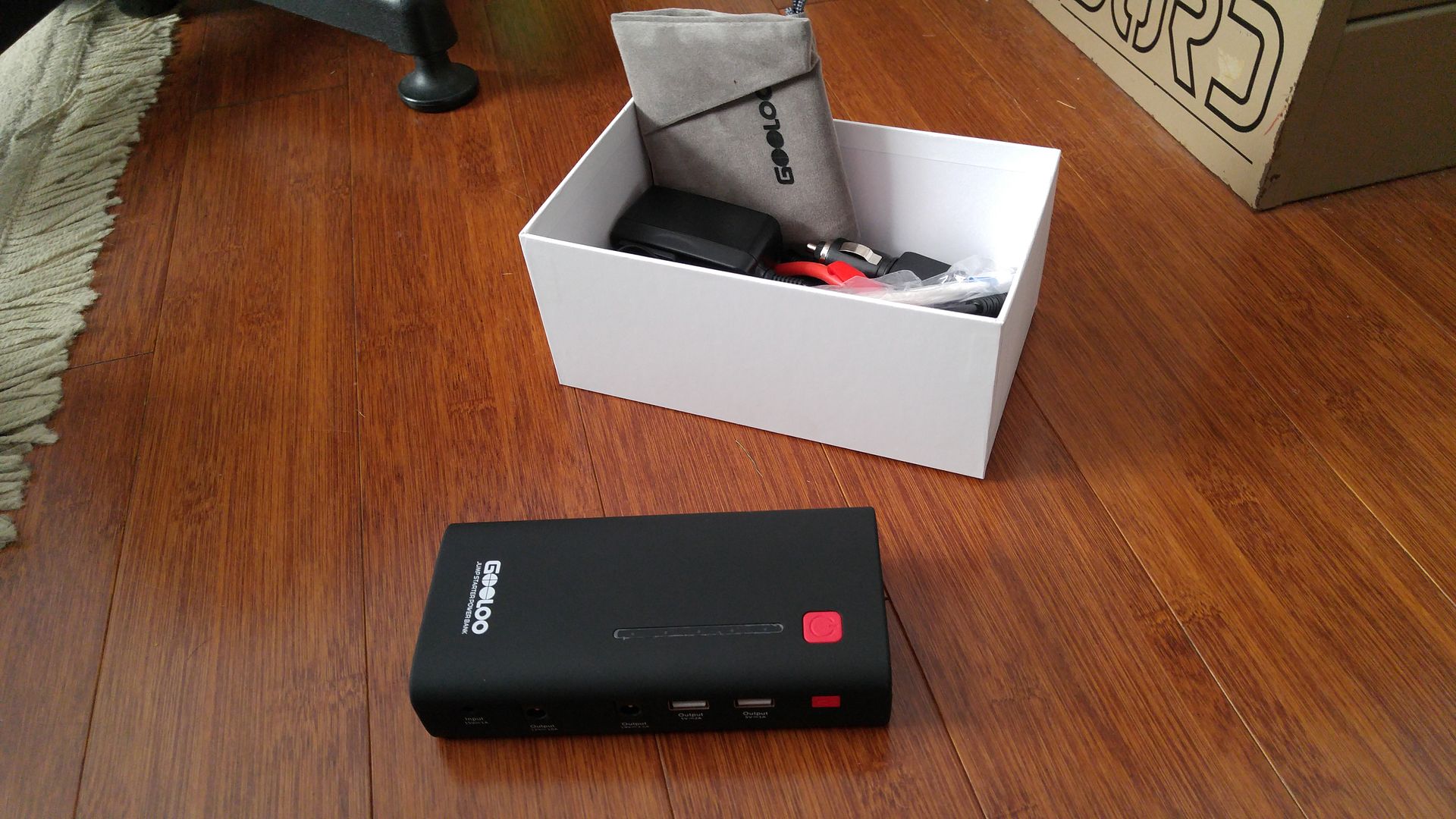 Still looking lonely in the duffle
10/27/16
Got the first wave of gear yesterday. Just a list and first impression here for now. I'll try to dig at every stitch and write small reviews on all the gear.
- Kuryakyn grips - nice beefy grips, similar to what my dad has on his VTX. Should work really well. I went w/o the throttle boss as I like to run a crampbuster to give me adjustability of boss location.
- Kuryakyn throttle lock - nice unit, again similar to what my dad has on his VTX(I did a lot of test riding on his bike and found his setup to be very comfortable.)
- Another cheapo set of bar risers. I'm a sucka for well priced goods, hopefully this set will live up to my expectations. Just can't bring myself to spend $100+ for risers when the $40 billet aluminum parts should hold up for me. We'll see if I'm in for another round of disappointment..
- Jetboil - used one in the past and it should serve MRE/Ramon noodle style needs just fine.
- New plugs and a couple oil filters for general maintenance.
- Seat cover - I had planned to use a shower cap or something cheap to cover my seat at nights. This cover is designed for the mustang seat w/ backrest and fits great(see photo below)
- Frogg Togg Leggs - These units are Heavy Duty! Was surprised, but not disappointed, by the weigh of them. Hoping they fit and pair well with with my H20 suit
Also had ordered a nice little inflatable/solar powered lantern for inside the tent. Unfortunately they sent me the spooky spider model :biglaugh: Wouldn't have minded it, but its a color changer as well. Correct one(clear with white leds) is shipped and should show up sometime soon
Seat cover fits like a glove. Rain is in the forecast today, so I left the main bike cover off to test the seat cover. Not expecting gore-text level dryness, but it will be nice if I wake up to a rainy day with a seat that's just a bit drier than my ass.
Rest of the gear should show up today. Going to run out to a local camping world and look at some tents/pads/bags in person before doing more research online. I'm always open to suggestions from you weathered road dogs though!! Nothing beats learning from those that have, "Been there, done that!"
10/28/16
Little by little getting all the ducks in a row. Without a doubt there'll be something I forgot, but that's part of the fun!
Another decent load of gear made it in today.
- Sena bluetooth unit - look forward to getting this setup. I've always been a gadget geek!
- Small universal bar bag - wanted something a bit more waterproof, but this was cheap enough to experiment with
- One of my 3 dry sacks. Plan is to run 1 in each saddle bag and 1 extra inside my duffle for electronics and the critical. Using the ones in the hardbags as a liner of sort - it will give me something to yank out and take with me
- TPG Tundra Gloves - decent set of waterproof style gloves. Fit is nice, a little tight in the ring finger and pinky finger's crotch
- Olympia deerskin gloves - These are a bit more Zorro gaulet style gloves than I was hoping for. Fit and feel is very good though!
- Rotopax setup - Only missing my water jug. Will hopefully get something spit balling on mounting/modifying the passenger set back. Went with the lockable version for a bit more piece of mind.
- Crampbuster - extra wide
- Scorpion - EXO-GT920 modular helmet - Reviews were right about the cheeks being tight with lid down, but the thinner pads and a little break in time will do it well. Love the fit and form
- TCX wave waterproof shoe - Really did some thinking on my shoes setup. I'd been caught on a trip with just my Sidi boots and flip flops at the beach(ended up buying some tennies for cruising/walking around the strip) So my ideal shoe would be something that bridges the gap between riding and street casual. Fit is great and they are plenty comfortable, but still decent ankle projection, full leather, waterproof, and have a gusseted tongue. Also came with this slick little shifter pad, I've been wanting to get something similar for the commute in the work shoes.
Got the new set of bar risers installed today as well. I've been dying to ride something and the bar risers had been a thorn in my side.. Took extra care installing and getting everything lined up. Went together well and hoping they hold up
I've been digging into my route more picking potential stop points and camping/sleeping locations. Starting to mooch all knowledge I can off of friends that have some long hauls under their belts. Hardest part is hearing all the spots they liked stopping at and having to choose which ones I can realistically fit into my route!!
11/4/16
For daily hydration I had planned to use one of my camelbak setups, but haven't figured out a mounting setup just yet. Cup and holder is definitely a good alternative. As for camera and mounts - I'm still on the fence. I'll definitely have a digi cam, but I'm reluctant after taking on the filming of my subaru build(
Full Length Edit
). It's a heavy undertaking trying to film a cross country trek. I'll likely take a small digi cam, my gopro(bike, chest, and mini tripod mount), but won't be holding myself to any edit idea. Storage will be on my cards and then dumped when I stop at a friends place along the route.
-Rotopax water jug - excited to get the setup mounted.
-Grip shields - I'll be catching some cooler temps throughout the ride. I was really opposed to hippo hands due to its form and some function. Didn't want heated grips as I'm aiming to reduce the elec load on the bike. So this was a nice median, projection with not much form sacrificed.
-Power commander - I jumped on this without thinking it through too much. I'll be doing more research for sure
-Stuff sacks
-Dry bags - These worked out well, my large bag fits my rear duffle nicely. The pair for my saddle bags are much larger than I expected, but will do the job of a saddle liner bag just fine.
-H2O suit - Fits well, still need to size it up with my main suit.
Aaaand Drum roll please..
-Olympia Odyssey suit - Fits great, still have lots left to explore and familiarize myself with. I'll be getting the legs hemmed to fit, but may look into shortening the sleeves to get the fit that much better. My out of the box assessment is very good. Look forward to getting to know it more!
My duffle liner fits perfect! I'll either roll it tight to have room for other gear, or pack it full so it takes up the whole duffle.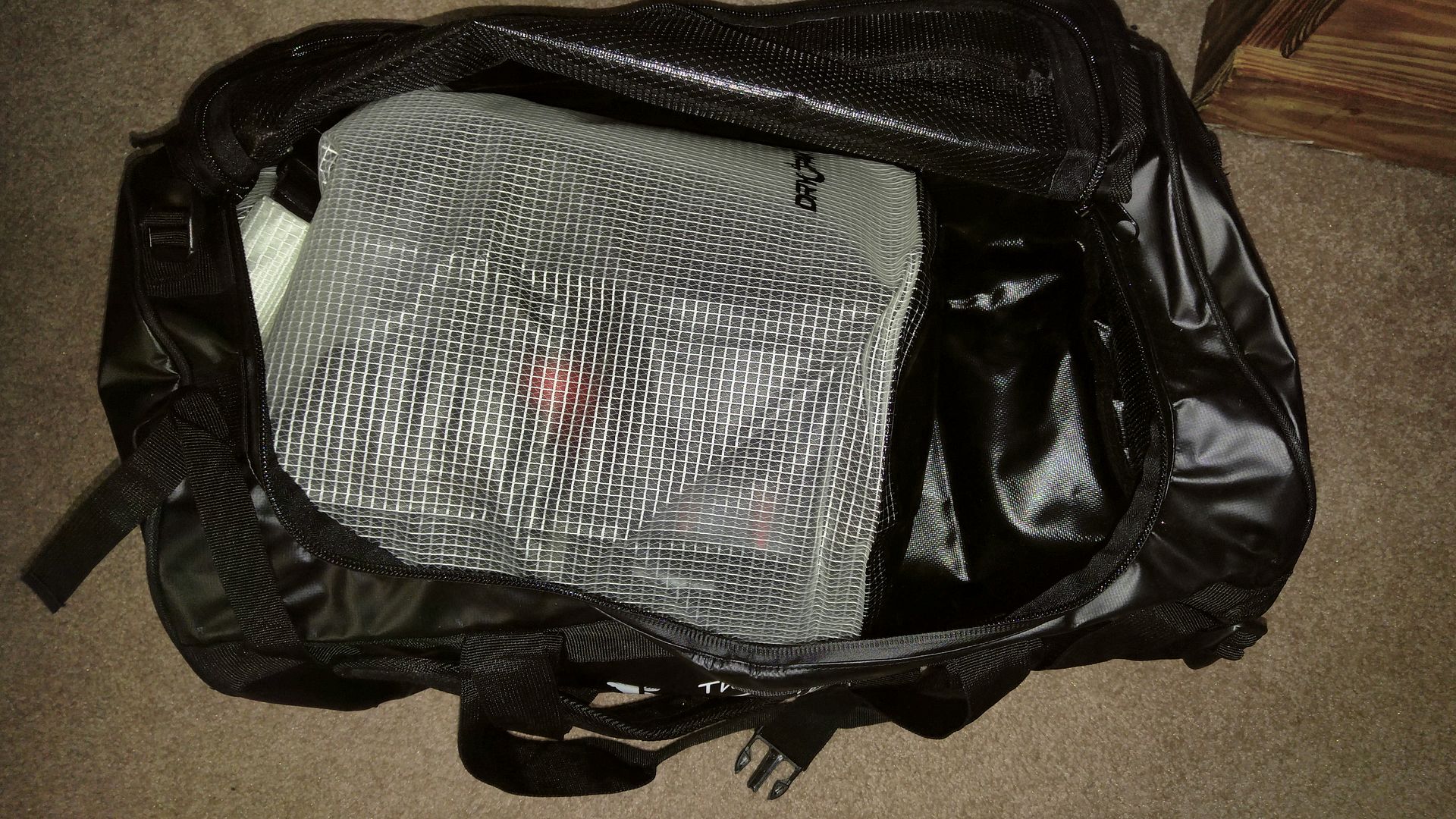 Rotopax got put together and mocked up. It'll definitely add some weight and top heaviness, but I'm planning to be as safe as possible. One gallon of fuel and one gallon of water.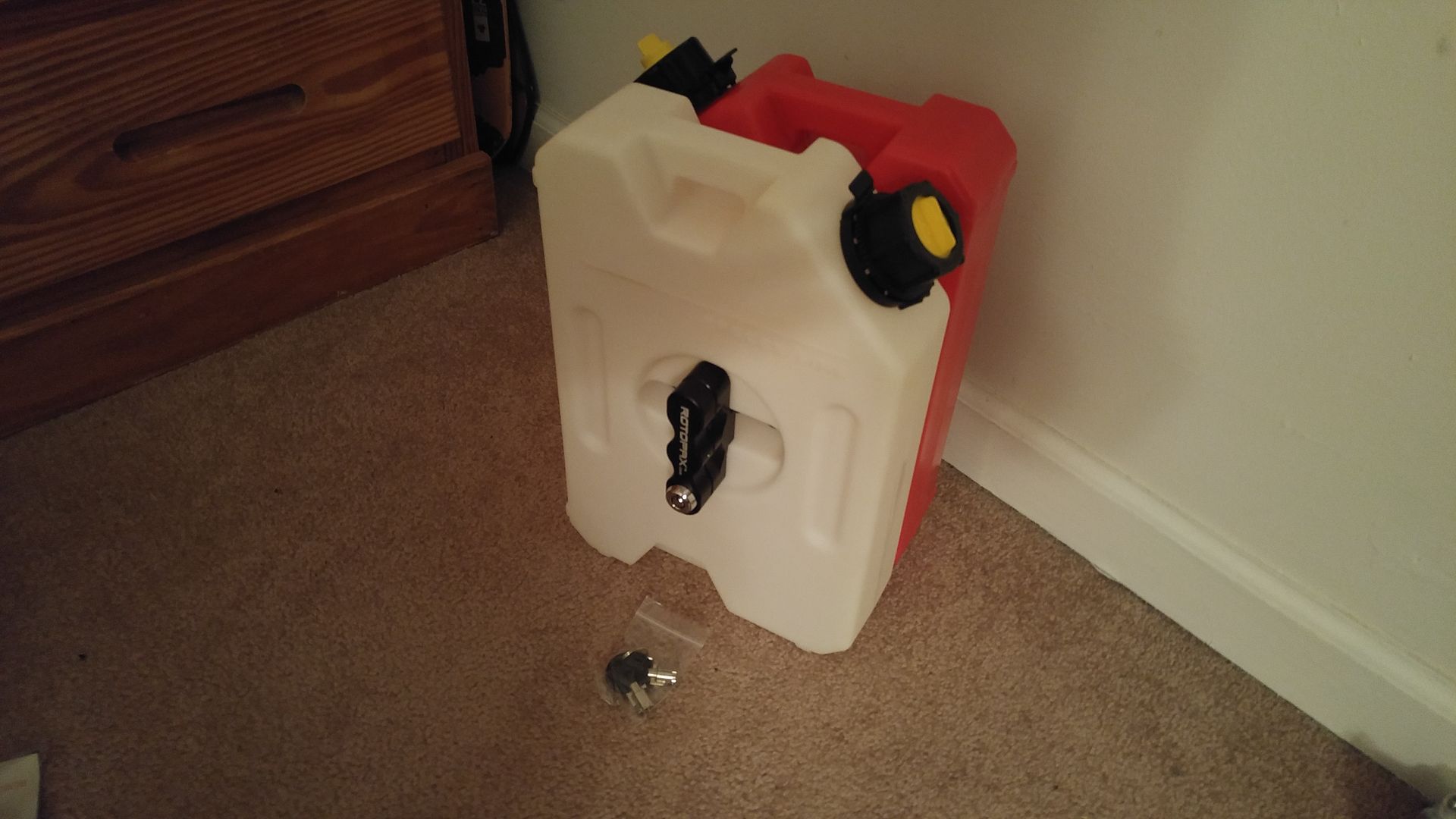 Looks better than I pictured in my head!
Mounting will take a little effort, but shouldn't be too bad. Plan is to attach it to the back, retain the passenger seat rest, and rest some of the pax weight on the rear rack itself. Trying to reduce strain on the mount.
Should start mounting all the bit and testing the rest of the gear over the next few months. I'm going to ride as much as possible over the cold months to get a better idea of the setup. Hoping to load up and take my first camping weekend trek to a friend's barn party down in NC soon.
11/7/16
Have a friends barn party this coming weekend. Temps are on the colder side, but I'm still planning to take the first overnight trek on the c90. Will be loading up with all my new gear. Should be a real eye opener for me! I really need to log some miles before winter sets in fully. That's the main thing on my list I'm struggling with - Just haven't had enough free time to knock down the amount of test miles I need to be
11/9/16
Very good tips RV!! I'm ok with the grunge/stink, it's a good thing I'm riding mostly solo though haha.. Battery jumper and tire plug kit are in the duffle already. Springing for roadside assistance was a definite for me. Also Verizon has a monthly rate for renting satellite phones that I plan to utilize. Armed with the sat phone and AAA I'm hoping to be as prepared for the unexpected as I can.
Got my grips and throttle lock installed last night. Hoping to get the bike back out this afternoon for a test ride with them. Tossed on my cramp buster as well
The more I ride the more I realize I have some trouble with the clutch lever with the forks resting on it's right side steering stop. I don't have a problem reaching the bar/grip, but with my arm stretched I find it a little difficult to get my short fingers around the clutch lever. Yesterday I stumbled onto a forum post on here talking about levers adjustment. After reading around on it - I plan to do the Lever Shrinking mod that Mocc has on his site(Thanks to Chuck from NC for the mod/write up). He also has other great write-ups on his site:
Moccs Place
This morning I came into work to a pleasant e-mail from my boss!
I have been waiting for just over 4 months to get the finally go ahead on taking 4 weeks PTO for the trek. Now the nerves are fully setting in!!
11/10/16
So I've finally decided on what I'd like to ride for! Took a lot of time thinking and praying over it. In the beginning I really wanted to ride for an organization with maybe a couple stops to visit with locals along the way. Unfortunately after digging in more I felt for my first time attempting something like this(ride or charity cause) I wanted to start small and obtainable. From day one if I was going to raise money I was going to donate it to my church family, Radford Worship Center. There's no better people around that are pouring out unconditional love and support for our local area. I'm not looking to stand up in front of people and put on a show to raise money. though. Would rather gather donations quietly and leave 100% in the offering plate to aid in the great works that He and our church family are doing. I'll likely use a GoFundMe or a similar crowdfunding site. Haven't decided if I will open the goal now or wait until closer to departure date. My goal I will be attempting is to raise 10 cents for every mile I ride. Netting right around $750 total.
Had a chance to ride with the new bar setup - Grips, throttle lock and crampbuster make a big difference! Lever shrink mod is going to be necessary. With the larger diameter grip, I can barely get my fingers on the levers haha.. Reaching out and not finding a lever has made for a couple interesting clutch pulls when in the parking lots!! Hoping to get the levers shrank and brake/clutch fluids changed before my ride this weekend. Also going to try and get my odyssey suit hemmed before I head out south for the weekend.
11/14/16
Ordered(new small finger friendly levers), thanks Crash!! I wish they had a black set though.. All I can find are cheapo chinese black levers with skulls on the ends haha.. Chrome will do!
Didn't get any clutch/brake fluids swapped or suit hemmed so they're still on the list. I did have a great weekend camping and riding! Clicked down ~400 miles and had a great time testing some of the new gear. Friday after a quick sushi date I sat down to setup the Sena unit. Setup was no trouble, had it mounted and working in no time. Started getting antsy to test it on the ride!
Started out Saturday morning, final load and inspection over the bike. When down checking my tire pressure I noticed a little seepage from the rear trans drain bolt. Wiped it down and snugged the drain bolt. I'll replaced the copper crush gasket next trans service(zuki p/n = 09168-12002).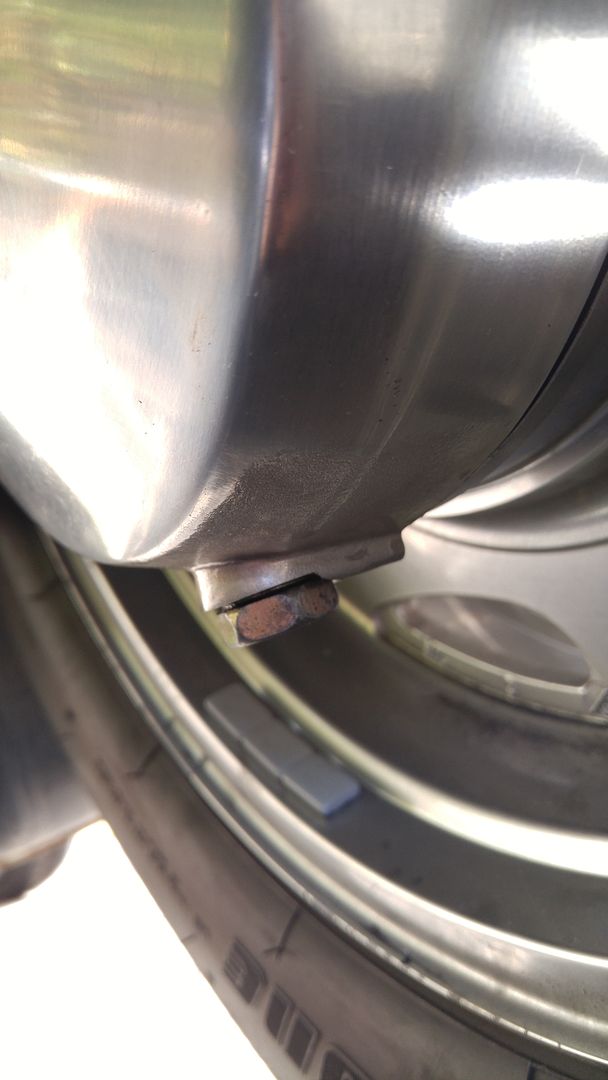 Loaded up and ready to head south. Those gloves didn't last long! Switched to my new TPG Tundra Gloves just a couple blocks from home. TPG Gloves did great down and back. Once I get my handguards installed I'll have no problem cutting through some chilly wind. Sunshine and mid 50's all day what a great ride down. I love solo riding as route/speed are the farthest thing from my mind. Just picked what feels right at the time and enjoy!!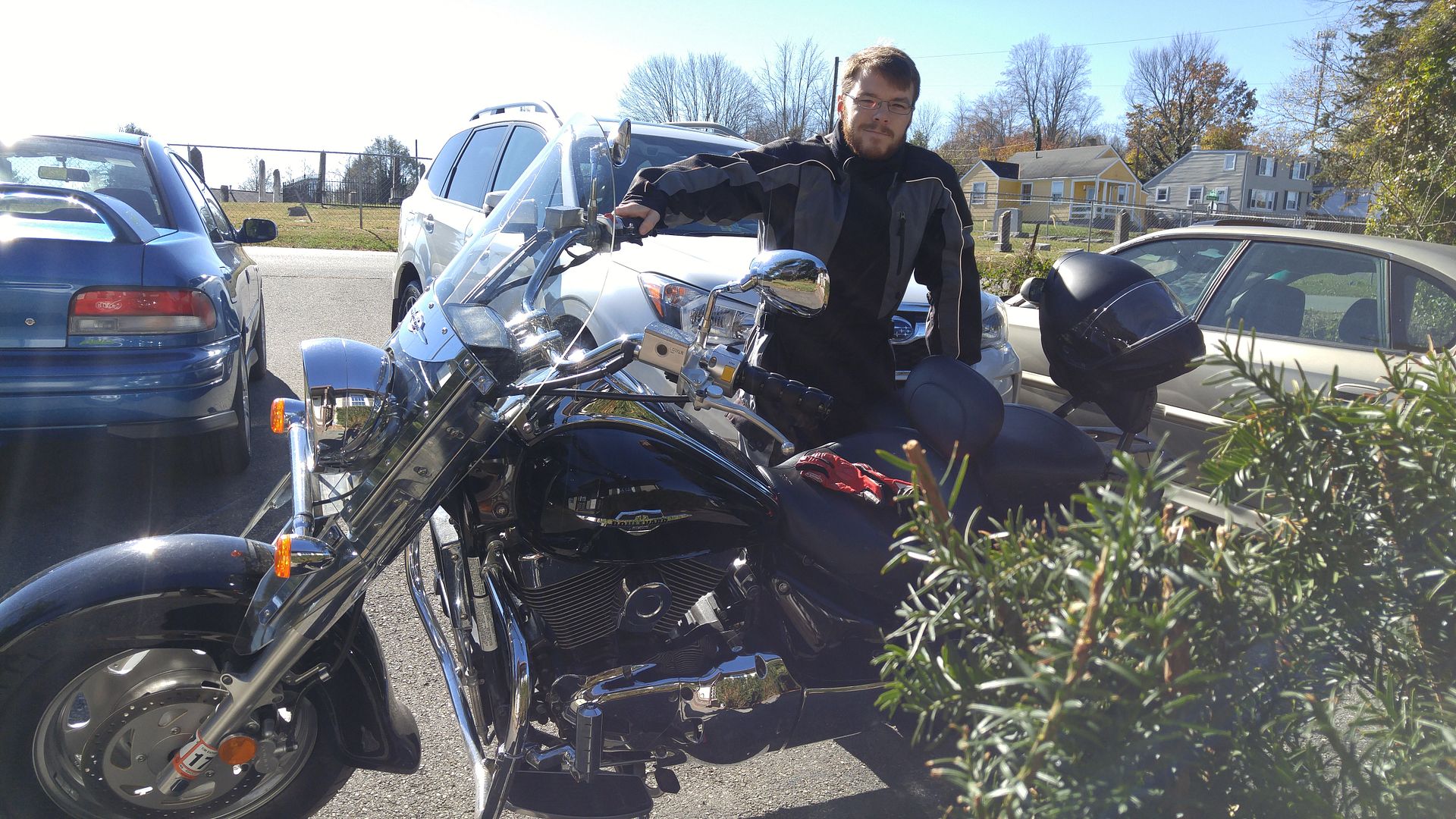 Another plus to my throttle lock, perfect glasses holder when rigging up the helmet!
Rode out and cut through my old hometown then continued on down 52. Been years since I've traveled down through Mayberry(yes THE one and only Andy Griffith Mayberry). Enjoyed seeing all the trading posts and antique shops. No time to stop and smell the roses though as I was meeting friends for lunch. Stopped and had lunch with friends that were heading down for the barn party as well. 13 Bones was a cool little restaurant, walked in and saw this.
Suddenly I felt a little less out of place walking in with my full suit on haha. Also that sign is 100% accurate, moto therapy is all therapy we need right??
We split ways as they were heading for more shopping. Another ~2 hours before reaching my destination. I did have to stop a couple times to mess with the Sena/cellie. Music, FM radio, and answering calls came really easy with the unit. Voice commands back to my phone caused a couple hiccups for me. I need to sit down with the unit and my phone to practice a bit more. The sun had just set as I neared into my destination of Troy, NC. Finally was forced to stop just a few miles away from the barn to switch my sunnies to reg eye glasses. Prescription sunglasses will definitely be picked up before the ride. Also plan to try out contacts again. Don't really need glass to see night or day, but every little bit helps! Only photo I snapped riding down, an abandoned gas station/restaurant to stretch the legs and back.
It's always a great time catching up with all our NC friends. Usually only get down once a year so once the kids are asleep we tend to get a little rowdy. Big crew this time with around 50 people, parking lot was full, and I was the only one dumb enough to brave the cold.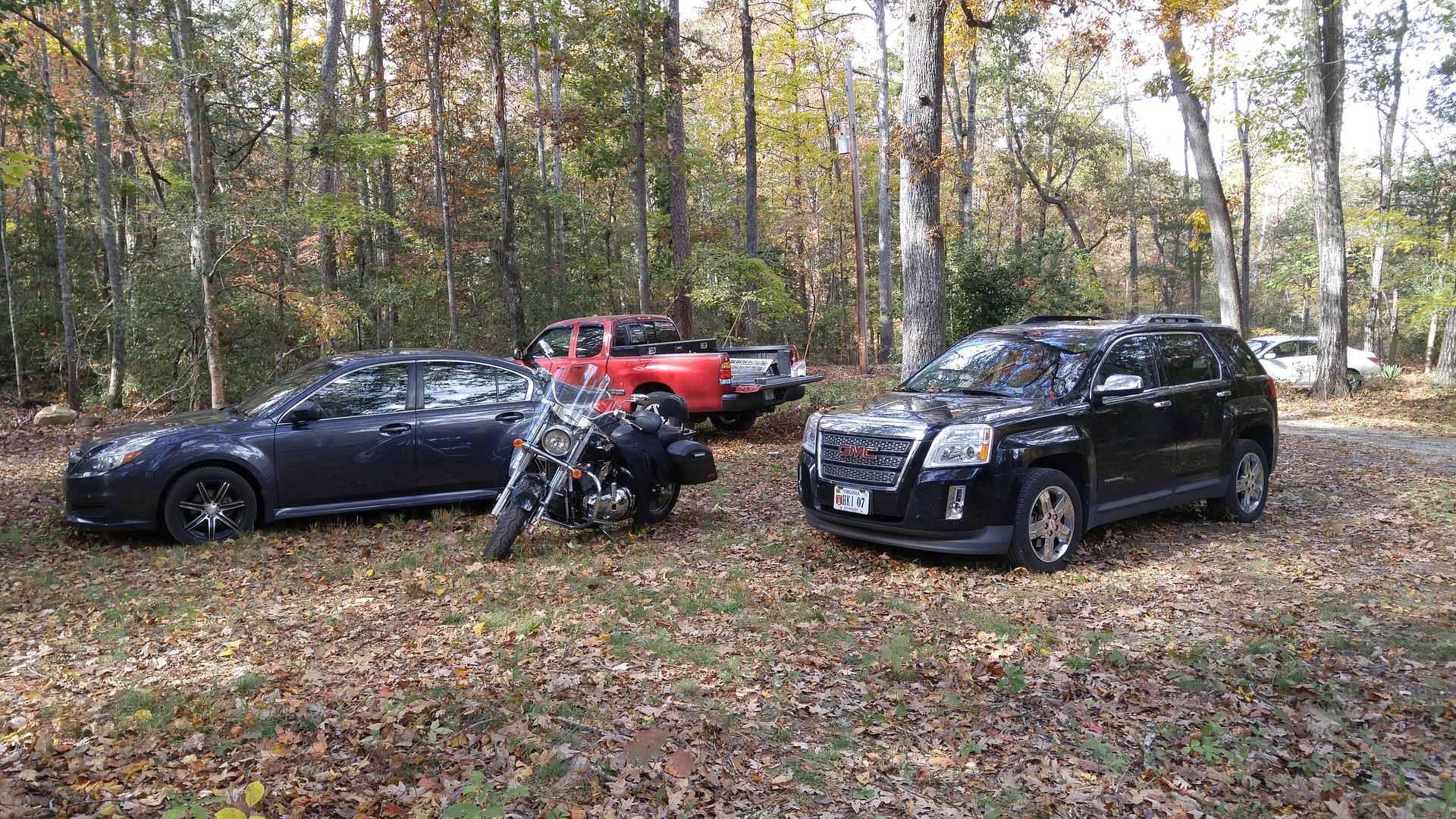 I was the last still standing at the end of the night. So I put out the fire and headed off to a chilly 27* tent and sleeping bag.
Chuckle every year at this 'little' sign in the outhouse.
Dry bags did a fantastic job as my saddle liners! Will be great to keep all the gear dry, but also give me something I can quickly grab and take with me
Ride home I caravan'd with my brother and friend. Rt 52 to the interstates and 80mph all the way home. Bike did great, my body faired ok. Still lots of miles, adjustments to be made, mental/physical training to be prep'd for coast to coast though!
As for the gear I had a lot of first tasters of a handful of my gear. I had been waiting for a longer ride than my commute to test most of it. I'll start from the top and work my way down. New brain bucket worked well. It's my first modular and I really enjoyed being able to change it up during the ride. Like most reviews said cheek pads are a bit snug(will be getting the thinner set to test). I found the helmet to be very comfortable, and wind noise reasonable. With the added Sena unit I had no complaints. I did forget my chin spoiler/cover on the ride though..
My Odessey suit did an awesome job! I'm pumped the beast fits, performs, and doesn't look half shabby either! I'll be getting it hemmed and will ask my local seamstress if she'd be comfortable taking a hair off the sleeve length. I could deal with the sleeve, but if I can take just a smidge off it would make a huge difference for me. I rode down with just a T and shorts under to test it's warmth. Was surprised how warm my core and limbs stayed. On the ride home I left my one piece thermals on and it made the suit that much better. Already rambled on my gloves.. So last on the list are my TCX leather shoes. They did just what I was needing off the bike. Something that's comfortable to wear all day/night, but still protective where it counts. I will say as I was nearing the barn with temps dropping fast and no sunshine left - the toes got a little nippy!! Temps were dipping well into the low 40's when I was getting in. I'll carry some toe/boot warmers with me next time to test. Won't need much, but the thinner leather does get a little chilled in the wind.
Snowshoe, WV will be opening in a few weeks and I'll be in snowboard bum mode for 3-4 months. Then a quick month of April and I'll be testing my grit and putting rubber to the road!!
Stay tuned! Definitely give me a shout if you're close to my route, I'm always down to add more Friends of the Road to my itinerary!!!