Hello all! It's my first real post to the forum, after lurking for some time. Unfortunately, its due to a possible rod knock, failing timing belt tensioner, exhaust leak or all three, as stated in the title.
I've read many threads and watched countless youtube vids, but i would like to hear all of your opinions.
Peculiar thing about the ominous sound is that it only occurs after the engine has warmed/been driven. It is also most noticeable under light acceleration.
I took off the driver side timing belt cover and used a mirror and flashlight to check for my belt tensioner bouncing around, but didnt really see anything out of the ordinary. Thought it might be the tensioner, due to the belt being tight when cold, and gaining slack once driven/warm, causing the noise to only occur when warm.
No CELs, no overheating, and power doesn't seem to be lacking.
Here is a clip of the sound: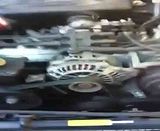 so what do you guys think?
and also, if it is a rod knock, how long do you predict she will last before totally failing?