Discussion Starter
•
#1
•
Introduction:
Hello all, My name's Eddie. I'm from Montgomery, IL. I figured I should start a Members Journal to document my build, since all my previous cars didn't have one. To start out I'm building the car to be a good weekend Track car and then eventually compete in Time Attack events as well as other events from other organizations. Having owned both GC and GD generations(1 Na RS, 2 Swapped RS's, 04 WRX, 05 STI). I've always been fond of the GC platform. It's light and nimble. I just can't compare to the newer generations. The new ones feel a little overweight and sluggish in comparison to the GC. The GC just feels so much more raw to me and that's why I'm choosing it to be my weapon of choice. Having come from motorsports background and building Porsche race cars for a living, I feel that I can take the task in hand. Hopefully you guys follow my build and see what I can come up with.
Locating the Cars:
First thing that I needed to do was, I had to locate a car that would a suitable platform to build on. Some time passes and I see a listing on Nasioc for a 06 WRX that was involved in a accident. Owner just got a new car, thanks to Insurance and decided to buy the car back from them to try and sell it. I see it up and the price was kinda high to be honest, but I decide to contact him. I thought it would make a suitable donor car to swap. A few messages were exchanged and we settled on a great price in the end.
My buddy Chase, Eric and me just had to make the trip from Montgomery, IL to Oxford, CT
A good 13-14hr Drive 850 miles One Way
That was a prolonged trip due to leaving just before a snow storm
Illinois and Indiana weren't too bad, however, once reaching Ohio it started to snow and become almost blizzard like conditions through the process. Pennsylvania was just insane with the mountains and the slick conditions all the way around. Tons of delays and overturned vehicles. Lots of people stranded from the slick conditions and wrecks. A few semis were off the road too. One fell from the opposite way and landed up side down. It was bad. Entering New York and Connecticut wasn't too bad and once we got to the location, it was around 11PM and decided to wait off until the morning to complete the transaction. The following morning, we got up and went over to the Kyle's house. We talked a little about the car and then did the transaction and off we went back to IL. Got a ton of extra's with the car as well as all the Invoices and part sale Receipts. Kyle is a stand up and would do business with him in the future. Guy is awesome. Thanks for helping us find the hotel.
We changed the trip up to avoid PA due to the increasing bad weather there and did a different route. Ended up going through New York, New Jersey, Delaware, Maryland, and the corner of PA to get back on track to get back to IL. That was one hell of a drive. Here is the car I picked up and mod list.
Car #1: 2006 Subaru WRX Limited SGM
Modifications:
EJ255 Honed and balanced, Built short block with refreshed stock heads/ 3-angle valve job:
Manley stock bore pistons
Eagle rods
STI nitrated crank
ACL race bearings (ENGINE,MAIN)
Killer B oil pick up tube
TGV's deleted
11 mm STI
oil pump
Gates timing belt and water pump kit
Grimmspeed thermostat
Grimmspeed boost control solenoid
Grimmspeed lightweight crank pulley
Grimmspeed air/oil separator replica
Grimmspeed gaskets at every flange!
Air Pump Delete
ATP 3076R (upgraded to a braided stainless oil feed line)
APS 70mm
cold air intake
APS hard inlet
APS 3" catted turboback exhaust
APS DR525 FMIC( Not Included)
APS windshield fluid resevoir (part of the 06-07 adapter kit)
APS coolant over flow resevoir
Mishimoto racing aluminum radiator
Mishimoto oil drain plug
Gimmick racing
radiator
hoses
GT SPEC II headers/uppipe (new front O2 sensor)
Walbro 255lph
fuel
bump
05 STI fuel cradle assembly
AEM adjustable fuel pressure regulator
Aeromotive top feed fuel rails
EFI logics fuel distribution block
Deatchwerks 1000cc injectors
110 AMP alternator
Brand new battery
Subimods alternator cover
Subimods
radiator
cover
Torque solutions stiffer pitch stop mount and
motor mounts
Cobb acessport upgraded to version 002.B
Blacked out interior panels
black felt headliner
New black plastics for the center console
STI limited HVAC vinyls
STI short shift linkage
STI CLUSTER WITH MATCHING, ACCURATE MILEAGE
Next, since I got the donor car now, I had to locate a recipient car. Trying to find something worthwhile in the Midwest isn't easy. Every car I looked at had considerable amount of rust, damage and people just wanted redicilois amounts of money for the cars. Some had bad titles and others were just so far rotted away that for the same money I could just get a good running wrx for. About 5 weeks go by and I stumble upon a part out thread for a car I recognize. It is a Widebody Rs that the owner just doesn't have the time to complete and he went on to part it out. It said that the Chassis was pending a few months ago and pretty much sold. I sent the guy a PM and then replies telling me he still has it:banana:
A quick phone call to finalize a date and off I go to Pick it up!
Now I had to make another long journey back to the East coast to Chesapeake,VA
Montgomery, IL- Chesapeake,VA 950 Miles One Way
Now Im back on the road to get the car with Eric and Chase again to get the car. This time we are expecting another snow storm coming our way, however we left just before it hit IL. IL, IN, and OH were no problem, Smooth sailing! Once we got to West Virginia, however, everything started to go a little downhill. There were some steep grades in West Virginia. Previous trip was yielding about 3% grade at the most. This time however we were seeing 7-10% grades. It was very hard on the truck we were using. I mean how do they expect us to haul anything with those steep grades. Once we got to Virginia though, it settled down quite a bit, but it came at a cost. Trans started to slip
We managed to come at night again and decided to spend the night at a hotel.(Thanks Derek for helping us find the hotel)
The following morning, we head over to Derek's to go check out the vehicle and complete the transaction. Once we got there, we noticed his house and the very long driveway leading to their car storage/shop. We saw the car and it does need some work, but at the price I was picking it up, I couldn't really complain. Derek was an awesome guy to deal with and the transaction went very smooth. The car again came with a lot of extra parts and we loaded it up on the trailer and off we went. Another route was in order since we decided against going through West Virginia and we ended up going North towards Washington D.C, through Maryland, and cutting through the lower corner of PA (Sound familiar) to get back through Ohio,IN, and finally back home in IL. Once we got back the transmission finally decided it didnt want to cooperate anymore and now barely moves:letitout:
Here are a few photos of the car. Some of you may recognize the car.
Previous Build thread from owner
A little Change - 2000 RS Widebody Build - NASIOC
Car #2: 2000 Subaru 2.5RS Widebody Roller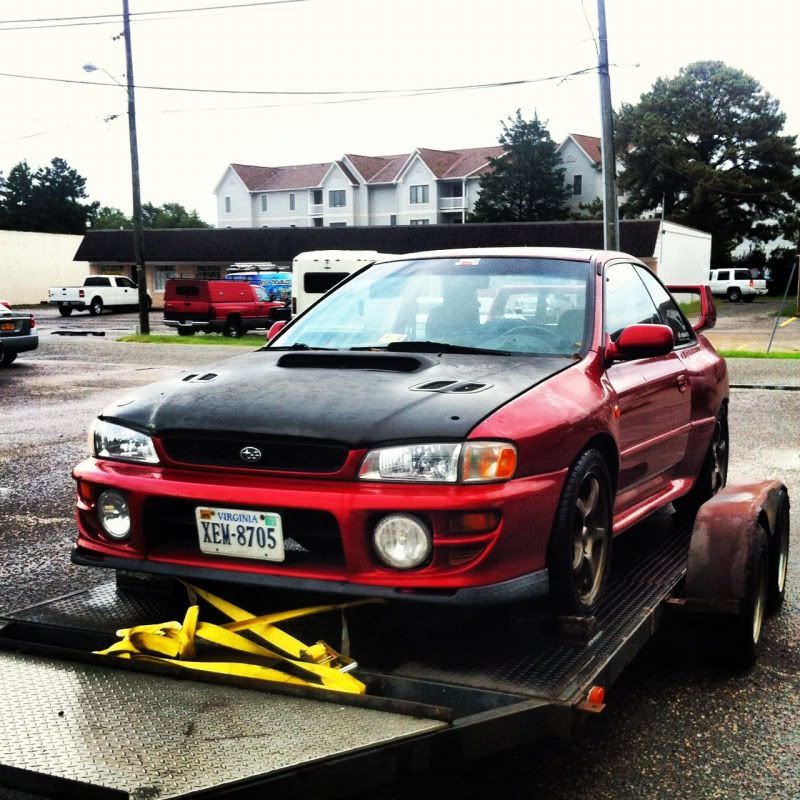 So this is where we are at. I got both cars and it's time to start tear down and begin the build. Stay tuned....