Discussion Starter
·
#1
·
Well i've gotten several PM's on what I did to fit a scoop into my stock impreza hood. So I figured I might as well write up a DIY on it. I'm only using the few pics I had from when I did the hood. So sorry for the lack of pics. If there's something you don't understand please post in the thread and I will answer the best I can. Now onto the things you will need:
-Damaged hood with scoop, best ones for a GC would be a RS/OBS hood, pretty much any GC specific hood.
-Poprivets, I used gorilla glue, but any type of adhesive/glue should work fine, bondo, and a jigsaw, you could use a dremel but that'd take alot longer.
-Scoop from whatever style hood you choose.
-Can of spray paint primer.
What I started with:
First thing I did was cut up the RS hood I had, and I cut out the sheetmetal up past the washer nozzles, so that was it lined right back up on the stock L hood. Then I went onto the stock L hood and removed the washer nozzles.
I took two punches to place in where the washer nozzles sit to hold the sheetmetal in place. Trace out around where the scoop will sit. Make the hole you cut a tad bigger so that the sheet metal drops in alot easier then mine did. I myself used a jigsaw/air chizzel, but you could use a dremel and do a nicer job then I did.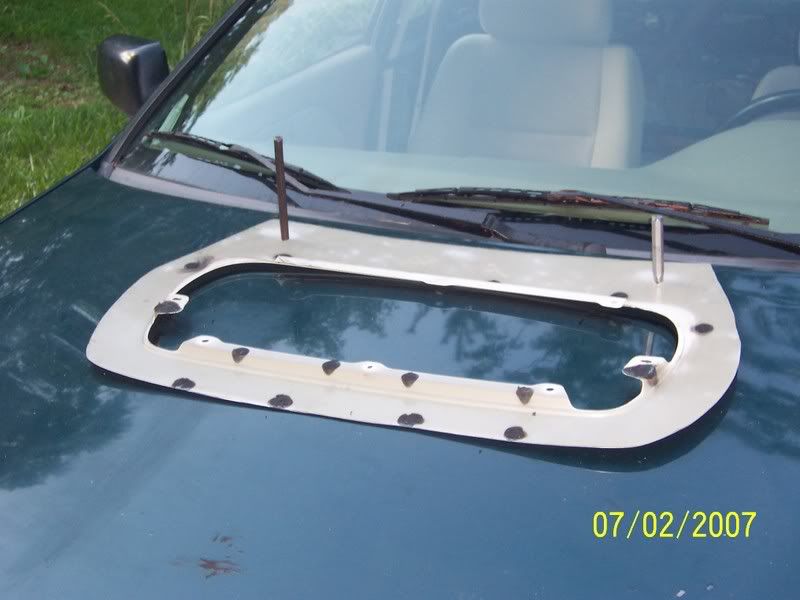 Here's what you should end up with after the hood is cut. A nice big hole!
After you get the hole cut, sit the sheetmetal from the RS hood in place in the L hood like pictured below. Take the two spikes or whatever you choose to use to hold the sheetmetal in place. And grab a maker and mark where your going to drill your holes for the poprivets. I believe I drilled my holes about 2.5-3 inches from where the scoop sits in the hood.
After you drilled your holes for the poprivets, you can trim the RS sheetmetal down so have about 5-5.5 inches all the way around it. Sand down both the hood and underside of the RS sheetmetal down to the bare metal. When they're sanded down take your adhesive/glue and coat both the RS sheetmetal and the stock L hood after you put them together grab your poprivets and poprivet them together. The gorilla glue I had set up super quick so make sure everything you've done lines up right before you poprivet it together.
After thats done, sand down more of the hood, cause it's almost bondo time. So sand down where you put the two pieces of metal together and a good 6-7 inches around it. The first time I did it, i went bondo crazy. You don't want to go too far out, but enough to taper it in. Mix up your bondo and spread it around so you've got enough to work with. Let the bondo dry, and then sand sand sand. Try to get a nice countour with it. It never comes out perfect, but if you play with it enough you can get it to look pretty decent. This is what you should end up with.
Here's a pic of the hood repainted in the stock color. Hopefully someone will use this to make a hood, I have RS sheetmetal when the other vents are I may attempt to put those in this hood as well. If I do, I will update this thread with those.