Disclaimer: This is a general overview of what worked for me at my skill level. If you try it and screw up, set your seat, house, car, etc on fire or die, you did something wrong. If you aren't comfortable around a grinder then I suggest you find a different project. Seriously, they will take your hand off if you aren't using it properly.
Over the weekend I put some FR-S seats into RS and since it worked out I figured I would spread the love.
If you don't get a pretty good deal on the seats then it probably wont be any less expensive than most aftermarket seats.
This is going to be more of a brief overview rather than a step by step but it should give you the idea of what needs to be done.
Buy:
seats.
brackets. I used planted technologies brand.
seat belt latches
hardware
The circled areas on the bottom of this seat are the parts to be concerned with. The part circled in yellow is part of the OEM seat slider. The parts circled in red are the rivets holding the mounting tabs to the sliders.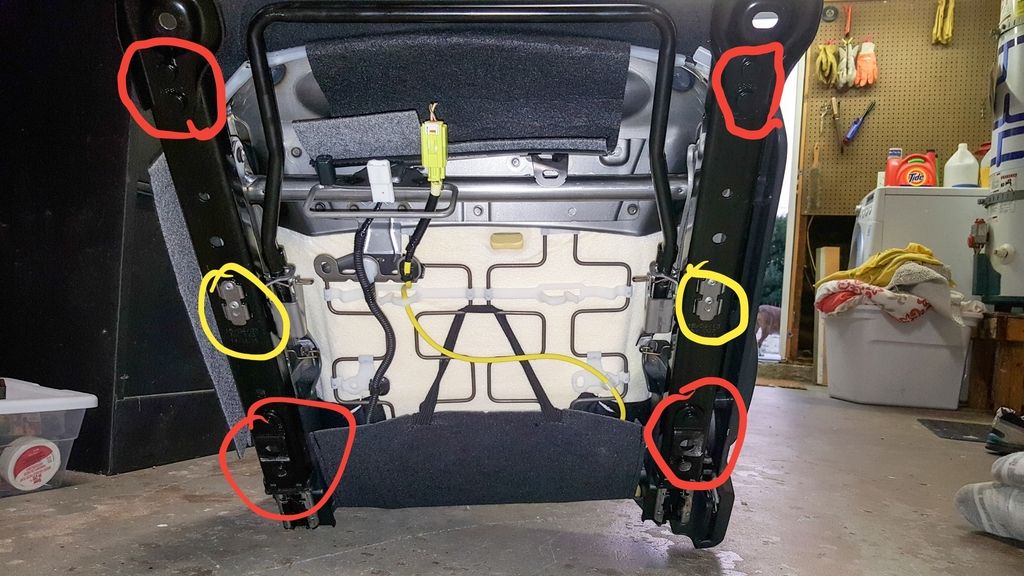 Here are the rivets up close.
I tried both a die grinder with a good carbide bit and a disk grinder with both a sanding paddle and a hard disk grinder. The sanding paddle worked the best. The carbide bit took forever because, I assume, the rivets are hardened, so I gave up on it and went back to the grinder.
**SAFETY NOTE**
The grinder produces a lot of sparks. Take caution to cover exposed areas with sheets of metal or if you have it (I doubt it), flame retardant welders cloth. The sparks WILL set your seat on fire if you aren't careful and even if you are careful it will leave a lot of little burn marks. If the sparks hit the face of your seat it will ruin the cloth (imagine a bunch of cigarette burns).
Don't ruin your seats because you were too cheap & lazy to spend $10 on a sheet of aluminum that you could have a friend hold onto and hold in position to keep your seats from catching fire. Speaking of that, I used clamps to hold a piece of aluminum sheet in place but having a friend come over and hold it would have worked better.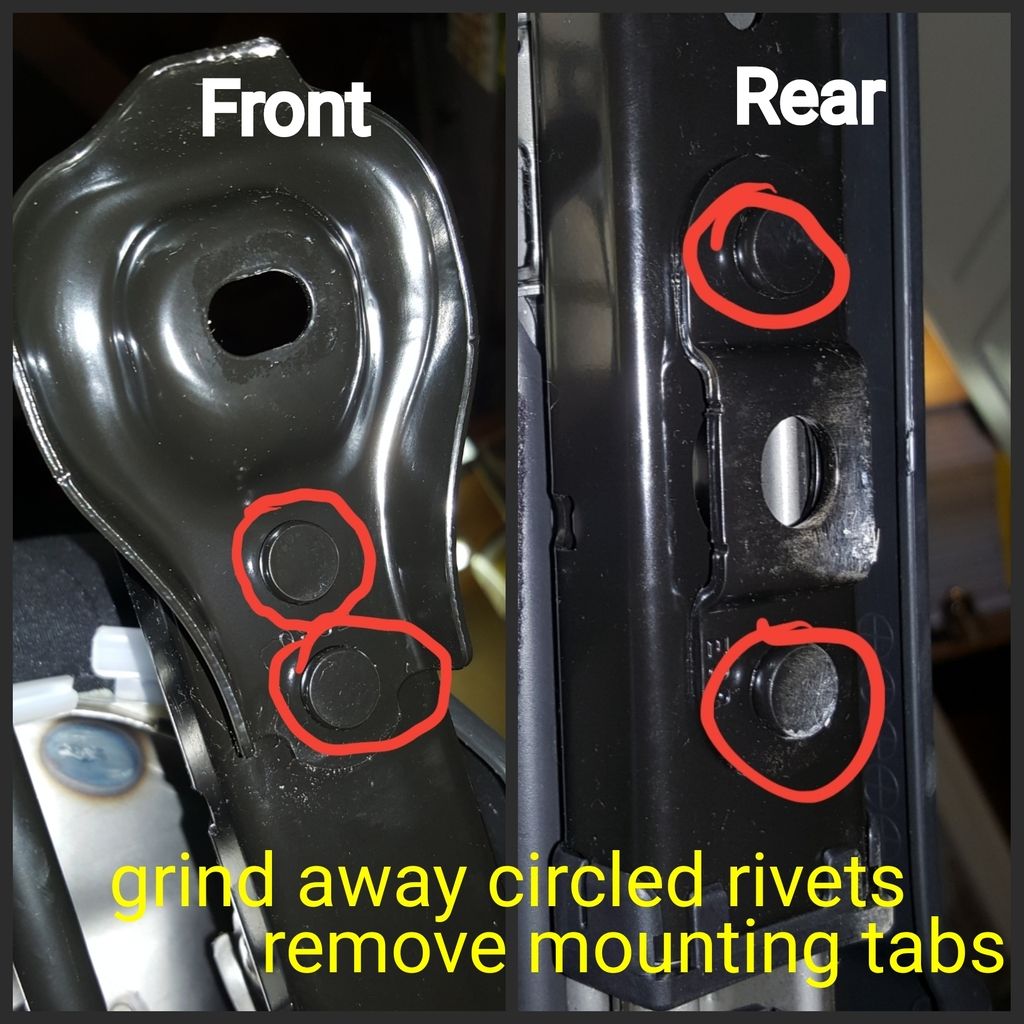 Once you grind the rivets flat knock the mounting tabs off. Take caution not to use too much force and ruin the sliders.
With the brackets off, grind flush the rest of the rivet.
Locate the outline of the rivet and use a hammer and punch to pop the remaining bit through the other side.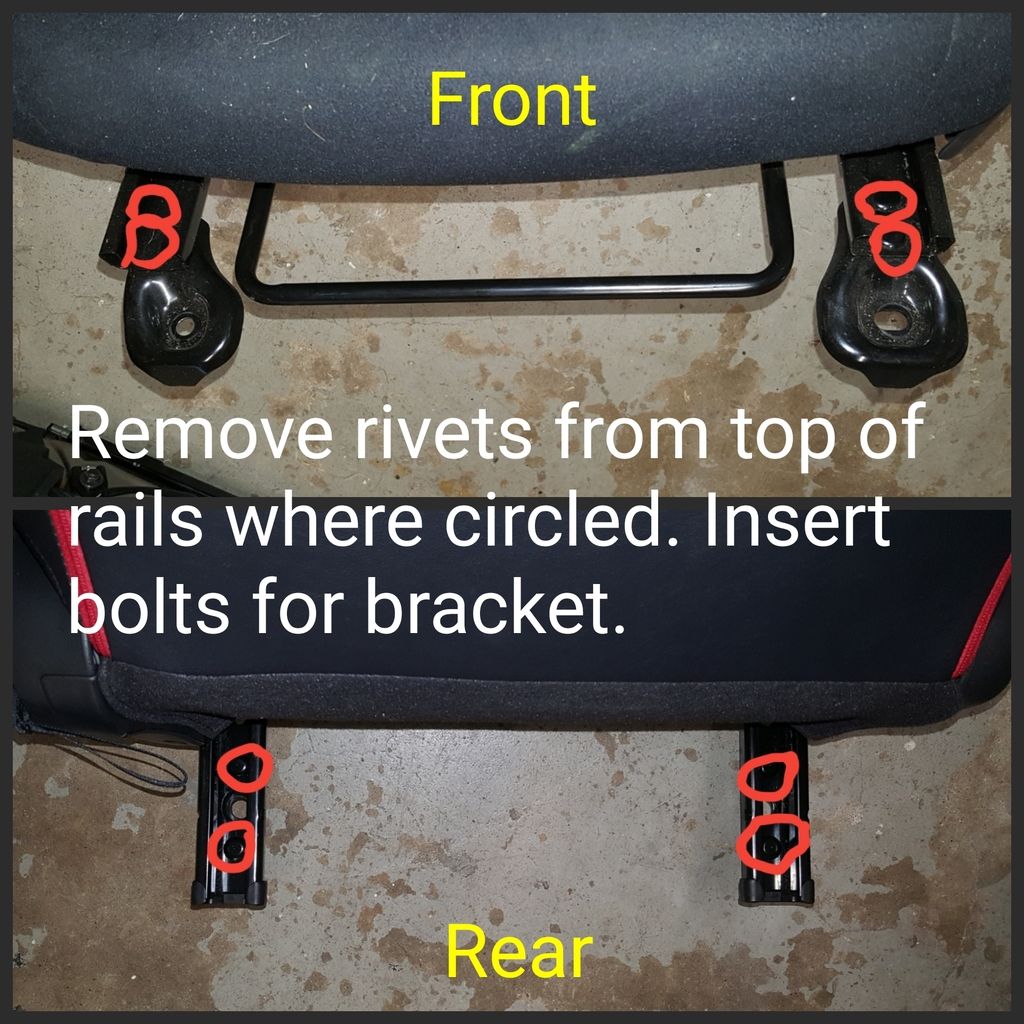 Slider part up close.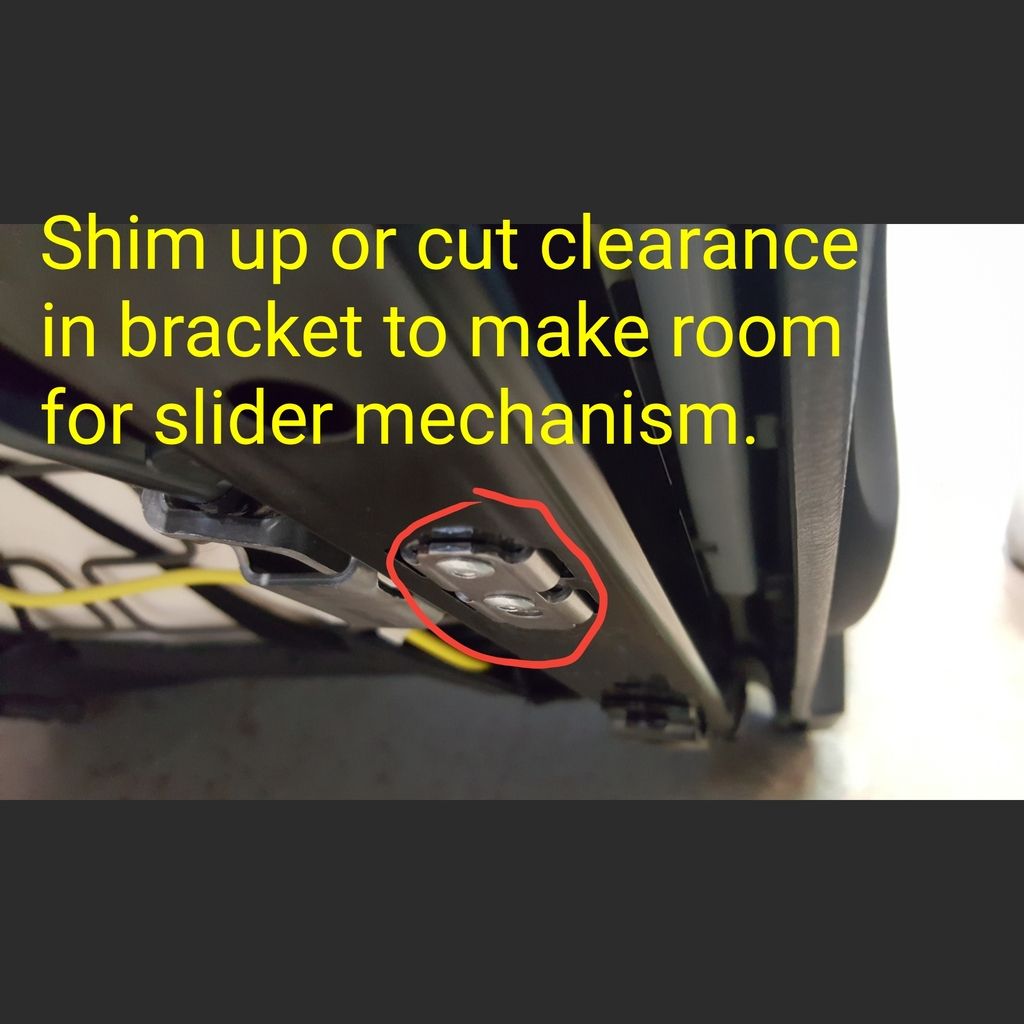 You can cut a relief into the bracket, you can shim between the slider and the bracket or you can just ignore it and bolt it up. I cut one and ignored the other. It's probably best to cut the relief. For that I used my grinder with a cutting wheel.
Mock it up. Check angles and make sure its centered well. You may need to mock it, install into the car, adjust, etc.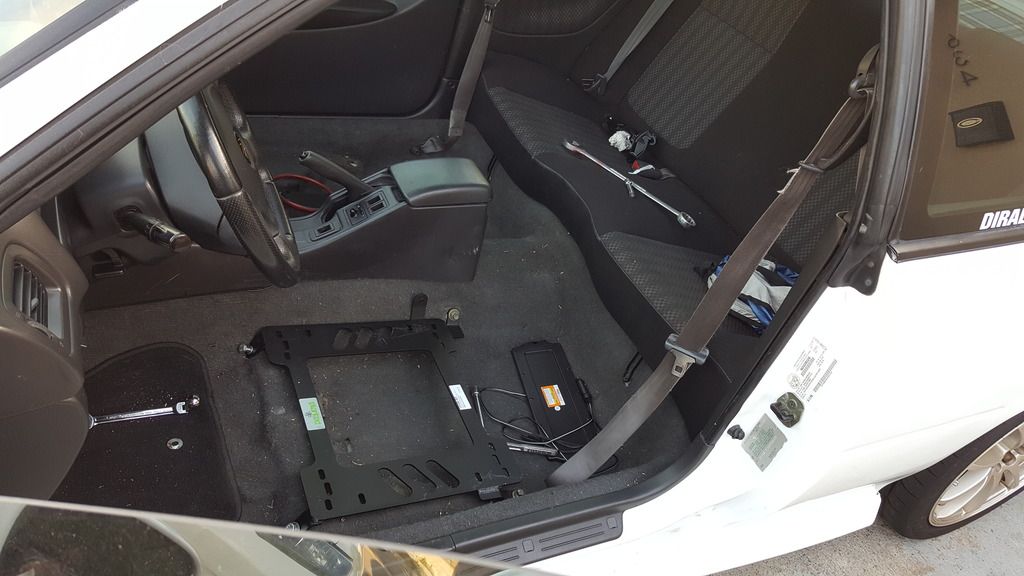 I was able to use two holes that were already in the slider and then at the back I had to drill my own holes to match the bracket.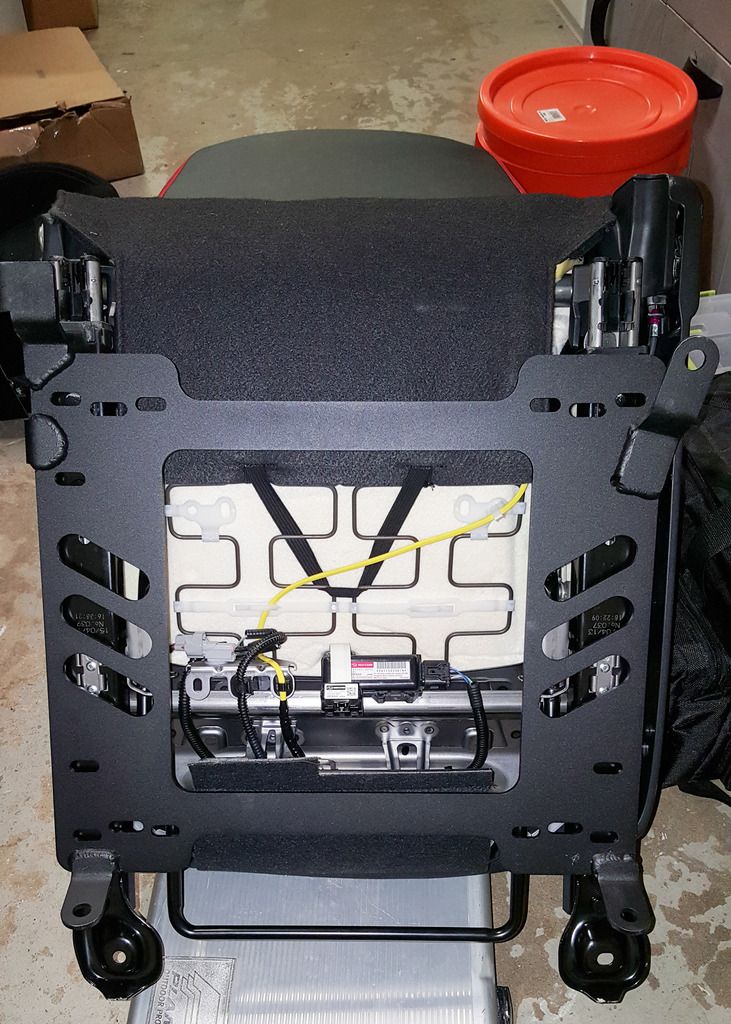 Use button head bolts to clear the sliders. I used 5/16-18 x 1". I recommend using lock nuts of some type. I used a tooth-flanged nut, but a nylock nut and regular washer would do the same.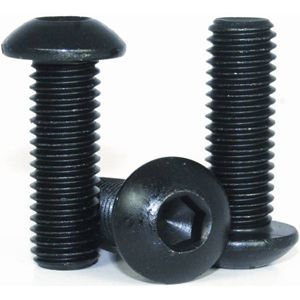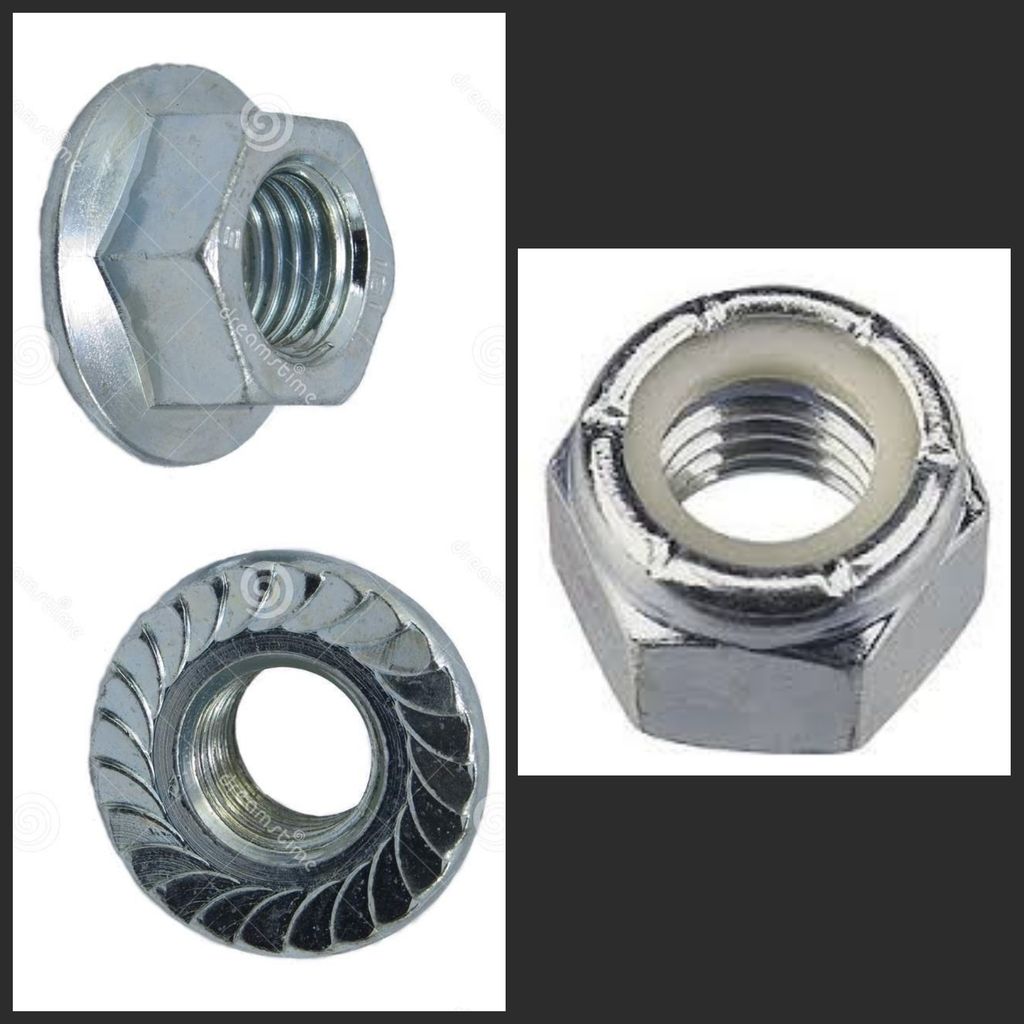 YOU WILL NEED TO CHANGE THE SEAT BELT LATCHES TO MATCH THE RS. GD latches work fine as well.
Mount it and be happy.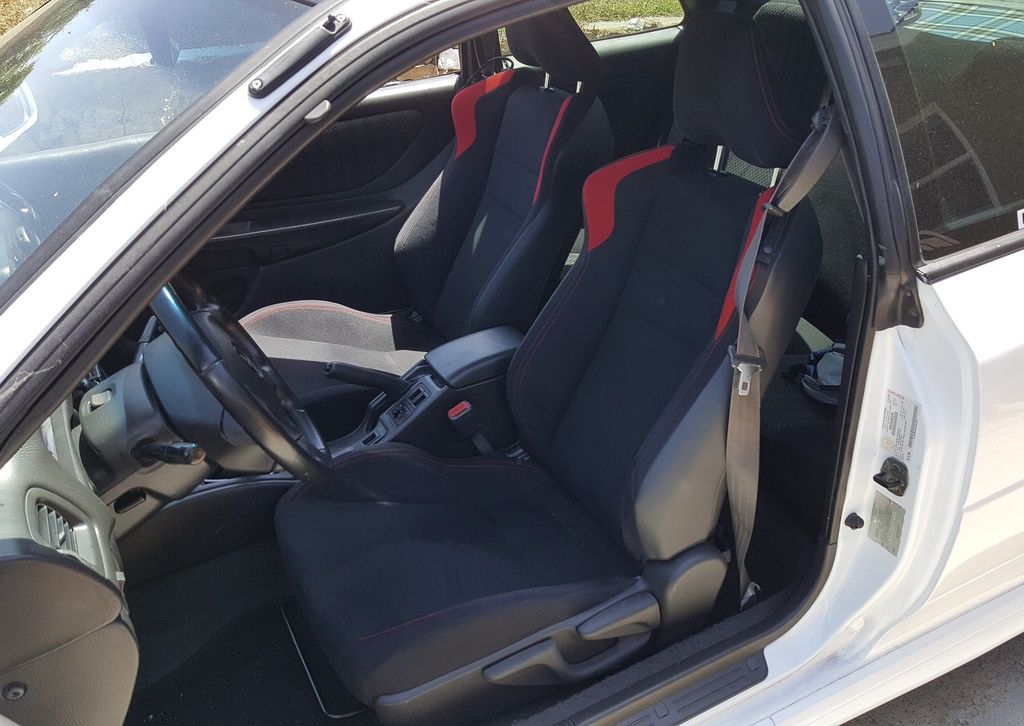 Go enjoy your new seats. I've had 06 STi seats in the car for the last couple of years and these are a bit lower, especially the passenger seat. Are they JDM STi low, not quite, but you don't feel out of place in them.