Spent the better part of today doing this, and noticed there wasn't a lot of information floating out there on undertaking this, let alone a DIY that I could find. So I took some pictures along the way, for anyone else interested.
I did this on my 2.5 SOHC heads on my N/A that I'm refreshing. It may or may not work for other applications, and this is not an FSM. Just a guide with some photos for whom it may help.
First, remove your head(s) (which involves removing the valve cover), from there, remove the 10/12mm bolts directly top and center holding on the rockers and remove the rocker assemblies. If you need pictures for that step, you probably shouldn't be attempting to remove your own valves.
From there, you will need a scribe or two, some pliers, a valve spring compressor, some clean rags, lapping compound (metal polishing compound works in a pinch if your valve seats are in good shape) and optionally; a lapping tool or drill (if you're so inclined), a magnet and a c-clamp. I strongly suggest having it all. Also, work somewhere very well lit.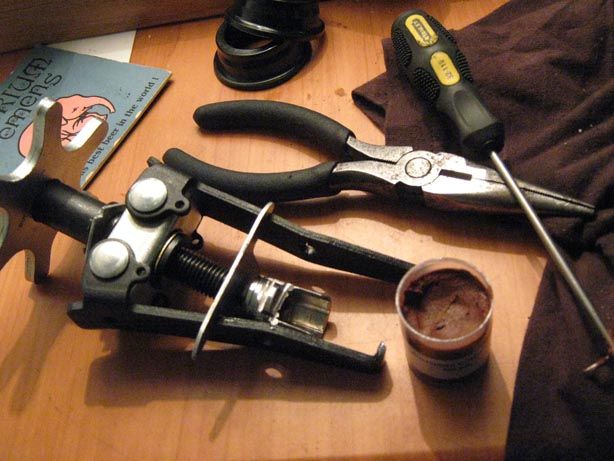 I used a crappy harbor freight valve spring compressor, that I then had to modify. I crushed in the jaws in a vice and made them narrower for better clearance, and replaced the inner stop with a 12mm 1/4 drive shortwell socket that I cut a side off to allow the removal/installation of the valve spring retainer locks. This allowed me to squeeze everything tight enough to not need to remove the camshaft cap on the head.
Starting point: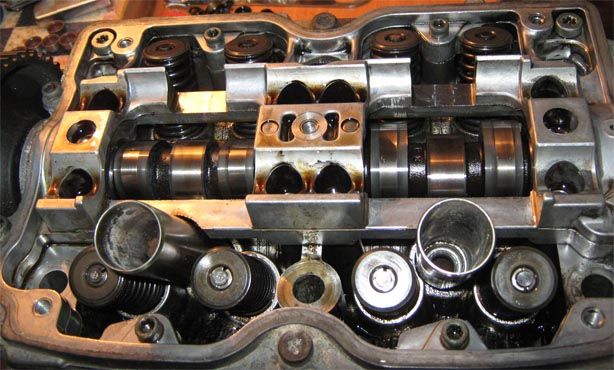 Install spring tool and clamp jaws if necessary to properly seat the teeth of the jaws, or to hold them there: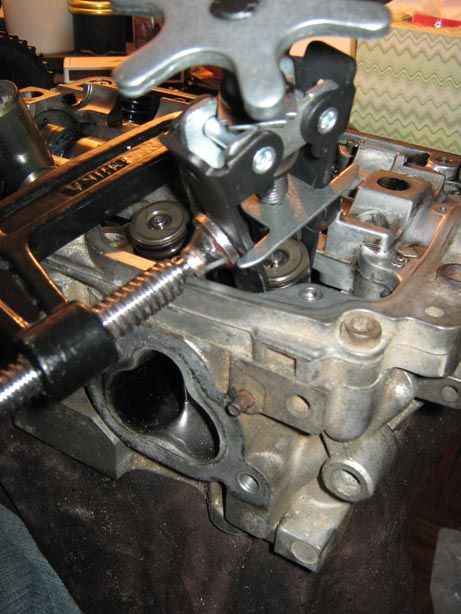 Drive the tool down and compress the spring: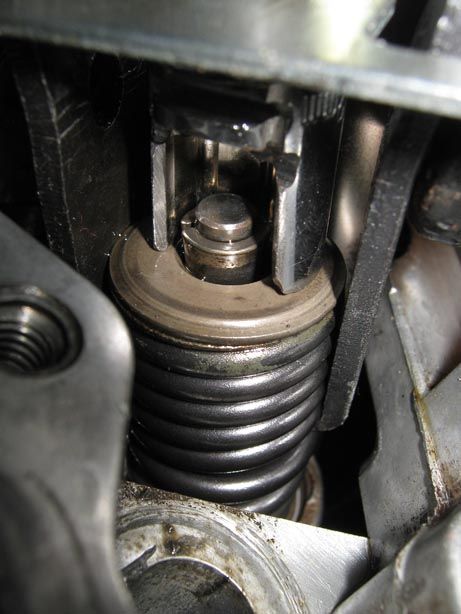 Fish out the spring retainer locks, I suggest you hold a scribe to a strong magnet for a minute to magnetize it, so when you pop them in out out you can take them out without dropping them in the head, or when you do the latter, you can fish them back out with ease:
You can use the scribe to pop the valve out and turn over the head to completely remove it:
Remove spring tool (I keep it attached to the spring), you should see something like this: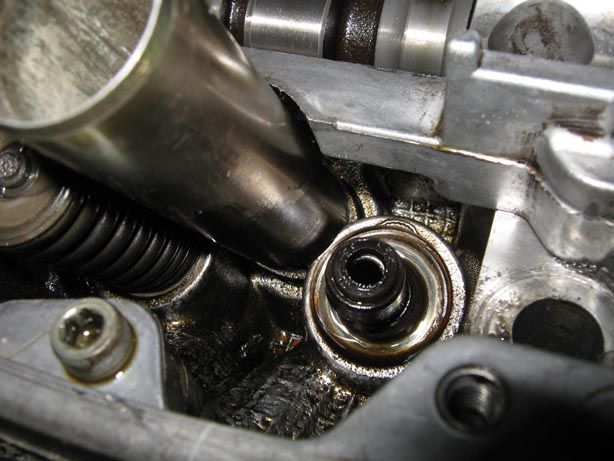 Remove old seal:
Clean valve guide stem off with a clean rag:
Install new seal. This can be tricky to seat if you unsure. Push it down so it's even all around. If you look between the stem you just pushed it down on and the inside of the seal, there should be a "gap." This is normal, as long is the stem is flush against the seal's inner lip. It's pretty much impossible to photograph that point-here's my best attempt:
Intake valve seat after roughly 175K: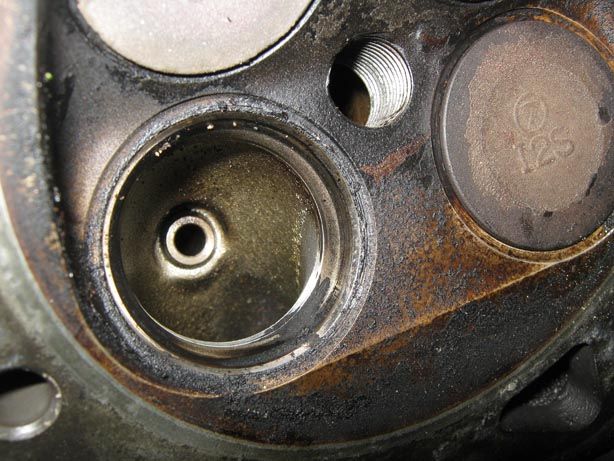 Use some elbow grease and take off what you can with a non-abrasive pad ( used a knock off, softer brillo pad) :
Here is the valve, note the very minor pitting:
Clean it up and apply your compound. Slide the valve back through the guide, and lapp the valve using a spinning motion and a slight pressure against the seat. Now, there are many schools of thought on this, so you can choose your own way. I suggest if you haven't done it before you use youtube to get some good ideas on various techniques.
This is what it looks like when done, and cleaned off very thoroughly. It should be an even, smooth, dull grey (just that thin ring, that's the valve seat):
Valve completed:
Now, pretty much the reverse order: Seat the valve through the guide. Install spring with retainer. Install spring tool. Recompress spring. (or simply place the still compressed spring in tool back into place). pop the retainer locks back in (perhaps the worst part - Have patience.) You might have to hold the valve against the seat flush, rotate or push down on the spring tool, or rotate the first retainer lock you get in just to get them both in place and seated. They should both catch their respective lips and look like this:
:noes:Slowly release and remove the spring tool making sure you don't jar out a retainer lock before it's all seated. It should look like this, exactly like when you started:
Admire the work just did despite not being able to see it, take a deep breath, and repeat this process 15 more times, and you're done!! :bonk: