This how-to is dedicated to Patrick Olsen. Thanks for keeping me motivated.
THE WHAT
ABS sucks. Pulling fuses is for suckas. Delete it, everything, take it all out and bend your own new lines. Not too much money. Just realize that this is pretty much a one-way modification and your warranty is most certainly VOID if you do it.
THE WHY
I'm with
this guy.
Also,
check out "moral hazard" on Wikipedia.
People drive faster and crazier with ABS, thinking it will save them. I drive within my and my car's limits because I know I don't have ABS to rescue me. Sort of counterintuitive but it's true. That said, if you're thinking about doing this and you're under 18 or are doing it on a car you don't take to the track, just don't. If you've never driven without ABS, just don't. Brakes are the most important system in the car and modifying them is dangerous. If you make a mistake and your brakes fail, you might get hurt, hurt someone else or worse.
I personally think non-ABS cars are safer in the right hands and in the right situations for a lot of reasons. ABS also teaches you bad driving habits, i.e. slamming the brakes on instead of threshold braking. It makes the pedal feel weird and rubbery. The Subaru ABS ECU thingee is especially stupid. It freaks out over potholes. There is a large amount of physical wiring and voltage devoted to ABS and a ginormous pump to route it all. And it's heavy (20 lbs hanging right off nose where you really, really don't need that weight, plus a ton of wiring and the computer.) It's unneccessarily complicated. It's always in the way when you're working in the engine bay. Plus those dudes in Initial D from the Tudoh School trained without ABS, so it must be hella tight, right? Haha, seriously, I did set my car up for windy road/canyon/tougue type stuff and I did it mostly for the weight, because I'm anorexic like that. Some people just don't like ABS. Deal, haters.
Pros: Since the shortest system is the most efficient, getting rid of the ABS instead of pulling the fuse makes for a better braking experience. Better pedal feel, less chance for air to get trapped in the system, less fluid used. Weight reduction, about 30 lbs with the pump, old lines, wiring and harness. Some unspung weight savings by removing the ABS sensors.
Cons: You could kill your car or yourself if you aren't careful. Basically no going back once you start this mod.
THE TOOLS
10mm flare nut wrench
12mm socket/wrench
Metric allen wrench
Vise grips
10 gauge wire
Rubber hose for insulating the lines
Metal file
Small hacksaw (recommended)
Flexible, stainless steel lines
, various lengths (way easier, for ballers) from Pegasus. Bling.
OR
Brake hardlines (harder to do, costs less). Ask to see the brake hardines at Kragen or Pep Boys, they keep them in the back, off the floor. Make sure you check the tag carefully, it must say Japanese, not British or American. The Brits use bubble flare instead of double flare, and the American fittings won't work with our parts. Get one really long piece, two or three medium ones and a four or five small ones (depending on your application). IMPORTANT: Be sure to get hardline that has fittings that thread all the way to the end, not the ones with a threadless end.
2 brass T fittings. They sell these at Kragen, too. Ask to see their brass fittings, they keep them under the parts counter desk. Root through it and find a couple of metric Ts that fit. Make sure it accepts double flares and isn't hollow or bubble flare. Maybe take a small piece of Japanese hardline and double check that it threads all the way on. Just pop the T out of the bag, no one ever buys this stuff anyway. You only need two but if there's an extra, it might be good to take it.
OR
You can order
nicer, higher quality T fittings
from Pegasus.
Double flare tool from Pep Boys (~$30)
Your proportioning valve or an optional 02+ WRX or Wilwood adjustable proportioning valve which makes the project much, much easier. Don't mix and match proportioning valves, though. If the prop valve was for a 4WDB car, don't use it if you have drums.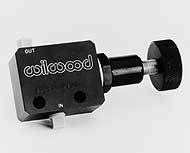 THE WAY
Remove the battery and pump the brakes a few time to get any current out.
Take out the intercooler, intake, strut tower braces, etc. that might get in the way. You need a lot of space in the bay for parts of this project.
Put the car on jacks and take the wheels off.
Drain the fluid out of your brake system.
Disconnect the wiring harness from the pump. Start attacking the hardlines coming out of the ABS pump, you won't need any of them so use the hacksaw if it makes things easier. Pop the nuts off with your flare wrench. It might take a lot of torque or they might be mashed up. Use PB liberally. Use vice grips if you have to. There should be two hardlines coming through the firewall that connect to the prop valve, don't cut these, but take out everything else. The pump is attached with 12mm bolts. Eventually you should be left with the MC, the two lines that go through the firewall, the prop valve and the brake lines that come off the calipers. Throw everything else away.