well, it's time someone finnally made a decent thread about this. and i've got the time to spare, so i figured i would. the things i will be covering in this thread are how to re-upholster the following:
-door panels
-interior quarterpanels
-headliner
i'm doing this write up for a 1998 L coupe, so if others wanna do a write up abot how do do similar type stuff to a bugeye, and a 04/05 and maybe an 06+ and add them to this thread, that would be cool by me.
first off: the door panels.
here we have a set of perfectly stock doorpanels from an RS coupe.i've decidedd to go another route for my interior, and will be removing the stock fabric inserts in favor for some black suede i purchased at the local fabric outlet (joann fabrics if you must know) it's NOT ultra suede, alcantara, or what have you, it's a finer suede thats supposed to be used for curtains or something..who knows...anyways...
tools required(or at least ones i used are as follows:
-small pair of scizzors for small amounts of fabric removal
-regular sized scizzors
-box cutter
-flat head screwdriver; or thin, flat chisels
-you're favorite spray adhesive.
-work surface where you won't care about spray adhesive pverspray
here we have two doorpanels:
http://i20.photobucket.com/albums/b234/rabbitnutz/subaru/technical/IMG_1034.jpg
cute, aren't they ?
the first step is to seperate the fabric from the foam padding underneath. Realize that the fabric has a small layer of foam, more so around the door handle for padding or something.
starting at the doorhandle hole, work your way through with the screwdriver untill it pokes out the other side.
then with your finger, work around the entire hole untill the entire area around the hole is removed.
tah-dah no more fabric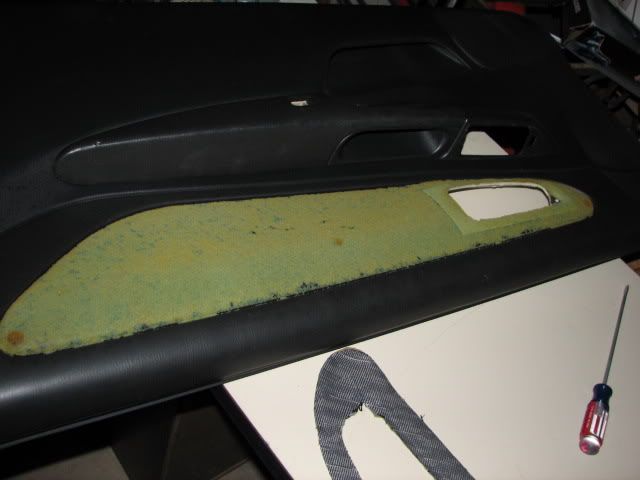 Now place the old fabric, GLUE SIDE UP, on your new fabric, with the back of the fabric facing up, this is important, as if you switch them, your new fabric will be backwards, so be carefull. Trace the outline with a marker i should have used one of those fancy silver sharpies, but i only had a blue one laying around.
now, after you mark and cut out your new fabric, lay it over the door panel, and center it up (do not glue yet) you'll need no more than a 1/4 of an inch of surplus fabric around the outline of the panel. trim any excess if neccisery, but don't go overboard, more trimming will occur later.
spray the entire foam area, and the back of your new fabric with you adhesive, making sure not to get too much overspray in the actual door panel, it will clean off, but it's kinda tough.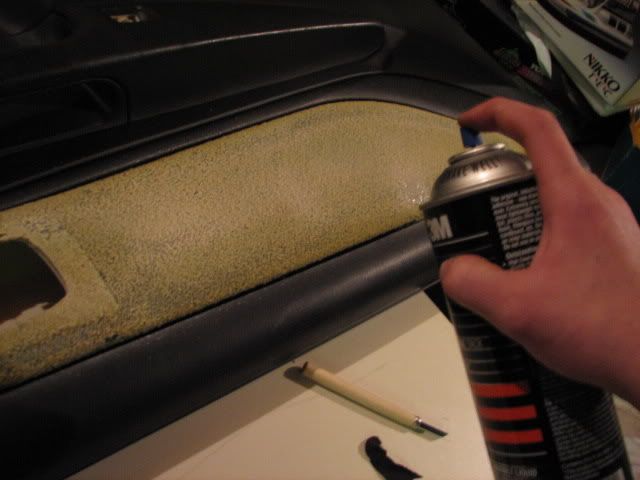 now comes the fun-ish part, get your flat head screwdriver/chisel/tucking tool and start-a-tucking. working all the way around, saving corners for last.(do the two sides that the corner "connects" first, then the actual corner)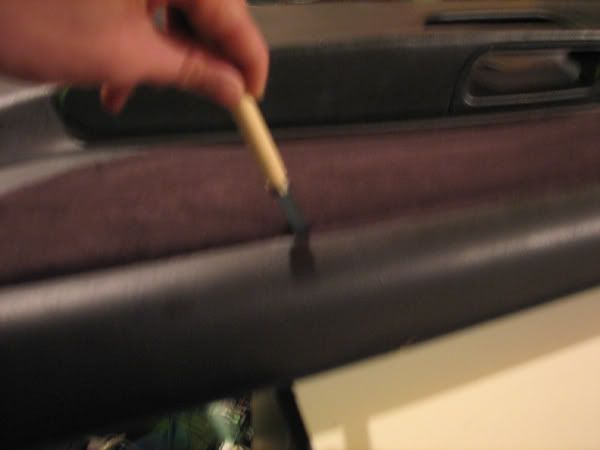 now, if not too much excess has been removed from the earlier steps, it might look like this: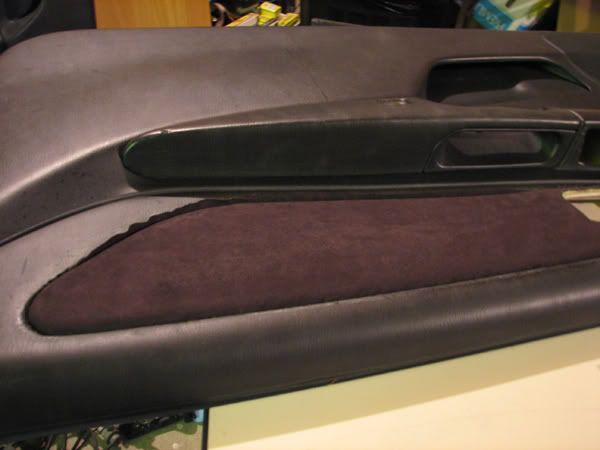 this is where the smaller scizzors come in, carefully un-tuck, and snip away little bits at a time. be carefull not to snip too much off, as then it won't properly tuck in place and foam will be exposed.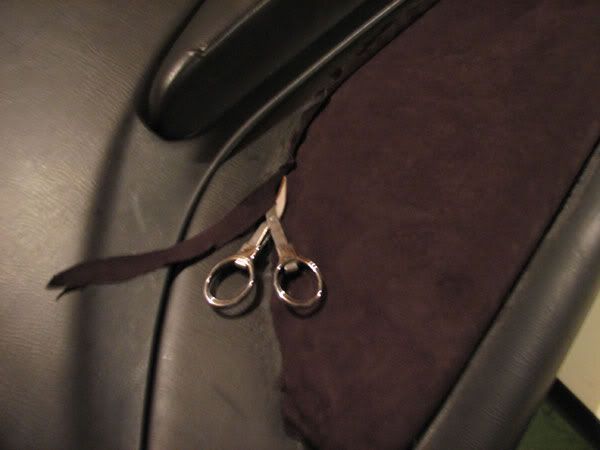 tuck the remaining bits in, regluing on edges if nesssicery, and tah-dah! fancy new door panels!