Custom 2.5 RS Roof Rack from Scratch
Well since I just spent the past hour doing this write up only for RS25 to boot me off when I hit "Preview post" I'm back at it again but much shorter this time. Don't mind the font titles, I wrote it up on word this time so it doesn't kick me off and I can save it.
Background- I'm well aware that there are Thule and Yakima racks for our cars, I am not a big fan of how they mount to the plastic window trim. I carry a bike in the spring, summer and fall and a snowboard in the winter so I'm pretty much in need of a rack driving a coupe. Since I wasn't satisfied with the production racks, I decided to make my own.
This was my previous setup for my bike, a 20$ trailer hitch from a Junkyard from an OBS and a Thule rack given to me by a friend. (BTW I'm on a college budget so I try to be as cost effective as possible)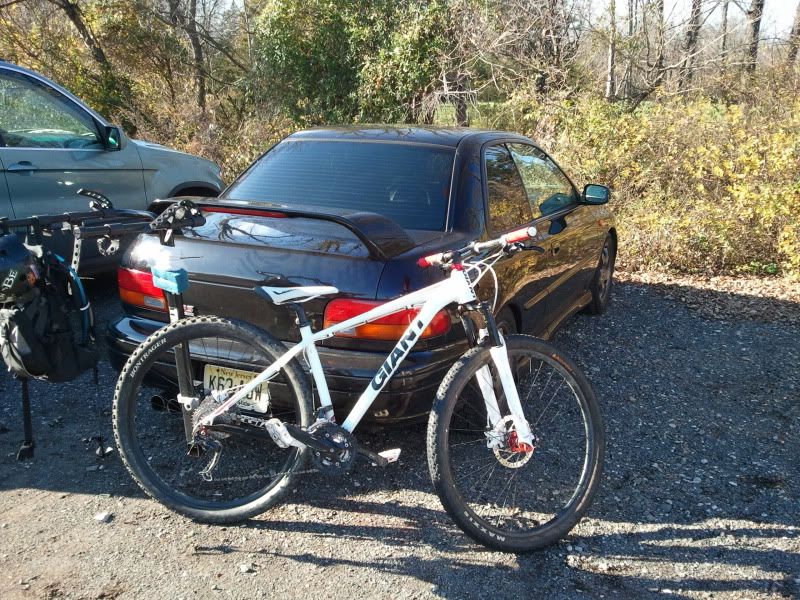 Materials for this build
2in wide x ¼ thick flat stock (3 feet in length)
1 ¼ diameter x 3/16 thickness round stock (About 8 feet, roughly 2, 4ft cross bars)
¼ x20 hardware 1 inch long (Stainless)
¼ x 1 fender washers (Stainless)
¼ lock washers (Stainless)
Mig welder, Taps, Drill, Bits, Cookie Wheels, Bench Grinder, Vice, Razor Blade, Thornproof Tube
Disclaimer- I am confident in my fabrication skills and take my time to do things right. If you do things half-assed this probably isn't the project for you, go make mudflaps or something.
With this being said, on to the good stuff
Step 1: Remove the trim from the driver and passenger side drip rails. Take off the clips from the windshield side first, they pop up. Then take off the clips by the rear windshield, they also pop up. Then slide the trim forward to remove the sliding clips on the roof section.
Step 2: Locate the four "bridges" in the drip rails two per side. I call them "bridges" because I don't know the actual technical term for them. Drill a hole in each of them 2 sizes smaller than your screw size so that you can actually make threads in them. Be careful with the tap, you only get one shot at it. Watch that you don't drill into the roof after your through the bridge. When that's done it should look something like this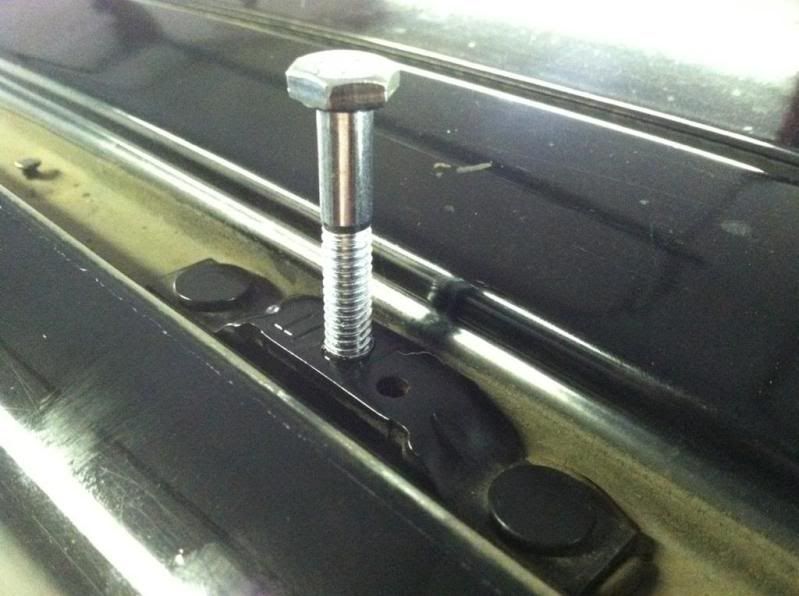 Step Three: Make four 2x4 base plates as these will serve as the feet for your uprights and a place to mount them to the car. Drill holes in the center of the plates. When I mean center, center up the plates on both sides of the roof so that its got enough material to rest on each side. Drill out the plates and you will have something looking like this.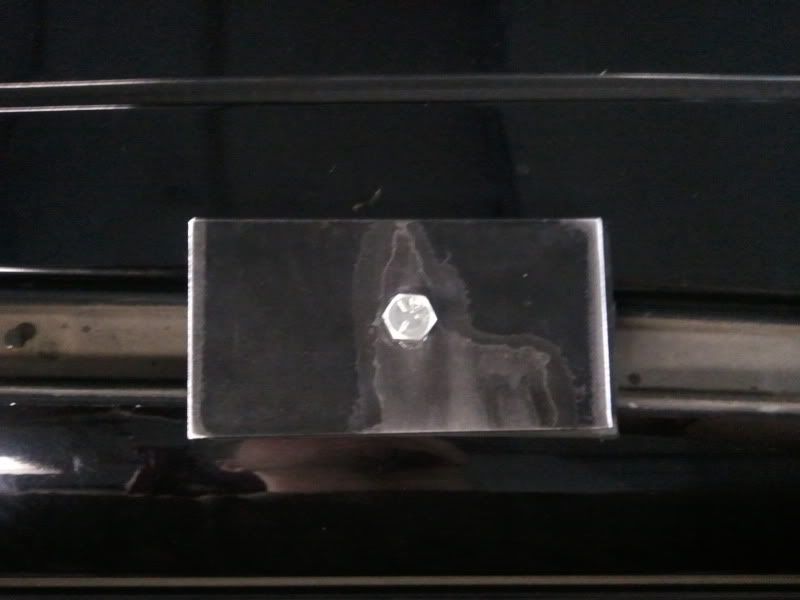 Step 3.5: Since you don't want to scratch up your roof when using this rack, you will need to make some rubber pads to go in between the roof and the base plate. I used a thornproof bike tube because it was thick and free. Cut holes in the rubber using the center holes of the base plates as your guide.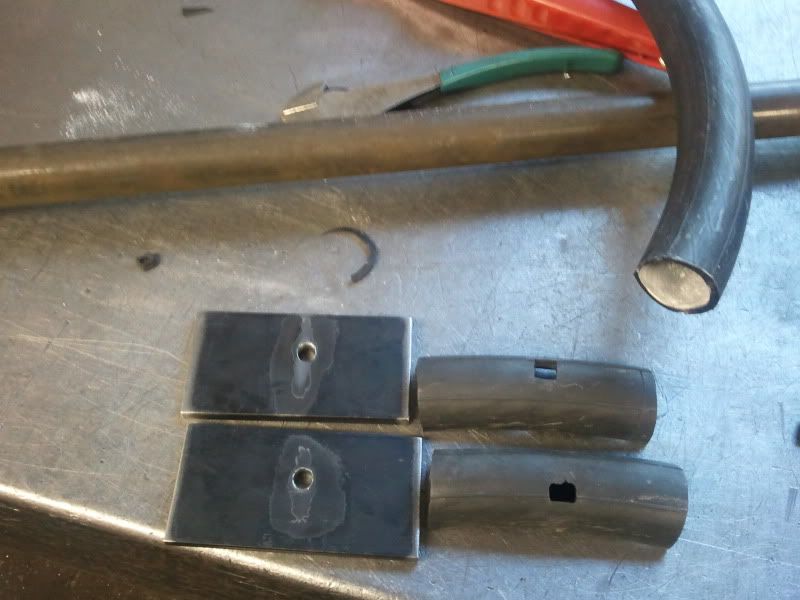 Step 4- With the base plates secured to the roof on all four corners, its time to create the uprights. For the uprights, I used a piece of a leftover display stand which luckily had a nice bend to it so I decided to use it to my advantage. Flat would have been fine, but I liked the bend. Wet toweles and place them on your roof, windshields and windows so that you don't get slag all over because it will melt glass. Using a level, make sure your uprights are level and square so they don't stupid and so that your cross bar will fit properly. I offset the uprights on the base plates forward in the front and backward in the rear in order to give me the max distance between the crossbars. Once the uprights are tacked in place, measure the distance between the two crossbars and cut a piece of round stock to that dimension. For me the front was about 41 and the rear was about 40 inches. Once the cross bars are tacked to the uprights which are tacked to the bases, remove both racks and fully weld them.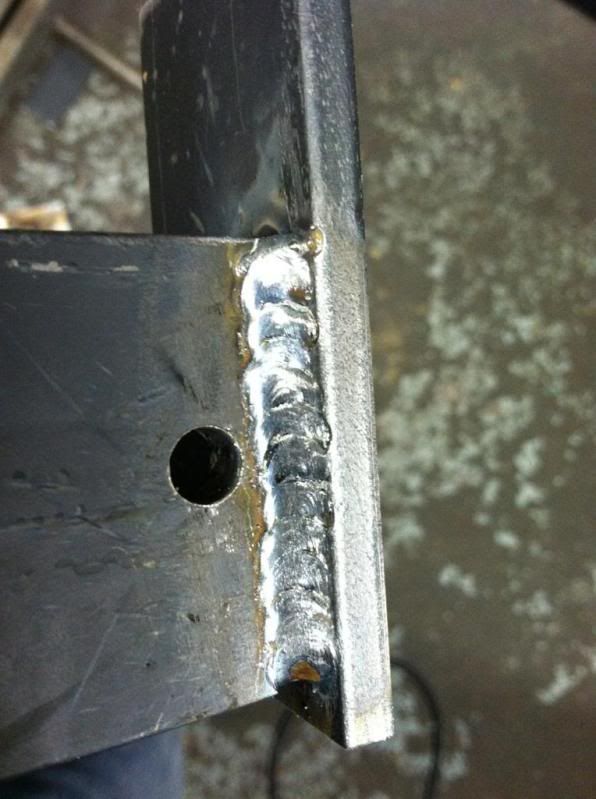 Step 5: Once the racks are fully welded, clean them and paint them to whatever color you want, I went black for a black car.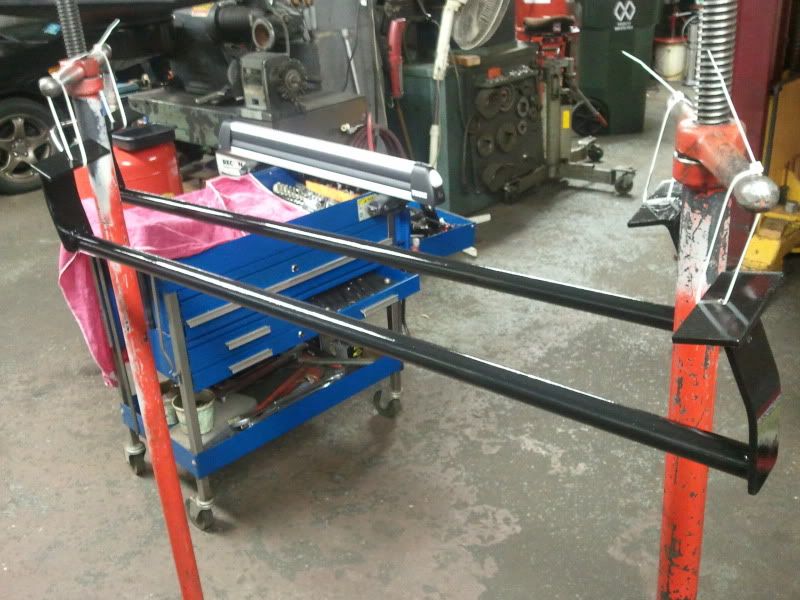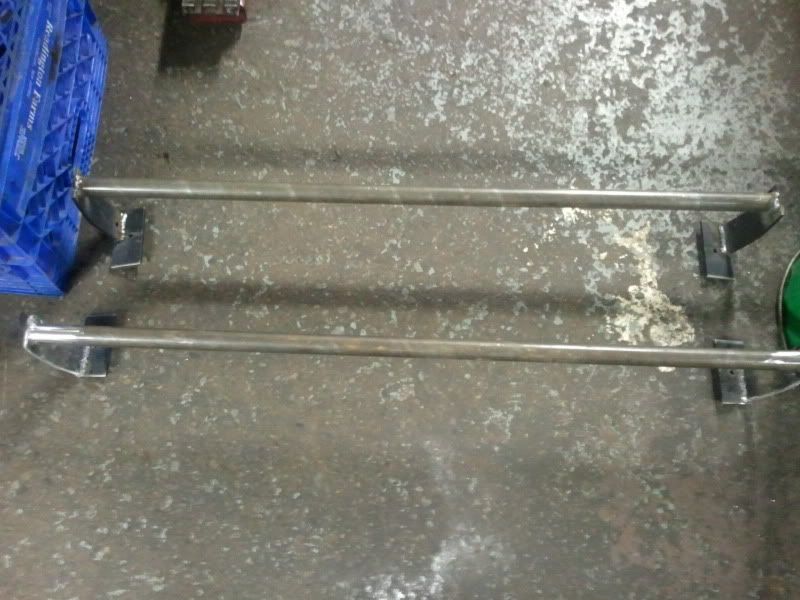 Step 6- With the rack off the car, mark the spots on the roof with painters tape where the holes are in the bridge. You will need this for reinstallation also note the distance from the edge of the rain gutter to the center of the bridge, in my case it was a half inch.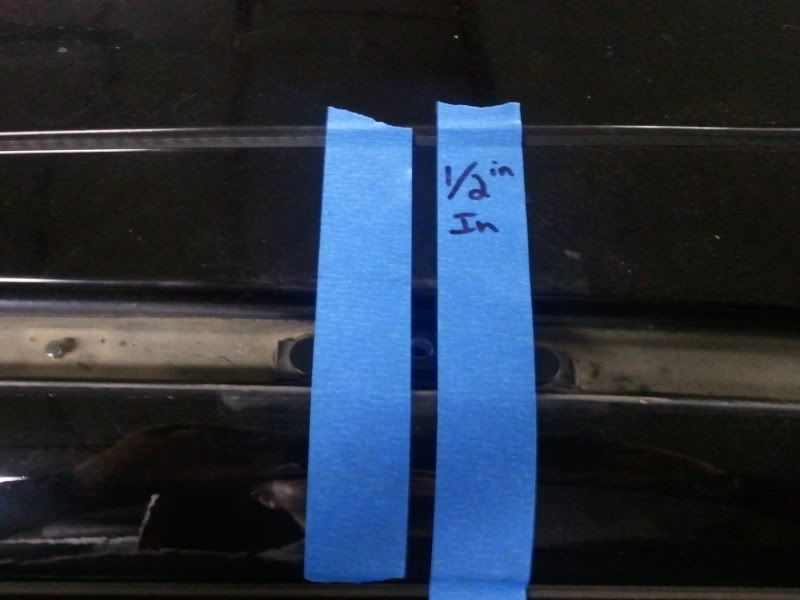 Step 7: Reinstall the trim on the car and using the painters tape as your guide, drill four holes in the trim so that you can put screws through them into the bridges.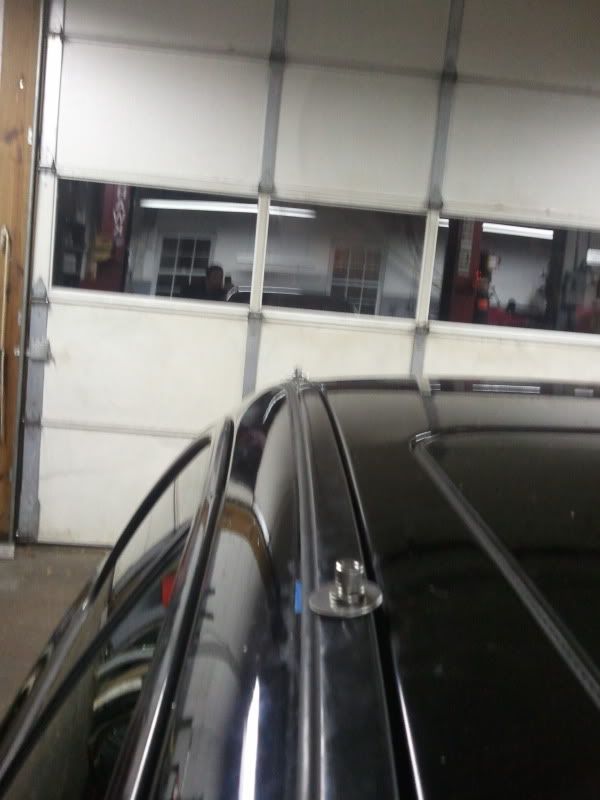 Step 8: Install Rack with hardware of your choice, I went stainless so it looks good forever it was like 10$ in hardware and seeing as it was the only thing that I had to buy, I decided to do it right. Unfortunately there is no finished pictures as of yet because it is currently drying I will have it all back together tomorrow with more pix. But here was the front bar installed to give you an idea.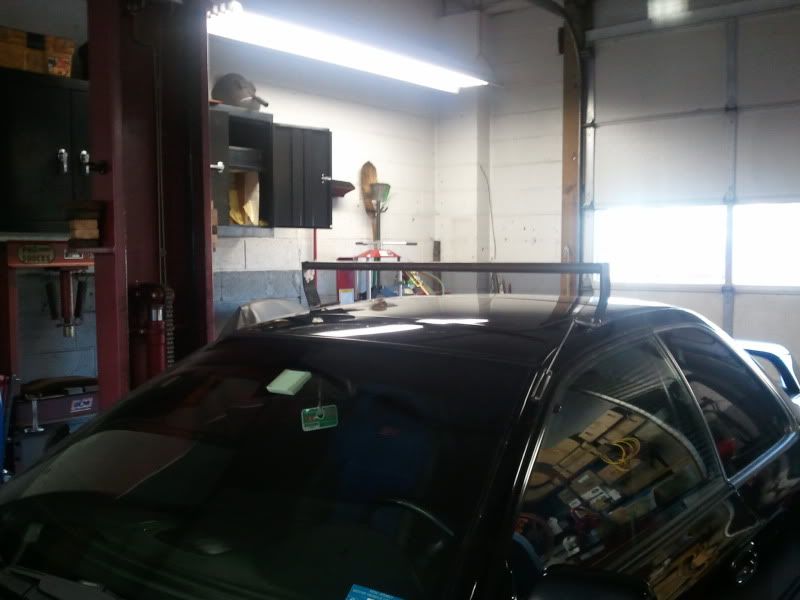 If you have any questions feel free to ask. And also if you have not done so already. Check out the MAP-Rally Team
http://www.facebook.com/#!/pages/MAP-Rally-Team/275321697730
and give us a "Like" We race a 1999 2.5RS in Open Light in Rally America.
Cheers, Pat