2000 Impreza (Awaiting Swap)
Discussion Starter
•
#1
•
MUST READ STORY!
So as you all know, obviously I bought a STi and Im swapping. Well being down at school I have not had time to drive home and work on it. Plus its cold and I dont have all the tools I need. So its just kinda been sitting in the garage. Poor RS is stuck outside
Anyways, so here is how the story goes. For those of you who don't follow Rally Racing much, there is a race called Sno* Drift up in Northern Michigan, also for those unfamiliar with the area, Northern Michigan gets POUNDED with snow due to the big lakes we have around us. Anyways, a driver unfortunately wrecked his car on the first stage, lost control on the ice and hit a tree with the front of his car. Him and his co-driver where unharmed! Well obviously he was on the market for a new front end, he drives a 06 STi. He posted a wanted add for a front end of an 06 on a facebook page and I sent him a message and told him I would sell him my front end off my STi, hood/ bumper/ fenders/ headlights all for 650$. He liked the deal, but he then proceeded to tell me he needed the Core-Support/ Front clip as well.... I told him Im sorry I cant help you, Im down at school, I don't have the time nor the tools or the knowledge to tackle that project.... Didn't hear from him for a day after that. He then called me a day later and said, "he I got a new deal for you", and I said lets hear it.
He said he was willing to drive from his house (About 2-3 hours north of mine) to my house, pick up my STi, take it to a mutual friend of ours (Another Rally Racer, tenebrion or Drew co-drivers (Silver RSTi coupe) for our mutual friend). He said he was going to pay our mutual friend to help him take apart the STi. From there he would pay me for the whole shell, AND DROP THE PARTS OFF BACK AT MY HOUSE!
HOLY ****! LETS RECAP!..... He picks up my car, take its apart for me, pays me $1000 for the shell, and drops the parts off back at my house?... Didnt even think twice... DONE!
So we ended up getting the whole car dissembled in about 8-9 hours. It was a BLAST! I learned alot, had a blast, and even better.... The Girlfriend drove from our place down at college to my house and hung out in the garage for a few hours!
Big thanks to all that helped! Thank you Drew!
Enough talk! Lets see same damn pictures already!
To start off the STi had to be taken out of the garage.... This is the garage
:wtf: I had to shovel all that!!! And it was all hard snow!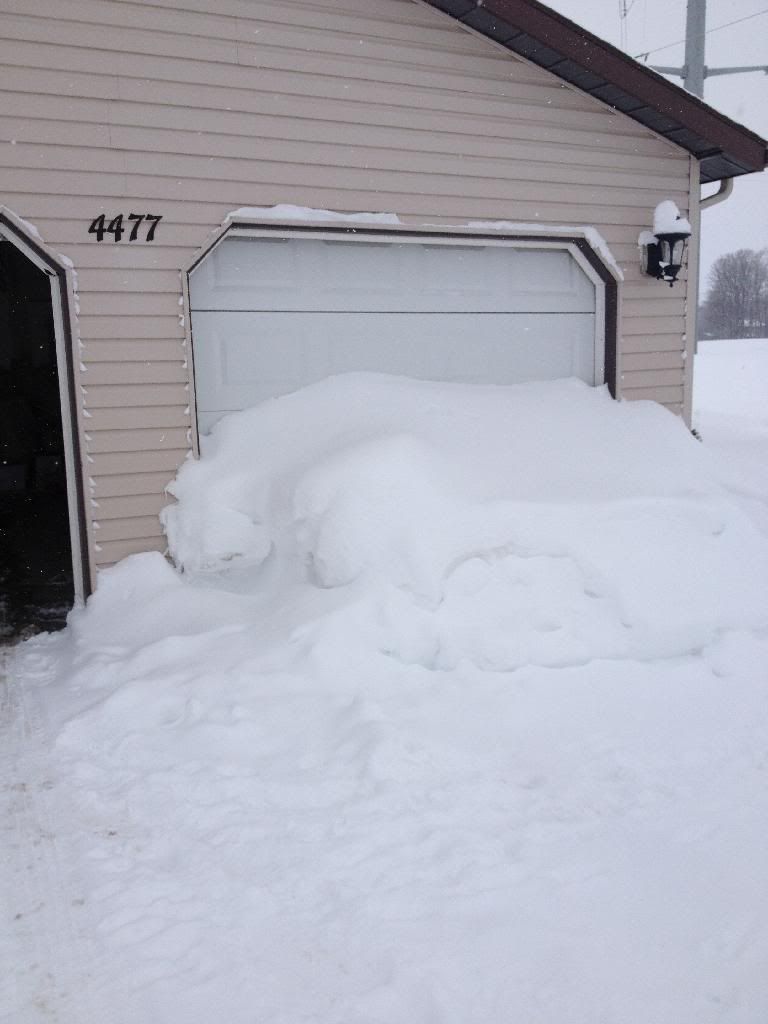 Then I went to unbury the RS.... This is half unburyed...
There is a car under here? No way?!
OHHH There she is!!!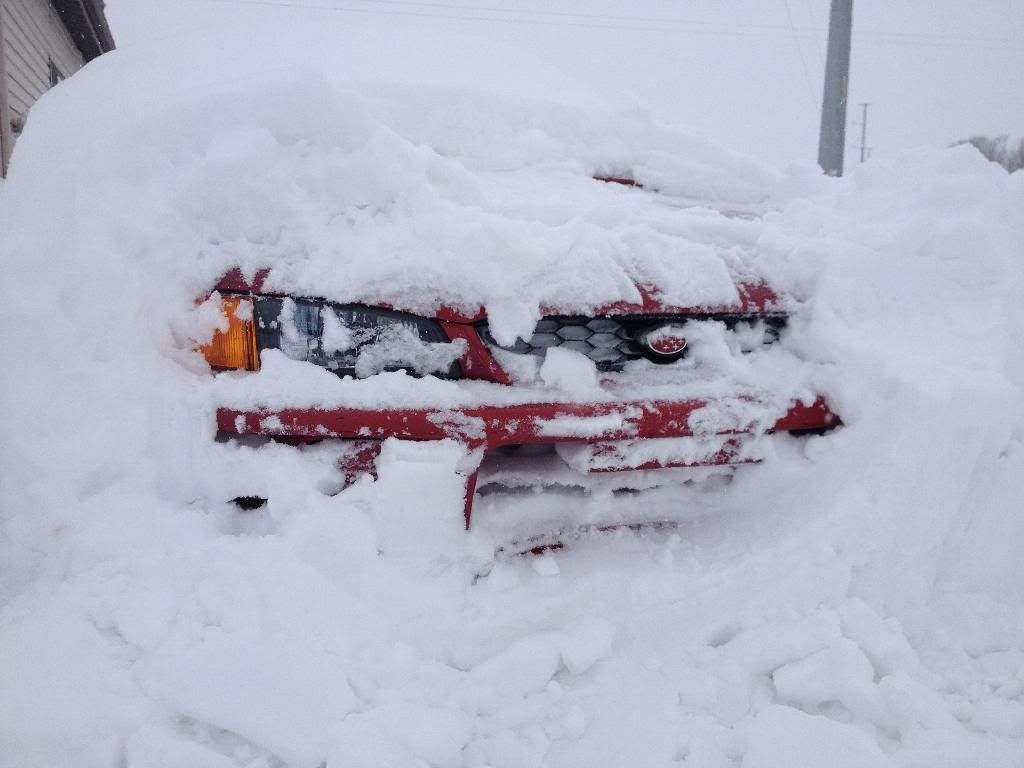 Jumped into the car, went to start it and nothing... I figured dead batterie, so I popped the hood.... Guess what I found.
So from there it turned into a archaeology dig...
Heater Didnt do ****, so I finally poured hot water all over it, and it still didnt start even after a jump...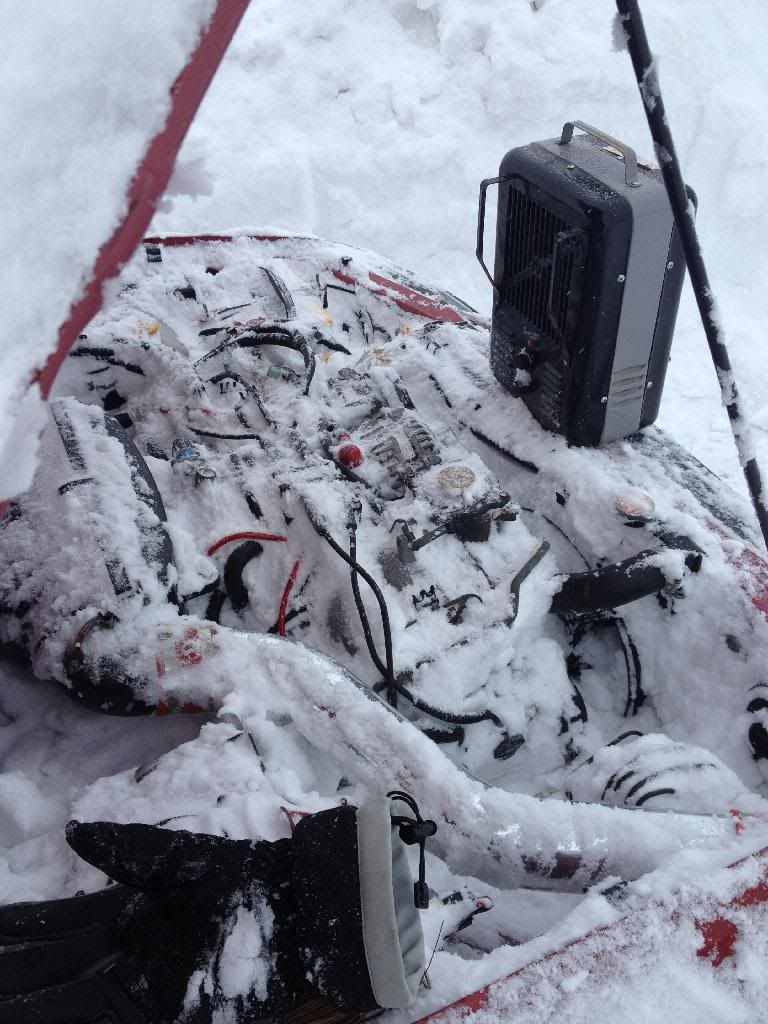 From here on out is STi pictures!
Dash is out! Thanks again Drew! Its like hes done this before?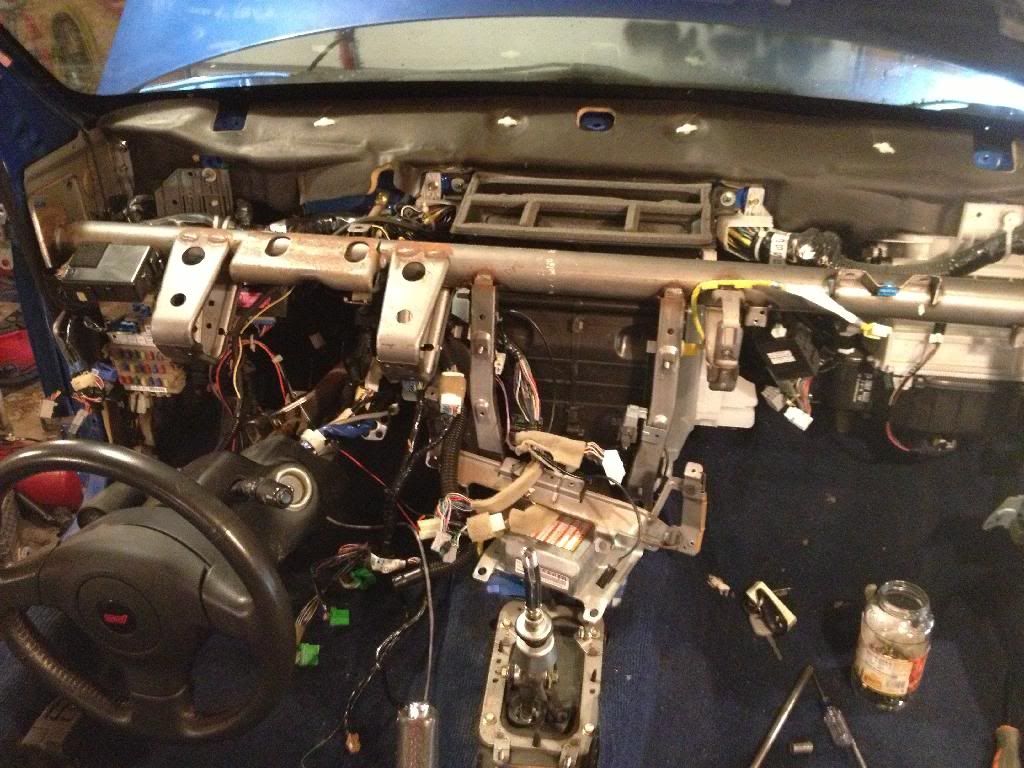 Remember this? Yeah well while taking apart the interior we found a random ass switch? Guess what the switch was to... yup, he had a butterfly type system in the down pipe, he removed it though. To explain, with this system you could run the exhaust normally down the Stock STi exhaust to make it quite, or flip a switch and do a open dump right out of the downpipe)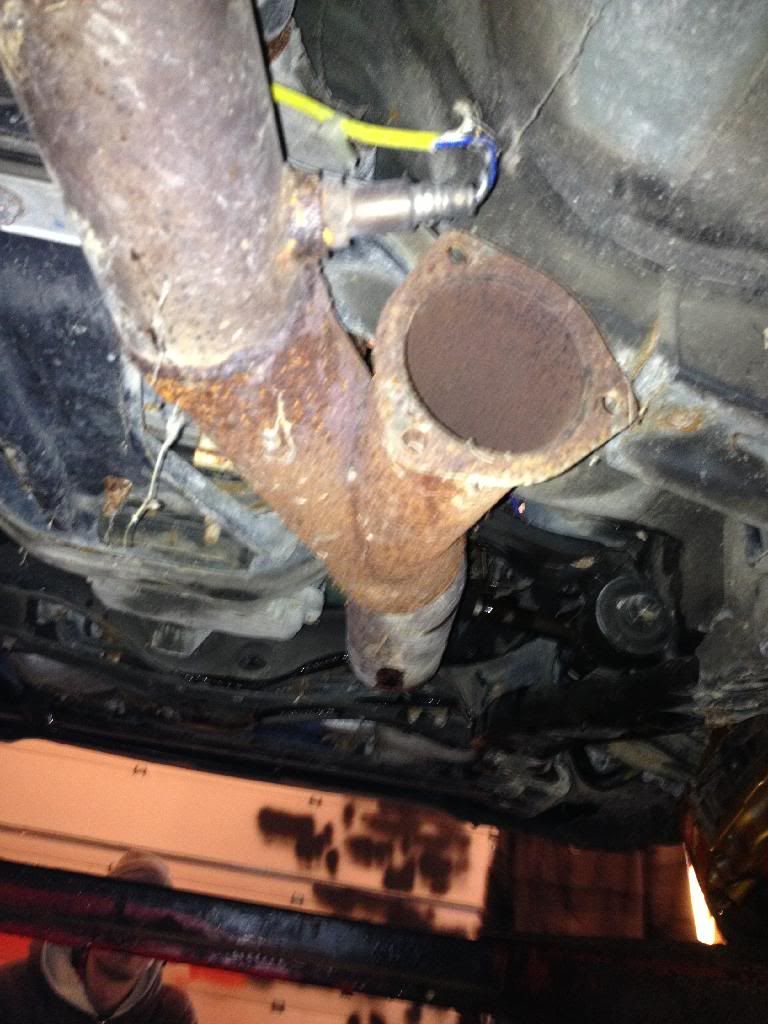 WIRING!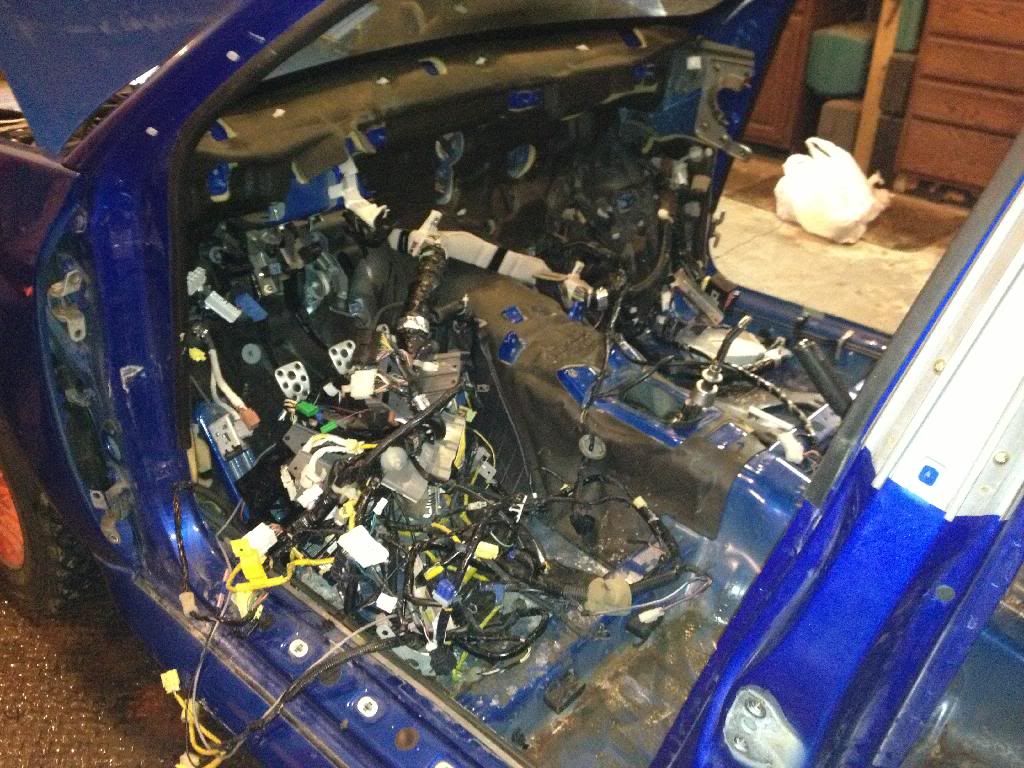 Drew and myself working on the front end.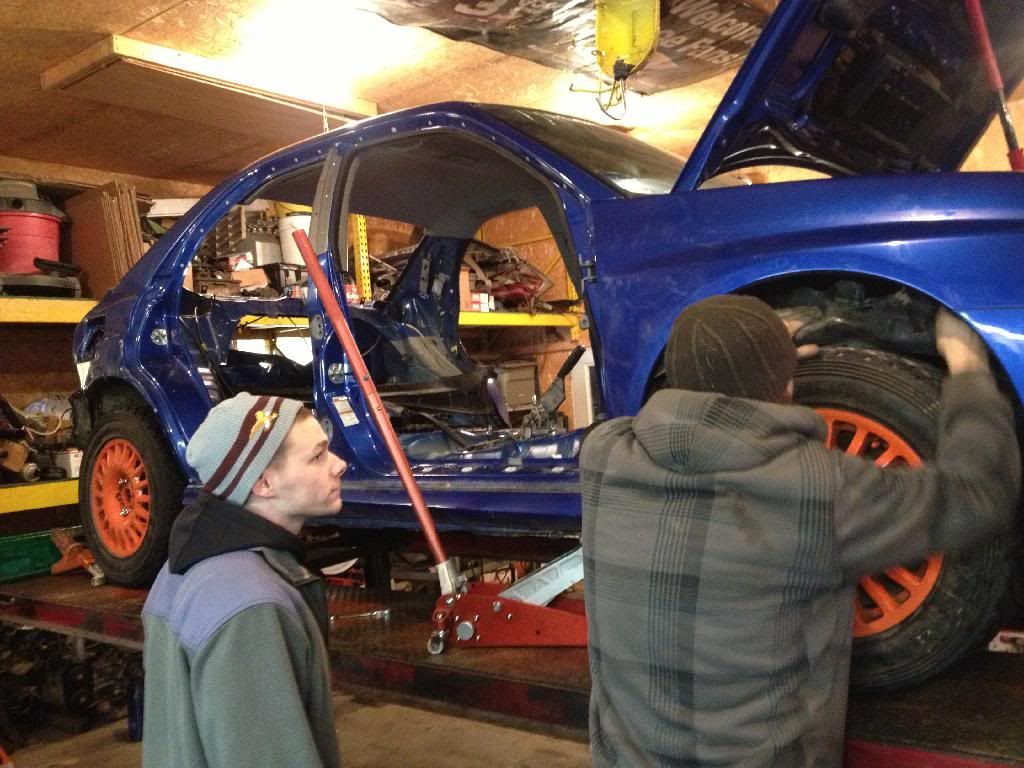 Me!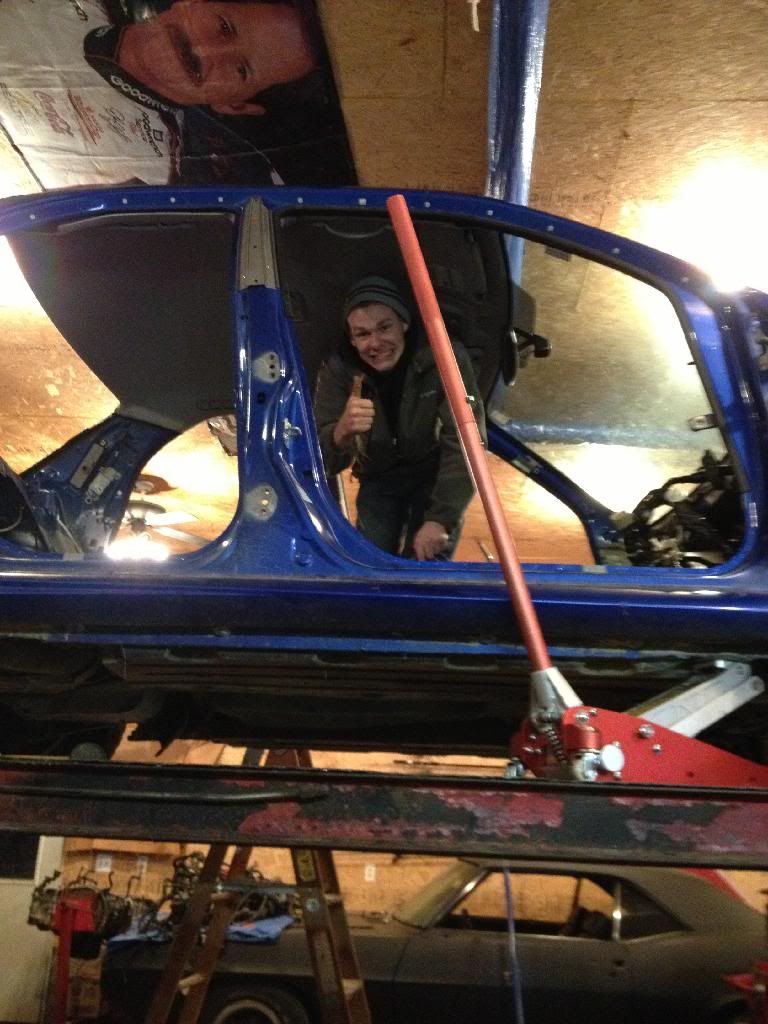 Dropping the front end, engine trans, subframe, ect.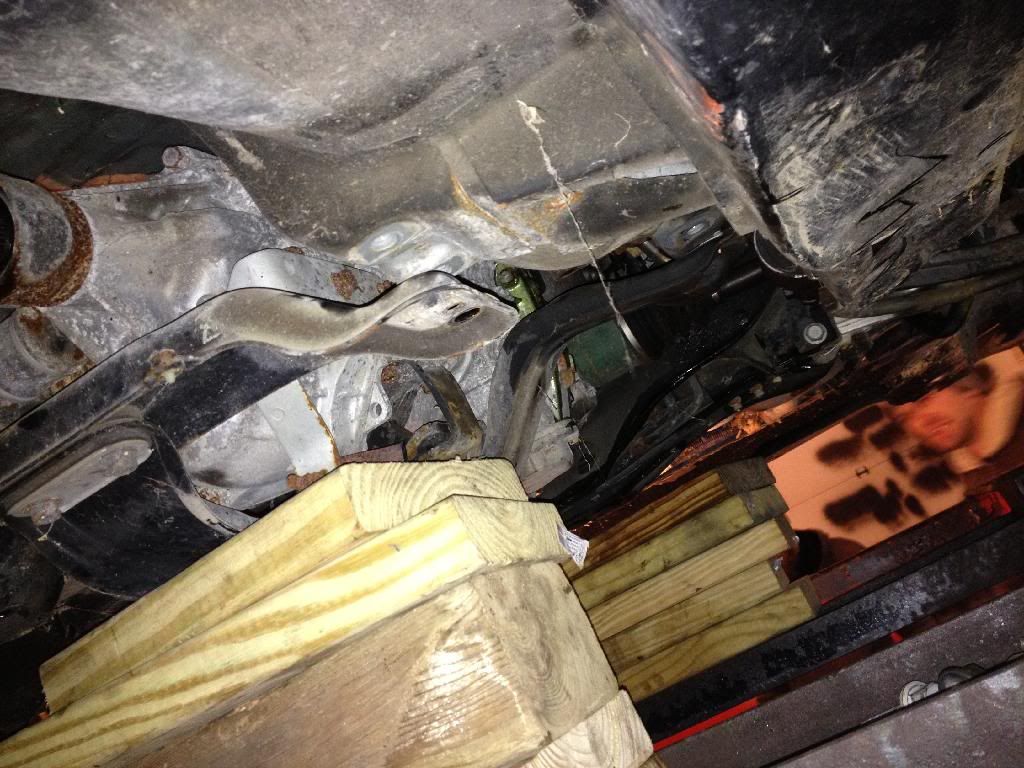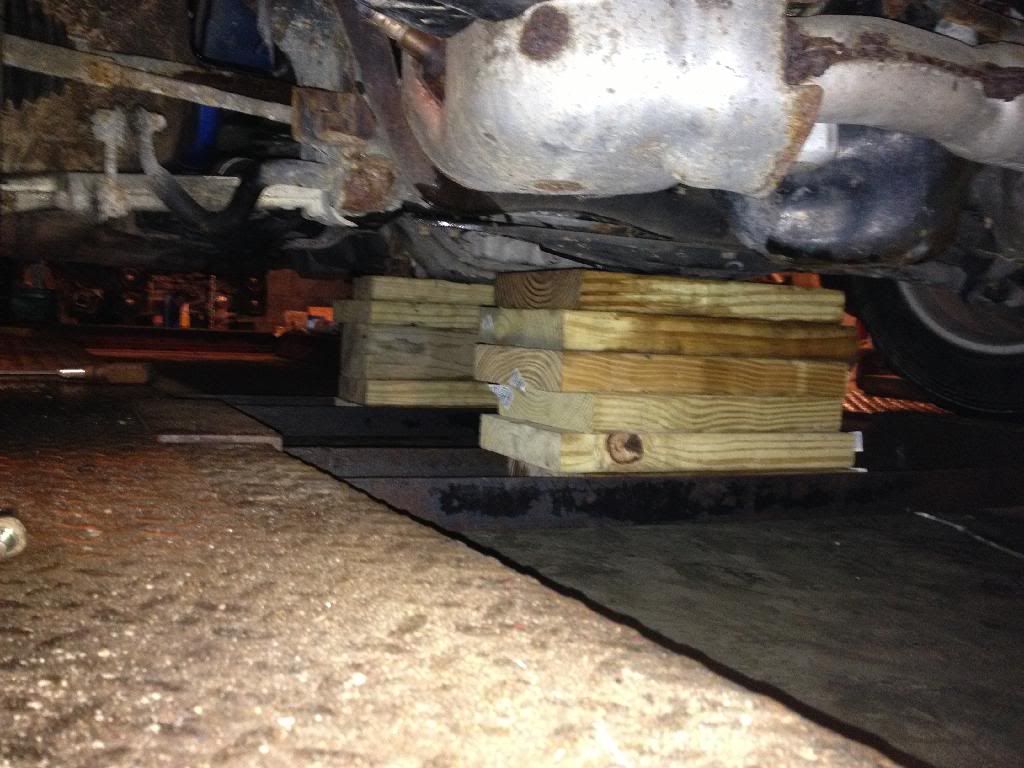 That wheel gap!
Doing a Wheelie!!!!
Monster Truck STi???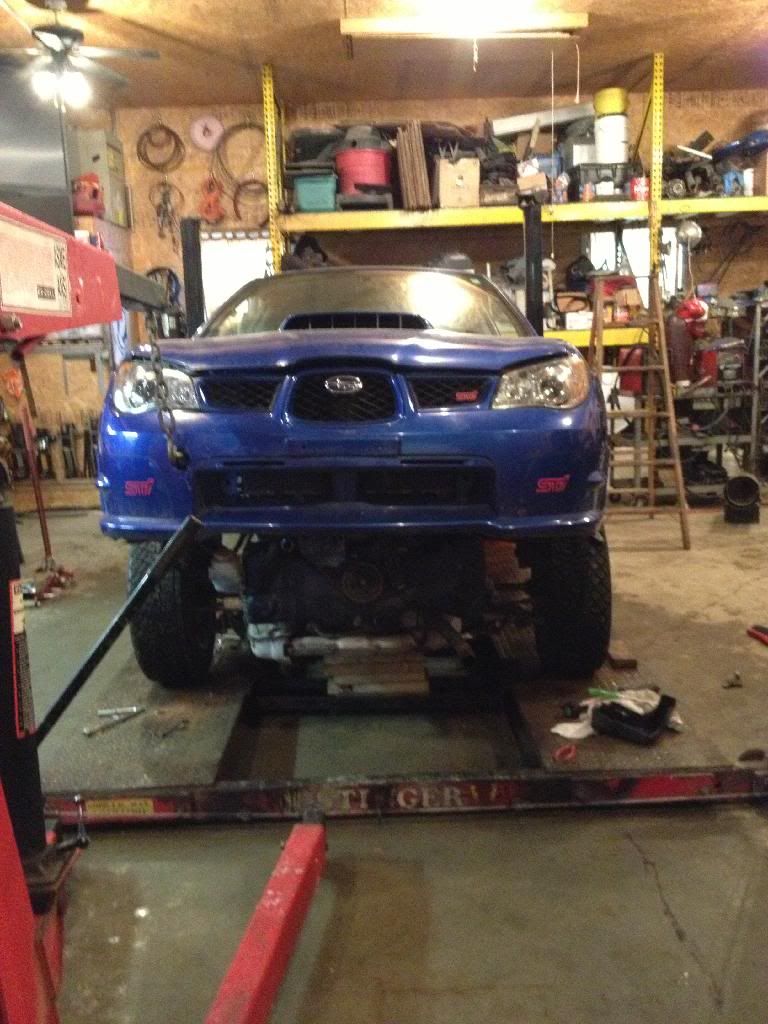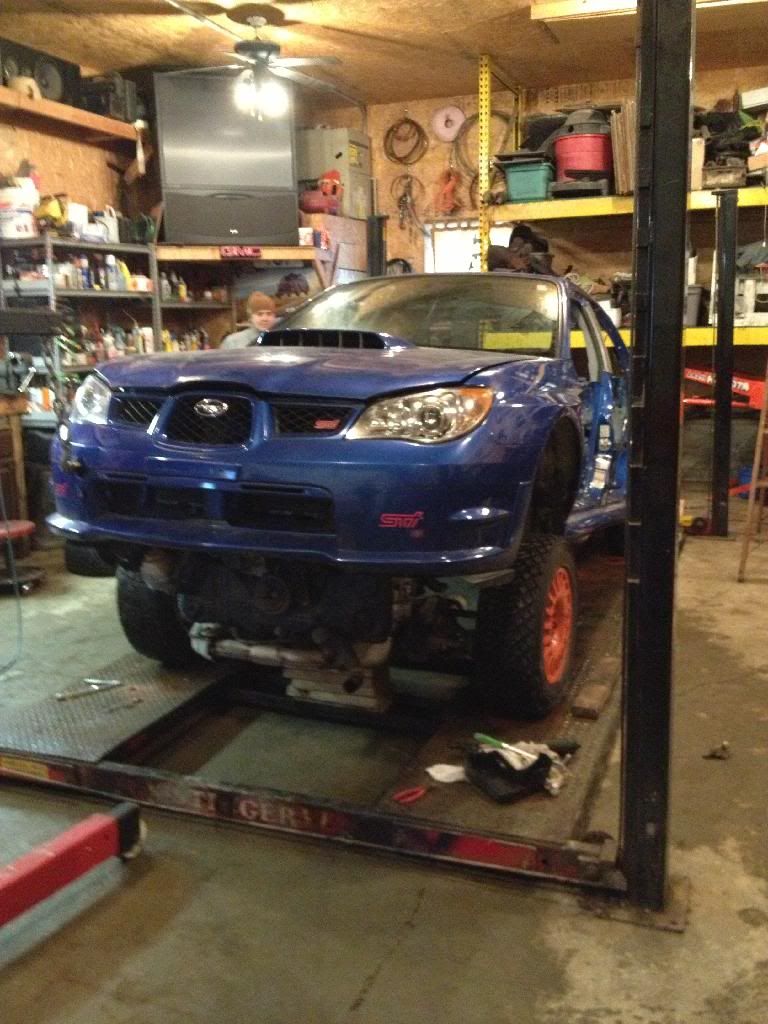 You could say I work out....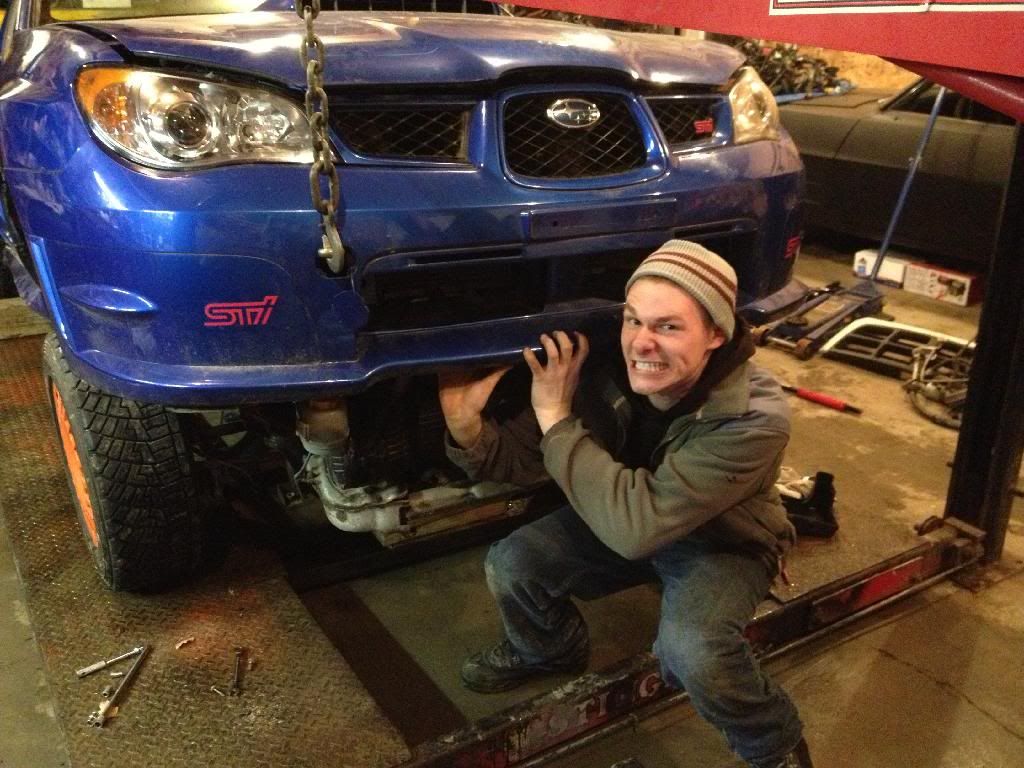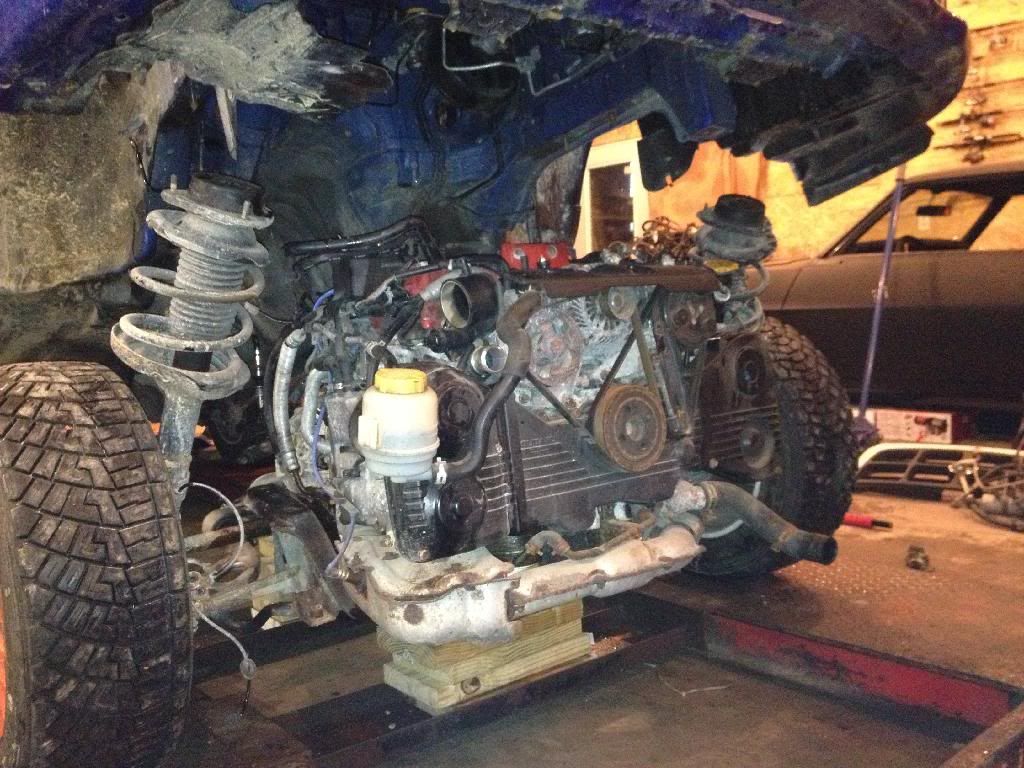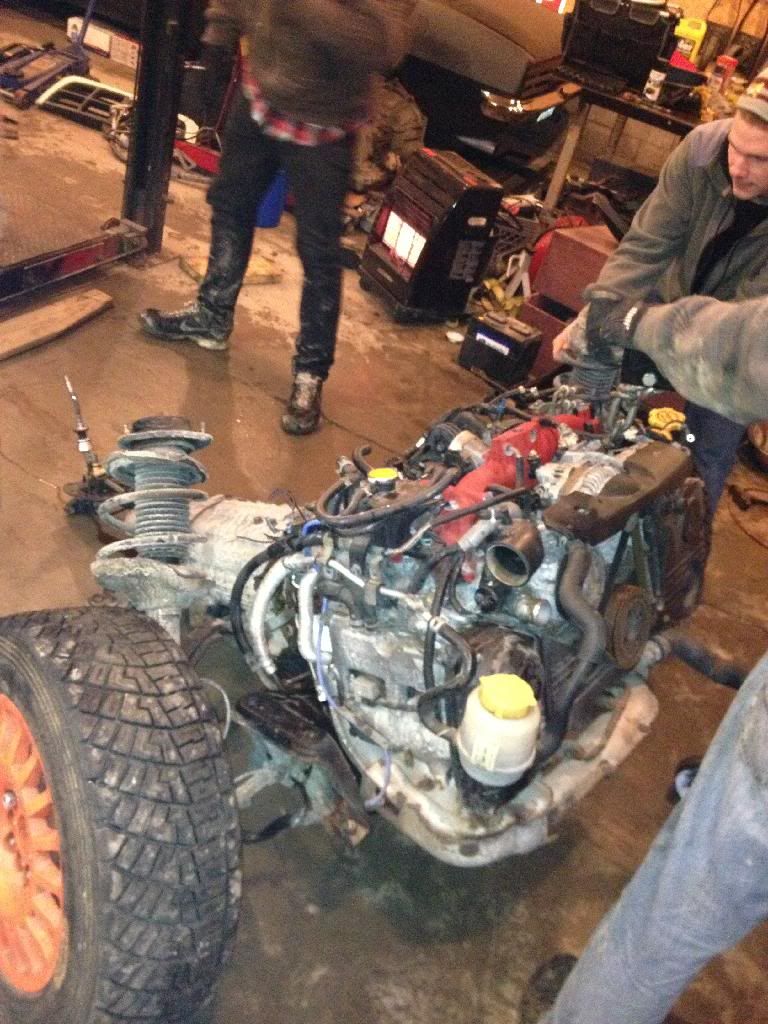 Figuring out the front end. Girl friend looks so happy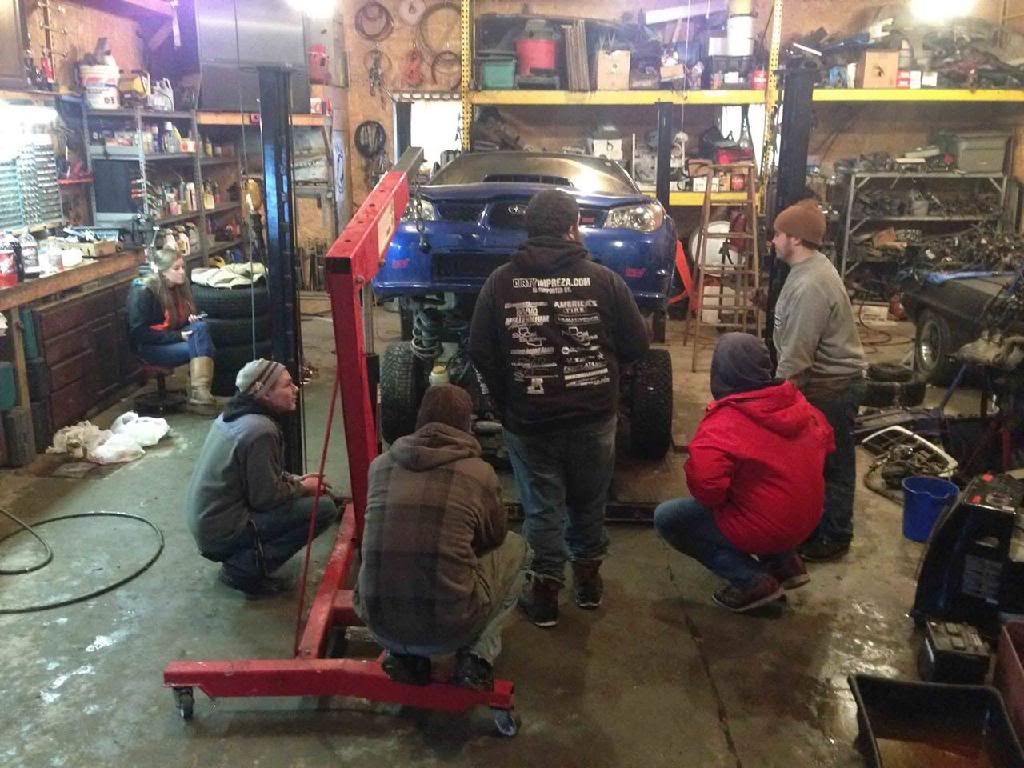 Front end is out.... Time for the rear.... This part was sketchy, but with only 3 people at this point... we didnt have a choice.
To explain, we ended up balancing the chassis on monster truck tires, unbolting the rear, and lowered the lift with the rear unattached and left the chassis in the air. Once the lift reached the ground we pulled out the rear end and lifted the lift back up to the chassis.... SKETCHY!
:blol:
rojectsti.com::wtf: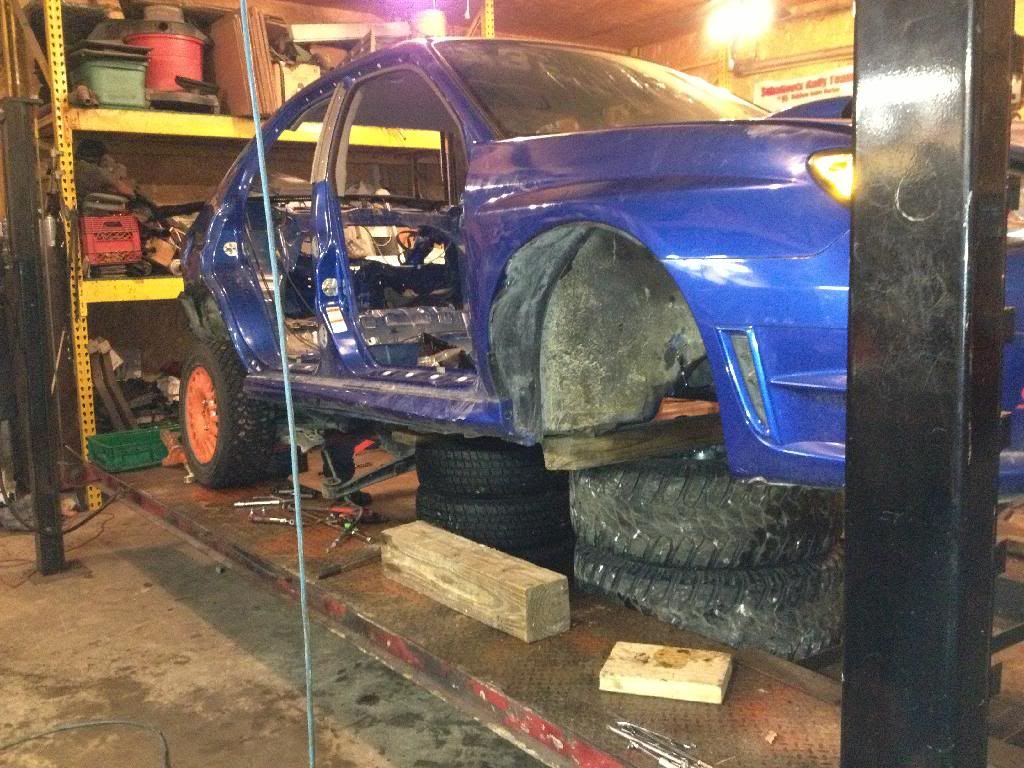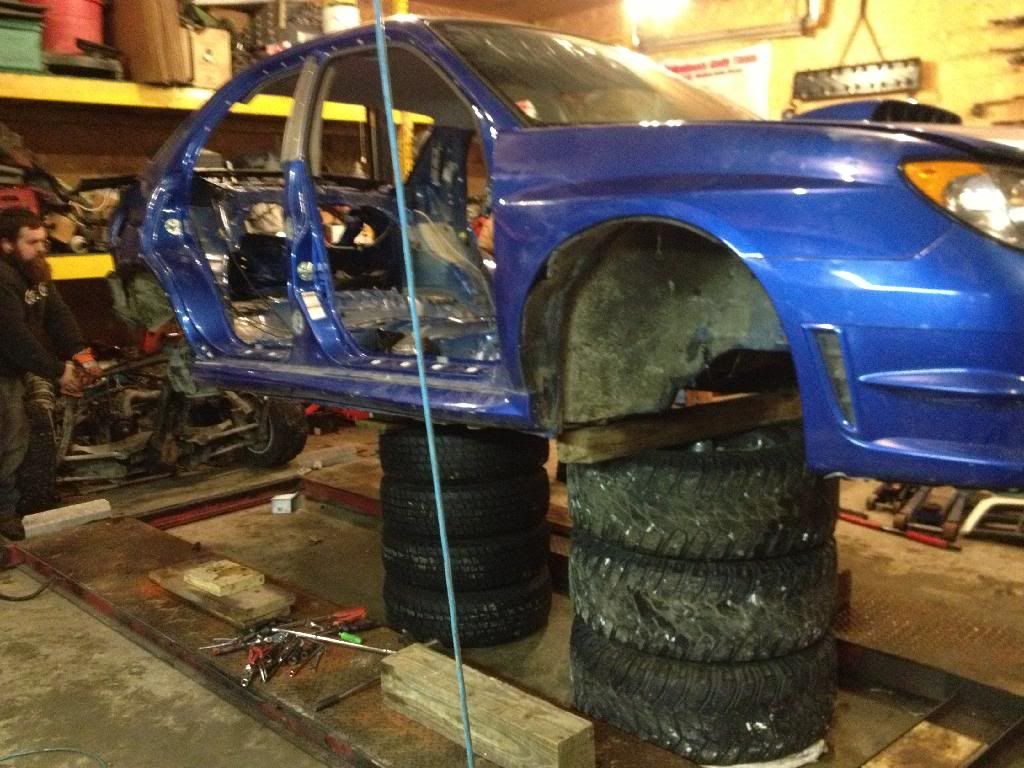 Holy crap!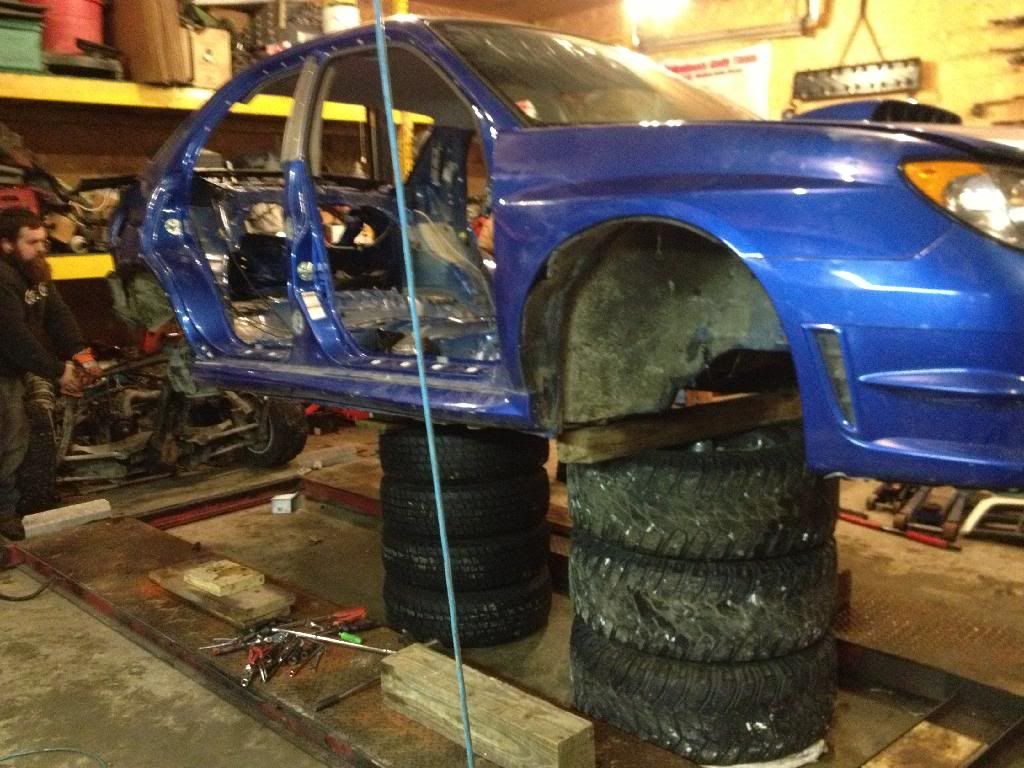 Rear end is out!
Empty Shell! After 8-9 hours we where done!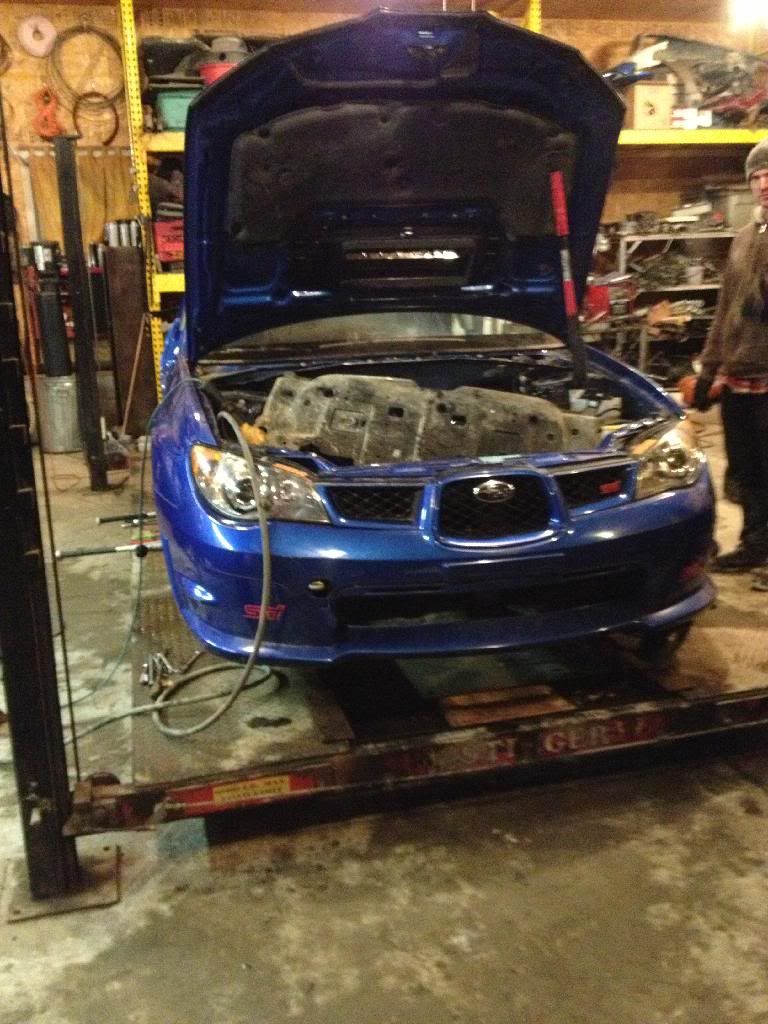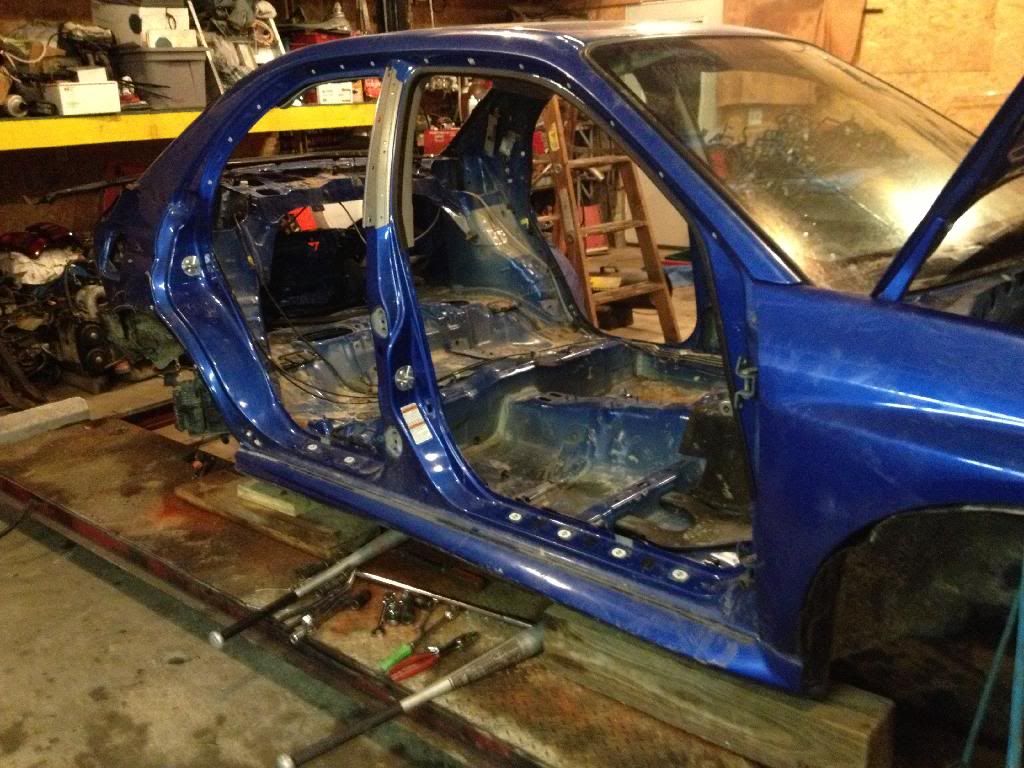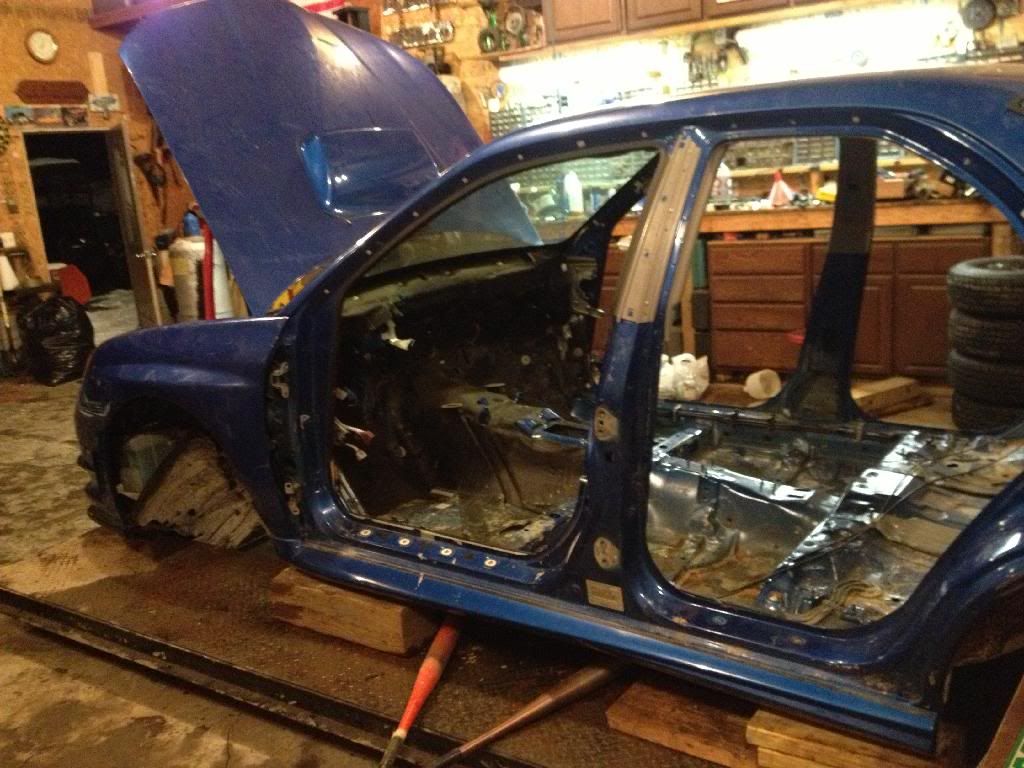 a bunch of parts in the back of my dads Blazer.
In my garage all tucked away.... somethings missing here? lol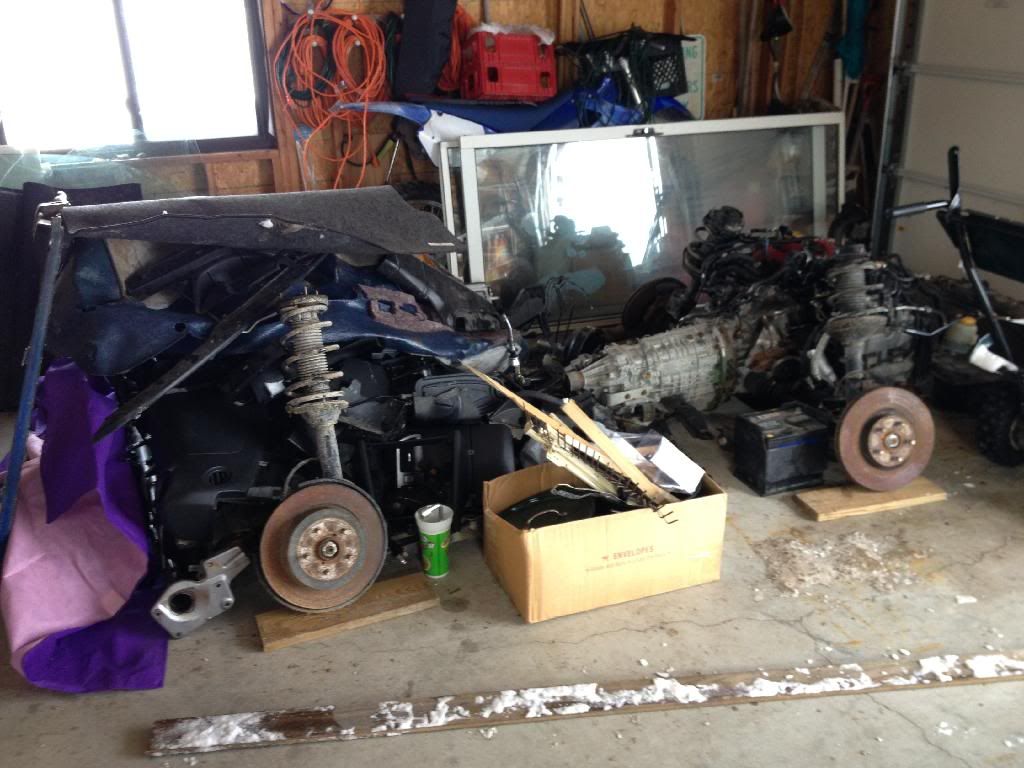 Here is my Amazing girl friend who drove 2 hours to come see me
She wore one the many Subaru shirts I bought her
Shes really into Subaru's now, she wants one, I almost bought a 300$ beater and she threatened to steal it and leave me with the Toyota Camrey lol.
She said she cant wait until summer when she can be in the garage and help me!
Me with the MASSIVE Bremobo's! :drool::drool::drool::drool:
Chassis loaded into his truck lol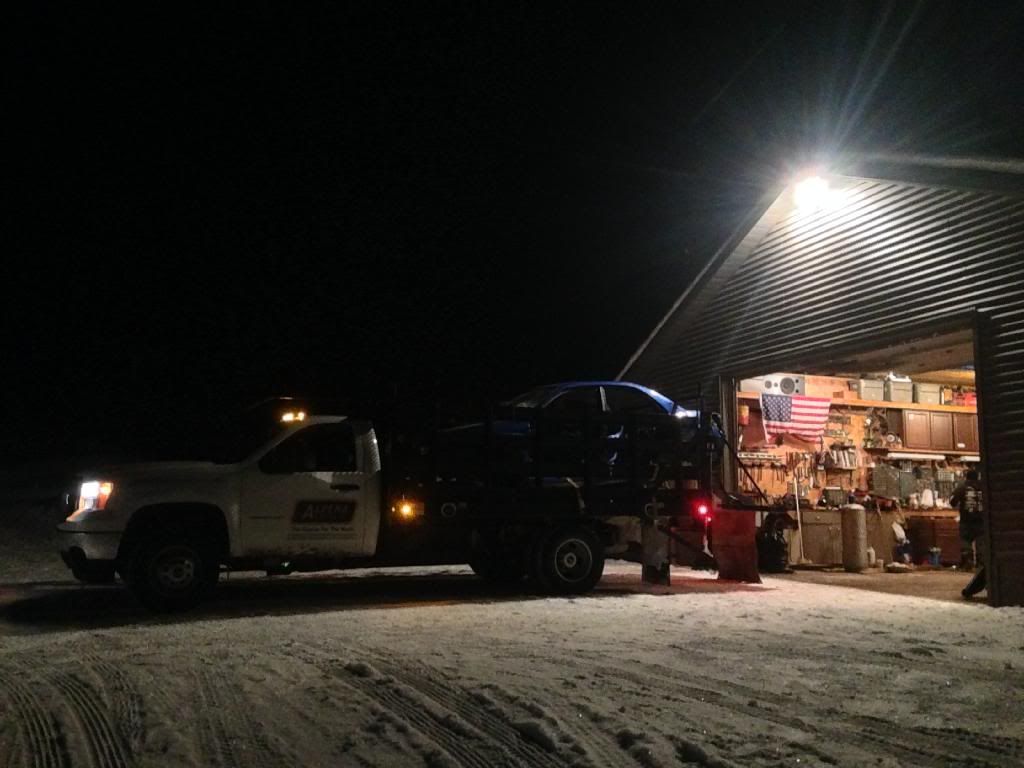 Parts!