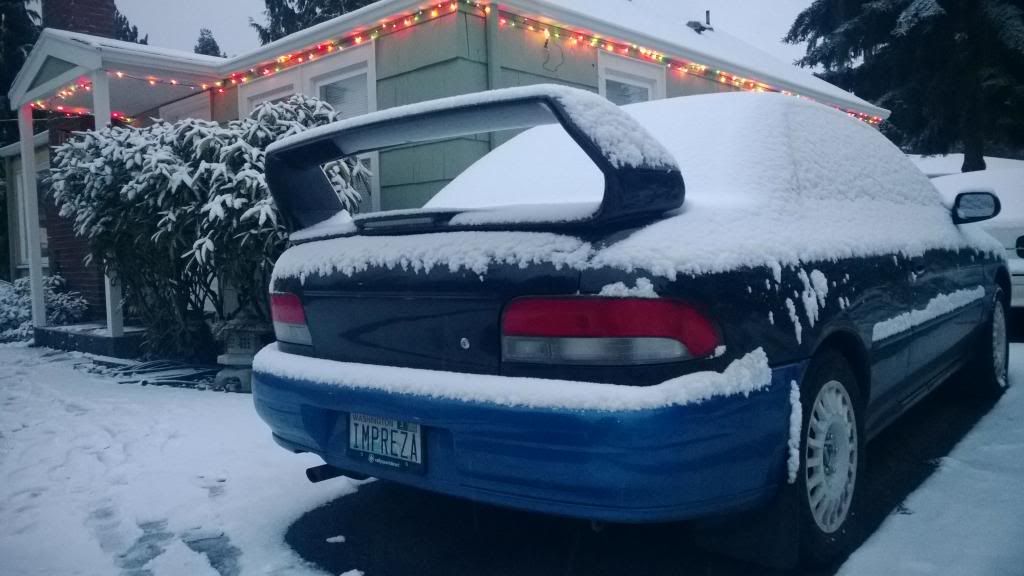 Congratulations to JO5HUA for WINNING
November's
Subaru COTM Contest
(-Holiday Lights-)​
Q/A:
Q/A
RS25: So, how did you find RS25?
It all started when I had to take a dump really bad and I went into the bathroom at this bar called Changes in Wallingford. While I sat on my porcelain throne reading all the colorful graffiti I eventually found a warning to everyone about super aids and how a somebody named BRZCory on RS25.com has been spreading it to the community. Naturally I went straight home, well not straight home I stayed in the bar and partied for a while but when I eventually got home I looked up super aids and decided that somebody must take action. I created a user name on RS25 looking for this "BRZCory", my patient zero.
RS25: Since you have been here, how has the site helped you?
The biggest thing I have taken from the community was when everybody was there for me after my accident. I was getting really depressed sitting at home watching my days escape me, high on opiates and benzos, with nothing better to do than complain to whoever would listen. Nobody else in my life really understood the trauma of seeing your car sent off to get crushed twice in 6 months but the members of RS25 understood what I was going through and surrounded me with love and I am forever thankful.
RS25: What was your first Subaru?
My 1998 Legacy 2.5GT, taken from me too soon. I will always remember the good times we had in the mountains, climbing ice covered downtown Seattle streets while pedestrians watched in awe, wrenching on every nut and bolt to make her perfect, finding notes on the windshield from people who love the lift and even just sitting in the passenger seat on my lunch break chowing down on a sammich. I put that car through a lot of abuse but it was always good to me, too good.
RS25: Tell us about your car. Any plans of modification or upgrades?
My car is a 1998 Impreza L with 209k on the trusty 2.2L of fury. It feels good to finally have the car I have been looking for since 2006 but I wish it had been through a different set of circumstances. I have been focused a lot more on safety since my accident so my next mod is likely going to be adding 6 point harnesses to the Recaros. Eventually I will get the FXT swap in there but that likely won't happen until Spring.
RS25: Help us get to know you. What is your name and what do you do? Have any hobbies?
My name is actually Joshua believe it or not. I manage a meat shop for Fred Meyer where I have vulgar conversations, that would get most people fired, all throughout the day. I love food, especially meat, love to cook and really try to let all my creativity loose in the kitchen. I love spending quality time with my family so I don't really have much time for any hobbies other than cars, food and screwing around on the internet but I also like to garden and care for plants and animals. My life really all comes down to the feeling I get when something I have put a lot of time and effort into looks beautiful and is something I can be proud of, that is what I live for.
RS25: If you could describe yourself in one word what would it be?
Indescribable
RS25: What inspired your photo?
Snow was in the forecast again and that's when I had the idea. All night I was thinking about it and I parked my car in the perfect spot. I had a dream that this photo was going to mean victory at last and when I woke up I went outside and started to snap photos but it was still too dark. Just after sunrise the lighting was as good as it would get and I changed my original submission. My first idea was to get it all clean and take a photo like Dylan's with the reflections of all the lights on the car but they all turned out crappy.
RS25: Well thank you for your participation in the contest and congratulations on winning. Any other comments you would like to add?
I would like to thank all the people that voted for me and not for Dylan the cheater. I would also like to thank Dylan for finding courage and admitting that he is a cheater. Most of all I would like to thank Joshua, not me the other Joshua, for not creating a buyer beware on me for not sending his brush guard hardware in any sort of manner that could at all be considered timely. It's all in a box that's ready to ship and I have no excuse, I am just a horrible person and haven't taken it in yet.