Orgainization time!!!
SVX MASTER FACTORY SERVICE MANUAL

(including wiring diagram)
http://www.phantomotaku.com/SVX/
Subaru FSM's for most models (Including wiring diagrams):
Directory /Auto/Japan/Subaru/Impreza/
What radiator I used:
Access Denied
Though I had to make a custom crossover pipe to get the outlet to the thermostat cover.
Fun with 2-piece tophats, and H&R's
Fun with a spinning EVO/BRZ story
New garage!
ADMIN APPROVAL!
Bought the wagon after months of searching for a black OBS for sale. Ended up driving to new york for a Green '95 L with 97,000 miles on it. $2500. It was a 1.8, completely stock... It didn't stay that way long.
Very first mod I did to it was to put on my spare set of WRX wheels. Khumo ecsta MX in a 225/50/16 made it handle pretty well for a shitty little L.
Next I put on a set of Hella 500 amber lights. Made up some brackets and put 'em on the front bumper where the licence plate went. These were followed by my FF1000's which were left over from my previous car. Bent up some brackets and put 'em on the roof!
Next up was the sound system. Again, a leftover from my previous car, Elemental designs 11kv.2's in a sealed box with a 1200w amp. Followed that up with a pioneer head unit.
Swapped on an exhaust next, big mistake, the shop that did the work did everything completely wrong, and now i'm left with ~4" of ground clearance... Not happy to say the least, but at least now my car has a big 'ol fart can and is loud as fsck.
After that, I decided to make it handle a bit better. I had a WRX swaybar sitting in my basement from my previous car, but the L had no swaybar brackets. So I had the fun task of replacing the rear lateral links, and installing brackets so that I could put the sway bar on. Lots of fun.
However, the sway bar was the second best mod I had ever made to a car, it completely changed the way the car felt and handled. The only better mod? the tires.
After the sway bar, my 1.8 decided that it really wanted to kill me. In early feburary, 2007 I had some stomach pains for a day, got really really bad at night, decided at 6am after getting no sleep that I probably should go to the ER. So, I dragged my hurting ass outside, got into my car and turned the key, nothing. Wouldn't turn at all. It had been knocking a little bit earlier that day and apparently decided that running my ass to the ER was too much of a hassle. So I got a ride from a friend, only to find out that my appendix had burst. A week later when I got out, I had some work to do.
Found out that the motor was seized, probably due to a spun bearing of some sort. In any case, had it towed to mom's house and was without a car. About a week later, I find the object of many many hours of searching, a used RS motor. 2.5 liters of fury, 165hp, and the ability to exceed 100mph in the L was within grasp.
So, On began the swap. Only thing is, i've never swapped a motor, doctor says "Dont lift more than 20lbs or the internal stitches will rip out and you'll be right back in here and possibly die". Oh, did I mention this is februrary, in northern michigan... So yeah, snow, lots of snow. Also, I have only hand tools, no air here. And the final icing on the "i'm massochistic" cake? I'm gonna do this in my driveway, which is dirt, frozen, and outside in the elements... it's supposed to snow the whole weekend...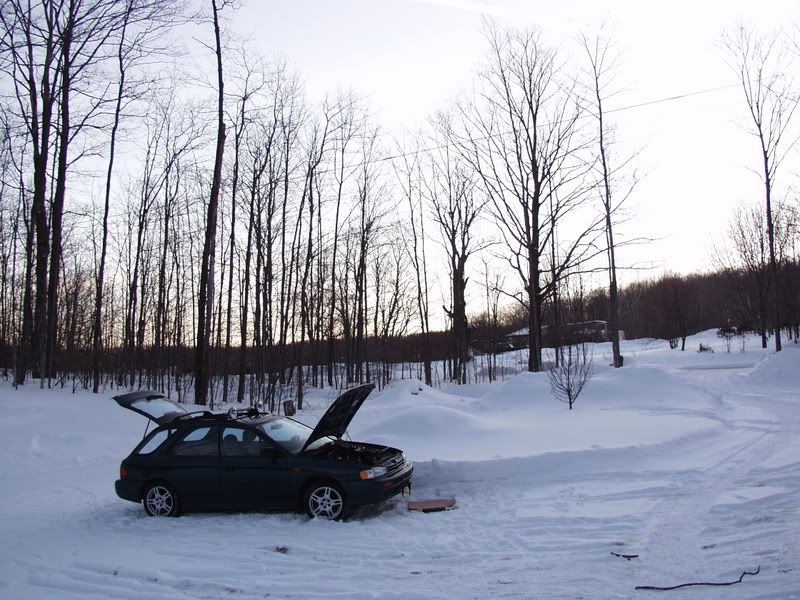 So, I drive mom's truck to detroit, help the guy separate the motor/tranny, drive back home, arrive at mom's house, spend an hour pushing my car out of a snowbank, by hand, by myself. It was fun. Pull the 1.8 out, put the 2.5 in, McGuyver some **** and get it running. Loads of fun.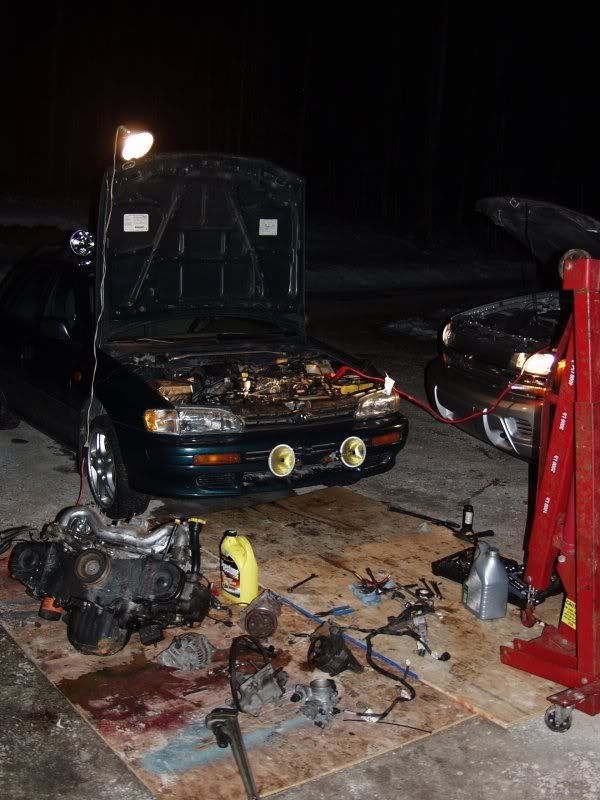 So I had 2.5 liters of fury... right up until a trip to the UP. It spun a bearing, lost power, overheated on the way back, and ended up being towed back to mom's house.
So I bought a buick.
Eventually I had a friend with a crashed OBS, so I bought his car, swapped the 2.2 in, and now have a GF4. Still parting out the OBS, but the 2.2 runs like CRAP. I keep getting a CEL that shuts off one cylinder for emissions ****, real pain in the ass.
So future plans:
RS brake upgrade, just need the calipers/brackets for the fronts, have some brembo rotors left over from long time back. May go straight to WRX, but that's all $$ dependent.
Disk conversion on the rear brakes
Suspension (got OBS stuff going on next week for winter clearance) but need some good summer stuff
New motor. The 2.2 runs, and it gets me from a to b, but there are some huge problems with it and i'm really missing the 2.5 powa. SO i'll either find another 2.5 and get a turbo kit down the road, or go straight to some sort of factory FI powerplant, be it WRX, STi, or other.
Interior. Gotta love tan, i've got black in the OBS, but need the time to swap it all over, so eventually...
Sound. I'm not a huge audio guy, but I know I need some better components.
Exterior. Standard stuff, RS hood, STi or OBS wings, mabye put on my v2 wheels, RS front bumper, paint the car black, tint the windows, add another set of driving lights.
NEW EXHAUST. I hate mine, i'm very tempted to just rip it off and run without one, but hey.
So that's it for now, i'll throw up some more pics once I get home and stuff... so yeah.
See ya at Sno*Drift 08
-Cory