1998 Forester on Orange 57F
Discussion Starter
·
#1
·
So I bought my RS about 1 year ago! I can't believe I kept it this long but so far it has not let me down and gets me to work every day. Thought I would share where it has been and where it is going!
Where it was when I bought it:
AVO turbo kit
17" bronze 5Zigen FN01R-C
IPD/Rallitek front rear swaybars
Version 5/6 Interior
1 Day after buying it! I added:
Momo Steering wheel
New Fogs
Later that week I added:
Amber fog covers
STI floor mats
Where it is now:
So it's been a year and it looks like this today. I stole these from people taking pictures of it at the 2008 WCSS-X: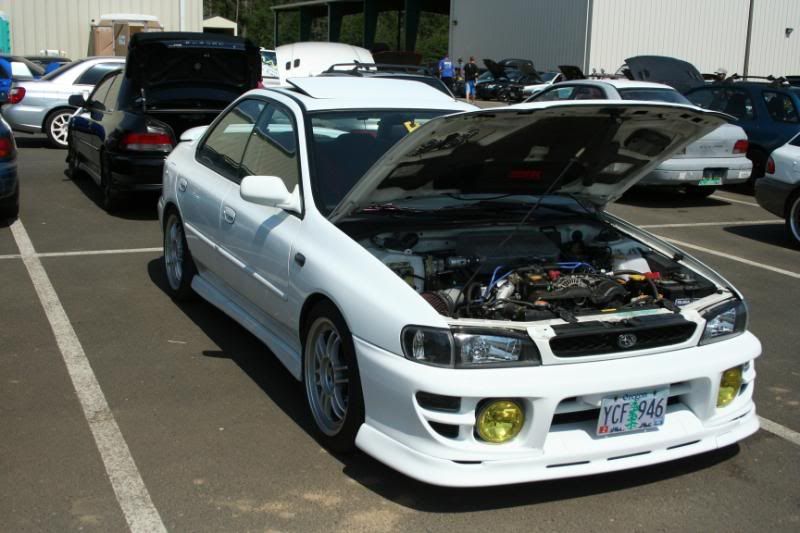 Still AVO kit
H&R Springs
AGX struts
New RS bumper
P1 front lip
Painted to match side skirts and front lip
Enkei RPF1 17x8
Where it is going: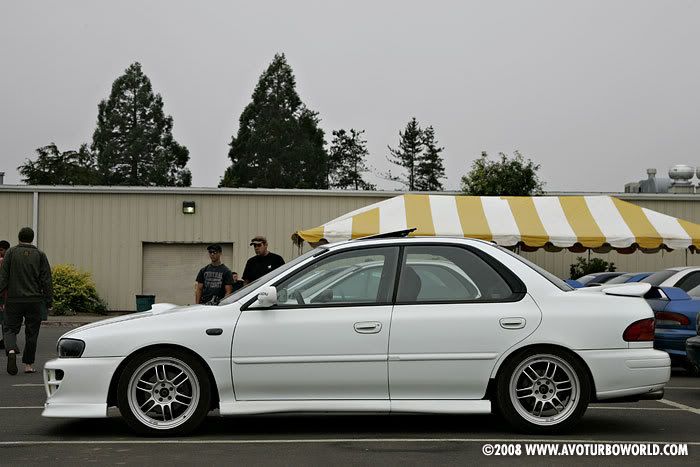 Rear spats need to be installed and painted
going wingless (Some one trade me there trunk!)
Going scoopless!
FMIC (need to put on, I'm lazy)
Just picked up some motor stuff. I did a write up on a RS hybrid motor with STI internals. Well Now I'm giving it away to my friend and going another route. I found WRX heads for a great price (Free!)... Rebuilt them, found STI cams for a great price (Free!)... Had BC valve spring and retainers laying around from the L so those went in too. Aquired another RS motor (Long block for free!)... rebuilding that with STI internals new from subaru.
So basically here is the setup:
RS-STI hybrid motor with WRX heads and STI cams and BC springs/retainers
Stock WRX exhaust manifold with STI up-pipe
18g turbo (Need)
Perrin inlet tube
Perrin Intake
Invidia downpipe (Need)
STI exhaust
LGT crossmember
WRX intake manifold with perrin fuel rails and modded injectors
WRX wiring swap
Openecu tuning
Walbro fuel pump
So what should I add to the list or do next? I need brakes! Think I might just do brembos in front and H6 rears.