Back Story
Winter of 2010 I bought my 01 Legacy, probably the best choice I've made in my short life besides purchasing a motorcycle but that's another story.
I purchased my legacy for about 4k, turned out to be a hell of a deal and came with a warranty which I would cash in on later. About 2 months after I bought my Leggy I encountered a problem, drinking coolant like it was coolaide at a bbq. Took it to a local subi shop and had them do the timing belt as well as the head gasket and was trouble free for about 3 more months. Had a coolant flush done on it with a chemical used to remove oxidation..must have plugged up the thermostat because.
On the drive home from the gym I started overheating :O, pulled off every few minutes to let the engine cool down and keep it out of the red and limped it home. Installed a new thermostat and found a bunch of funk encrusted around it -_-. I performed ANOTHER flush by pouring coolant in to the engine and letting it drain out again after getting semi full.
My next issue was this past summer about 7 months after the coolant issue. Rusted 1\4rs, for 600$ I had them cut, welded and under coated by a pro restoration place around the Greenville area. Not the best price but for out in the boonies it was damn good work and came with a word of mouth guarantee.
Table of contents/Progress links
How she looked when I bought her VS now
Comparison of my new 18mm sway bar to the old 13mm
How to get paint to dry in 41F weather.
Instillation of 18mm Outback Legacy rear sway bar
How to extend your sway bar end links
DIY Port and Polish your EG33 AT HOME!!!
Installing 07LGT seats in your BE/01 legacy L or GT.
Porting and Polishing of one of the EG heads
Nasty discovery while pulling the driver side cam's, worn valve tappets!
EG33 installed!
Ecu Removal
SVX engine control harness fed through the firewall without removing the dash
Griffin radiator install with custom brackets
Creating a CAI for 45$
Doesn't start/No spark? READ THIS!
Cooling fan install/Hood pin fabrication
Exhaust is done...for now
ITS ALIVE AND DRIVES
My observations of the 4eat handling the eg33 engine swap
Parrot bay coconut rum overflow bottle mounted and custom bracket fabricated
Front splitter mock-up
Hood spacers thanks to BRZcory!
Informative links/ideas/resources
Information on turbo builds
Information on turboing your EG33 via remote mount
Turbo your EG33 with stock internals
More info on turboing your EG
Info on fueling and how to trick the ECU
Info on firming up the shifts without a shift kit/valve body job.
Info on how to reduce low RPM hesitation and improve ignition
Piston shaving profiles and related CR changes
Service manuals/PDF's and pinout information
SVX service manual
2001 legacy BE/BH ECU pinout
EG33/SVX ecu pinout
My 01 legacy ecu pin-out
Wiring Help
No power to your injectors? Check here!
Quick wiring guide and easy tips
Wires that I merged/spliced/combined
Wiring your EJ fuel pump to EG33 ECU
How to merge your EG and EJ harness
Transmission related
How to remove your 4eat
How to wire your 4eat to shift with the EG33 swap
Engine related
How to get your EG33 to fall down flat on the engine mounts
Taiden's EG33 Swap V-log
Save a few lbs and money by making UEL headers
Vacuum lines
Custom cam profiles for massive power
(See: EFI logics EG33 swapped RS)
Vast knowledge base on making power from the EG33
H6 related parts for custom fabrication
Vacuum line routing post 1998
Turbo cams
Billit Connecting rods
MISC helpful things
H6/3.3 liter parts
Pulling EG33 ECU error codes without a diagnostic port via flashing CEL light
Piggyback and tuning resources
AEM FIC how to set-up
Sensor correction how to
Correction chip
Future mod list
Mods done
EG33 with custom 2.5inch custom exhaust
Aftermarket Trans cooler and tranny lines
Bigger mud flaps (Ikea or Napa special)
Lift kit for next winter (Legacy Outback springs\strut assembly)
ISC n1 coilovers w/swift springs
Fender Flares
Griffin dual core aluminum racing radiator
18mm Legacy Outback sway bar
17x7.5 alloy wheels
Port and Polish the EG33 to unlock those extra ponies!
Metallic brake pads and new rotors
14.3lb SSR-C forged wheels, bronze.
Ebay cat-back 3" to dual 2.5" mufflers.
How she sits today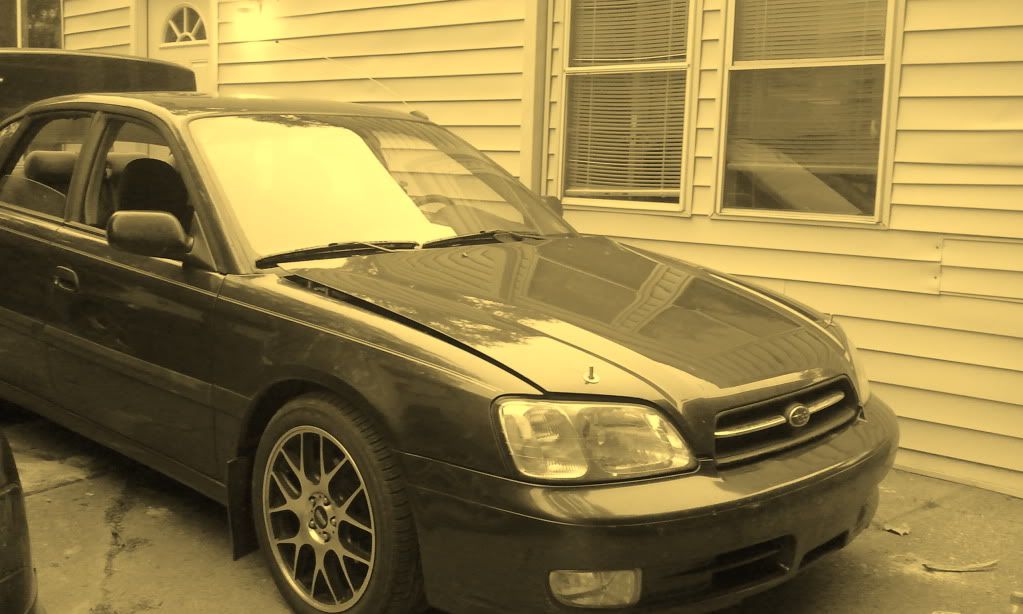 Oh yes, and finally the EG33 install pics..