My cobbled together thrashed out RS with too much money dumped into its crappy shell.
Engine/Drivetrain
AVCS EJ205
EJ207 double crossdrilled crankshaft
ej257 connecting rods, balanced
JE 9.5:1 pistons, balanced
ARP Headstuds
King rod/main bearings
11mm oil pump, extra shims
KB oil pickup/windage tray
OEM ej257 oil pan
Custom oil sump baffle plate (diy tomei copy)
Tstat controlled oil cooler sandwich plate
-10 an braided oil cooler lines to top mounted oil cooler
Oem Headgaskets etc
Ver7 STI intake manifold ported TGV deletes
Kinugawa Fuel rails (-6an)
-6an Braided equal length fuel lines
aeromotive fuel pressure reg
LGT twinscroll headers
VF37 turbeh
braided turbo and avcs oil feed lines
Custom 3in aluminum turbo inlet/intake
Rewired for ver7 sti ecu/avcs
carberry rom, speed density, flex fuel, launch control, antilag, etc
GM Ethanol Content Analyzer, wired to an Arduino for frequency to voltage
GM 3 bar MAP sensor
GM IAT sensor
custom AOS
Ebay GD FMIC hacked to fit the GC
3" turbo back exhaust, Catless, two resonators
AEM 320lph Fuel pump
Bosch 1000cc injectors
AEM AFR gauge
Prosport Oil pressure gauge, Glowshit Boost gauge
Ebay 9lb Flywheel (3 years strong)
Ebay XTD clutch (works lol) oem throwout and pilot bearings
JDM LGT 120amp Alternator
CXRacing GD Radiator
Ver7 STI 6spd Transmission viscous center, AP Surtrac Front
06/07 front axles
r160 WRX viscous diff regeared to 3.90. (meh)
Suspension/Brakes
KYB agx struts
Ground control coilover conversion 10" springs 250lb/225lb
TIC lat link Bushings
TIC Trailing arm bushings
Superpro Diff mount bushings
DIY lockdown bolts
Whiteline front control arm bushings
Kart boy solid front and rear sway bar endlinks
02 WRX sedan 20mm RSB/FSB
EBC Orangestuff pads
Stainless braided brake lines
ABS delete/non abs brake lines
SVX 1 1/16 Master
Solid Differential T-brace mounts
Solid trans crossmember mounts
Torque solutions engine/trans mounts
DIY solid dogbone/Pitchstop
Interior/Exterior
suede flocked! dash
stripped: no carpet, rear seats, trunk, sound deadening, door panels headliner etc
02 WRX front seats
center dash triple gauge pod, AFR, boost, oil pressure
ghetto knob
EDM 160mph wrx cluster
DIY bronze shifter bushings
Urethane shifter mount bushings
JDM wrx steering wheel
DIY switch panel, Fuel pump, Igniter/injector power supply, launch control, heater blower motor, antilag
Seibon RB5 replica carbonfiber wing
custom bash bar/ intercooler radiator mount with 4 7" hid spots
custom skid plate
carbon fiber hood
carbon scoop
digi cam black/white/red
sparco mudflaps
blacked out headlight housings
clear black blinker sidemarker and corner lights
ever so functional as f*ck jdm drywall screw style
No front/rear bumper beams
See the end for more updates...
Most Recent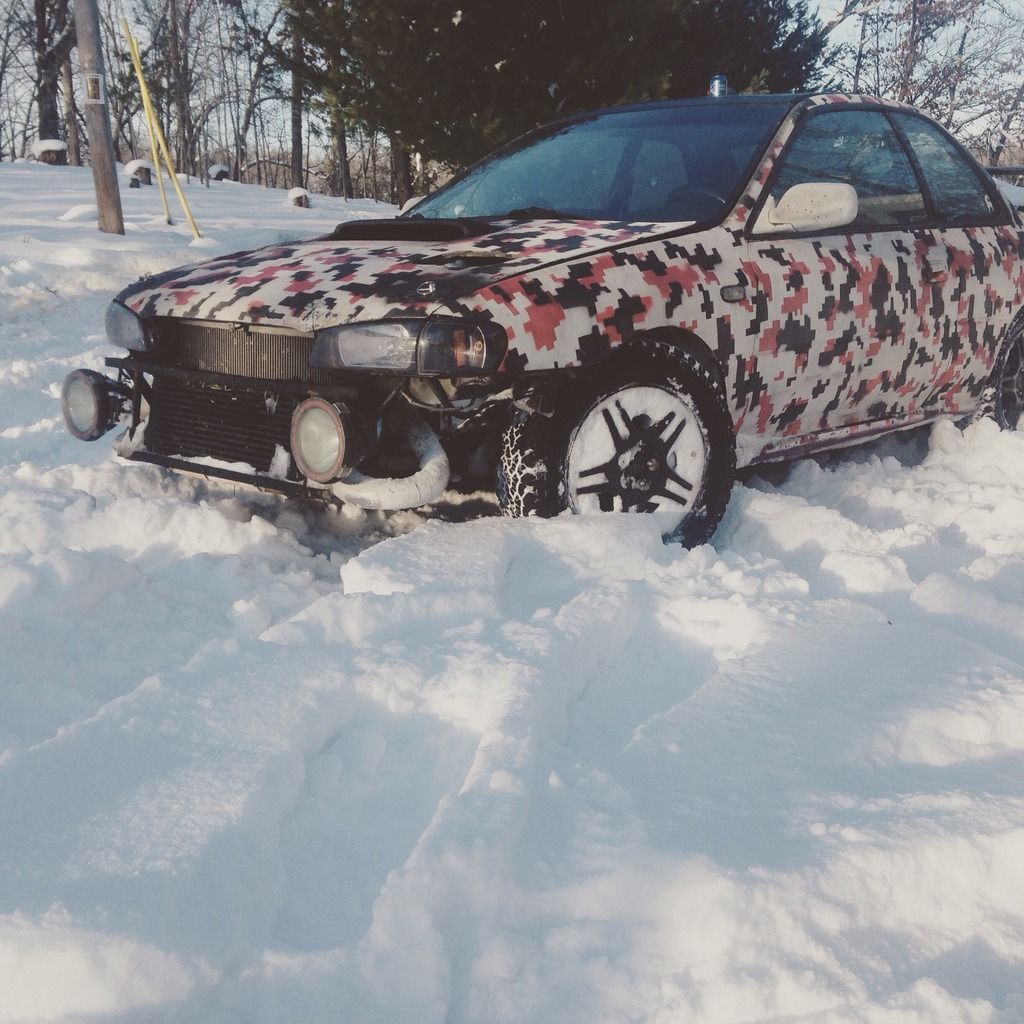 http://s809.photobucket.com/user/hawkster0001/media/Mobile%20Uploads/image_zpsa06efe52.jpg.html