8/27/2008
Broken Motorsports
is proud to bring you flocking services.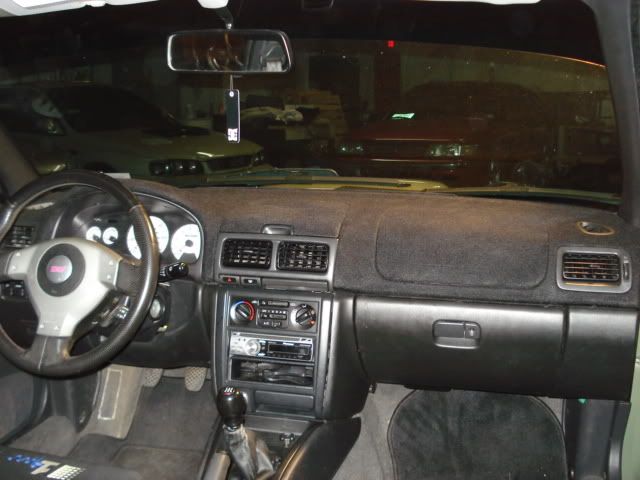 What is Flocking?
Flocking is either Nylon or Rayon fibers that are glued to the surface using a special adhesive and leaves a form-fitting seude like finish.
What is it used for?
Many forms of motorsport including WRC and F1 use this to absorb reflection or glare from certain objects. This is most commonly used on the dashboard, but can be used for other components.
How does it hold up?
It is actually really durable. It can hold up to the elements and wont fade for years, if at all.
While our base color is black because it reflects the least light, we do offer other colors such as Urban Gray, Rally Blue, Brilliant Red, and Cherry Blossom Red -aka Pink for interior peices not associated with the dash board.
There are custom colors and blends available, but at an additional cost, please inquire if interested.
We offer many different styles of dash and other associated components for all ranges of Subaru, not just Impreza. We have every Impreza style dash available including RHD and select years for Legacy/Outback and Forester. Other components such as door panels, A/B/C pillars and center consoles can all be flocked as well as the usual dash components.
Other Makes and Models components may be flocked also. Please inquire about pricing and typical turnaround time.
Broken Motorsports is offering a core program so that there is no down time for you the customer.
Simply you call and place your order. We ship the dash to you. You remove your old dash and install the new.
Place your stock dash back in the same box we shipped in and send it back to us.
Very simple process and best of all no waiting!
Our flocking service pricing is as follows:
Top Dashboard, including Cowl piece, Center Pod and Airbag cover - $175
Center Pod only- $50
Front door cards- $235
Rear door cards- $150
Package deal F+R door cards- $350
A/B/C pillars- $95
Custom and 2 color blends are an additional price, please inquire.
Ordering Info:
SO this is how it works, services above + shipping + core charge.
Dash core charge varies depending on dash style. Range is anywhere from $240 - $700.

If dash core is damaged or not complete, purchaser is subject to not receive full core amount.
Please place your order via:
PM
[email protected]
-or-
phone: 201.442.0580
- Only Paypal for now till we get our CC machine.
Paypal address is
[email protected]
- For any technical questions, please feel free to contact us at
[email protected]