So I am starting my members journal. I got into the subaru game when I got my first car at 17 years old. It was a 2001 Legacy GT wagon 5 speed. I picked it up in September of 2009. The Legacy is a good car and runs great, so I am not wanting to molest it because I would eventually want to swap in a flat 4 turbo.
So that brings me to my second Subaru purchase. My 1996 Impreza L wagon. This will be my project/build up leading to an eventual turbo swap. I will update the thread on all my new additions and modifications.
I am open to suggestions and any help is appreciated.
Then: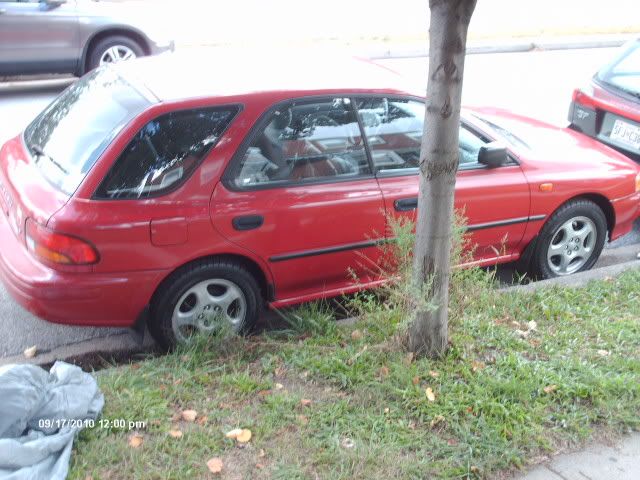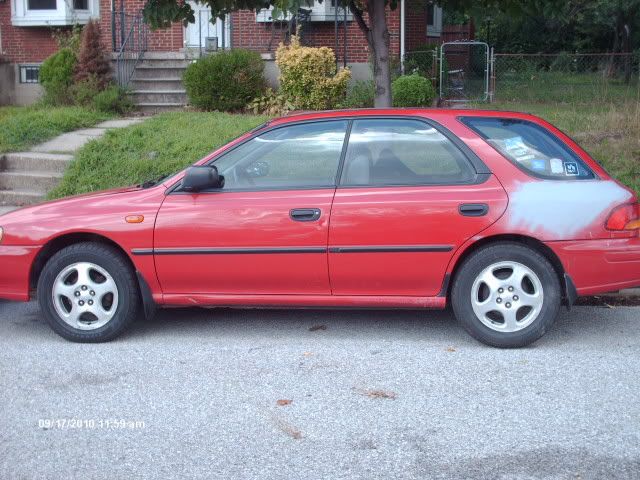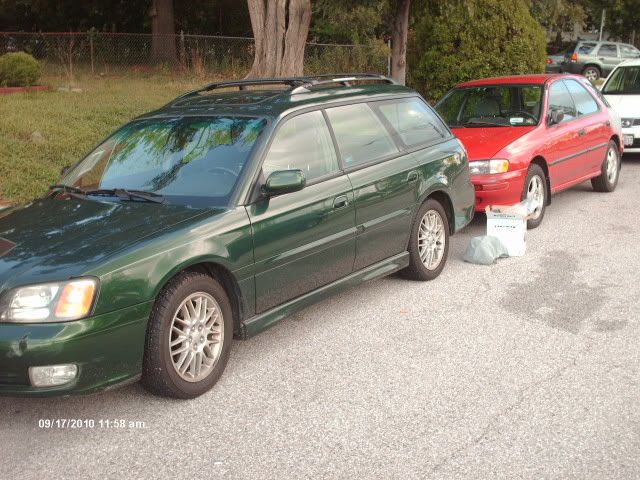 Now:
Current Mods:
Exterior
35% Tint all the way around
HTauto's Jun Style Front Lip
JDM V6 Grille
Gorilla Red Spline Lug Nuts
Paint matched side view mirrors
JDM rear spats
Plasti-dipped Subaru letters
JDM V1-4 bumper
JDM STI foglight covers
Clear banana turn signals
RS sideskirts
JDM gf8 taillights
HTautos replica sti upper wing
Osram Nightbreaker Plus headlights
Genuine JDM green I badge
RS hood
OEM Crystal Clear RS Headlights
JDM clear corners
JDM style clear sidemarkers
Hella Supertones
Paranoid Fabrications Exhaust Hangers
Amber LED corner lights
White LED license plate lights
Interior
OEM Lamco Gauge Pack w/ Red LED conversion
Red STI Floormats
JDM Tiger Stripe Front Seats
OEM foglight switch
Z-Interiors Red Fabric Door Panel Kit
Black fabric painted rear seats
45mm Prosport Electronic Boost Gauge
Cig lighter/din tray (replaces ash tray)
OEM steering column gauge pod
OEM wrx front+rear speakers
OEM underseat subwoofer
OEM wrx/sti pedal covers (brake/clutch)
Steering Column mounted Scangauge II
Sony Head Unit
Grip Royal- Royal Halo Steering Wheel
JDM aftermarket hub adapter
Kartboy short shifter
Flossy Snowball Grip-rod
Ebay Suede Shift Boot
LHD EDM wrx/sti cluster
93-97 armrest extension
Wheels/Suspension
Raceland Ultimo Coilovers
XXR 531 17x8 +35
Nankang Noble NS-20 215/40r17 tires
WRX 20mm rsb w/ polyurethane bushings
Eibach rear camber bolts
WRX sedan rear lateral links (10mm widetrack)
Rallitek Front Shifter Bushings
Kartboy Rear Shifter Stay
GrpN STI Trans Mount
Brakes
Stoptech Stainless Steel Front Brake lines
04 fxt rear hubs (disc to drum brake conversion)
Brake proportioning valve from a Legacy SS
Rear 02/03 wrx calipers w/ H6 brackets and rotors
Front 05 wrx calipers/rotors
Brake Master Cylinder Brace
Engine
Stock ej22e longblock
Clocked TD04 Turbo @ 7 psi wastegate boost
Wrapped/coated InfernoFab UEL single port headers
One step colder NGK v-power plugs
ACT HD Pressure plate and organic clutch disc
ACT Streetlite Flywheel
OEM Nissan check valve
Custom 2.5" aluminum intake
HKS Super Reloaded Air Filter
Wrapped/coated Subachad Up pipe
Custom Catted 2.25" Downpipe
3" HKS Hi-Power Catback
06 wrx TMIC w/ oem bpv
Modified (for GC) OEM GD hood scoop IC splitter
Ebay Catch Can
Ebay turbo blanket
Throttle body coolant bypass
Vortech 8:1 FMU
Walboro 255lph HP fuel pump
Grounding kit
Soon to come (bought but uninstalled):
Ganador Side Mirrors
SYMS side skirts
Paint front lip and rear spats
Fix rust and repaint quarter panel
Custom built 2-piece BBS RC090 17x8+20
JDM smooth rear bumper
Custom DIY meth kit
NXS Manual Boost Controller
Custom DIY rear diffuser and front splitter
Whiteline solid rear endlinks
IHI vf23 turbo
Future Mods (Not bought):
205/40/17 tires
Full car buff and polish (paint restoration)
Repaint vents and scoop
ISIS or other custom 3" blast pipes
16G turbo
Repaint quarter panel
RA Roof Vent
Thanks for reading
Alex