This is the first and only suby I have ever owned. I purchased it in October 2004 from Subaru of Gwinnett in Atlanta. She had 92k miles when I bought her. This is the only pic I have of the car is stock form. This was a pic from the autotrader ad.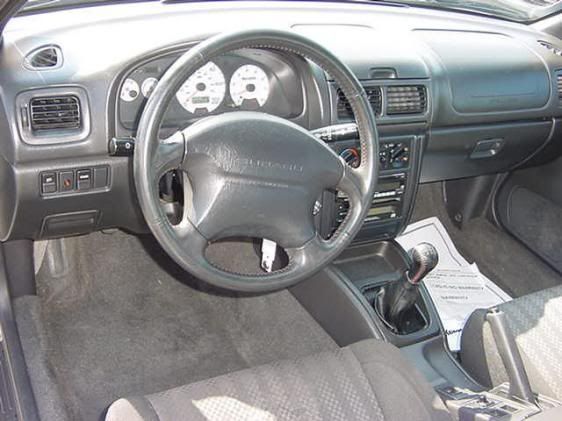 She has come a long way since then. I drove it for about 6 months without doing any mods except clear corners. Here are some of the first pics I took of her. And the first and only time I took here off road for some rallying!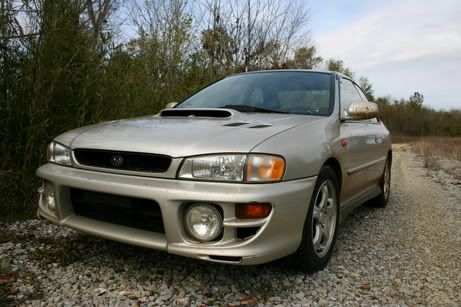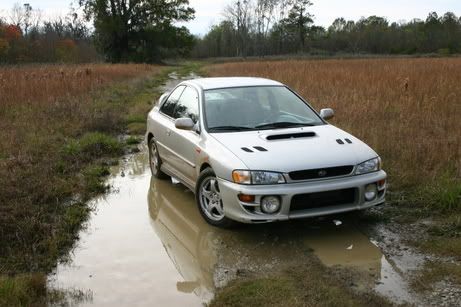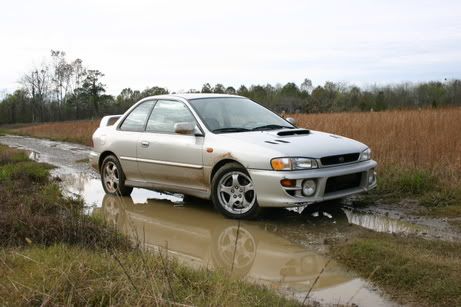 So in April 2005 I had a small mishap with a curb and wet roads which resulted in a bent control arm, bent crossmember and bent fender. :run: So she finally gets some mods!
I ended up installing STi GC Aluminum Control arms, Legacy Turbo crossmember, Whiteline 22mm adj turbo swaybar, Borla Header, KYB GR2 Struts and Tein S Tech Springs. I installed the legacy turbo crossmember because I knew a swap would be in my future. In order to make it work with the NA 2.5 I had to use a Borla header and swaybar for a WRX. Here is a pic of her on jack stands getting repaired. And the control arms.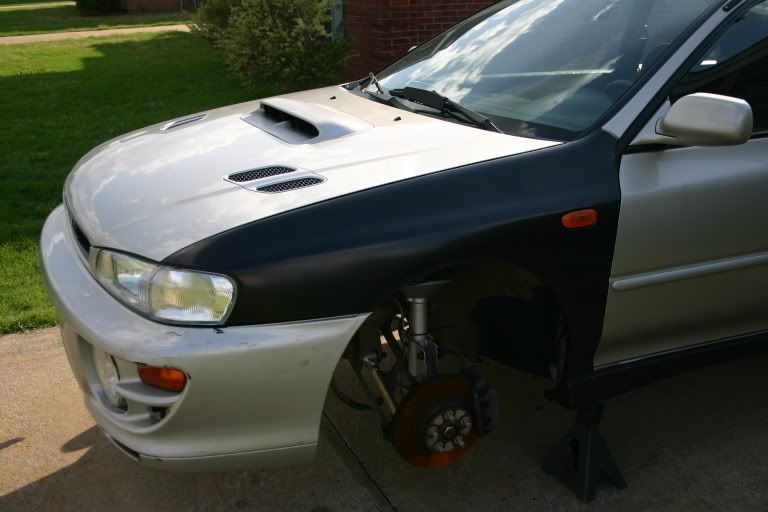 In July 2005 I started the interior modifications. I recovered the headliner and door cards with black Ultrasuede. I installed blue STi carpet in October 2005. I also installed 2004 STi front and rear seats in November 2005. Also installed in the interior was a 2005 STi parking brake handle and a custom made parking brake boot. Then in August 2006 I finally found a Version 3 STi Nardi Steering wheel in MINT condition for an awesome price!
Link to my headliner thread.
http://www.rs25.com/forums/showthread.php?t=34141&highlight=black+headliner
Link to the Nardi thread
http://www.rs25.com/forums/showthread.php?t=52693&highlight=sti+nardi
Here are pics of the finished interior.