Hey wassup everyone. Im in Southern MD (District Heights)and I have a nice yard to work on cars so if you want to hang out, send a pm.
I recently picked up a 96 Impreza Outback and I have started transforming it. I had to start with maintenance and repairs which it needed very badly. For $1100 with 129,xxx miles I couldnt complain though. The car has disc brakes on all four and fog lights which none of my others had. Im really happy.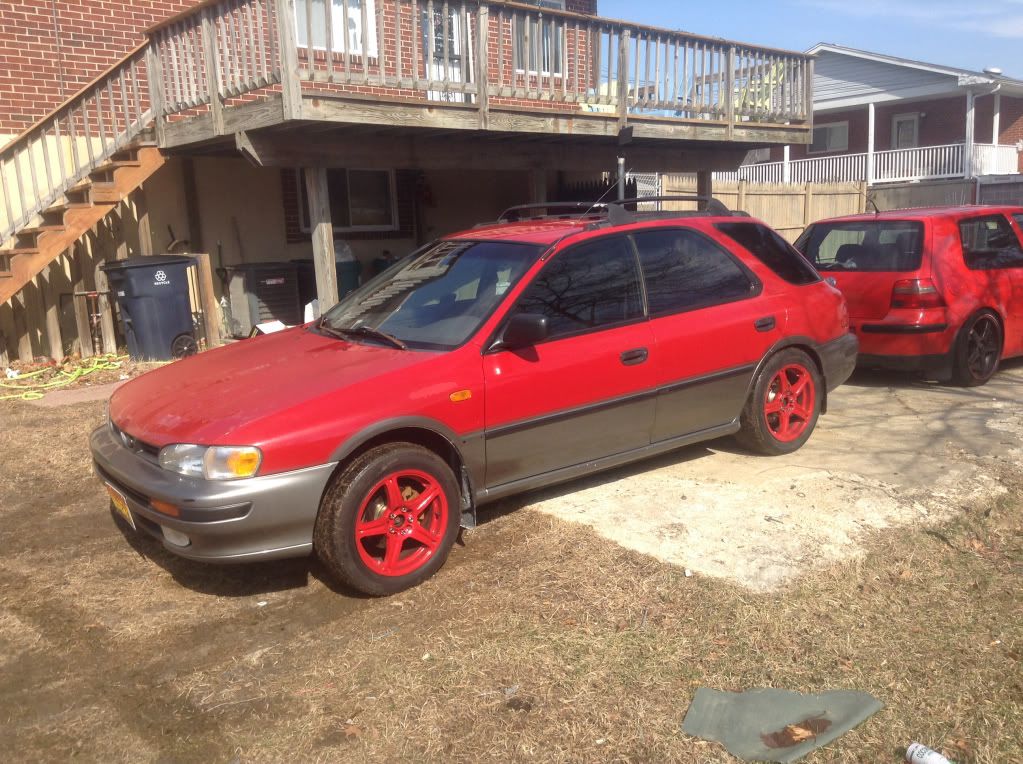 So far I have replaced: Timing belt/water pump, radiator, clutch, brakes/calipers/rotors, an axle, air filter, spark plugs and seals.
I used seafoam in the gas tank and crank and Im going to do the vacuum part of it next. I have the full Z-max treatment on standby and soon an oil change.
runs like a champ after all that so... I put on the Fidanza flywheel and Grimmspeed lightened crank pulley I have been saving. Nice !! Those are my 2 favorite mods btw. Lastly i threw on my exhaust from my old 98 OBS I had made at a shop. They made me single port 2.5" headers and a new cat and 2.5" pipe back to a magnaflow muffler. So yeah it burbles now. Although Im not liking the magnaflow sound too much its better than stock. It has a raspy flutter at mid to high rpms. I have a wrx muffler in the shed Im thinking about swapping out to. Aight well that's all Ive done BUT I want to add a turbo to this car one day. Im so new to turbo though so Im gathering all the stuff I learn that I need so maybe this summer I can have some boost. I still need a warlbro, fpr, and gauges that I know of. I have the intercooler, the exhaust manifold, the turbo, down or up pipe (i dunno which) and 2.5 heads.
Now I am still breaking the car in so ppl hate me and think my car is slow...:lol: But I absolutey love every mile in it. I cant wait to actually launch and go thru all the gears to redline... sigh. Kevin yall. I do install car audio/video as a hobby/emergency-money-maker and I always have amps and head units and such on deck.
Thats my story. Check ya later