'17 Impreza Sport, '15 OB 3.6R
Well, sort of.
As of now this news is a few days old (yay for WTLW), but I don't think anyone else posted it yet...
SUBARU UNLEASHES NEW 265 HP 2009 IMPREZA WRX
New WRX Based on "Kyo-Ka" Goal:
More Power, Quicker, Sharper-Handling
CHERRY HILL, NJ
--Performance leaps to a higher level in the 2009
Subaru
Impreza WRX thanks to a 265-horsepower turbocharged intercooled Boxer engine, retuned suspension and wider, lower-profile summer performance tires. The Impreza WRX moves closer to its supercar stablemate, the WRX STI in spirit, performance and styling with a new familial grille, integrated front spoiler and body-side moldings and gunmetal gray alloy wheels.
The project team developing the 2009 WRX had a clear aim, summed up as "Kyo-Ka" (translated from Japanese as "strengthening"). To reach their goal, Subaru engineers thoroughly revamped the car's performance character. With a larger turbocharger, increased boost and a new low-density catalyst for reduced exhaust backpressure, the WRX engine now produces 265 horsepower at 6,000 rpm and 244 lb.-ft. of peak torque at 4,000 rpm (vs. 224 hp and 226 lb.-ft. in the 2008 model.)
To supplement the increased power, Subaru re-tuned the WRX suspension, increasing spring rates and adding thicker stabilizer bars. Standard 17 x 7-inch alloy wheels wear 225/45R17 summer performance
tires
, compared to 205/50R17 all-season tires on the 2008 WRX.
The 2009 Impreza WRX is equipped exclusively with a 5-speed manual transmission and, like all Subarus, Symmetrical
All-Wheel Drive
. The Vehicle Dynamics Control (VDC) stability and traction control system, standard on all Impreza models for 2009, helps to enhance road handling safety. An Incline Start Assist feature can help prevent the vehicle from rolling backward when being driven away from a stop on a hill.
Rally-Inspired Interior
The WRX interior for 2009 gains new WRX-exclusive carbon black checkered upholstery, accented by red stitching. A standard tilt and telescoping leather-wrapped steering wheel is accented by red stitching, and standard aluminum-alloy pedal covers now include the driver's footrest. Performance-design front seats come with the head restraint integrated into the backrest and provides a one-piece, sporty look. The optional Premium Package gains a power moonroof for 2009; other contents carry over, including the 10-speaker audio upgrade with auxiliary input jack, projector-beam fog lights, dual-mode heated front seats, heated exterior mirrors and a windshield wiper de-icer. A
navigation system
with video jack inputs is also available.
New GT model for 2009
A new Impreza 2.5GT model for 2009 (4-Door and 5-Door) is powered by a 224-horsepower turbocharged intercooled Boxer engine mated exclusively to a 4-speed electronically controlled automatic transmission with SPORTSHIFT.
Subaru Symmetrical All-Wheel Drive
Subaru employs four versions of Symmetrical
AWD system
across its model line. The type used in the WRX utilizes a viscous coupling locking center differential that distributes torque 50:50 front/rear. Should slippage occur, the system transfers more power to the wheels with the best traction. The version of Symmetrical AWD used in the Impreza 2.5 GT utilizes an electronically controlled continually variable hydraulic transfer clutch.
All Impreza models for 2009 feature a 4-wheel disc Anti-lock Brake System (ABS) with Electronic Brake-force Distribution (EBD) and Brake Assist. (The WRX and 2.5GT models feature larger front
brakes
than other Impreza models.) All Impreza models are equipped with advanced dual stage front air bags, front seat mounted side air bags and side-curtain airbags.
Full pricing is expected to be announced August 25, 2008.
About Subaru of America, Inc.
[FONT=Arial, sans-serif]Subaru of America, Inc. is a wholly owned subsidiary of Fuji Heavy Industries Ltd. of Japan. Headquartered in Cherry Hill, N.J., the company markets and distributes Subaru Symmetrical All-Wheel Drive vehicles, parts and accessories through a network of nearly 600 dealers across the United States. Subaru makes the best-selling All-Wheel Drive car sold in America based on R.L. Polk & Co. new
vehicle
retail registration statistics calendar year-end 2005. For additional information visit
www.subaru.com
.
Subaru, Impreza, WRX and STI are registered trademarks of Subaru of America, LLC
Note the STi-style front grille, sporting a WRX badge. :clap: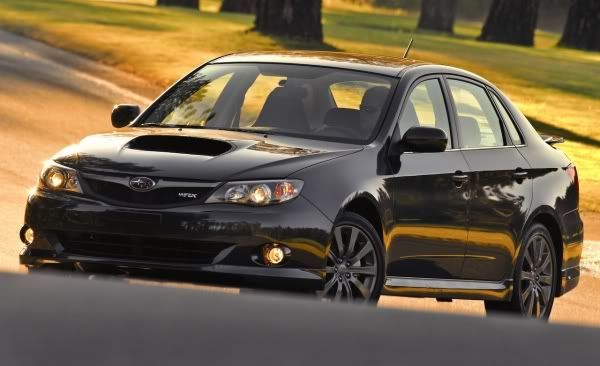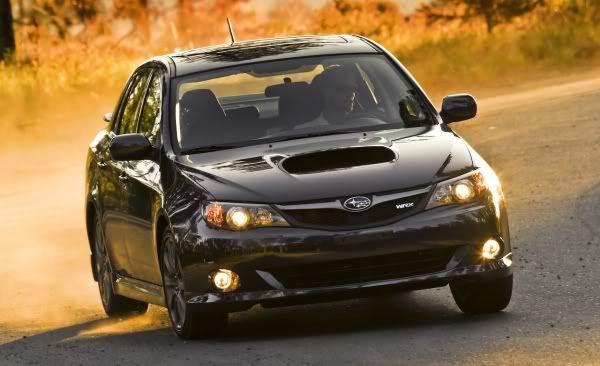 Bummer that they didn't fix the taillights.
Nice otherwise...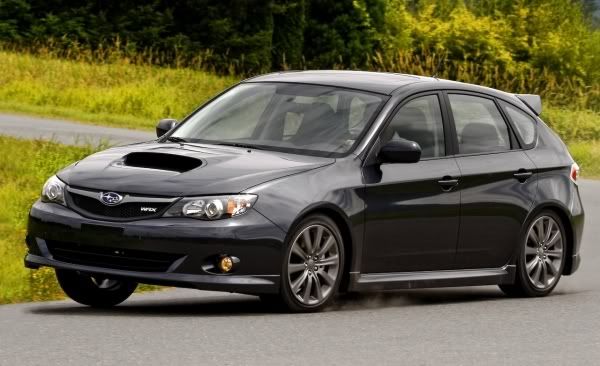 Interior, note the red stitch:
More pics:
http://www.autoblog.com/photos/2009-subaru-impreza-wrx-and-2-5gt/952520/
Further quotes...
http://www.caranddriver.com/reviews...x_zone/2009_subaru_impreza_wrx_2_5gt_car_news
"Having just refreshed the Impreza for 2008, Subaru is now announcing an improved WRX and an all-new model—the 2.5GT—for 2009.

Teaching the Not-So-Old Dog New Tricks

At the heart of the improvements to the WRX is a 41-hp bump to 265, shrinking the power gap between it and the bewinged and devilish STI—not to mention out-powering the new Mitsubishi Lancer Ralliart. Torque increases 18 lb-ft, to 244. Available exclusively with a five-speed manual transmission, the new WRX gets its gusto thanks to a larger turbo and exhaust, in addition to a more free-flowing catalytic converter.

While the added power is sure to be the focal point for many, Subaru hasn't ignored the enthusiast's love for the turns, re-tuning the suspension for more aggressive handling, something the softer-for-2008 model desperately needed. Spring rates and anti-roll bar diameters are increased all around and damping is improved. Subaru says the new WRX will be more responsive with sharper turn-in, a claim we look forward to verifying.

We're also told the new WRX will be equipped with various exterior goodies such as low-profile summer tires and a grille similar to the STI's, and will come standard with the previously optional Aero Package. Both the hatchback and sedan will feature ground effects all around in addition to a rear spoiler, and the hatchback gets the diffuser from the STI. Various other small enhancements continue throughout the car—such as red stitching on upholstery—but much of the vehicle remains unchanged.

The New Kid on the Block

As the WRX receives its enhancements, another model will be making its debut for the Impreza lineup—the 2.5GT. Essentially a renamed version of the current WRX automatic, the 2.5GT will slot in above the 2.5i and just below the new and improved WRX. With the same turbocharged boxer engine we're used to, the 2.5GT will put down the very same 224 hp and 226 lb-ft of torque.

The 2.5GT will come standard with the four-speed automatic transmission and be available in both four-door sedan and five-door hatchback form. Subaru's Symmetrical All-Wheel-Drive system and Vehicle Dynamics Control (VDC) will also be standard, as they are across the lineup.

With these 2009 models raising the bar on performance for the Impreza line, we expect Subaru to give the STI a similar treatment in time. Having recently spied what looked to be a future Impreza WRX STI Spec C in near-production guise, we'd like to think that time is fast approaching."
Joe Spitz also has some general info:
http://www.cars101.com/impreza.html#what's new
As well as:
http://www.media.subaru.com/
And of course:
http://forums.nasioc.com/forums/showthread.php?t=1567589
Siper2's Thoughts!
- Power and suspension upgrades are a
***HUGE***
thumbs-up, as well as offering summer tires in 225/45-17!
- The front grille is very cool, as well as the wheel treatment.
- Front rotors are the same 294mm ones with 2-pots. Rear rotor size goes up a bit, to 287mm, but is still a 1-pot. 4/2-pots would've been nice, or better yet, LGT rotors/calipers.
- Wish they'd smoked out or turned the taillights solid red
The power boost is long, long overdue for the WRX. Frankly, I think the car deserves it. On NASIOC, opinions, as usual, are heated: most STi owners hate it, there's "not enough of a boundary" between WRX and STi, now. However in my opinion, the cars are blood brothers; the WRX should be closer to the STi than it is to the 2.5i and Outback Sport. If Subaru really wants to make the STi special, they can seriously beef up the spring rates, and offer a Recaro seat package. The things already exist overseas...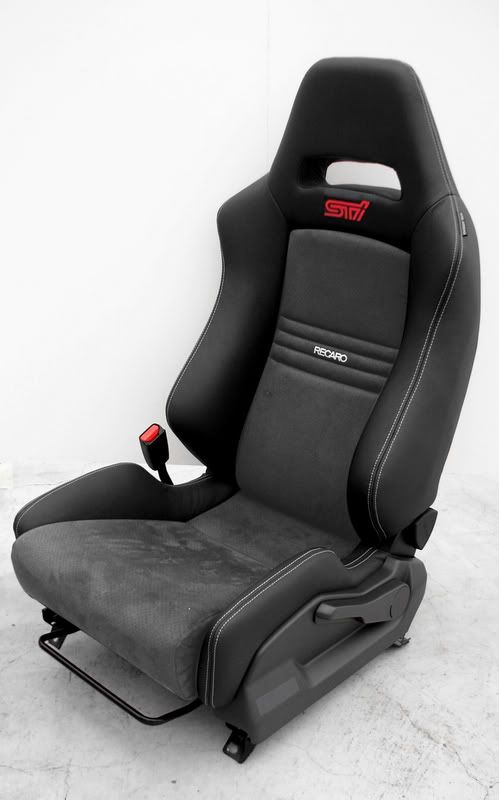 A lot of 2008 owners seem upset, but I don't see why they should be - at only a year old, resale is strong. Trade up.
The power boost could mean only good things for Legacy owners, with the 2010 redesign just around the corner. Subaru may be boosting its power in the turbo H-4 models, just a hunch.
-Chris