2001 Subaru Impreza L coupe
This is mostly the progress of my srp 2001 L coupe, but also some 98L and 2018 brz stuff.
Backstory:
I got the car in August 2011 with 100,500 miles. It was my first car, and it had lots of problems at the start. Almost sold it a few times, but once I read about all the swap stuff, I decided I had to keep it.
I messed with weight reduction, and fixing/upgrading the suspension while I gathered funds for the swap...lots of maintenance too...although the ej22 ran strong the whole time. It really was bulletproof. I had to have the transmission rebuilt, but was finally was able to start the swap summer 2014 and I got an ej205 in and running.
Fall of 2015 it was totaled (not my fault) and I spent a year slowly fixing the car myself with no collision experience. After tons of spot welds, test fits, wiring, and double checking......I got the car inspected and legal to drive again in November 2016, with a reconstructed title.
2017 and on will be dedicated to rust repairs,weight reduction, and self tuning.
Here are some up to date pictures, regardless of the different seasons:
The goods:
ENGINE:
-USDM 02/03 ej205 (6/28/14)
-TGV deletes
-Grimmspeed catless uppipe, ceramic coated
-Cobb catted downpipe, ceramic coated
-02-05 wrx, Invidia q300 catback
-STi oil pan
-KillerB oil pick-up tube
-Avo turbo inlet
-lighter crank pulley, and no p/s or a/c pulleys
-Protune by Jermaine @TurboXS
-v3 accessport
-iWire merged harness
TRANSMISSION:
-'01 5mt (3.9) and cable clutch;
AndrewTech rebuild
-custom reinforced clutch fork
-'01 (oem) TOB, and pivot ball
-'06+ wrx clutch
-'06+ wrx pressure plate
-'06+ wrx flywheel
-TiC shifter linkage update and pivot bushings
SUSPENSION / HANDLING
-KYB excel-g struts (2/2/14)
-Eibach pro-kit springs 2/2/14)
-Group N front top hats (2/2/14)
-3/8 saggy butt spacers (2/2/14)
-18mm Outback rear sway bar
-20mm WRX wagon front sway bar (6/28/14)
-JDM GC8 crossmember (6/28/14)
-Whiteline steering rack bushings (6/28/14)
-Whiteline rear endlink bushings
-group N front-of-trailing arm bushings
-power steering delete
WEIGHT REDUCTION&DISTRIBUTION:
-
Currently about 2690~ lbs.
-***Was at 2590, but the turbo engine swap and a full-size spare added well over 100 lbs back.
-Aluminum jdm gc8 hood
-USDM front bumper beam cut in half
-deleted a/c
-deleted power steering
-washer fluid tank relocated to trunk
-battery relocated to back seat
-removed hunk of metal from glovebox and under dash
-removed most sound deadening
-stripped trunk besides spare
-lighter wheels
-removed keyless entry system
-random little things. More soon.
----------
Here's the progress from the beginning mostly in order. I'm going to add in some dates/mileage later on. Bear with the potato pictures for the first few pages. I eventually got a digital camera, and now a DSLR, so the pictures get progressively better in quality.
Warning, picture heavy:
-Bought late August of 2011, bone stock.
--some actual wheels to replace the steelies and decent tires too.
16x7 with 205/50-16 Conti DW
--This is the oldest pic I have of my car, and the only pic from the beach driving I have left.
--Rally armors, which get used on a daily basis on PA's crazy roads :unamused: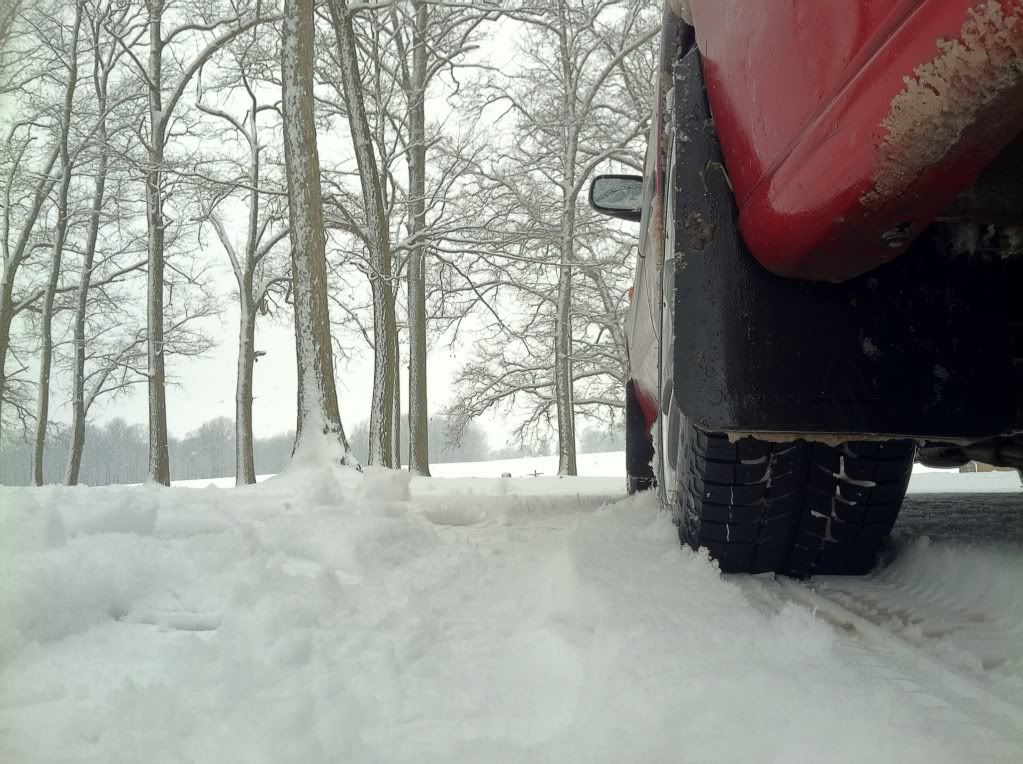 --Homemade light bar that mounts 2 hella 500's
How it looked last winter: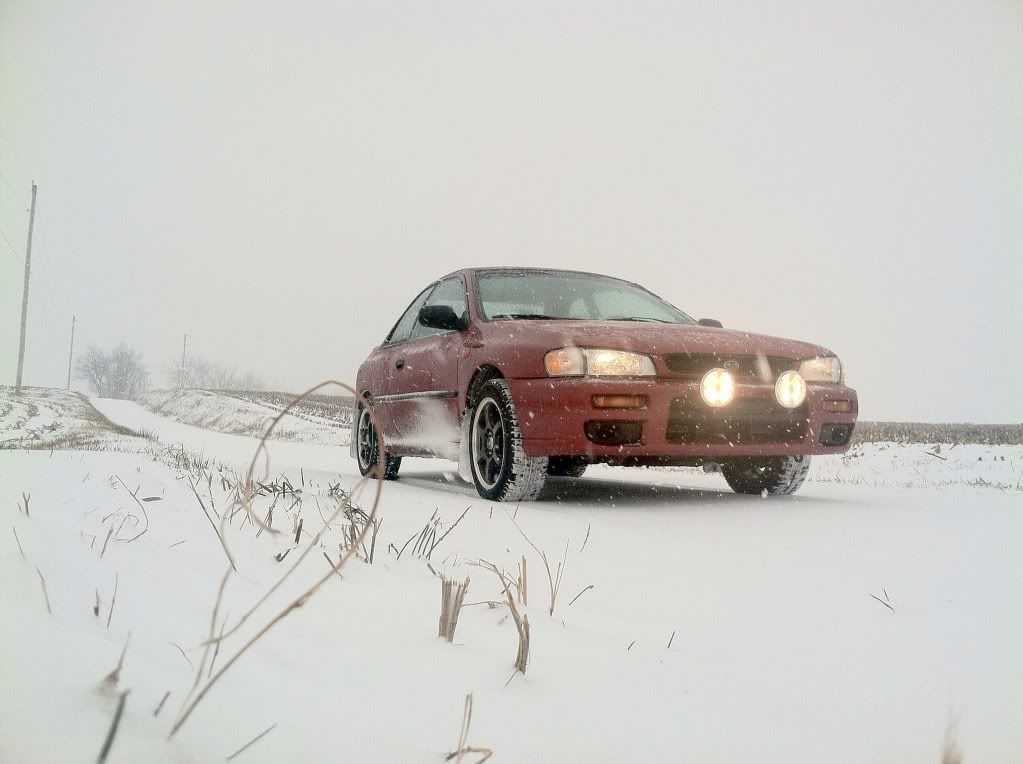 --Polyurethane rear end link bushings
This is when I learned how hard pressing bushings is.....
--New outer tie rods, ball joints, and front wheel bearings.
This is when I learned to hate wheel bearings and ball joints......
This is a ball joint removal tool......mine were
really
stuck.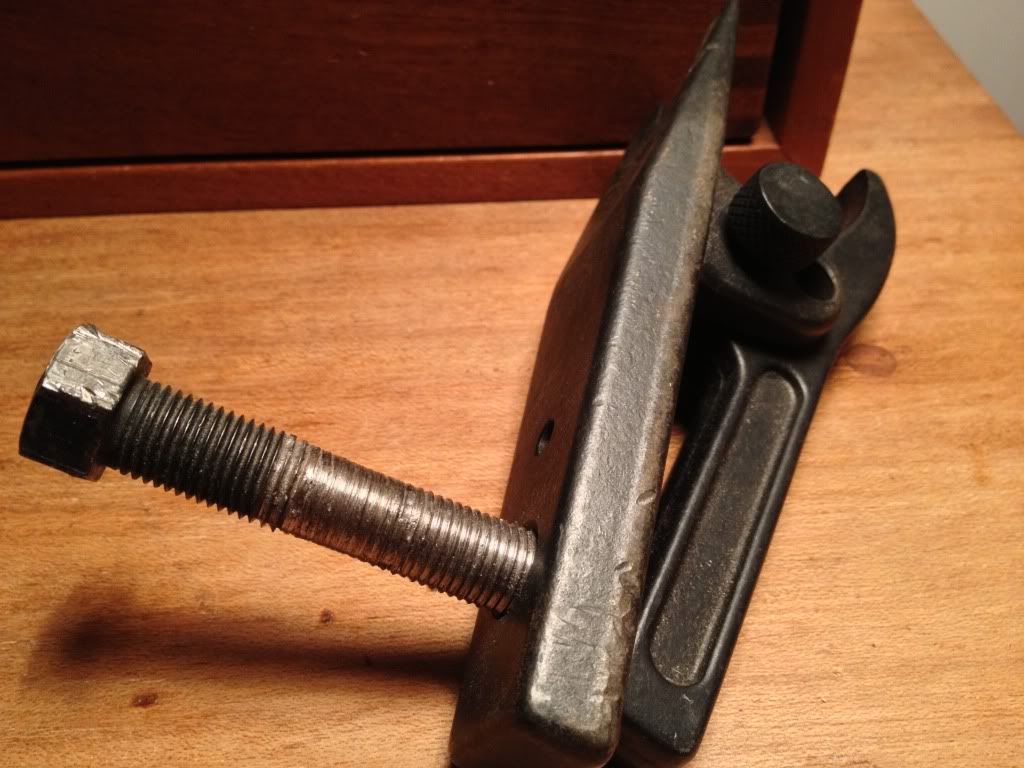 j