98RS (Unicorn), 05 GSXR 1000
Welp, I'm bored so I figured I'd share what I've been working on the past couple of months, plus i'm on the hunt to build another RS.
Currently own
2004 ZX6RR
2005 GSXR 600
2005 GSXR 1000
2012 Daytona 675R (delivery june 18th)
So long story short, picked up this whore of a bike in December, 2004 ZX6RR, $800 clean title, 37XX original miles on it with only a small crack in the tail.
Spilled the bike 3 weeks after when I hit a salt patch around a blind corner, some minor damage but enough to get me started on a build. Just recently had a daughter in March so the project slowed down but is near completion. And its a dedication bike to both of my daughters Aubrianna (1 year and 7 months old) and Addison Rose (2 months old). Which is where the hello kitty fairings will come into play.
August I go for my AMA race school and license. So I decided to go bawls to the wall and make a 1 of a kind track bike.
As the pictures pertain its the tear down and addition of a lot of performance and customization.
Parts list​
Vortex front and rear sprockets -1 +0 (14-40)
DID Gold chain & Vortex RV3 race chain (108 link)
Factory Pro Velocity Stacks
PC3 w/ custom map (done by myself)
NPS Cams (waiting for delivery)
Driven Block off plates
Secondary Butterflies Removed
Custom Exhaust (Ed Quay's hot rod shop)
05-06 Swingarm swap
05+ Wheels
Q2 race tires
Pirelli diablo tires
Custom Race tail (Ed Quays waiting to be finished)
CZ lightweight wheels
ASV Brake and Clutch Lever
Annitori QS
Race Tech Fork Valves & Springs
D1 Grips
Sharkskins Track fairings​
Still a lot more that's needed... Curently striping the bike back down to start the swinger swap, tail being made, and powder coat.​
Here's a preview of how the exhaust sounds (undeniably unique in tone)​
How she was when I first got her...​
​
And this is where the whore stands now...​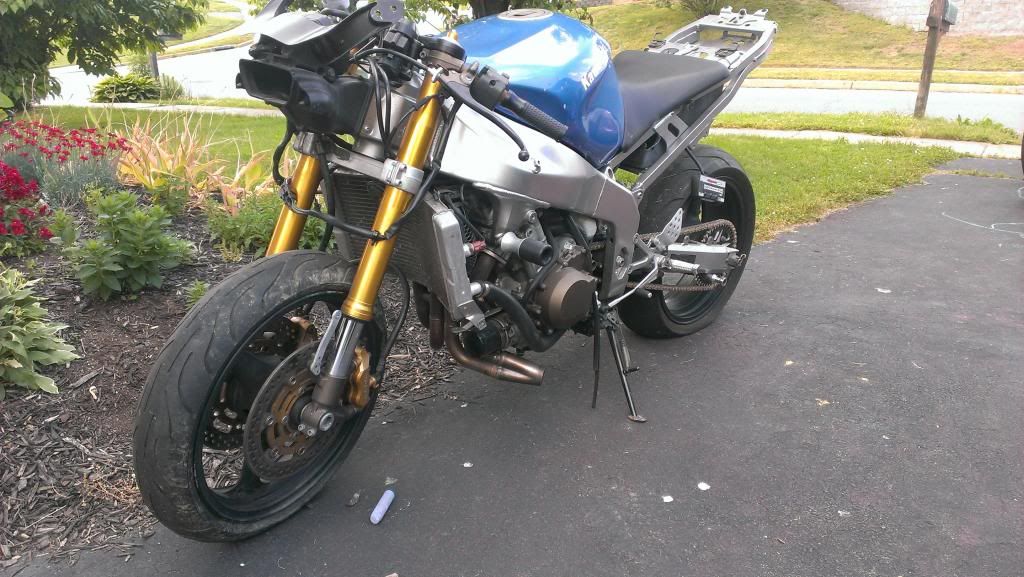 ​
I will have to upload the full progress from February to now.​
hopefully have her finished up next week minus the cams.​