01 STM RS EJ257, 6MT, Brembos
If you are looking for the build thread on my old 2000 Blue Ridge Pearl 2.5RS
click here
: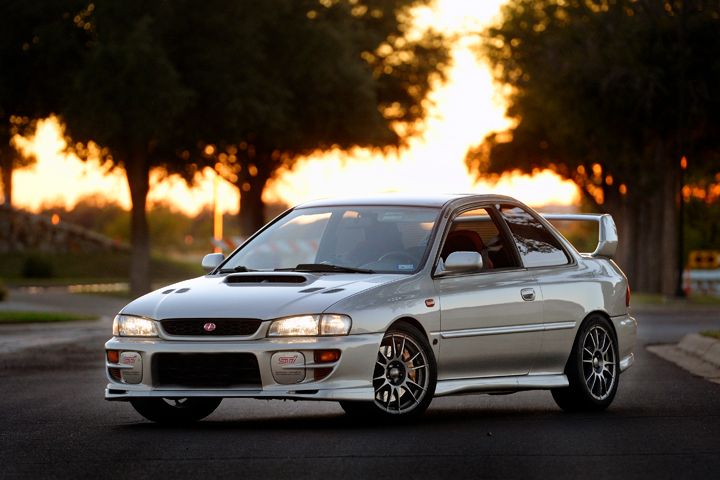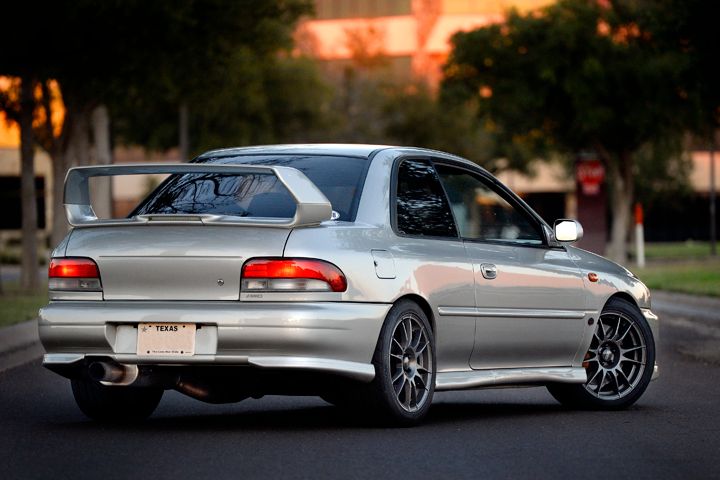 I bought this car from a friend in Sept. of 2016. I sold my 2000 RS that I had owned for 10 years and was planning a engine swap for in order to get this one. I've known this car and my friend for several years so when it came up for sale I knew I had to buy it.
This car has a unique history as it was swapped very shortly after the USDM WRX hit the states, around the mid-2000's, and it was done by the owner of a Bentley dealership who, from what I have been told, basically wrote a blank check for a lot of the parts and body work and it shows in the details, from the authentic JDM STI rear wing to the genuine STI roof (US roof with sunroof was cut out and replaced with JDM roof).
The original swap and wiring was done by Rallispec somewhere around that time. No expense has ever been spared on this car, only the best parts have been used and I plan to continue to love and abuse it regularly.
Engine:
Original swap/wiring done at rallispec back in mid-2000's as a 2002 WRX
2.5 hybrid-EJ257 STI block, JE hybrid pistons, ACL bearings and balanced crankshaft
Baffled oil pan and KillerB oil pickup
TGV delete with phenolic spacers
850cc DW injectors
Walbro 255 fuel pump
1 step colder plugs
2.0 WRX heads with shimless bucket conversion
KOYO all-aluminum 05 STI radiator -New as of 8/16
VF48 turbo and 2011 GR STI top-mount intercooler
Cobb catted turbo-back exhaust with (some) kartboy hangers
Cobb AP2 (for 02 wrx)
Group N Engine mounts
Huge Front-mount external oil cooler- new 8/16
P&L Motorsports -10 AN-fitting head breather adapters
Dual Mishimoto baffled catch cans (1 for head breathers, 1 for PCV) -8/16
New thermostat and radiator caps OEM-8/16
Drivetrain and brakes:
2003 JDM STI 6-speed (short ratio 5th and 6th) with OEM Suretrac front diff
matching JDM STI complete 5x100 drivetrain: axles, Brembo brakes, R180 with OEM plated clutch-type LSD
Spiider DCCD controller with JDM STI DCCD adjustment wheel in center console
Ferodo 2500 pads- NEW as of Aug 2016
Gyrodisk brembo shims*
stainless steel braided brake lines
SVX 1-1/16" brake master cylinder
06 STI steering rack with custom coupler
06 sti PS Pump
Clutchmasters fx200
Group N tranny mounts
Poly tranny Xmember mounts
Suspension:
Feal 441 coilovers with camber plates and rear adjusting extenders*
proper JDM GC8 track-width aluminum front control arms
Whiteline adjustable rear lat links
custom welded boxed-in factory trailing arms
Poly bushings everywhere except rear hubs?.
Whiteline ALK
Whiteline ball joints/tie rods
JDM STI carbon/aluminum strut tower bar front
Sti pink strut tower bar rear
Wheels:
17x8 OZ Allegherrita (black) with 225/40/17 Falken all-seasons (winter, or sideways fun)
17x8 OZ Ultraleggera (silver) with 225/40/17 Hankook Ventus RS-3 V2 (summer/track)
Exterior:
JDM clear corner lights
JDM STI Version 5/6 front grill
JDM rear bumper, lightweight beam and spats
JDM STI fender badging
Seibon CWest style carbon front lip
JDM STI Version 5/6 fog housing covers and proper decals (real OEM parts, not replicas)
European market custom fog cover with intake vent
JDM STI roof bars and skin with no sunroof (factory roof was cut off)
JDM STI Type RA roof vent (added fall 2017)
JDM STI Version 5 rear spoiler (real OEM, not replica)
Also have an extra shaved/wingless trunk
JDM red/white taillights
JDM STI Version 5/6 aluminum hood
Paint-matched side skirts
Rallyarmor flaps
Interior:
JDM STI Version 5/6 seats front/rear with black door panel inserts
JDM STI Version 5/6 red stitched Momo steering wheel
JDM STI Version 5/6 gauge cluster with DCCD display
-- proper redline for EJ257 (reads 7,000 RPM, tachometer dial swapped from a JDM Version 5/6 WRX cluster, reprogrammed for proper ODO reading and MPH conversion by G-ROM Cluster Reflashing)
GReddy 60mm gauges in center pod (boost/egt/oil pressure - metric measurements)
AEM UEGO wideband gauge , mounted in driver's side A/C vent location
Alpine stereo-Polk speakers/sub/tweeters
STI aluminum pedals
STI floormats